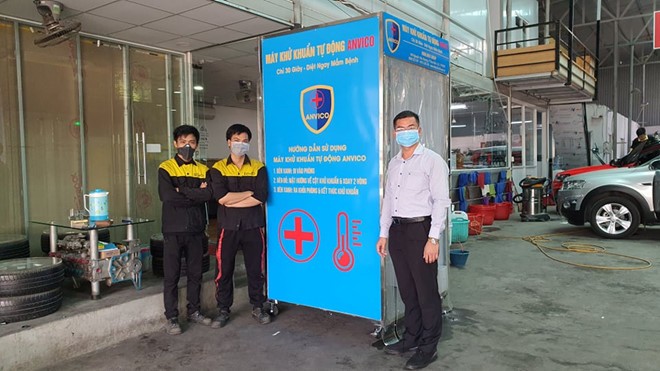 COVID-19 disinfection chamber produced by a firm in Ho Chi Minh city. Photo: Ngoc Anh
In early March, the first body sterilisation chamber using ion salt water was released by the Institute of Occupational Health and Environment in collaboration with Hanoi University of Science and Technology.
According to the producers, it takes only 30 seconds to clean a person's body. The chamber is easily removable and transported and has disinfection capacity of up to 1,000 people a day.
The institute's director, Assoc. Prof. Dr. Doan Ngoc Hai, said that the system is designed based on the principle of using an ionized saline solution in the form of mist spraying the whole body to quickly disinfect the body surface. All disinfectant solutions are safe for sensitive skin areas.
"Test results showed that over 90% of bacteria, viruses on the body surface, clothes were completely removed after just some 30 seconds in the chamber," Hai confirmed.
The institute has sold its initiative to a local firm who is selling the product at VND59 million (USD2,565).
COVID-19 mobile disisnfection chamber: how does it work
More COVID-19 disinfection chambers launched in Vietnam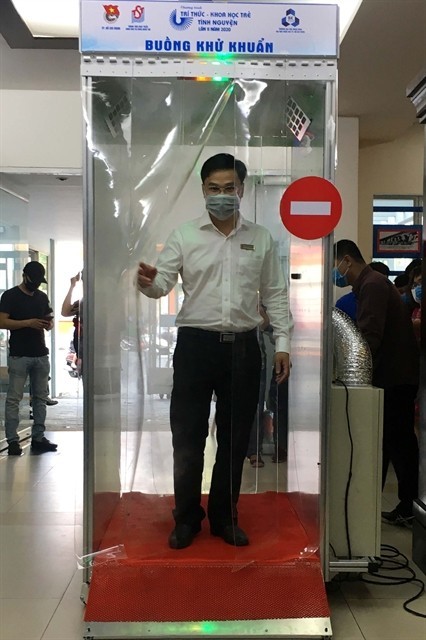 A man tries to use a mobile disinfection chamber at a launching ceremony held in HCM City on March 18. (Photo: Vietnamnet)
Doan Kim Thanh, director of the centre said that their products can be used at public places like hospitals, supermarkets, railway and bus stations, airports, offices, schools, and other crowded areas.On March 18, the HCM City University of Technology in collaboration with the local Centre of Science and Technology Development for Youth also introduced three locally-invented mobile disinfection chambers, which allows whole-body disinfection in just half a minute, serving people in COVID-19-affected areas.
"We now can produce 100 chambers a week and sell at the prices of VND30 million (USD1,304) each," he said.
The Noi Bai International Airport in Hanoi on March 24 opened a disinfection chamber at the airport's operation centre to help curb the spread of the novel coronavirus.
The disinfection chamber was developed by engineers at the Noi Bai Aviation Technical Service Centre. Its main component is a 360-degree mist sprayer that sprays anolyte solution, a powerful disinfectant against bacteria and viruses. The process is automatically triggered when a person steps into the chamber. It takes only 30 seconds to complete the disinfection.
The airport intends to install additional disinfection chambers at its subsidiaries and terminals.
Vietnamese firms produce COVID-19 disinfection chamber
In Hanoi: Vietnam CKS Services Company Limited, address: 5th Floor, No. 1, Lane 120, Truong Chinh Street, Phuong Mai Ward, Dong Da District, Hanoi
In HCM city: Nguyen Truong Tuyen, 37, founder of Vinalinks Group (196 Nguyen Van Huong, Thao Dien Ward, District 2, Ho Chi Minh City)
VNT