Japan Cuisine: Top Dishes That You Should Try In Tokyo
Japan is the land of unique cuisine and extraordrinary dishes for tourists who set foot on Tokyo to choose from. From Edo-style Sushi to Tempura, Unaju, these are 10 best dishes that you should try when you travel to Tokyo.
Edomae-zushi (Edo-style Sushi)
Topping the ranking is Edomae-zushi, which has become synonymous with Japanese food. Although there are many kinds of sushi, it is Edomae-zushi which the rest of the world knows affectionately as "SUSHI." In addition to enjoying the fresh fish and seafood from Tokyo Bay, you can also have fun watching sushi chefs do what they do best at many famous restaurants with an old-school atmosphere.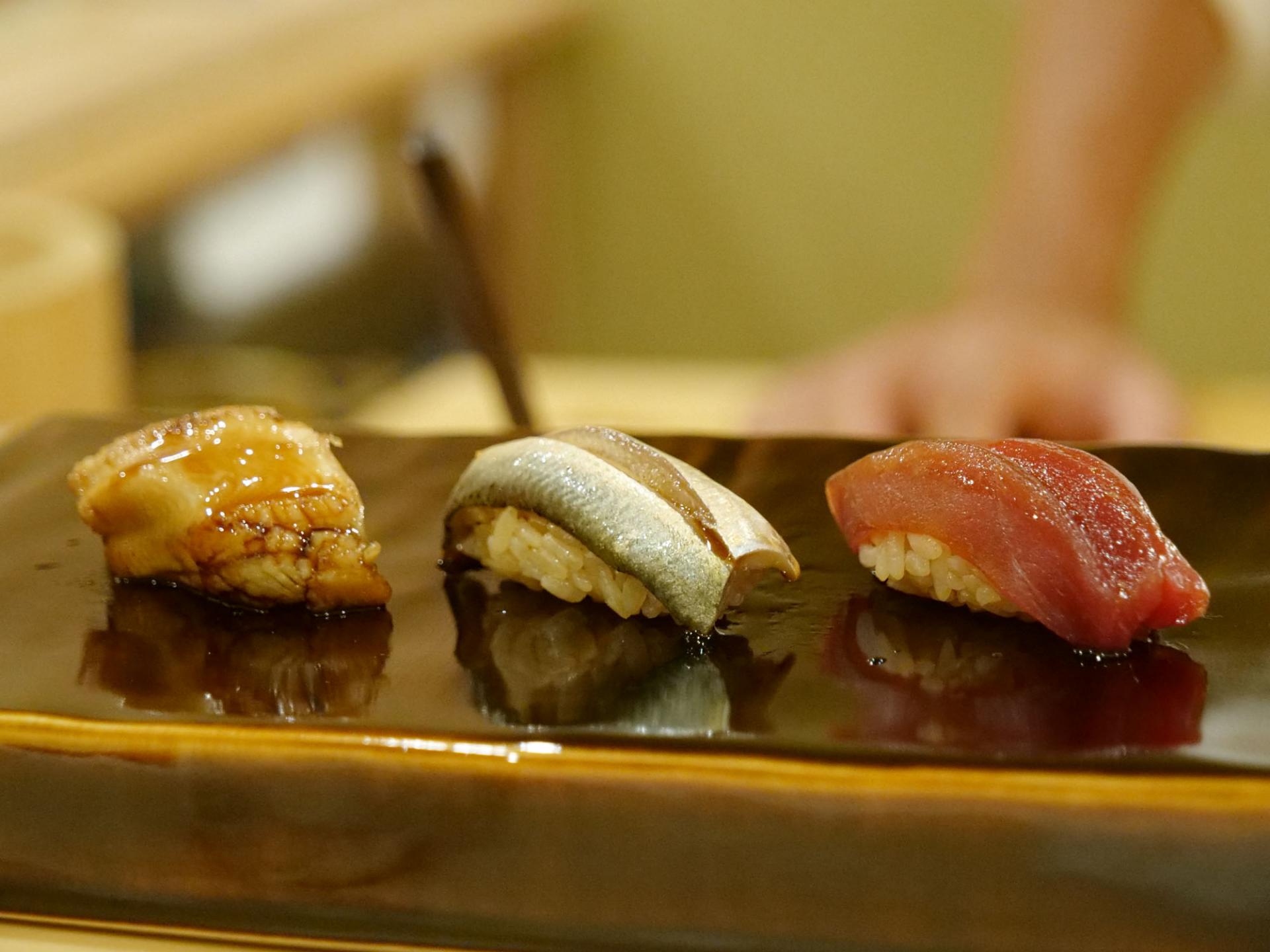 Anago (saltwater eel), kohada (gizzard shad) and akami (lean tuna) are the three main types of Edomae sushi. | CHISATO TANAKA
Edomae-zushi is centered on the nigiri-zushi mainly made of hand-shaped cooked vinegared rice topped with raw fish and shellfish, or marinated or cooked ones, including maki-zushi using kanpyo (gourd strip roll), chirashi-zushi (vinergared rice with thin strips of egg, pieces of raw fish, vegetables and crab meat arranged on top), and inro-zushi (cooked vinegared rice packed inside of a cooked squid). Edomae-zushi, rarely made as a home-cooked meal, is basically the work by sushi chefs.
The topping items of Edomae-nigir-zushi are called 'tane' or 'neta' (reading 'tane' backwards) that is used as the jargon for 'tane.'
Major tane items include the following: Flatfish, righteye flounder, sea bream, Japanese seaperch, and whitebait
Monjayaki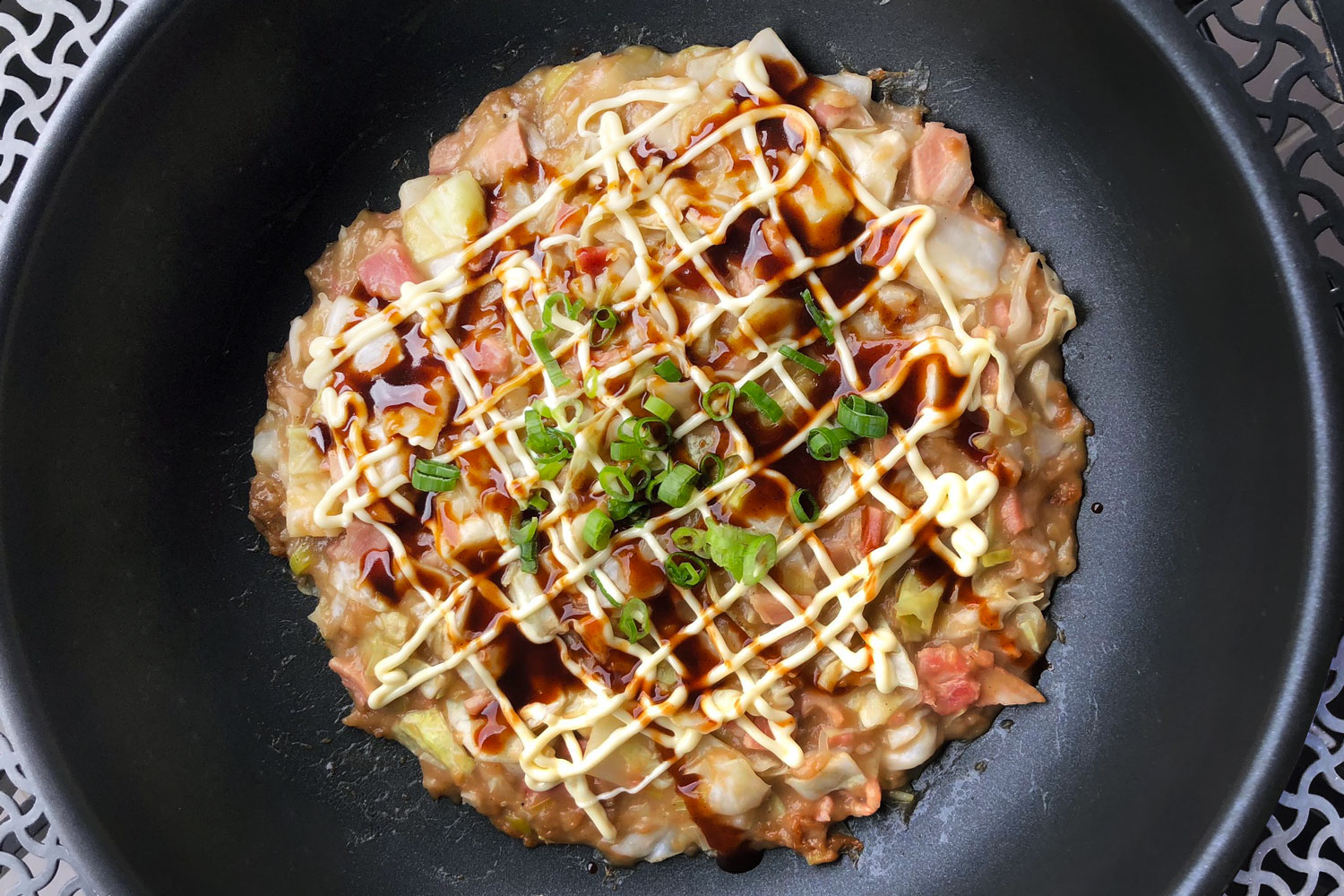 Photo: Asian Inspirations
#2 on the ranking is "monjayaki," which is offered by a number of restaurants in downtown Tokyo, particularly in the Tsukishima area--so famous for the dish it's also known as "Monja Street." Monjayaki seems a little like okonomiyaki's weird cousin--both are made with a batter and cooked on a griddle, but monjayaki has a much more liquid consistency. Part of the fun of monjayaki is that diners can make it themselves on griddle-equipped tables--its both delicious and entertaining!
Monja, or monjayaki – often compared to okinomiyaki because both include ingredients like flour, cabbage and egg – is a speciality of the Kanto region and is best sampled in Tsukishima in Tokyo Bay. Head for Nishinaka Street where you'll find over 70 monjayaki restaurants and even a monjayaki information office. If the restaurant you choose has an all-Japanese menu and you need a little help ordering, it's safe to ask for 'mixed' monja. Generally, you can choose from a variety of ingredients including seafood, pork, spicy cod roe, noodles and cheese.
Ramen
Ramen (ラーメン) is a noodle soup dish that was originally imported from China and has become one of the most popular dishes in Japan in recent decades. Ramen are inexpensive and widely available, two factors that also make them an ideal option for budget travelers. Ramen restaurants, or ramen-ya, can be found in virtually every corner of the country and produce countless regional variations of this common noodle dish.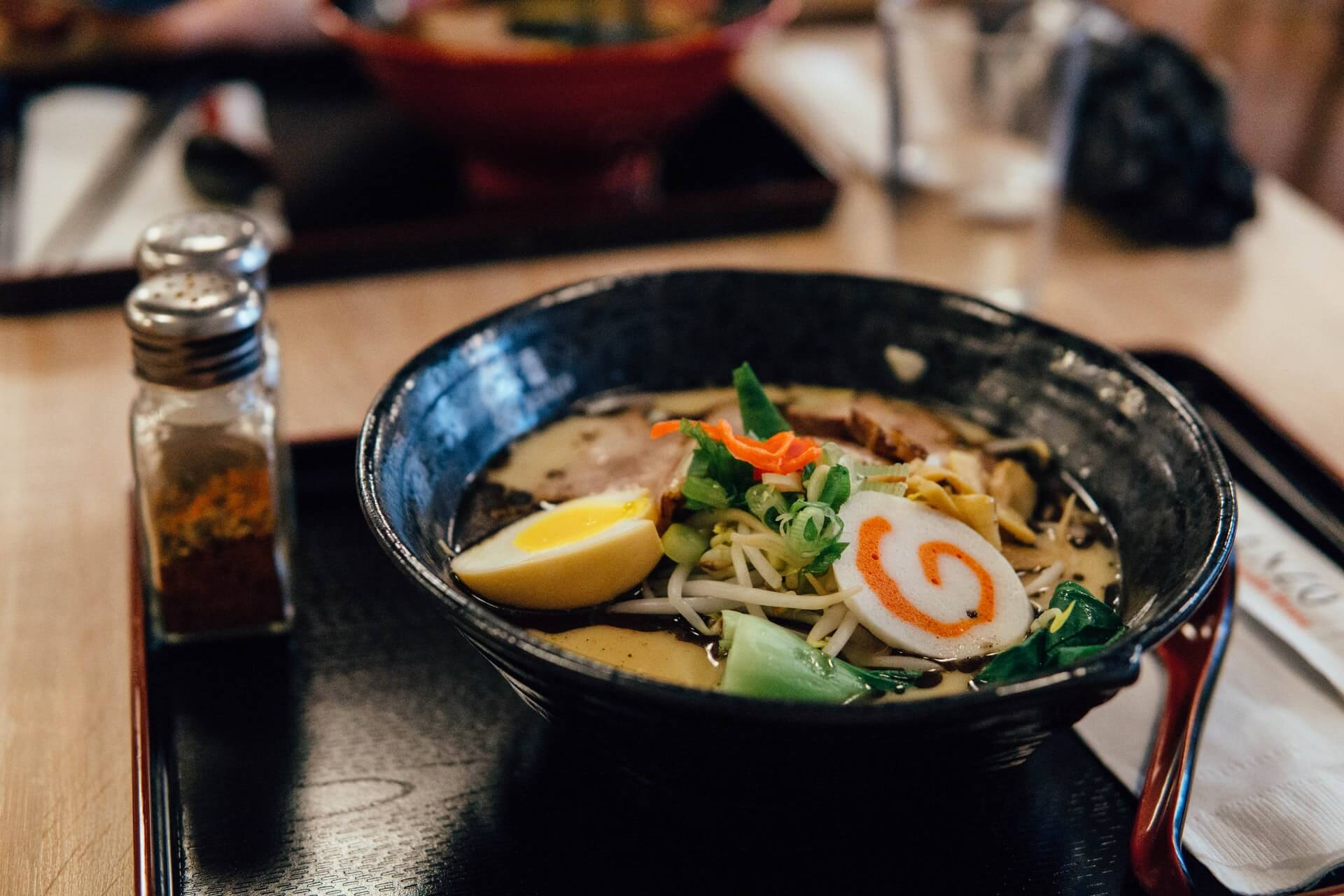 Photo: Tomimarkets
The second key aspect of ramen are the noodles, which are made of wheat and come in many different types. Typical Ramen noodles are long and elastic, but countless varieties exist that vary from thin and straight to thick and wavy. Some ramen-ya allow you to customize your noodle order to some extent such as by allowing you to select a thickness (thin, regular or thick) or doneness (regular or firm).
Tempura (Battered and Deep-Fried Seafood and Vegetables)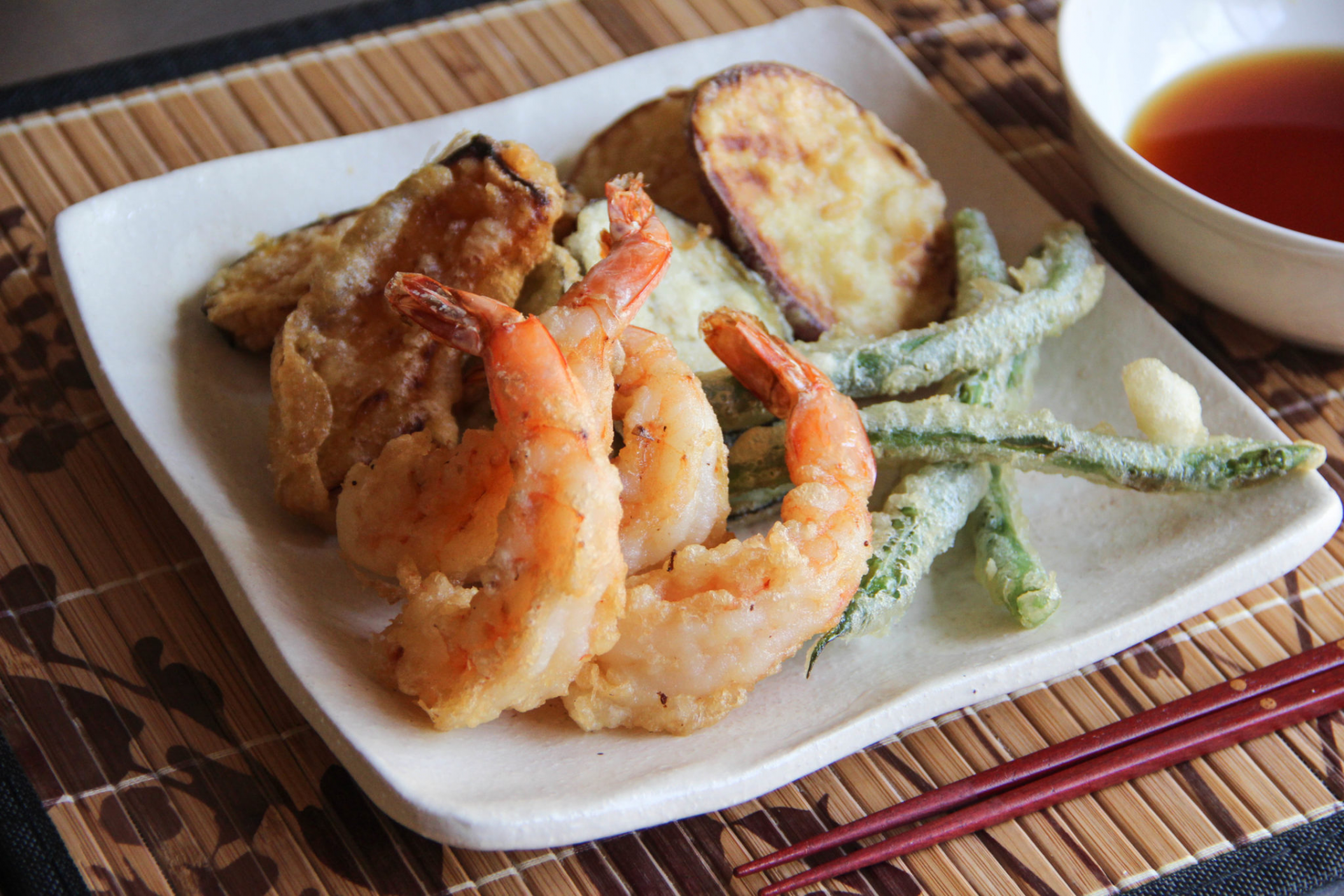 Photo: Japanese Cooking 101
Tempura is a popular Japanese dish in which food (most commonly seafood, vegetables, or sushi) is lightly battered and deep fried to create a light, crispy coating. Any time you see the term "tempura fried" on the menu at your favorite Japanese steakhouse, this simply refers to food that was dipped in this batter and fried.
Although this cooking method is synonymous with Japanese cuisine, there is some debate as to whether it originated in Japan or was brought to Japan in the 16th century by Portugese missionaries and later adopted into Japanese cuisine. But the spread of mainstream, Tokyo-style (Edo) tempura can be traced back to the street vendors that surrounded the fish market during the Edo period. What originated as a street food, has turned into a serious Japanese cooking method that chefs spend years mastering.
This simple batter has just three ingredients: flour, egg, and ice water. Tempura mix is available in some specialty stores, but it's simple enough to use plain 'ol all-purpose flour instead.
Unaju (Freshwater Eel over Rice)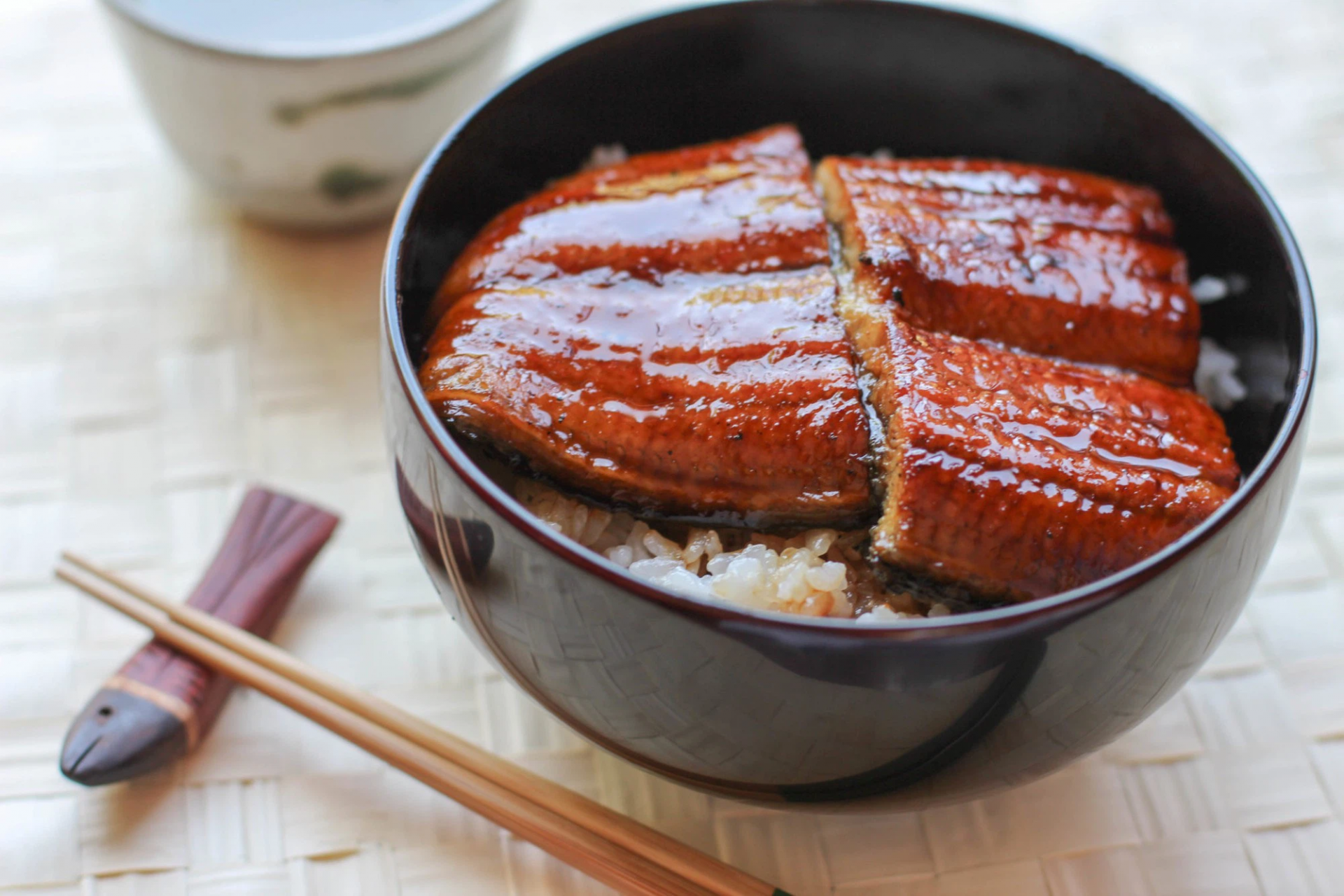 Photo: Getty Images
The terms "Unaju" (written as 鰻重, うなじゅう, うな重) refer to a Japanese dish, which contains broiled eel on rice with sauce in Jubako (generally tiered square wooden boxes with a cover which is coated by urushi Japanese lacquer) or refers to a specific kind of container used to serve broiled eel. Any of these terms are an abbreviation of unagi Jubako. Recently many unaju use the Jubako that is made of acrylonitrile-butadiene-styrene resin and coated with chemical coating.
In some regions, a bowl of rice topped with eel is called Unadon while rice topped with eel in Jubako is called Unaju. In other regions and restaurants, where the word Unaju means overlapped eel, rice sandwiched in between two broiled eels, that is, one eel is put on the surface of the rice and the other eel placed under the rice, is called Unaju.
Tendon (Tempura Rice Bowl)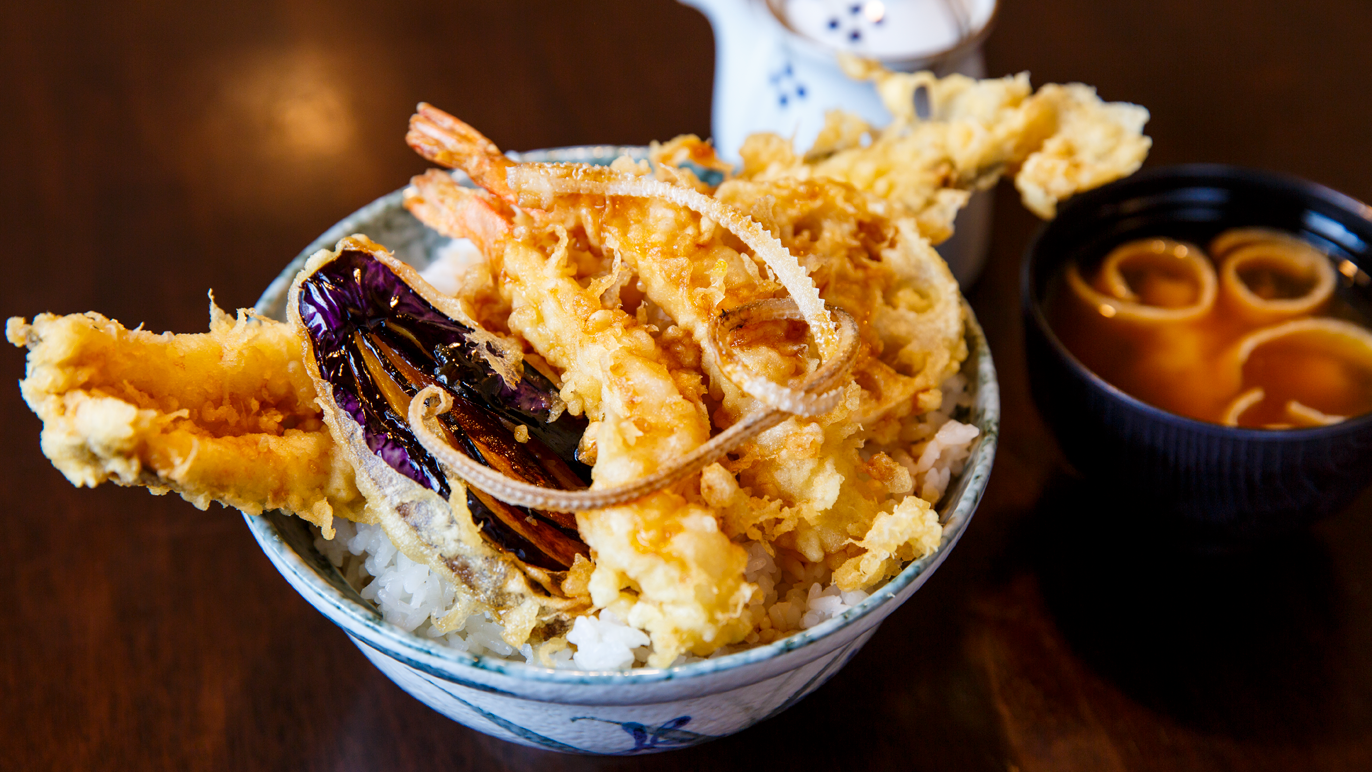 Photo: Time Out Tokyo
#6 is "tendon," which is tempura placed on top of rice--a common dish in Japan. However, in Tokyo, tendon is typically eaten with a strongly flavored black sauce which sets it apart from the others. The sweet and spicy flavoring is superb.
An all-time favourite of Japanese gourmands, tempura over rice (tendon) is said to have originated in the 1830s, and has played a central role in local food culture ever since. Although rather calorie-packed, the tempura served at speciality joints is usually fried in sesame oil, which actually contains cholesterol-lowering linoleic acids, oleic acids and the anti-oxidant sesamin, making it just a little more defensible in terms of health effects.
Soba (Buckwheat Noodles)
Soba (そば) noodles are noodles made of buckwheat flour, roughly as thick as spaghetti, and prepared in various hot and cold dishes. Soba dishes are very popular and easily available nationwide. As 100% buckwheat soba noodles tend to be brittle, many restaurants add some wheat flour when preparing their noodles. Depending on the shop, the percentage of buckwheat flour in soba noodles typically ranges between 40% and 100%.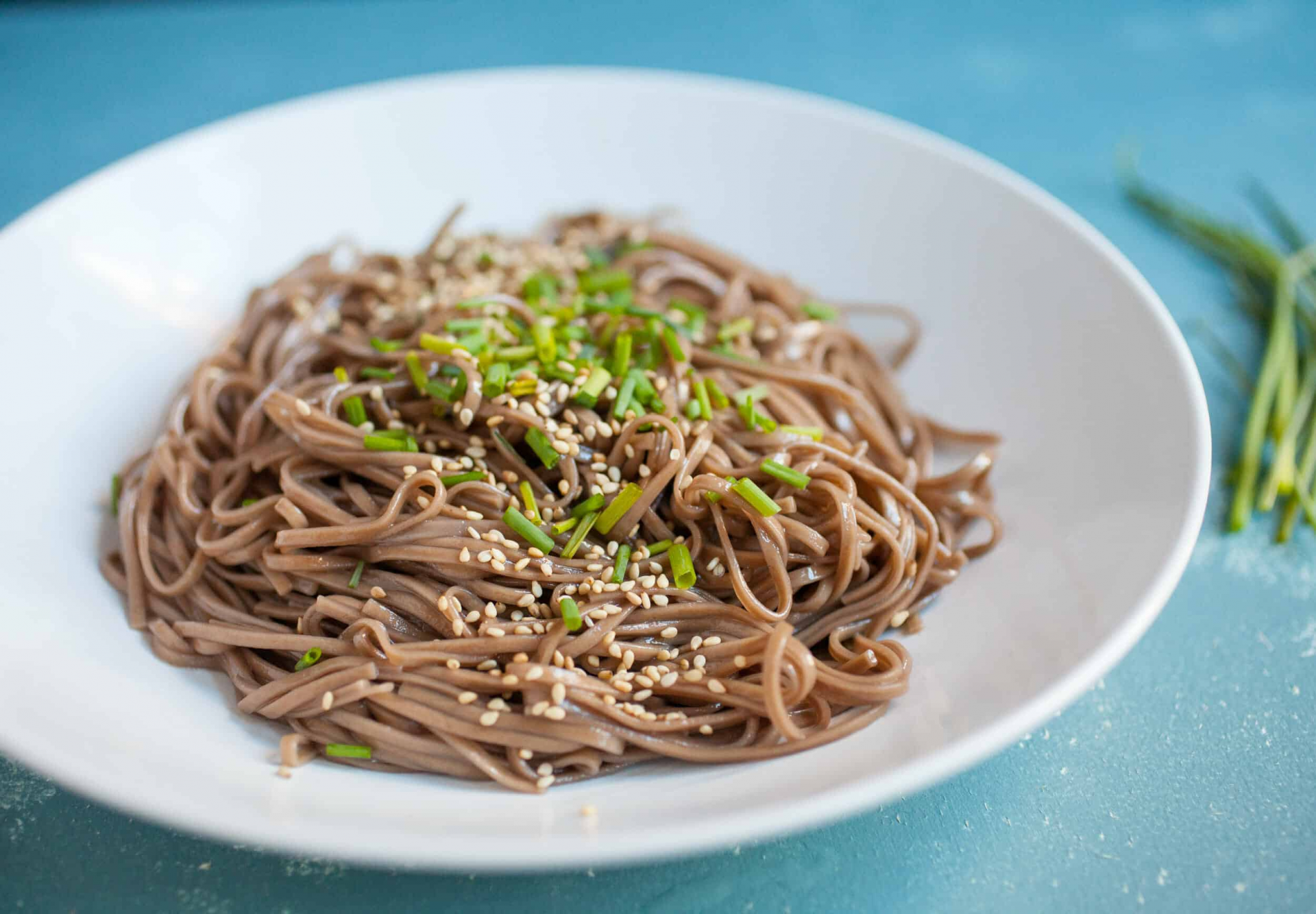 Photo: Macheesmo
The most basic soba dish is mori soba in which boiled, cold soba noodles are eaten with a soya based dipping sauce (tsuyu). Many soba dishes are eaten throughout the year, while others are only available seasonally. A special kind of soba dish is Toshikoshi Soba, a symbol of longevity, that is only eaten on New Year's Eve.
Like pasta, soba noodles are available in dried form in supermarkets, but they taste best if freshly made by hand from flour and water. Soba making has long been a popular hands-on activity for domestic and international travelers. The activity is offered by many craft villages and travel tour companies.
Yakitori (Broiled Chicken Skewers)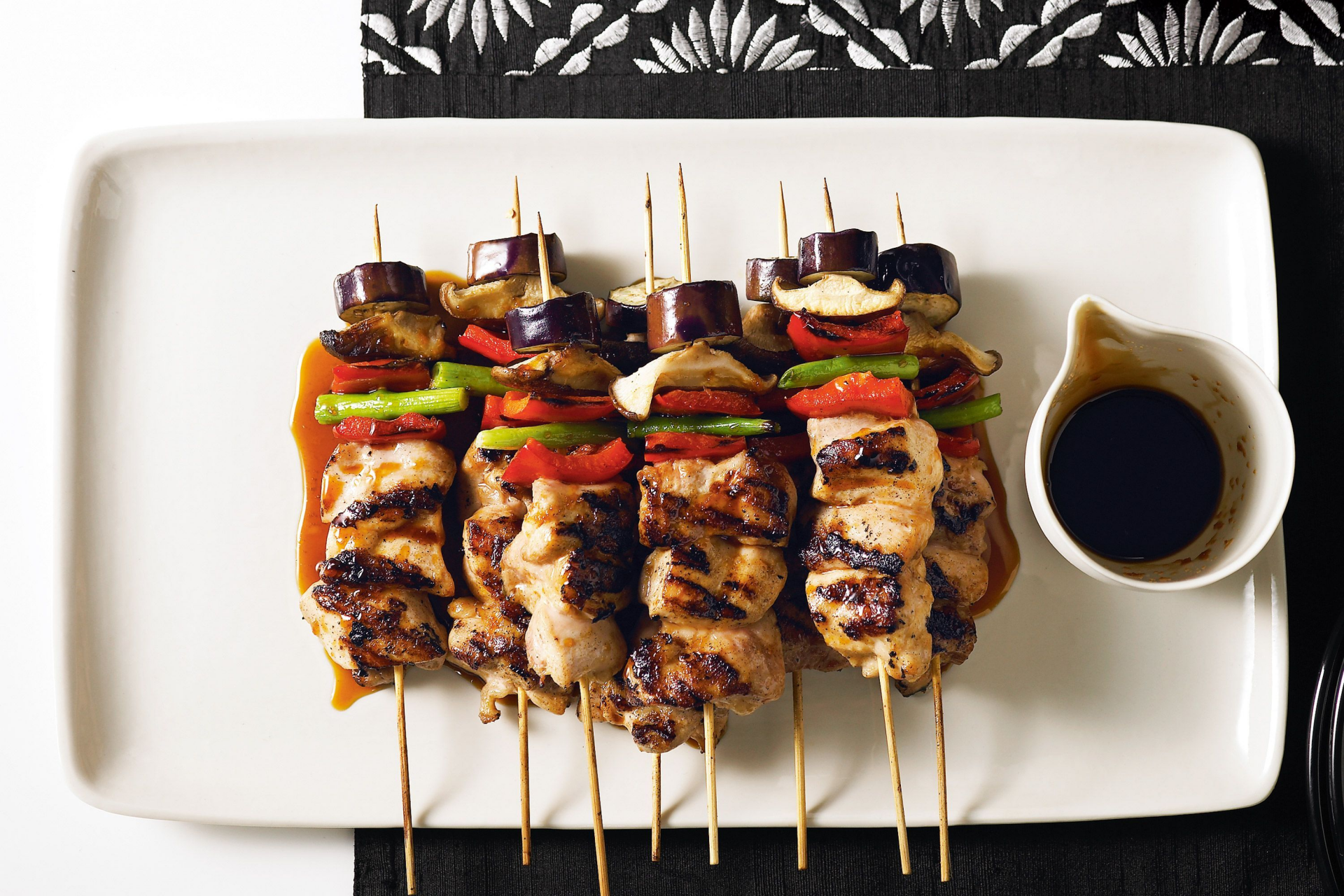 Photo: Taste
Yakitori (焼き鳥) are grilled chicken skewers made from bite sized pieces of meat from all different parts of the chicken, such as the breasts, thighs, skin, liver and other innards. Usually made to order and cooked over charcoal, yakitori is a popular, inexpensive dish commonly enjoyed together with a glass of beer. The best yakitori is served at specialty restaurants, known as yakitori-ya, but it can also be found at many other types of restaurants across Japan, such as izakaya, and at festival food stands.
Yakitori is an inexpensive and informal food that is easily found at specialized yakitori-ya, as well as at most izakaya and many other restaurants across Japan. At a typical yakitori-ya they are sold by the stick or a set of two sticks, and cost around 100-200 yen per stick. Many restaurants also offer combination plates with multiple types of yakitori (moriawase). Since yakitori are cooked to order and served hot off the grill, it may be better to order them in small batches rather than in a single large order.
Dojo Nabe / Yanagawa Nabe (Loach Hotpot)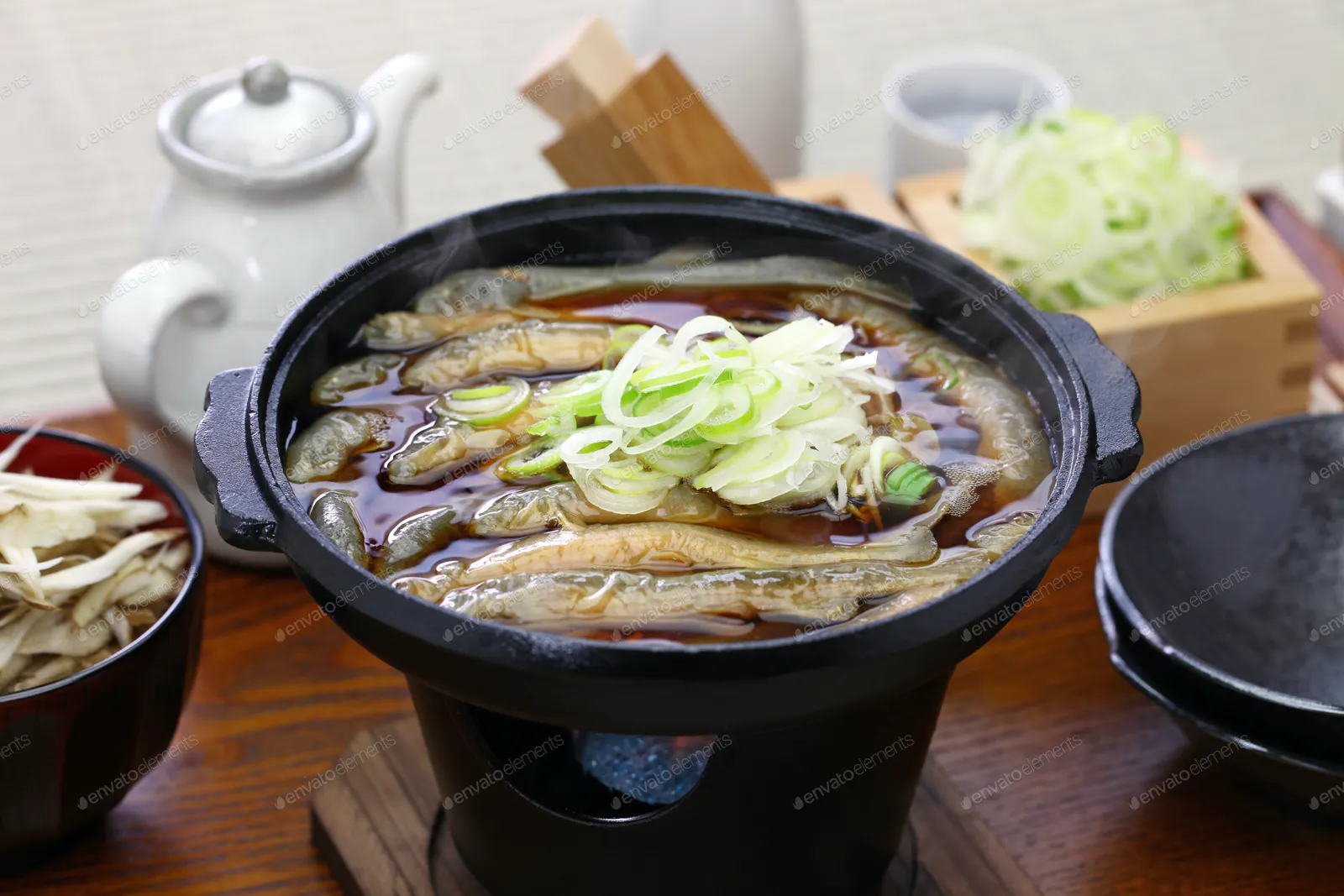 Photo: Evanto Elements
Dojo nabe (Japanese: 泥鰌鍋 or ドジョウ鍋; dojō nabe) is a Japanese nabemono dish. To prepare the dish, pond loaches are cooked in a hot pot. The freshwater fishes are either killed ahead of cooking or are first soaked in cold sake and then cooked alive.
In 9th place is "dojo nabe", which uses loach, or "dojo", an ingredient that rivals freshwater eel as a stamina-boosting food. Particularly popular is an even more local version called "Yanagawa nabe," which features beaten egg and is hard to find outside of Tokyo.
Unagi no Kabayaki (Basted and Broiled Freshwater Eel)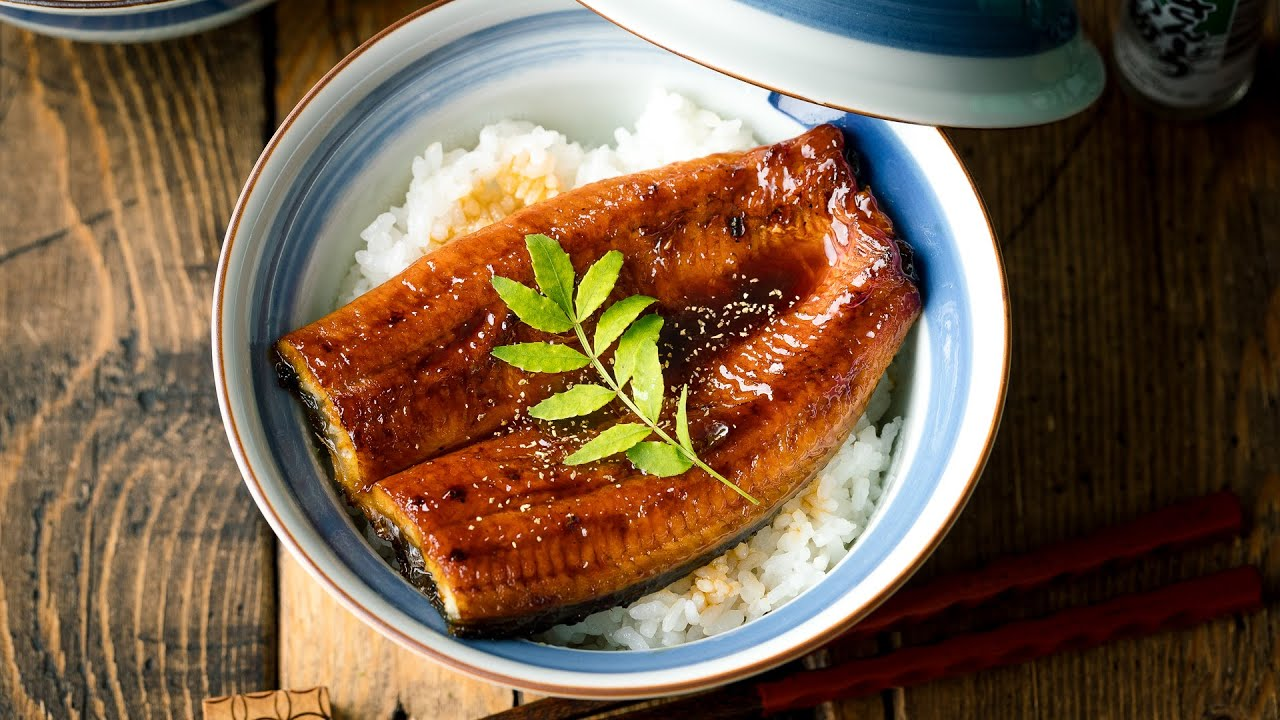 Photo: Just One Cookbook
Kabayaki refers to one method of grilling, and is a popular way to cook seafood. For kabayaki, the ingredient is first gutted, boned and butterflied, then marinated in a mixture of soy sauce, sake, sugar, and other seasonings before being grilled. Other famous kabayaki meals include samma no kabayaki, grilled saury fish, and iwashi no kabayaki, grilled sardines.
Unagi no kabayaki is usually served with freshly steamed white rice. If served separately, it's known as nagayaki, if on top of a bowl of rice, it's an eel bowl known as unadon. For more upscale versions, the unadon may be served in tiered lacquer boxes called jubako. If the eel is cut into smaller pieces and mixed into rice, the dish is called a hitsumabushi-don. Some restaurants grill eels with secret sauces that have been passed down many generations.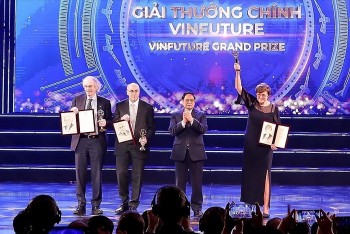 Handbook
Three times higher than Nobel Prize's monetary value, special prize for female innovators - Here's what you may not know about the new scientific prize launched by a Vietnam's leading group.