Most 'Touch Your Heart' Roads in Vietnam
There are millions of different roads stretching across the S-shaped land which are surprisingly beautiful and making anyone passing by irresistibly stop to enjoy and take artistic photos by himself.
The road through Tan Lap Melaleuca forest, Long An
The 5km long road through more than 100ha of Melaleuca forest in Tan Lap floating village to show that there are many unique, mysterious and attractive landscapes in Vietnam.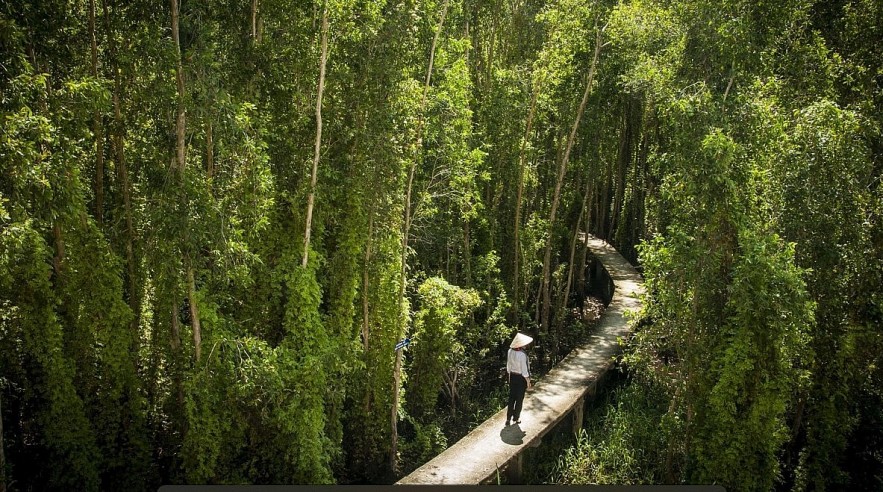 Photo: Travellive
Tan Lap melaleuca forest is about 100km from Ho Chi Minh City center. This was originally a pristine wetland in Moc Hoa district, Long An, near the Cambodian border, linked with Dong Thap Muoi area forming a vast green area, with interlaced canals and the does flow across the West Vam Co river.
The place's nature is outstanding with ancient melaleuca forests, lotus ponds, water lily lakes and hundreds of species of birds, fish and endemic amphibians creating a rich and diverse ecosystem.
The steep road in Gia Lai
The steep road is on the way of Pleiku city's passby or shortcut, from Gia Lai to Kon Tum, in the territory of Ia Pech commune, Ia Grai district. The road stretches for about 1 km, with black cassia trees blooming yellow flowers on both sides. Black and yellow cassava are plants commonly seen in the Central Highlands provinces, which have the effect of shading and blocking the wind for tea and coffee gardens.
The road in Gia Lai have been shared a lot by the online photographer community recently because of its unbelievable slope. The road's special feature attracting many people is the almost vertical slope, which looks like a 90-degree angle.
Brocade road in Ha Giang
This colorful road is 1.7km long and has made its name on the list of the longest brocade road in Vietnam.
The thing makes the road unique and special is that it was not created by professional artists, but hand-painted by hundreds of local people, and they work together to preserve, clean or repaint periodically. There are many typical motifs and images of the highland culture on the road.
The road among white sand dunes in Bau Trang, Binh Thuan
Bau Trang is a large natural freshwater lake, covered by immense sand dunes stretching and located about 60km from Phan Thiet city center in Binh Thuan. It is also the name given to the road Mui Ne - Bau Trang - Phan Ri Cua, a well-known backpacking one as the most beautiful sea road in Vietnam.
The road across the sea on Diep Son island
Diep Son Island is located in Van Phong Bay in Khanh Hoa, famous for its unique and beautiful road in the middle of the sea. The road is about 800 m long, connecting two islands in the Diep Son island range, winding beautifully submerged in turquoise water.
The best time to explore the mid-sea trail is at low tide. The road is winding, about 1 meter wide and less than half a meter deep under the clear blue sea. Looking from a distance, the fine white sand appears in the middle of the sea like a beautiful bridge connecting to the beautiful Diep Son island.
| | |
| --- | --- |
| | Vietnam has 3.260km of coastline, which is a treasure for those who love traveling. Along that coastline, these following five beachside roads are considered the ... |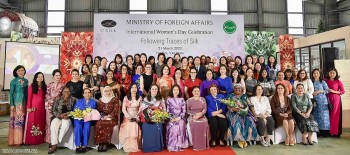 Friendship
Female ambassadors, representatives from diplomatic corps and international organizations, along with spouses of diplomats in Vietnam gathered together to find about more about silk weaving and silk products in Vietnam.