Stunning one-of-a-kind roads across Vietnam that become tourist's attraction
Vietnam is famous for many unique and charming roads that make tourists fall in love in the first sight, from the coracle road that was a piece of art, to the stunning, dreamy Bau Trang coastal road...
Vietnam's longest brocade road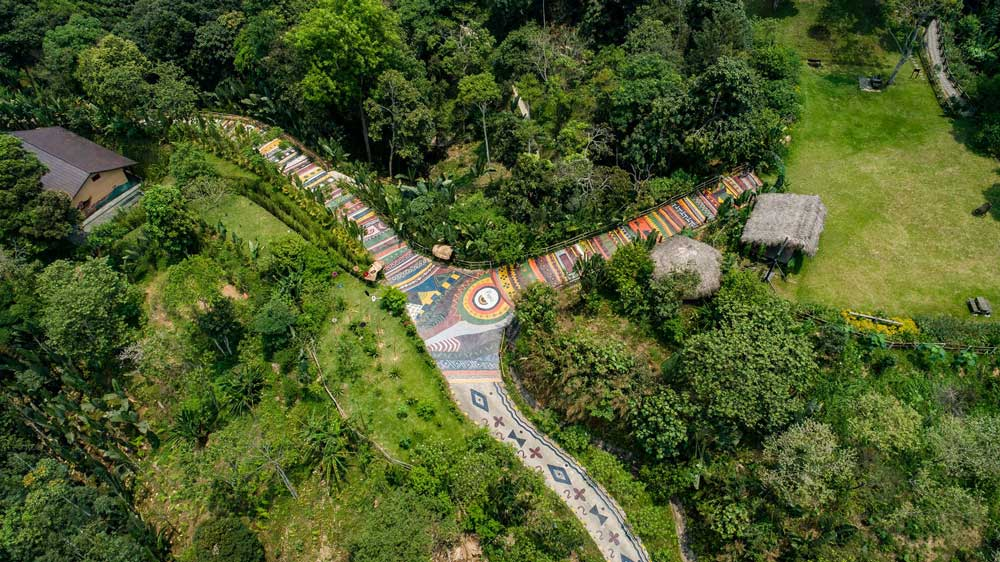 Photo: Zingnews
The 1,700 m long road is hand-painted by hundreds of locals in Ha Giang's Bac Me district and decorated with the brocade pattern which is inherently a typical feature of the upland culture.
The brocade road, located at a resort in Yen Dinh commune, Bac Me district, has been recognized by the Vietnam Record Organization. Inaugurated in September 2020, the road stretches 1,700 m along the hill flank, VNExpress reported.
The resort's representative Vu Phuong said that the brocade road is built with a view to preserving and upholding the unique cultural traits of ethnic minorities.
The idea of creating the brocade road derives from the locals and resorts' staff. The road's patterns are completely hand-painted.
Maintaining and restoring the road is not easy, Phuong said, adding that there is a worker who is responsible for clearing leaves and repaint the road every day and every month.
The Happiness Road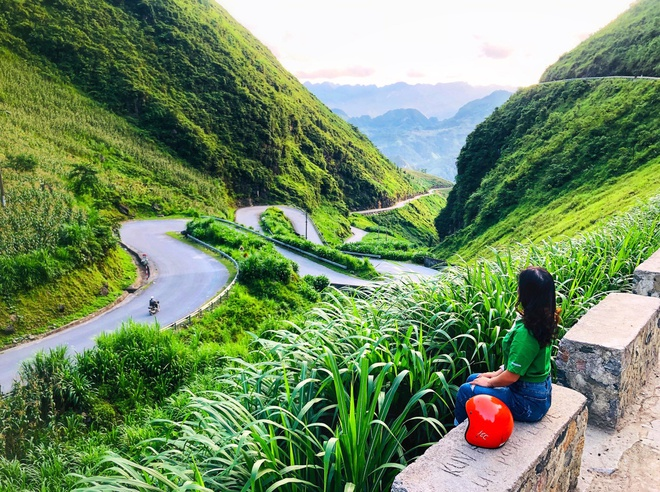 Photo: Zingnews
The Happiness Road was built along Dong Van Rocky Pleataux between 1959 and 1965 with total length of 185km connecting Ha Giang township with islolated mountainous districts of Quan Ba, Yen Minh,Dong Van & Meo Vac; helping local ethnic minorities get access to the plains and better their life.
This history of opening this road is really amazing and can not be told in a single paper page.It was constructed by the hands of more than 1,300 men and women volunteers from 6 mountainous provinces ( Cao Bang, Bac Kan, Lang Son, Thai Nguyen, Tuyen Quang, Ha Giang) and 2 delta provinces ( Nam Dinh, Hai Duong); and more than 1,000 people of 16 local ethnic groups joining in the building process within 7 years.
In the 1950s &1960s, in Vietnam,there were no modern equipments, volunteers plunged into opening this road with extremely simple working tools of hoes, shovels, hammers, crowbar, wheelbarrow; in really difficult working conditions of food shortages, salt deficiency, lacks of green vegetables & water; under the extreme climates of the highlands – hot summer like roasted, winter cold like cutting meat; and faced up lots of abstacles,dangers & deaths as well.
To make that road, 14 volunteers & workers sacrified their life and permanently laid down on the road with rocks. Therefore, when completed, the road was named " Happiness" – happy by the unity & effort of young volunteers & workers to build the road with their health & their blood; and happy that Ha Giang lands & thousands of people here are no more isolated. The road opens more opportunties for people in the regions with better education, heathcare & better life. It is the way to brighten the future of many children now & forever.
he road of happiness starts from Ha Giang city with its first 20km of flat path, then journey up & down on many winding & high passes along mountain slopes – Quan Ba Pass in Quan Ba district overviewing Quan Ba Heaven Gate, Quan Ba Fairy Tower, then to Yen Minh with impressive view of layers of pine forests, to Dong Van districts with nice stops to visit Lung Cu flag tower, Vuong palaces & weeky markets ; and overcome Ma Pi Leng Pass ( with breathtaking captivation of magnificient mountains,deep valleys & Nho Que river running like a colorful thread through the cliff) to reach Meo Vac town.Touching the milestone of 185km is also when the journey with the path of happiness is completed.
Nowadays, travelling to these northern districts of Ha Giang province is easier thanks to the old road's extention to be bigger but still challenges you with sense of adventure when overcoming winding & twistling passes. It is great to know about the history of Happiness Road and conquer different passes (Quan Ba Pass, Tham Ma Pass, Ma Pi Leng Pass.....) on this legendary road for great exploration of beautiful Dong Van Rocky Pleateux & authentic cultures of local ethnics in the region.
The Coracle road in Tam Thanh Village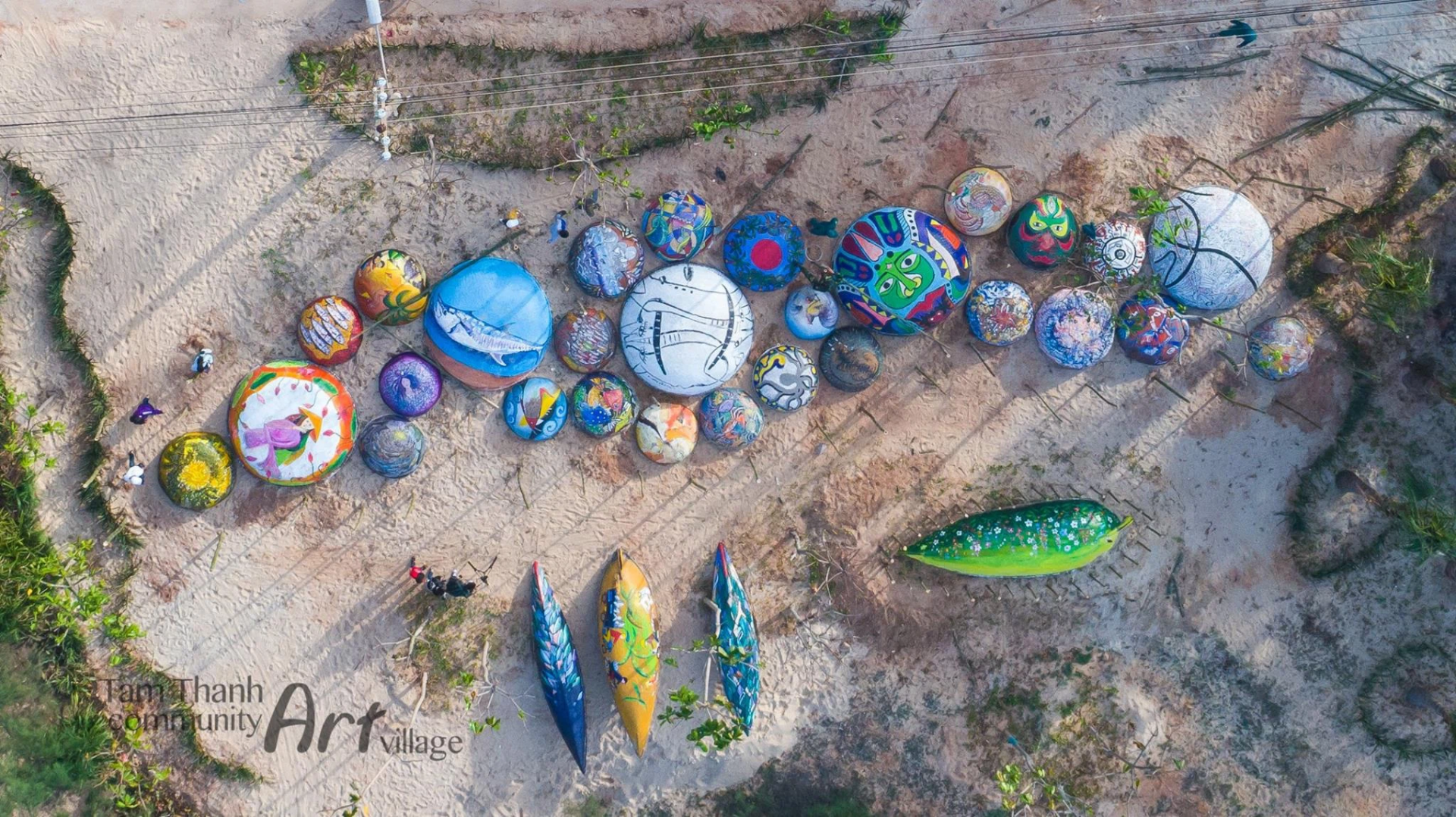 Photo: Tam Thanh Community Art Village
More than 100 coracles and old seafaring tools were turned into art pieces by artisans, painters and local students.
The 1.5 kilometre-long road of coracles along Bich Hoa Tam Thanh Village has been transformed into a space of unique art that is connected to the daily lives of fishermen.
The road was prepared in 3 months by the artists and the city's authorities to welcome the Quang Nam Heritage Festival 2017.
The paintings on the coracles were to show the beauty of daily life in Tam Thanh Mural Village, love and dreams… Each artist had their own ways to express their feelings and thoughts through their arts. Sea and people are the two main sources of inspiration for them to create wondeful arts showcasing on the coracles.
The project of developing community-based tourism in Tam Thanh commune is one of the ideas to promote tourism and create livelihood for local people. However, according to Vice Chairman of the Tam Ky People's Committee Nguyen Minh Nam, it is necessary to innovate the ways and products of local tourism for sustainable development.
Bau Trang Coastal Road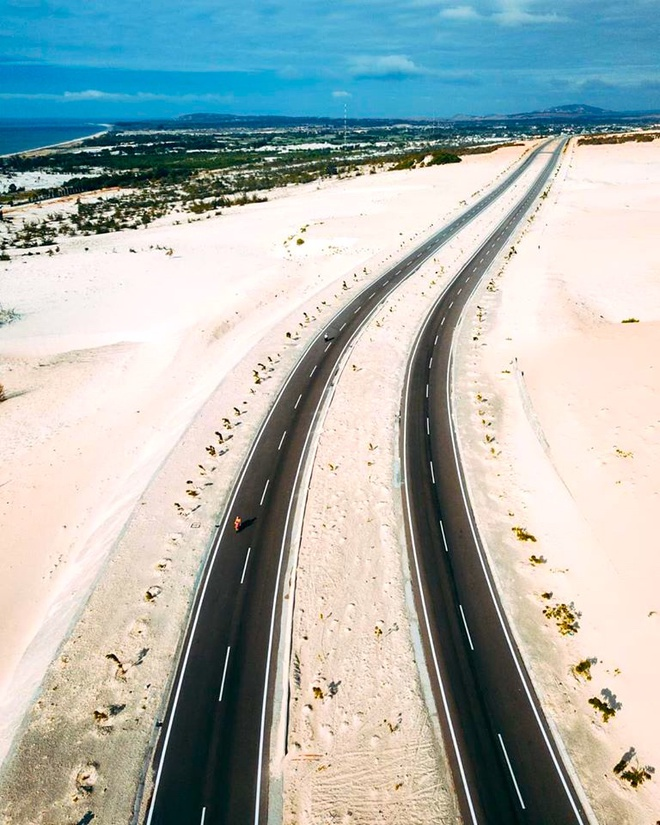 Photo: Zingnews
Located in Phan Thiet, Binh Thuan province and always be in the must-check in list of travel lover, Bau Trang is a so charming coastal road that can astonish anyone with its picturesque beauty.
Wandering on the road, you have plenty of chances to admire the immense sand dunes stretching to the horizon where they seems to end only because there is no way your eyes can see further. The dunes continually turn their colors from yellow to red and then white. The natural wonder lying on two sides of the road will surprise your journey with the way how the Mother Earth designs them.
Also, the place is usually linkened to "the little Sahara" so beside riding on the stunning road, never forget to discover the great sand dunes for new experience.
From May to August every year, visitors even have chance to admire the lotus season blooming in the lakes surrounded by sand dunes. It's definitely not an exaggeration to say this could be the scene of Wonderland.
If you plan to the South of Vietnam, don't miss this awesome place! Just hire a bike and ride through sand dunes to feel the great fresh breath from the sea and explore the little Sahara, your curiosity will be satisfied!
The longest road through Tan Lap Floating Village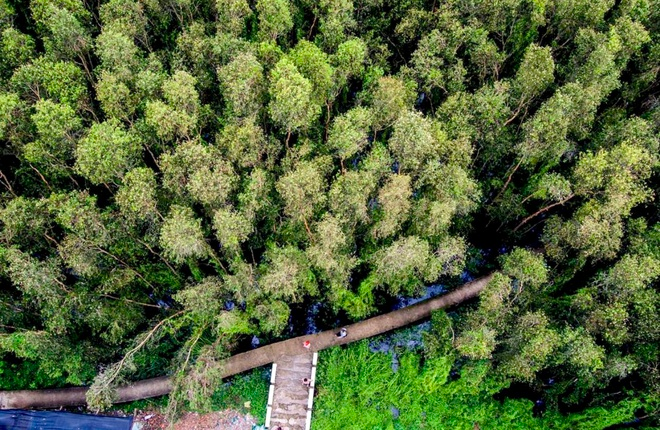 Photo: Zingnews
Tan Lap floating village is a wild wetland of Long An Province and adjacent to Dong Thap Muoi. These two areas link together and create a wide land stretching to thousands of hectares alongside Vam Co Tay River. The highlight of nature here is the vast cajuput forests along with lotus fields, water lily ponds and rice fields. These are home to hundreds of bird, fish and amphibian species, which contributes to form a diverse ecosystem in Mekong Delta.
The entrance of Tan Lap Floating Village is designed in an eye-catching way with the thatched-roof model. Inside, there are some spacious buildings with the octangle brick courtyards and a lot of ornamental plants surrounding. If you take a further view, you can completely contemplate the endless beauty of green rice fields and the colorful beauty from fruits orchards which is only in Mekong Delta tours.
Next, you will go to the marina where has a water canal leading to the entrance of the Tan Lap Cajuput Forest. After buying a ticket of about 50,000 VND to 120,000 VND, the boatman will take you to go along Rach Rung and explore the wonderful natural landscapes here. Especially, from the distance, you can clearly see the observation tower with 38 meters at height. Climbing the ladder and reaching the top of this tower, you will not only enjoy the fresh atmosphere but also the panoramic beauty of Tan Lap Floating Village.
At that moment, the unique path through the cajuput forests appears in sight. The path is only about 1 meter and built of cement covered with thick moss by time. It is quite winding but sometimes it ramifies to two crossroads. Interestingly, walking under the yellow sunshine weaving through the tree branches in this place will make you feel as if you are in the fairy world.
Then, the boat will pick you up to visit the next destination in Tan Lap Floating Village. It is the lotus fields. In the period between September and December, lotus flower is in fluorescence. Therefore, you are able to scent the passionate fragrance spreading all over the space as well as admire the beautifully pink color of lotus flowers. Certainly, it is a suitable place for you to take a lot of styled photos.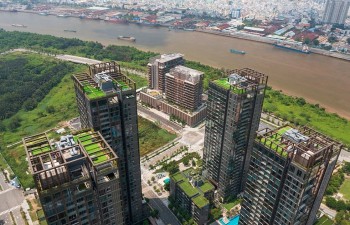 Economy
Vietnam Business & Weather Briefing (August 11): Vietnam to increase coal imports in 2025-2035 period, ten tonnes of Vietnamese longan exported to Australia.