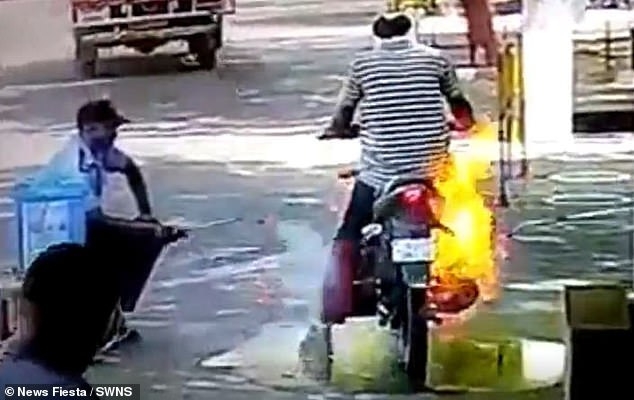 Flames can be seen spreading up the man from the right side of the motorbike in Gujarat, India last week
According to Reuters tally, India's coronavirus infections crossed 200,000, the health ministry said on June 3 with the death toll from the disease stood at 5,815.
Cases jumped by 8,909 over the previous day in one of the highest single-day spikes, taking the tally to 207,615.
"We are very far away for the peak," said Dr Nivedita Gupta, of the Indian Council of Medical Research. Government officials have previously said it could be later this month, or even July, before cases start to fall off.
The exponential spread of COVID-19 in India has forced the country to be alert and cautious, people are recommended to continue the strict measures to break the chain of spread.
A single cough can disperse 3,000 droplets of the deadly virus, which can remain on metallic surfaces for two to three days. In badly-hit areas, government officials have ordered workers to disinfect vehicles.
However, as people take several measures to sanitise and curb the spread, here is an instance of what could go terribly wrong at such an instance. The video below from The daily News18 shows two government workers at a complex spraying alcohol-based disinfectant sprays on vehicles before entering in Gujarat - one of the country's hardest-hit states.
The guard sprays disinfectant on the scooter and lets him go inside. However, the second time around when a motorcycle comes the sprayed disinfectant catches fire engulfing the motorcycle in flames.
The shocked rider hops off his motorbike and dumps it in the road and runs away.
The workers at the complex leaped into action, pulling the sanitiser away from the blaze.
A source said: 'Another worker is seen immediately pulling the bike away in order to prevent it from getting damaged further.
'One of the workers is then seen running to grab a fire extinguisher and then comes and tries to spray it on the fire.
'Unable to make it operational, he grabs a bottle of water and pours on the fire in a bid to douse it.'
The heat of the engine and the peak summer temperature outside might have triggered the flame. The rider suffers mild burns himself.
Post the fire, it could also be seen that the fire extinguisher provided at the guard's office was non-operational. Such disinfectants are not safe to be used anywhere near a vehicle, including storing it inside the car.
This is not the first instance when an alcohol-based disinfectant has caused a serious fire. A while ago, a little girl was left with burns on her face after a bottle of hand sanitiser left in a hot car exploded./.
Hannah Nguyen