Mudslide Wipes out Homes in Japan: Never Lived Through Anything Like This
A large mudslide southwest of Tokyo on Saturday, destroying more than 10 houses, causing two people to die and about 20 others to remain missing, local authorities said.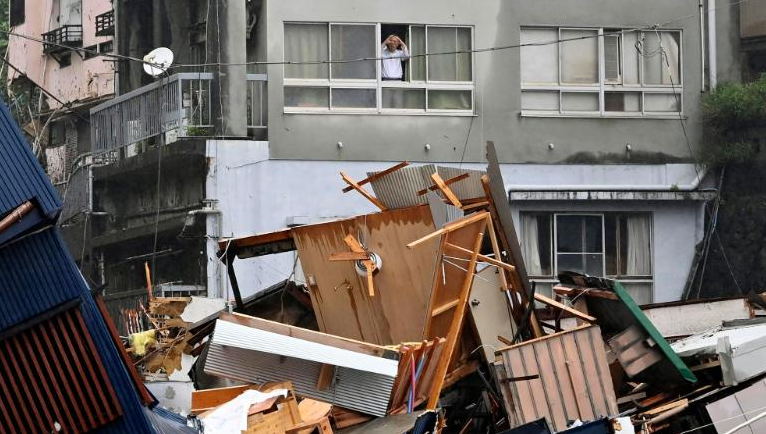 Photo: CNN
Large mudslide causing great destruction
At least 20 people are missing and two believed dead following a powerful mudslide in the Japanese seaside town of Atami that destroyed homes, buildings, and cars in its path on Saturday morning. The destruction was captured in videos shared to social media which show the black mudslide sweeping down a mountainside toward the town just 60 miles southwest of the nation's capital Tokyo, Newsweek cited.
The giant mudslide in Atami, Shizuoka prefecture, which occurred around 10:30 a.m. local time on Saturday, came after parts of the region were hit by torrential rain. An Atami city official confirmed to CNN that two women had died in the landslide. The speed of the mudslide is estimated to have been around 40 kilometers per hour.
So far, 19 people have been rescued in Atami city after being stranded in their homes. Operations stopped overnight and resumed on Sunday at 6 a.m. local time, with 700 people from the police, fire department service, and Japan Self-Defense Forces assisting. As of 6:30 a.m., some 380 people have been evacuated, and 10 evacuation centers have been opened in the city, the Atami city official said. More than 130 houses were swept away in the mudslide, Atami City's Fire Disaster and Management Agency said. Sakae Saito, the mayor of Atami city, told reporters that up to 100 to 300 households were affected. About 2,830 households in the city lost power, according to the Tokyo Electric Power Company. By Sunday, power had mostly been restored in Shizuoka.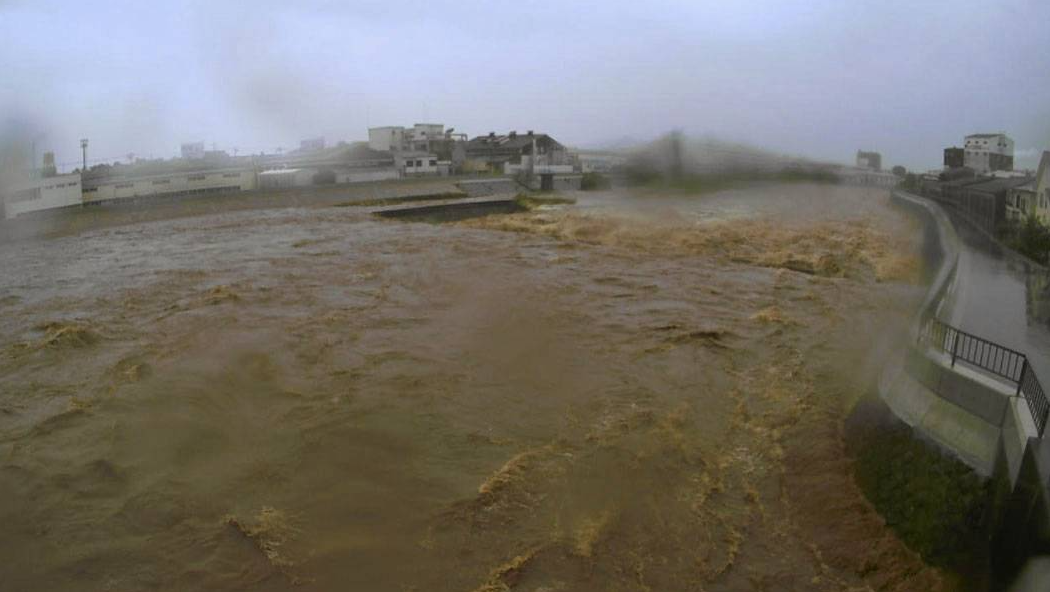 Photo: Japan Times
"I've never lived through anything like this"
"I've lived here for about 60 years but this is my first (such) experience," said 70-year-old Masaru Isei, who lives about 50 meters from where the mudslide occurred.
Isei heard what sounded like heavy rain at around 10:45 a.m. When he opened a window on the second floor of his house he saw that his storage shed had been swept away and that a car in the parking lot was sinking into the ground. He then evacuated with his wife to an acquaintance's house located on higher ground, taking only his smartphone and wallet. An 84-year-old man first noticed a rotting smell. When he looked upstream of a nearby river, he saw a huge amount of soil and sand about 5 meters high moving toward him. The river, usually less than 2 meters wide, was overflowing with the mixture and had swollen to several dozen meters wide, he answered to a CNN interview.
"The first thing that struck me was the sound of the ground rumbling. There was such a muddy, chemical stench in the air -- of course as so many things were being washed away. It all happened in a split-second," he said. Shima said he'd lived in the area for 50 years and though he'd experienced typhoons and heavy rains, he said, "I've never lived through anything like this."
Rescue efforts carried out
Japanese Prime Minister Yoshihide Suga has called an emergency cabinet meeting, while firefighters and police are on the ground searching for survivors. Local officials had also requested help from Japan's Self-Defense Force, who have reportedly joined the rescue effort.
The government has set up a task force at the Prime Minister's Office to collect information as heavy rainfall continued to lash areas along the Pacific coast in central and eastern Japan. Rescue workers are searching for those who remain missing. They also received about 10 calls from people who are trapped in their houses due to the mudslide. The Ground Self-Defense Force dispatched around 30 members to the area in response to a request from the prefectural government, according to Japan Times.
Heita Kawakatsu, the governor of Shizuoka prefecture, expressed his "deepest sympathies" to those affected by the landslide and to "those who have been forced to evacuate," he told a Saturday press conference. Kawakatsu warned that more rain is expected and said residents should watch out for further landslides. "There are many places where the ground is loose, so please evacuate from dangerous places, listen to information from the city and town, and make sure you and your family are safe," he said.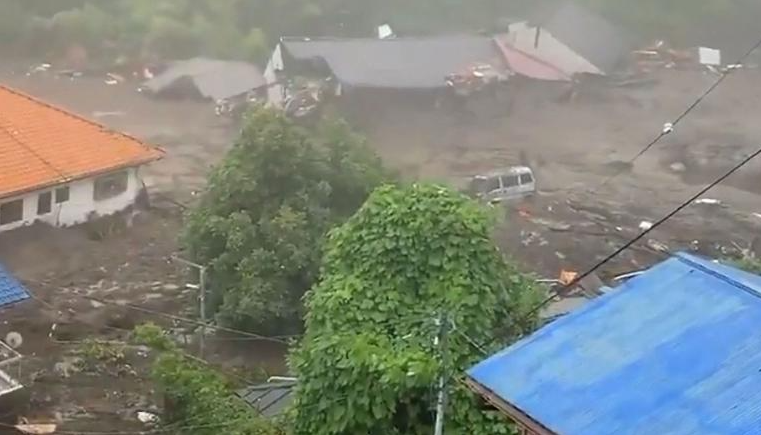 Photo: CNN
High risks of mudslides due to heavy rain
Fumitoshi Imaizumi, a professor of erosion control engineering at Shizuoka University, said the area is prone to mudslides due to volcanic sediment accumulating on slopes. "The total amount of rainfall in the area was quite heavy, so it created conditions for (mudslides) to occur."
The heavy rain also affected transportation links. A section of the Tomei Expressway between Kanagawa and neighboring Shizuoka Prefecture and part of the Shin-Tomei Expressway in Shizuoka were closed to traffic. Bullet train operations were briefly suspended in sections between Tokyo and Shin-Osaka stations, according to Central Japan Railway Co.
The Meteorological Agency urged maximum caution and called on the public to be vigilant over mudslides, flooding, and rising water levels in rivers. Prefectural governments from Ibaraki in the east to Kyoto in the west have issued warnings to their residents about sediment-related disasters.
In the 72-hour period through 11 a.m. Saturday, 780 millimeters of rainfall was recorded in Hakone, Kanagawa Prefecture, and over 550 mm was logged in Gotemba, Shizuoka Prefecture, the agency said. Rainfall also reached 122 mm in the three hours to 2:40 a.m. Saturday in Kyoto. All three figures marked the highest levels seen for July.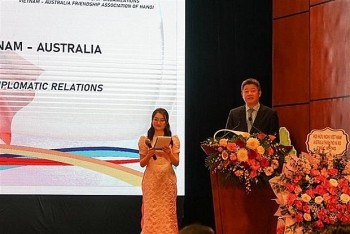 Friendship
A friendship exchange programme has been held recently in Hanoi to celebrate the 50th founding anniversary of the Vietnam-Australia diplomatic relations (February 26).