Must-see attractions in Ninh Binh for tourists to explore
Ninh Binh is a land of culture and nature beauty, and a perfect destination for visitors to come in their holidays, with unique places such as Hoa Lu Acient Capital, Mua Caves, Lying Dragon Mountain... to explore for yourself.
Hoa Lu Ancient Capital, Ninh Binh
Photo: Hanoi Explorer Travel
Located near the town of Ninh Binh, 90 km south of Hanoi, Hoa Lu Ancient Capital is the capital of an ancient Vietnamese Kingdom called Dai Co Viet in the 10th century. This small Kingdom covered an area of only 300 hectares, and reigned from the 10th century, during the Dinh and Le dynasties, to the 11th century, during the Ly Dynasty. The Kingdom was enclosed by a citadel. The citadel and the Yen Ngua limestone hills provided a good defence for this kingdom against the Chinese.
Hoa Lu is an ancient city surrounded by the Trang An limestone mountains. Its northwest is bordered by the Hoang Long River, the tributaries of which run through the capital, cooling the weather within the city and serving as convenient waterways.
Hoa Lu is known as the first capital of Vietnam with a wide range of historical landmarks. In 968, King Dinh Bo Linh of Dai Co Viet (an old name of Vietnam) constructed his capital in Hoa Lu and ruled until the year 980.
Afterwards, Hoa Lu also existed for almost 30 years of Early Le dynasty (980-1009) and 1 year of the Ly dynasty (1009-1010). In 1010, King Ly Thai To moved it to Thang Long (Ha Noi now) and since then, Hoa Lu became an ancient capital which maintained lots of ancient temples and relic sites of Vietnam.
The Royal Court was built in an area of 150 hectares in the eastern part of the capital while the western part served as a site to educate and protect children. The surroundings are quite picturesque, with ponds and limestone range forming a jagged horizon.
Nowadays, Hoa Lu ancient capital plays an important role in architectural and historical complex of Viet Nam. It was also recognized as one of the 4 cores forming of the UNESCO World Heritage Site – Trang An Complex.
Mua Cave or Hang Mua attraction in Ninh Binh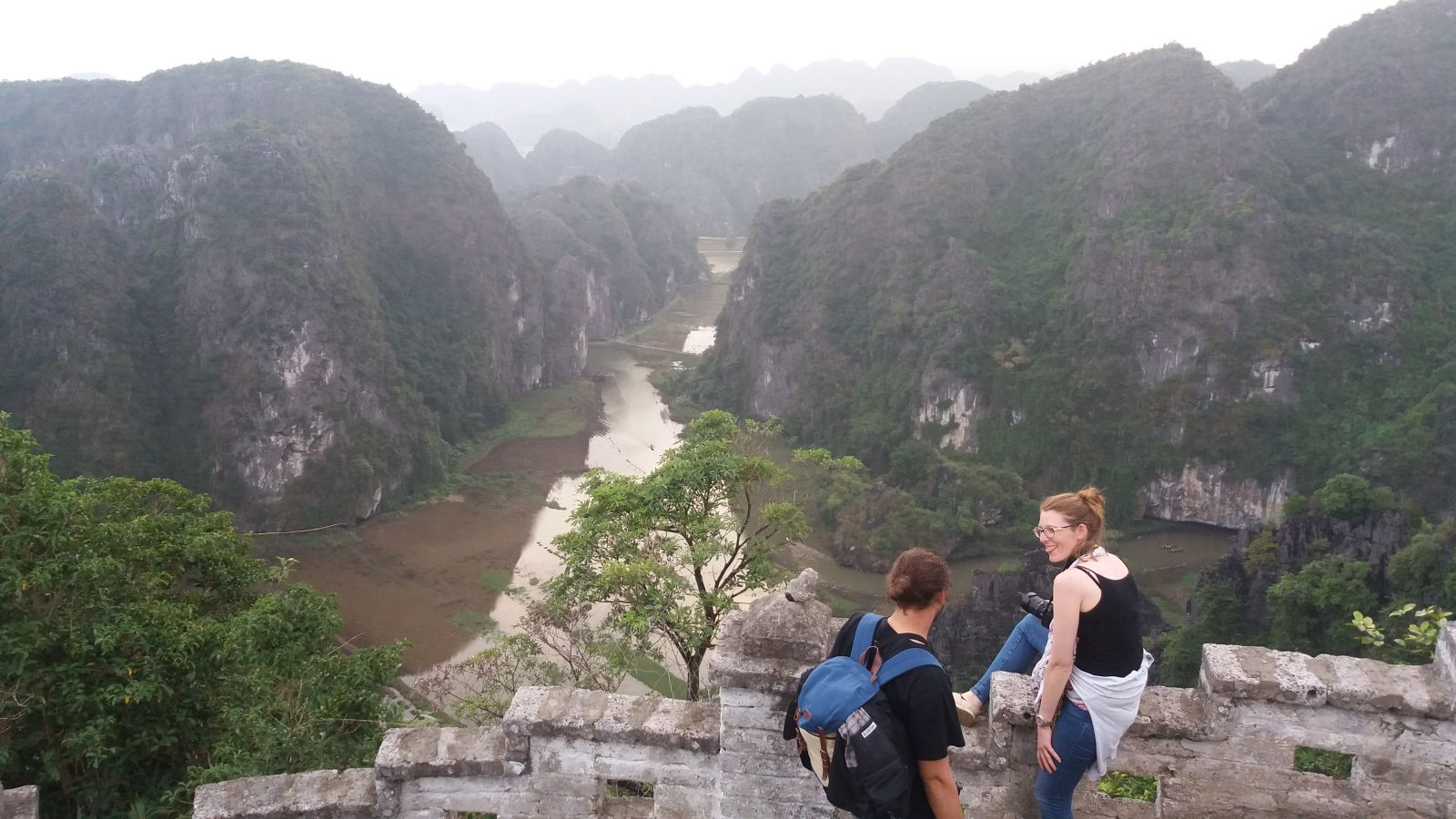 Photo: Golden Holiday Travel
Being located in Dau Khe Ha hamlet, Ninh Xuan Commune, Hoa Lu district, Ninh Binh province, Mua cave is one of must-see attractions that you should call on when doing trips to Ninh Binh.You can connect your visit to Tam Coc, Trang An or Bai Dinh pagoda with biking, then trekking to this cave.
Hang Mua has its meaning as "dancing cave" because this site was previously considered as the place where Tran king used to come to enjoy dancing & singing shows performed in this cave.
At the moment, Hang Mua has been developed as an eco-tourism complex with Hang Mua resort (peaceful & nice view of rural villages & mountains) that you can spend your relaxed night in, and with trekking activities you can take part in to visit Mua Cave.
Hang Mua is constructed following the model of "miniature Great Wall" in China with nearly 500 steps up to mountains to conquer. It is a hard trek up with many of its uneven limestone steps ( expecially at the top point) but worth your conquering efforts for impressive panoramic view of Tam Coc, Trang An & Ninh Binh city when you reach the top point of Ngoa Long mountain.Take your leisurely trek up with care due to steep steps on the way.For wonderful panoramic photos of golden rice fields & limestone monntains,you'd better arrange your trip to Ninh Binh & Mua cave between late May and early June ( sometimes early in May) when the rice is getting ripe and change from green to yellow colours.
Lying Dragon mountain, Ninh Binh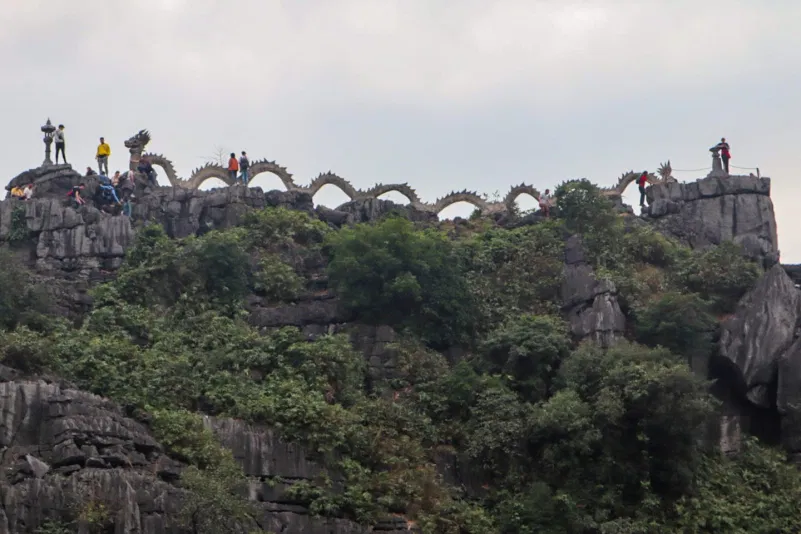 Photo: Nothing familiar
At the top of the highest peak of the Ninh Binh viewpoint you'll find the Lying Dragon Mountain statue stretching out across the top. From here you'll have an unbelievable shot of the mountains and river. You'll also see the Quan Am Statue there which represents the Goddess of Mercy.
Take a moment to watch the boats coast down the Ngo Dong River with the picturesque scenery in the background. This view alone is why many travelers make the trip to Tam Coc Vietnam! On a side note, it's important to mention mother nature. In this area of Vietnam it's common to have rain, fog, and stormy weather. If you have several days it's best to try and plan for a nice and early morning to beat the crowds.
It's no easy feat to reach; tourists need to take on 450 stone steps. The staircase itself is quite impressive with intricate carvings ranging from dragons to phoenixes.
At the foot of the mountain sit the Mua Caves, meaning the 'Caves of Dance', although these don't have very much to explore. The story goes that a former king used the caves to host dance performances.
The Lying Dragon mountain is quite a popular spot, and often included in wider tours of the region. However, it's still quieter than other visitor hotspots, mainly as it's a little off the beaten track.
In fact, it's about a two-hour drive from Hanoi, and is often included as a stop on tours of Tam Coc.
Lotus pond, Ninh Binh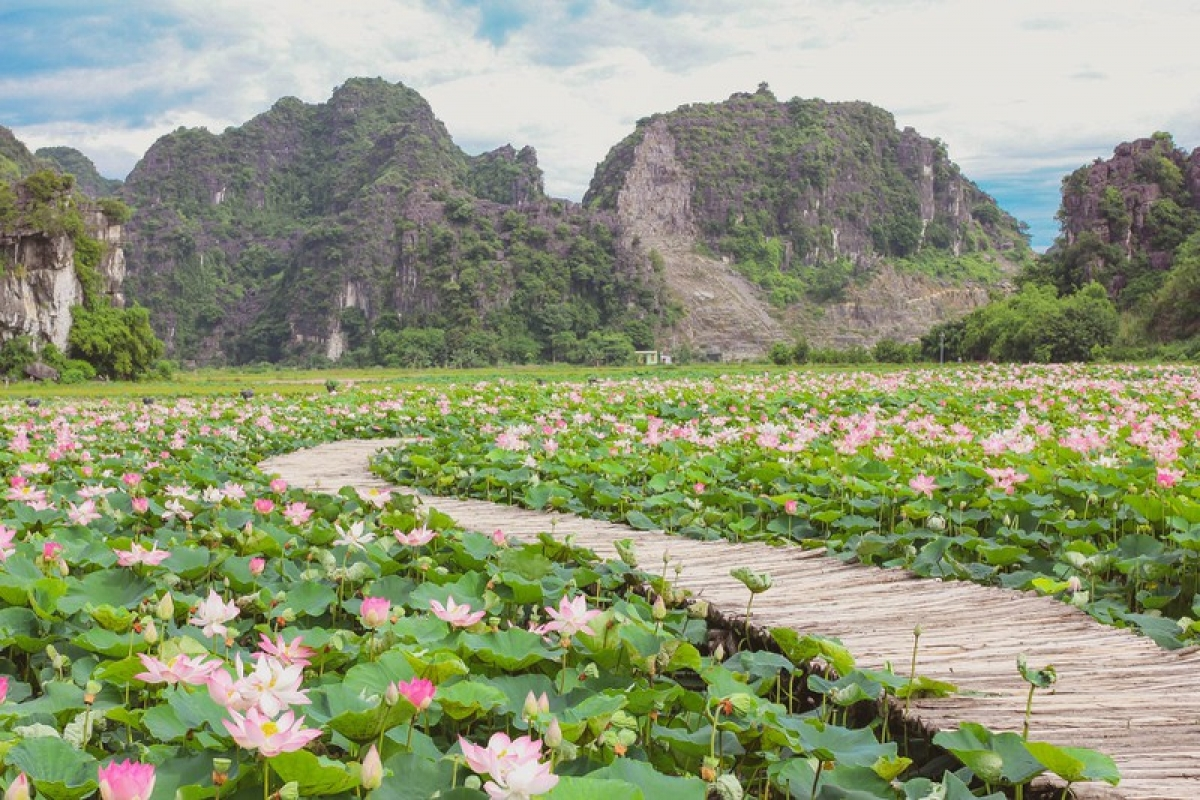 Photo: VOV
A lotus pond in full bloom located close to Mua cave in Ninh Xuan commune, Ninh Binh province, has become a popular tourist attraction due to the area's natural romantic scenery.
A range of beautiful images showcasing the pond near Mua cave have been widely shared on social media, with many viewers indicating their surprise at seeing the lotuses blossom in the autumn as opposed to the summer.
This is the lotus pond that astounded numerous people last year as lotuses were in full bloom even in the winter.
The lotus pond can be found at the foot of Ngoa Long mountain. The site is surrounded by a heart-shaped wooden path and has quickly developed into a famous place for check-ins among young travelers.
The seeds of the lotus originate from Japan, allowing the flowers to blossom for the entire year, not only during the summer months like other varieties.
National Tourism Year 2021 to take place in April
The opening ceremony of the National Tourism Year 2021 – Hoa Lu Festival will officially be held in the evening of April 20 in the presence of around 2,600 guests.
The ceremony will take place along with the Hoa Lu Festival at the Complex of National Relic sites of Hoa Lu Ancient Capital in Truong Yen commune, Hoa Lu district, Ninh Binh province.
Tong Quang Thin, vice chairman of the provincial People's Committee and deputy head of the organising committee of the National Tourism Year 2021 – Hoa Lu Festival, said the festival is particularly important to introduce and promote historical and cultural values, tourism resources and products, as well as promote provincial tourism, contributing to the recovery and development of the tourism industry of the country after a period of heavy impacts from the COVID-19 pandemic.
Events in the National Tourism Year 2021 – Hoa Lu Festival will take place across several localities nationwide. In particular, Ninh Binh province, the host of the festival, will hold about 38 activities, while the Ministry of Culture, Sports and Tourism will organise two activities and 103 additional activities will be directed by 27 provinces and cities across the country such as Hanoi, Ba Ria- ung Tau, and Ho Chi Minh city.
With the COVID-19 pandemic basically under control in Vietnam, the activities of the National Tourism Year 2021 will take place normally to strengthen cooperation among localities. Additionally, it improves the position and image of the country and the people of Vietnam, especially Ninh Binh, among domestic and foreign tourists.
At the same time, this is also an opportunity to enable the tourism industry to recover and thrive after the pandemic, improving the quality of tourism as well as building new and attractive tourism products suitable to the needs of tourists from Ninh Binh.
According to the organising committee, before the opening ceremony, the second Vietnam Travel Forum is expected to take place with the participation of about 500 travel enterprises.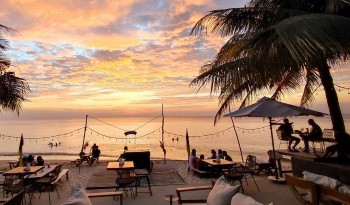 National
Vietnam News Today (Jan. 27): Vietnam confirms 15,885 local cases; Vietnam among top 20 World's Best Places to Retire in 2022; HCM City continues with vaccination during Lunar New Year festival; Vietnam enjoys trade surplus from 54 export markets globally.