Ninh Binh being National Tourism Year 2021's choice for its natural and culture beauty
Ninh Binh, the famous destination that is known for its rich historical and culture relics, natural beauty and breath-taking landscapes of gorgeous rivers and mountains, was chosen for National Tourism Year 2021 that will host in April.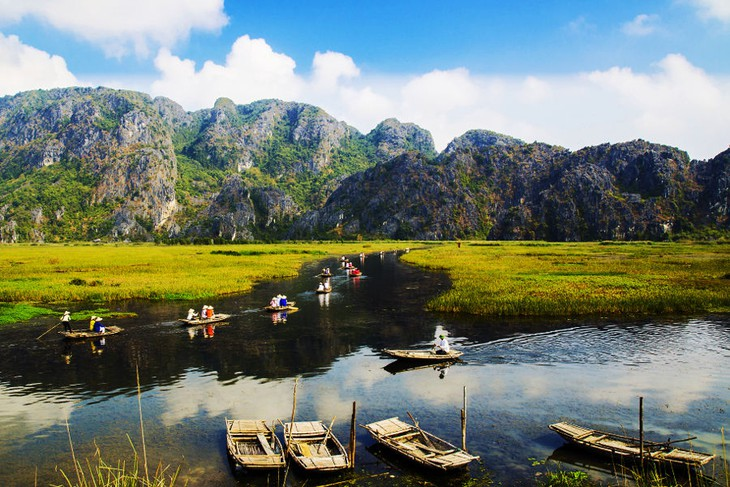 Van Long wetlands in Ninh Binh province (Photo: vovlive.vn)
Hoa Lu in Ninh Binh was the first imperial capital of Vietnam in the 10th century. In 968, after defeating 12 rebelious warlords and unifying the kingdom, Dinh Bo Linh was proclaimed the first King of the Dinh dynasty (King Dinh Tien Hoang). He named his kingdom Dai Co Viet. Hoa Lu was the capital from then until the Ly dynasty, a span of 41 years. The architectural complex that remains from that period comprises a citadel, subterranean remains of a palace, caves, temples, and tombs where royal family members were buried, according to VOV.
A number of annual festivals are held in Hoa Lu to pay tribute to the Kings for defending the national territory. The biggest of them is the Truong Yen festival, which re-enacts the whole life of King Dinh Tien Hoang, from his childhood to his death. When he was a young shepherd, he enacted with his friends mock battles in the Truong Yen fields, riding buffalos and carrying reeds as weapons.
Three locations in Ninh Binh appeared in the Hollywood blockbuster film of Kong: Skull Island: the Trang An complex, the Van Long wetlands, and Tam Coc–Bich Dong. Audiences worldwide marveled at the magnificent mountains, narrow valleys, magical caves, and winding rivers.
Tam Coc-Bich Dong, in the feudal time, was considered the second most impressive cave system in Vietnam.
The Trang An complex has been recognized by UNESCO as a World Cultural and Natural Heritage. From January to March, the time of the local festivals, is the best time to visit Trang An. Trang An is great in the summer, too, when the yellow of ripe rice is embellished by emerald river water and a blue sky.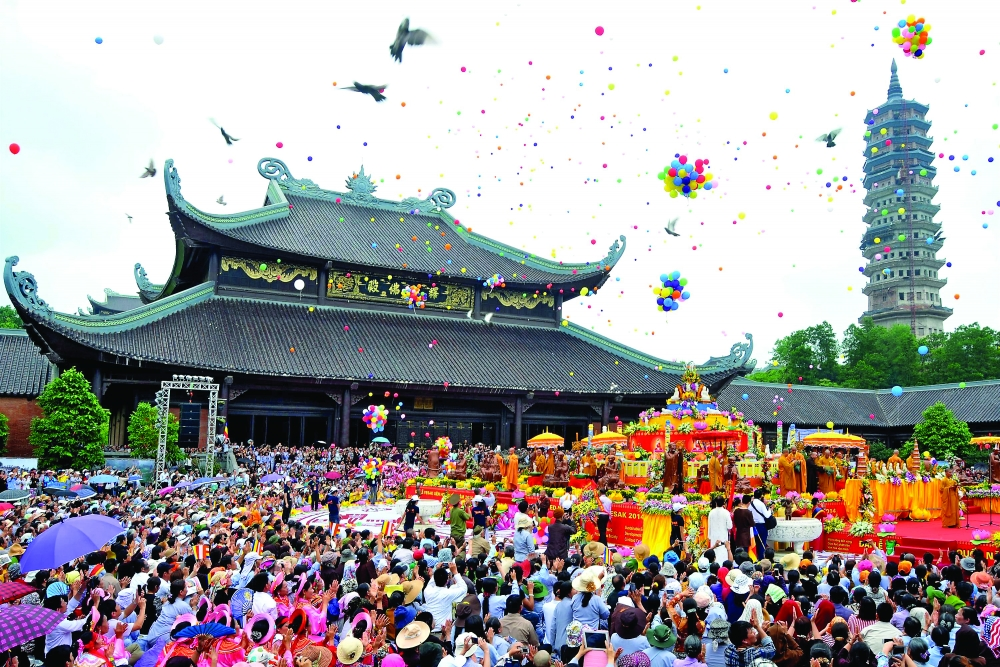 Photo: Vietnam Economics News
The dramatic combat between Kong and several reptilian monsters was shot in Van Long, an immense wetland featuring rock islets and a rich eco-system. Van Long, the biggest wetland nature reserve in the Red River delta, provides a habitat for many rare fauna and floral species, including the Delacour's langur.
Ninh Binh province was chosen to host National Tourism Year 2021. It has welcomed hundreds of thousands of visitors already this year.
Ninh Binh province also has Cuc Phuong, Vietnam's first and largest national park, and Phat Diem Stone Cathedral, one of the most famous and beautiful churches in Vietnam, whose unique architecture combines western and Vietnamese designs.
The beauty of Ninh Binh - a land of nature, culture and people
Located 93km from the capital - Hanoi, the northern province of Ninh Binh is famous for a high density of natural and cultural attractions. These include the Cuc Phuong and Van Long national parks, the grotto caves and rivers of Trang An, Tam Coc-Bich Dong and Mua Caves, historic monuments in the Hoa Lu ancient capital, Vietnam's largest Buddhist worshiping complex (Bai Dinh Temple), and the Phat Diem Cathedral with its eclectic architectural style. Being close to Hanoi, day trips from the capital are easily manageable.
Ninh Binh City is the political, economic, social and cultural center of Ninh Binh Province. The city is home to many historical and cultural relic sites, as well as scenic landscapes, including the Van River, Thuy Mountain, Truong Han Sieu Temple, and Ngoc My Nhan Mountain. Most of the province's larger hotels and entertainment centers are located in the city.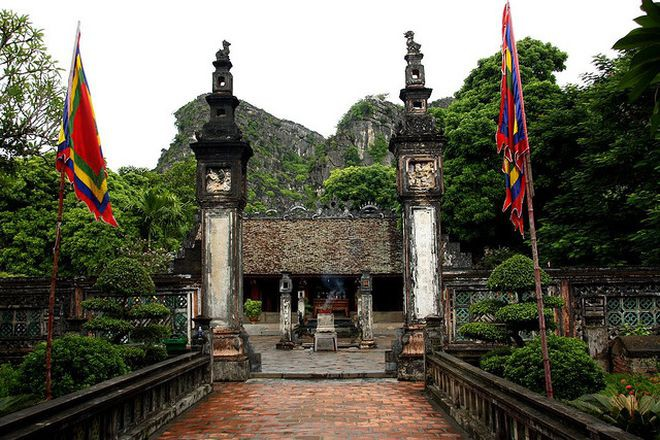 A temple worships the Dinh and Le kings in Hoa Lu (Photo: thanhnien.vn)
Not only famous for its beautiful landscapes, Ninh Binh is a land rich in cultural and historical traditions with 1,499 cultural and historical relics, including 02 special national monuments, 79 national monuments; 279 provincial relics. This is a sacred land, that has been the capital of Vietnam's first centralized feudal state for 42 years (from 968-1010) associated with three dynasties: Dinh, pre-Le and early Ly dynasty. At present, Ninh Binh possesses many valuable cultural and historical heritages, which are invaluable assets such as Hoa Lu ancient capital, Phat Diem stone church, Bich Dong pagoda, Bai Dinh pagoda, Shaint Nguyen temple, Thai Vi temple, etc.
In addition to cultural and historical relics, Ninh Binh has many famous intangible values, such as poetry, festivals, Cheo singing, Van singing, Xam singing and culinary culture. Ninh Binh has over 260 traditional festivals, many special festivals are known by domestic and international tourists such as Hoa Lu festival, Thai Vi temple festival, Dich Long pagoda festival, Bai Dinh temple festival, Bao Ban Non Khe festival, Nguyen Cong Tru temple festival, Trang An festival, etc.
It is also the ancestral land of Xam singing, Cheo singing and of many typical traditional craft villages such as Van Lam traditional embroidery village, Kim Son handicraft processing village, Ninh Van stone handicraft villages, Bo Bat ancient pottery, etc.
Trang An landscape complex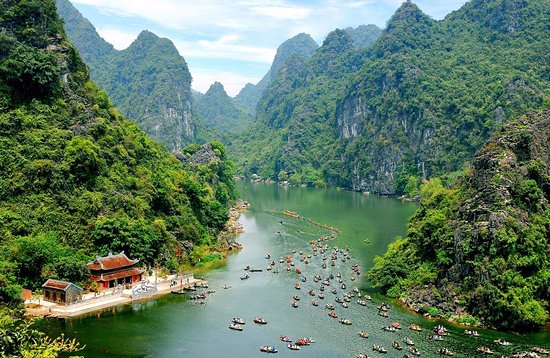 Photo: Tripadvisor
The 12,000-hectare-plus Trang An Landscape Complex (Trang An) includes three protected areas; the Hoa Lu ancient capital, the Trang An-Tam Coc-Bich Dong grottos and caves, and the Hoa Lu special-use forest. The property covers 6,226ha within the Trang An limestone massif, and is surrounded by a buffer zone of 6,026ha, mostly rural land with rice paddy fields. There are about 14,000 residents, the majority of whom are families involved in subsistence agriculture, but much of the property is uninhabited. Trang An was recognized as a world cultural and natural heritage by the United Nations Educational, Scientific and Cultural Organization in 2014.
Hoa Lu ancient capital
Hoa Lu was the capital of Dai Co Viet, as Vietnam was then known, in the 10th and 11th centuries under the Dinh and Le dynasties. During the time it served as the capital, Hoa Lu's defenses were never actually tested by an enemy army. In 972, the king of Champa sent a fleet against Hoa Lu, but it was devastated by a storm as it tried to enter the river system from the sea and was forced to withdraw. In 981, two Chinese armies of the Song Dynasty invaded the Dai Co Viet with the aim of eventually working their way south and taking the capital, but they were stopped and defeated in the north. Spread out over 13.87 square kilometers, the ancient capital's ruins are especially appealing to history buffs.
Bai Dinh Pagoda
Bai Dinh Pagoda is a religious complex covering a total area of 700ha, with both ancient and newly renovated Bai Dinh Pagodas, parks, car parking and lake system. Without a doubt, Bai Dinh is masterpiece of both nature and men and it is the pride of Vietnamese people in terms of unique architecture, culture and historical value.
Phat Diem Stone Cathedral
The Phat Diem Stone Cathedral is one of the most famous and beautiful churches in Vietnam with special architecture: an elegant combination between Western church architectural style and Vietnamese religious buildings. The cathedral is a complex comprising of a lake, a cathedral, a stone church, a bell house and three artificial grottoes.
Famous specialties
Fried rice, goat meat, Yen Mac fermented pork roll, Van Lam embroideries, and Kim Son sedge products, among others.