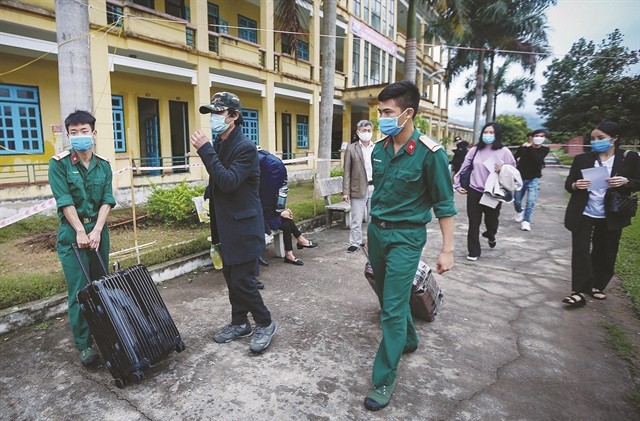 HOMEWARD BOUND: Citizens leave their quarantine centre helped by soldiers in Hòa Bình after arriving home from South Korea. VNA/VNS Photo Trọng Đạt
On March 18, more than 7,000 people holding Vietnamese passports landed at airports across the country to be quarantined at designated centres. That figure has doubled compared to the slight influx of those returning to Việt Nam in the early days of the COVID-19 outbreak.
Never before has there been such an exodus of Vietnamese people fleeing Europe.
On March 9, a Vietnamese family spent a massive US$360,000 to charter a flight to bring their daughter, known as COVID-19 Patient 32, back to Việt Nam. She tested negative once on March 18 and is now in a stable condition.
This made me think: if the family was able to afford the hospital fees for their child to stay on and be treated in the UK, why would they bring her home?
Statistics from the Ministry of Education and Training say Việt Nam currently has 170,000 students studying abroad. Only 6,000 of them are on contracted Government programmes, the rest, making up 96.5 per cent, are self-financed.
As the outbreak develops, international students are making headlines at home as their schools are shut down, dormitories are closed, and they are forced to pack up and leave.
Get a plane ticket, Go home now, son!
Nguyễn Thúy Nga, 44, from Hà Nội, has a son who studies in Toulouse, France. She was closely following Facebook posts from her friend, an accredited statistics analyst. "I kept asking him, how are things in Europe now? Will France fall apart like Italy?"
Nga said her friend told her the numbers of positive cases in France and Germany were the same at one point, but the number of cases in France was rising. If France did not shut its borders and strictly distance its citizens, the situation would get worse.
Nga said she decided to book her son a plane ticket, and 24 hours later he safely landed at Nội Bài Airport in Hà Nội.
She posted her story on Facebook, taking the title of VTV's most popular series of 2019: "Come home, child!"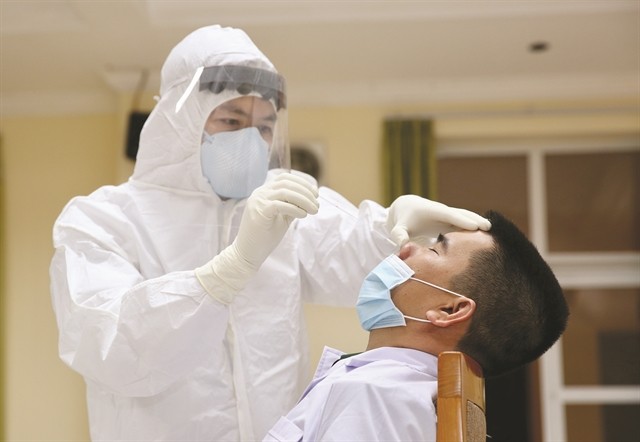 SAFETY MEASURES: Everyone flying home will be tested for COVID-19. VNA/VNS Photo Dương Giang
On March 16, she wrote: "Today seems to have lasted 48 hours, no, 72 hours, perhaps. It was the longest day of my life, my feelings changed every hour, and my fears moved with the world news. Never before has a little mother held her breath and followed each word uttered by world leaders."
The following day, her son sent her a message asking to check if the French president had issued flight sanctions.
Back on Facebook, she posted: "My heart just skipped a beat. A flight has been cancelled, his flight from Toulouse to Paris has been put forward two hours. Now get yourself ready, leave behind your suitcases, just bring your backpack. No metro, no bus, no taxi at this time in the morning. It's 7km from his home to the airport, can he run? Yes."
But then a message popped up on her phone showing he'd booked an Uber.
"He's got to Toulouse airport. But what if he gets to Paris and all flights are banned? It's 700km away. It'd be horrible if he got stuck in Paris and was unable to go back to Toulouse?
"Don't worry, son, if you can't fly home from Paris, your plan B is to take a train back to Toulouse, okay? Don't worry, I reassured him, but in my heart, I had my doubts."
"10am Paris time: My son landed in Paris not knowing if his Vietnam Airlines flight will take off. 'Mum, my battery is only 32 per cent, I forgot my charger.'
"I felt like we were in an American action movie. How can I follow him if he runs out of battery?
'Ah, my Macbook is still 90 per cent! Enough until I board the plane!'"
"'Mum, I saw Vietnam Airlines staff opening the counter'," he texted. "This simple sentence brought me happiness I'd never felt before. 5.30pm Hà Nội time. My throat is stuck.
"'I'm on board. Only me and a few empty rows. I'm exhausted!'
'Take a deep sleep, then you'll be home, son,' I texted him."
This took place a few hours before French President Emanuel Macron declared a complete lockdown on March 17.
Getting ready
Hà Nội Mayor Nguyễn Đức Chung on March 18 announced that the city was preparing to host a large influx of Vietnamese living overseas flying home in the next few days.
Earlier, Vietnam Airlines announced it would wait for late passengers in London, Paris and Frankfurt to bring them home before the European countries announced no-fly bans.
Nguyễn Thúy Nga was one of many worried parents who flew her children home to avoid the killer SARS-nCov virus.
All passengers landing at airports across the country must go through health checks and spend the next 14 days in quarantine after Patient 34 infected 10 F1 cases.
Chaotic scenes at the airport and long waits caused impatience among passengers. A woman travelling with her children spoke out about the long wait, plain free food and of possible infection if they stayed around sick people for too long.
Her complaints were taken positively in the airport, and people travelling with children got to go first, and passengers were taken to quarantine centres to have their health checks.
However, her response also ignited a storm of anger, disappointment and disapproval among many netizens for putting her and her children's discomfort above all others, which is in part true, but not that egregious.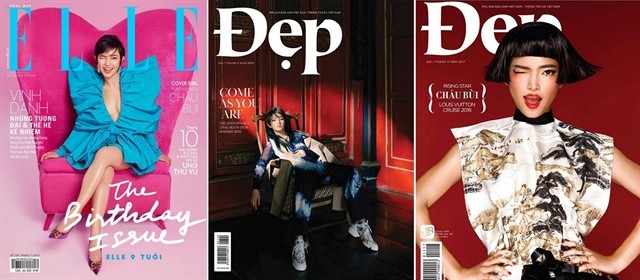 TREND-SETTER: Châu Bùi, fashionista and youth influencer, has completed her 14 days in quarantine. Photo courtesy of Đẹp and Elle magazines
Other netizens praised the sacrifices of thousands of soldiers, who were ordered to leave their barracks to make room for their returning compatriots, who left Europe and elsewhere due to the different approach the West is taking to fight the virus.
Over the past two weeks, since Patient 17 returned and infected a series of other patients, soldiers and medical staff have been working tirelessly to accommodate the new influx of patients, which stands at 85 on Thursday.
From inside the quarantine centre near Hồ Chí Minh City, Châu Bùi, a fashionista influencer, who has more than two million followers on Instagram, is staying positive and posting daily photos from her quarantine area.
She was put under quarantine after returning from Milan Fashion Week, which Patient 17 also attended.
Cover girl on Elle Việt Nam, Đẹp magazine, Châu Bùi, 23, had earlier said she'd been working to promote Vietnamese fashion at one of the world's biggest fashion weeks, having won the fashion idol prize Influence Asia 2017.
"Here's my work-out corner, where I get energy everyday," reads one of her captions. "As Chou (she likes to use this nickname) likes a neat home, she rearranges her bed and working space in quarantine," reads another post.
Châu Bùi is close to finishing her quarantine time. Having tested negative, she's scheduled to leave this weekend.
While she's trying to stay positive, some others complain about the lack of hot water, the basic facilities and squat toilets.
Only a small number of high-school and students have returned to Việt Nam for medical treatment. For most of them, it's about an emotional recharge with their parents and families.
The majority have decided to stay on in their adopted countries, be it the UK, France, the US or Australia. According to the Committee for Vietnamese Overseas, the community of Vietnamese living outside of the country is about four million people.
"I'm not leaving," Dr Cường Phú Nguyễn MArch, PhD, PG Dip part 3 of the Royal Institute of British Architects.
"I think at the moment, it's still safe for Vietnamese students in the UK."
The UK government's controversial "herd immunity" policies to fight COVID-19 has faced avid protests from the public, WHO and the UK science community. Cường said he had signed an open letter along with 300 scientists urging the UK government to reconsider the policy.
"The government has deserted its initial 'herd immunity' plans, issued stricter rules for public places including restaurants, offices, and is moving further to closing schools when necessary. Schools have shifted to online classes, so it definitely reduces infection risks."
Cường wrote that in his area, he had seen people starting to stock up on sanitary products and food, forcing supermarkets to put a limit on the amount of goods people can purchase, such as paracetamol. "But it's still quiet, there's no fighting or quarrelling."
One of the main reasons parents want to bring their children home from high school or college in Europe or America is the risk of discrimination because of the way they look. Separate incidents have involved Asian-looking youths being beaten up for wearing a face mask.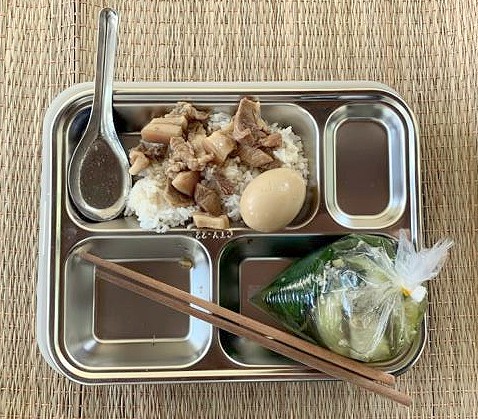 ENERGY: A tray of food for people living in quarantine in Đồng Tháp Province. VNS Photo
"If you are taking public transport or going to a supermarket and you wear a mask, it's no problem," Cường wrote. But if you wear a mask on the street in a difficult neighbourhood, you may be at risk, he added.
"But danger and discrimination can be at many levels in a number of places, trust your own judgement and inner self to find safe zones."
He went on to explain his decision. "Việt Nam is doing very well in mobilising its limited resources trying to contain the spread of this virus and treat patients. But the costs the government and its people are taking is immense.
"International students need to seriously consider whether to stay where they are or head home, so that do not put too much pressure on the public health system at home."
Love your country, stay safe where you are
Over the past week, a viral motto on social media was born out of the government's call on people to limit their travel and move only when necessary.
Schools have been closed down for seven weeks now.
After 22 days with no new cases, the arrival of Patient 17 pushed the country into the second phase in the fight against COVID-19.
On March 17 on national TV, Prime Minister Nguyễn Xuân Phúc said: "We need to integrate stronger, especially self-awareness, the attitude of each and every citizen to follow rules, respect safety warnings by health authorities and all levels of governance. You need to bear in mind that every citizen is a soldier in this war fighting the pandemic. Every commune, every village and urban ward, even every family must be a fortress to fight this pandemic."
Taking on this mentality with a twist of humour, a modern motto parodying a wartime call to fight on the front went viral on social media: "Love your country, stay where you are!"
"Travel during this time has become quite risky," Cường wrote. "Over a long period of time you may become infected at the airport or on the plane. So take the wise decision."
During this time of turbulence, a sense of humour and an aptitude to stay positive have helped people keep a psychological balance to get through. Cartoons, modified famous poetry and jokes have spread at light speed to cheer people up.
"Please avoid the crowd psychology," wrote Cường from the UK.
"Provide yourself with accredited sources of news and analysis. Do not panic, but be aware and take safe practices, and mostly praise mutual trust and assistance. You will be safe whether you choose to stay or go home to Việt Nam."
Peace in mind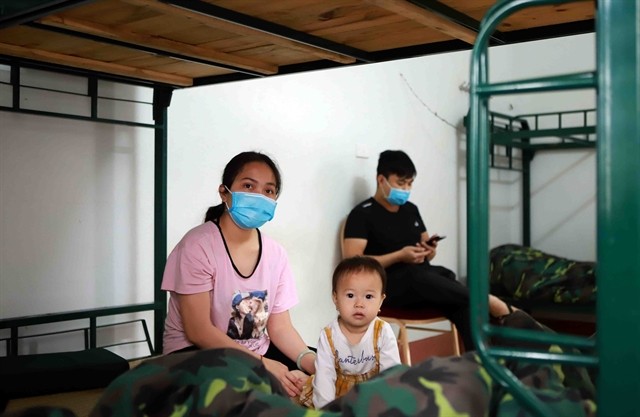 STAYING SAFE: A mother and her child in a quarantine centre in Vĩnh Phúc Province.VNA/ VNS Photo Hoàng Hùng
"I've just calmed down after fleeing Paris, my 'paradise', only yesterday," wrote a middle aged woman after she safely landed in Việt Nam.
"I am reminded of my grandmother telling me 45 years ago, that flight after flight airlifted people who worked for the South of Việt Nam and its then US ally from Sài Gòn.
Now, it seems history has repeated itself, but in the opposite direction: people are leaving behind what they deemed a heaven of material wealth to run home back to where they were originally from, where there's a sweet scent of ripe fruit, a simple, rough life, but peace and comfort.
"Because it is where your mother is, she'll protect you and take you under her arm. It's the heaven of love.
"I caught my breath, I am finally home, rubbing my face in the river of home," she wrote.
VNS