Nearly 300 retired doctors in Hanoi desire to join hands in Covid-19 battle
Hanoi has recognized the willingness of 280 retired doctors and nurses in the area as well as 700 medical students working voluntarily to prevent and combat the Covid-19 pandemic.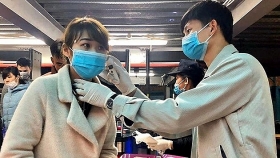 A medical staff checks the body-temperature of a returnee at Noi Bai Airport.
On March 18, Bac Tu Liem district received 600 registration forms of students and 280 retired doctors and nurses willing to join the combat against Covid-19 in the city. The district plans to hold a training course for the latter to be ready in urgent situations.
According to the Deputy Director of the Health Department of Hanoi Hoang Duc Hanh, the number of people returning from epicenters in the world to Noi Bai International Airport is increasing rapidly. As a result, Hanoi is rushing to uplift the number of medical staffs for tracking and testing at the airport.
Besides 20 staffs from the Center for Disease Control and Prevention (CDC) who take responsibility for testing at the airport, Hanoi mobilized an additional of 60 medical staff from 30 districts, communes and 20 from Hanoi Medical University.
On March 17, there were 100 medical students joined in the Covid-19 combat works and in urgent situations, the city is ready to call for more volunteers from Hanoi and Medical Colleges.
Hanoi will enter an intensive period next three to four days and it will last till April 3, according to Mayor Nguyen Duc Chung at the meeting of the city's Steering Committee for Covid-19 Prevention and Control.
The number of new positive cases in the city may increase by six to eight per day, or even by two-digit figures in the coming days.
Therefore, Hanoi residents were called on to keep calm, stay away from crowds, and limit the use of public transport. Shops, except for gas stations, drug stores, and food and foodstuff stores, should consider closing. Companies across the cities are encouraged to let their staffs work at home.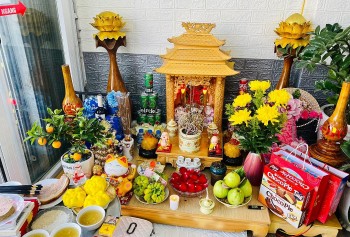 Handbook
Learn more about an ancient Vietnamese tradition that may bring you good fortune!