The 49th patient says thank to Vietnamese doctors. Photo: Nhat Linh
With the permission of doctors at Hue Central Hospital, reporters of Tuoi Tre Online approached 4 COVID-19 patients who were being treated at the hospital.
The 49th COVID-19 patient, (British national, the husband of the 30th patient) said he remains in stable health conditions. Currently he is under special care with 24-hour supervision of the doctors.
The patient would like to thank Vietnamese doctors, especially doctors at Hue Central Hospital.
"The hospital is so great", he said.
The patient is also a fan of Manchester City's football club. Through the media he learned that the COVID-19 epidemic had a great impact on England and many English Premier League teams in particular. "I would like to send my prayer to my England" - he said.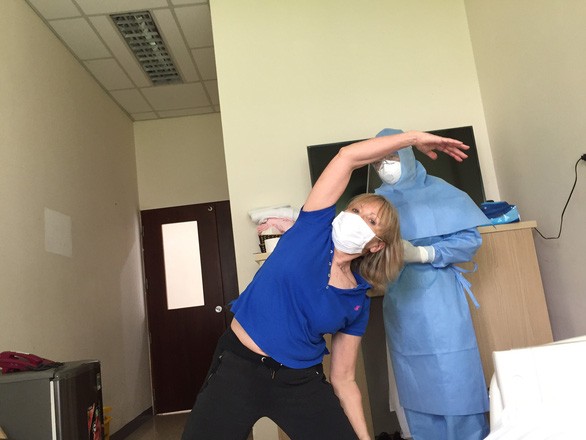 The 30th patient regularly exercises to improve health. Photo: Nhat Linh
As for the 30th COVID-19-infected patient (the wife of the 49th patient), she felt quite comfortable having treatment at the hospital. Currently, in addition to being treated by doctors, she also exercises to improve her health.
"Doctors and nurses often smile and wave to me. Although I'm away from home, I am well cared for. I hope everyone can find a way to prevent the spread of the virus," she said.
Jenifer Tran