New Covid dance video carrying 5K message debuts
The health ministry on Saturday released a new Covid-19 dance called '5K dance' performed by young artists, delivering recommedations to prevent virus transmission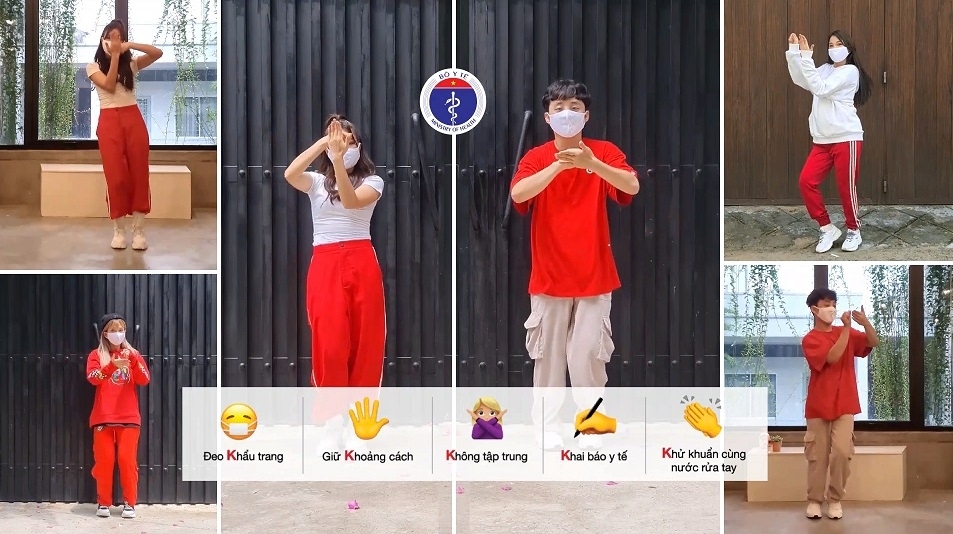 A sreenshot the of the '5K dance'
A message featuring the 5K was launched last September by the Ministry of Health to help citizens get used to living safely with the Covid-19 pandemic. 5K is the short written form in Vietnamese of five rules people should follow to prevent the virus infection as recommended by the health ministry, including Khau trang (face mask) – Khu khuan (disinfection) – Khoang cach (distancinf) – Khong tu tap (no gathering) – Khai bao y te (health declaration).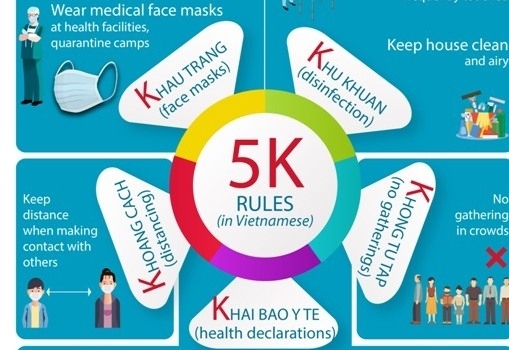 Photo: Suc Khoe Doi Song
The new '5K dance' has an ear-catching melody and lyrics, and calls on everyone to strictly follow the five rules as well as other preventive measures, with the aim of protecting Vietnamese people's health.
Public awareness and responsibility have been considered key factors to helping Vietnam soon control the pandemic.
The dance, an idea of the health ministry and Unilever Vietnam fund, advices people try to stay home, wear face masks, keep 2 meters distance from others, make honest health declarations and, most importantly, to wash hands frequently and follow the 5K message.
The lyrics were written by young composer Bui Cong Nam in clear words words that are easy to remember and familiar with Vietnamese younth.
The song and dance are performed by young singers Emma Nhat Khanh, Lix LipB, Bongplaybang, Nguyen Pham Kim Hai and Duc Anh.
Watch the video and practice the dance:
The '5K dance' is expected to go viral like last year's 'Handwashing dance,' calling for people to wash their hands in order to push back coronavirus.
The vibrant dance was made and performed by choreographer Quang Dang with easy-to-learn and easy-to-follow movements.
Vietnamese people have come up with many creative ideas to disseminate Covid preventive measures.
Electricity boxes along streets in Hanoi have recently become works of art, creating a new look for much of the capital as part of pandemic prevention efforts.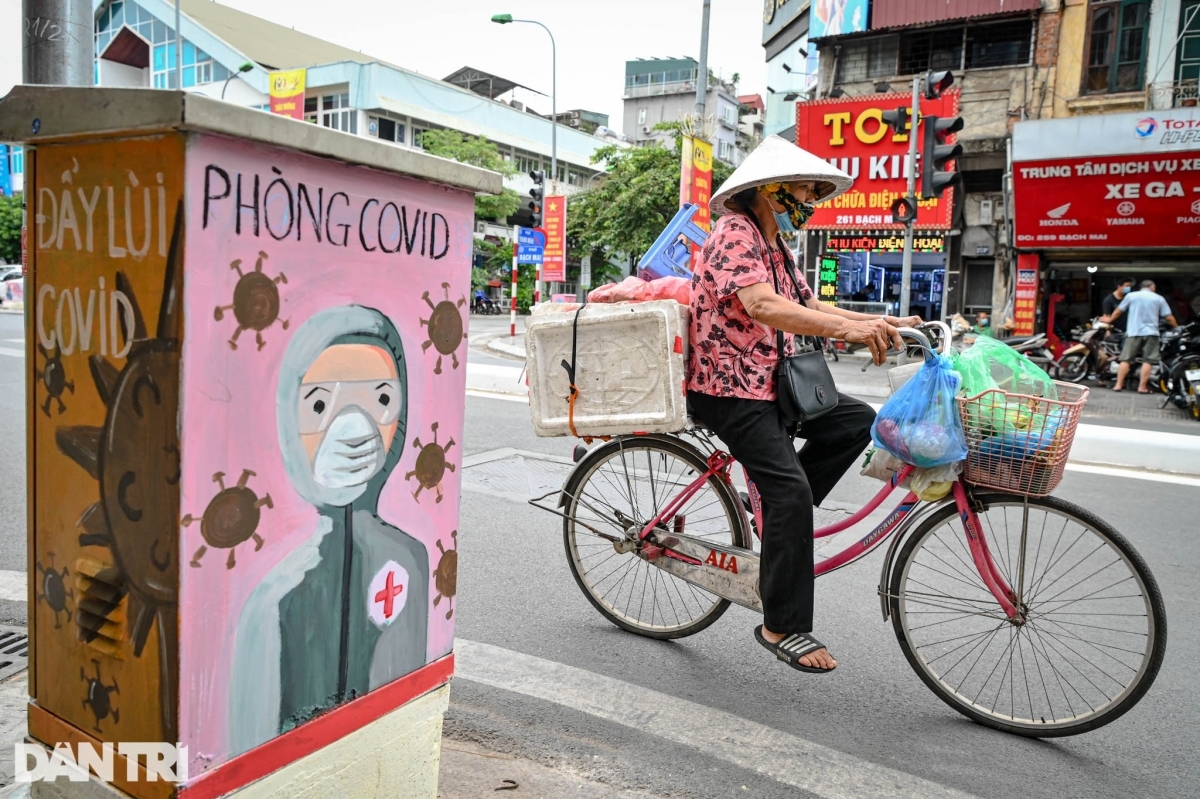 The creative images spread messages about Covid-19 prevention and beautify the capital. Photo Dan Tri
The job has been carried out by the Veterans Association of Hai Ba Trung District in cooperation with the Youth Union of Bach Khoa ward.
The electricity boxes are decorated with vivid images and slogans that are familiar and easy to understand, helping people raise their awareness and be more responsible in pandemic prevention.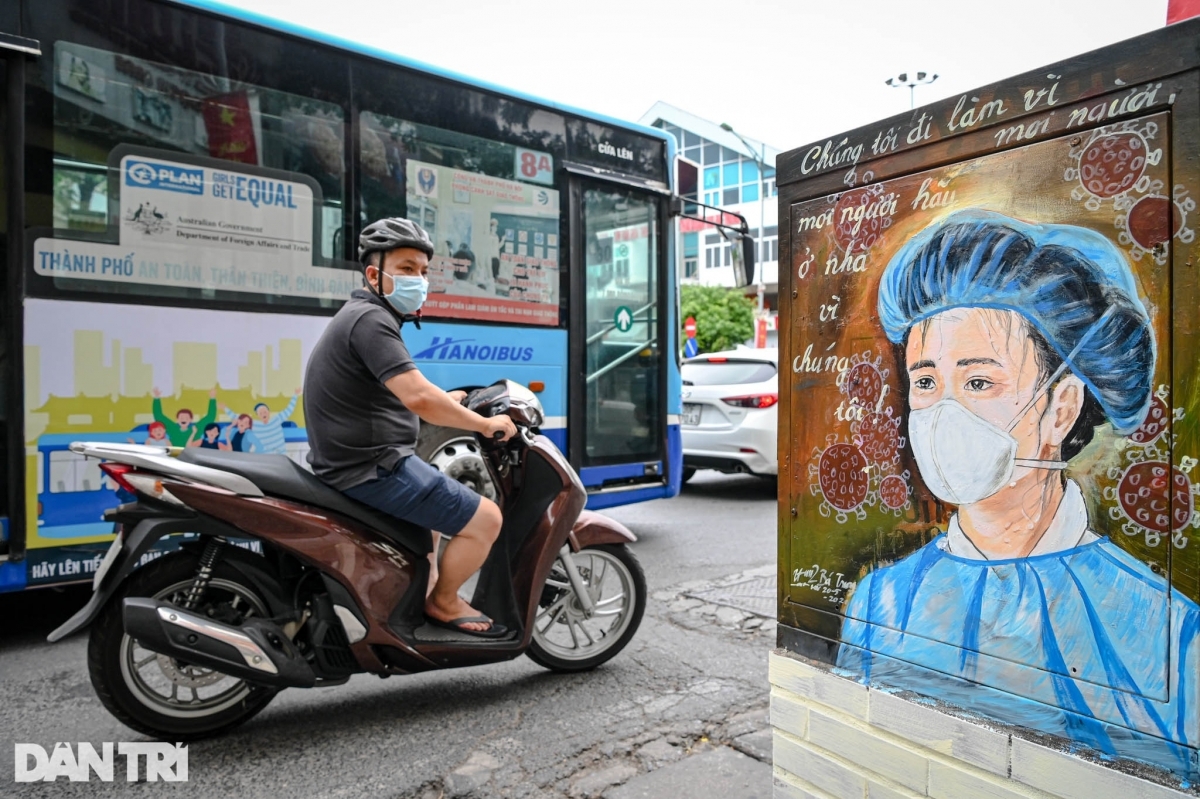 Photo Dan Tri
Vietnam has been considered by the international community as a bright spot for effective Covid-19 prevention and control thanks to the implementation of drastic and powerful measures. The rate of Covid-19 cases per million people in Vietnam is among the lowest in the world.
Following the 5K message and getting vaccine shots are effective ways that Vietnamese people are being encouraged to stop local virus transmission.
Since the resurgence of Covid-19 in the country in late April, Vietnam has logged 9,266 cases. As many as 1,938 patients have recovered.
Travel
The story of the young man's journey through Vietnam below has received a lot of admiration and admiration from everyone. This is really a valuable one-in-a-lifetime experience for this young man.