New, high-tech incubator at Saint Paul Hospital to provide extra care for infants
Hanoi-based Saint Paul Hospital now has a new tool to care for newborn babies.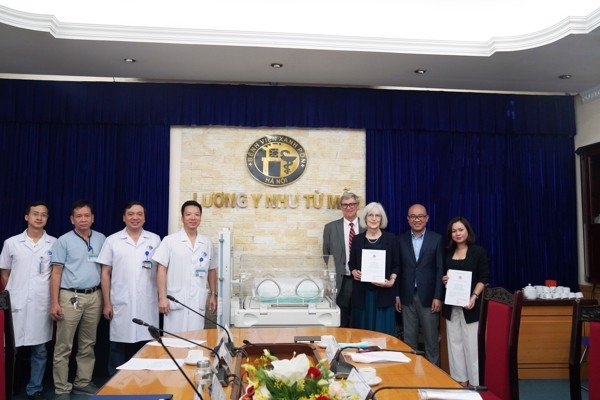 The Giraffe Incubator is a new addition to the nursery at Saint. Paul's.
Vietmedical joined with Newborns Vietnam to donate a state of the art Giraffe Incubator to Saint Paul Hospital. The apparatus provides newborns with calm and caring surroundings and helps to monitor, assess and treat neonates in their own environment.
The doctors and nurses were full of emotion and joy to know they have an incubator that will provide the perfect environment for preterm babies that are born so early and so small that they would struggle to survive without such necessary equipment.
Newborns Vietnam is a UK registered charity dedicated to reducing neonatal mortality in south east Asia, with a specific focus on Vietnam. Newborns Vietnam received the Certificate of Merit in 2013 and 2015 for Humanitarian Work For Neonatal Care from the Da Nang People's Committee.
The Giraffe Incubator is part of Newborns Vietnam's chain of activities to improve improve healthcare services for local newborns. Suzanna Lubran - Executive Director of Newborns Vietnam shared: "The gifts that Vietmedical give are not only modern equipment or optimal solutions. It also aims to join hands to carry out the life-saving mission for babies and for the community. We are proud of our achievements and believe that together, step by step, Newborns Vietnam, Vietmedical and Saint Paul will create miracles for our infants."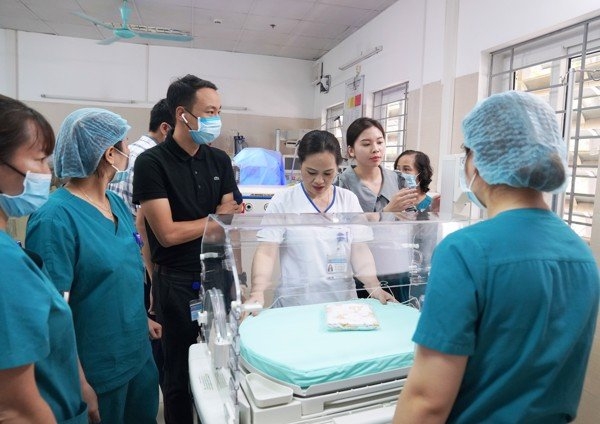 The infant care station comes with a roughly USD 30,000 price tag and serves as an isolette.
After donating the Giraffe Incubator incubator, a team of technical experts also instructed and practiced visualization so that physicians at Saint Paul Hospital's neonatology department get acquainted and understand how to use this optimal device.
The Giraffe Incubator Carestation is an innovative piece of medical equipment that provides a state of the art, calm and quiet environment for premature babies to thrive. Designed to facilitate the health care team's delivery of care, the incubator monitors, assesses and treats neonates in their own environment, cutting down on unnecessary handling of some of our most fragile patients. Most importantly, it permits parents and other family members access to babies so they can form those most important bonds.
Vice Director of Saint Paul Hospital Ngo Thanh Son said, "This donation will support our team to move care to a higher level."
According to UNICEF, Vietnam has had significant progress in raising the survival ratio of children under five years old within the last 25 years. The ratio was 52 per 1,000 children in 1990, dropping to 12 per 1,000 children in 2018.
"However, infant mortality rates in the North and Central Highlands remain high and in some provinces, such as Lai Chau and Kon Tum, the rates are three times higher than the national average.
"It is estimated that 47 newborns die every day in Vietnam. Most are from preventable causes. Simple interventions such as skilled birth attendance, early essential newborn care, early initiation of breastfeeding, and kangaroo-mother care for premature and low-weight babies can save lives of women and their infants," UNICEF said.
The first 28 days of life – the neonatal period – is the most vulnerable time for a child's survival. Children face the highest risk of dying in their first month of life at an average global rate of 18 deaths per 1,000 live births in 2018, according to UNICEF./.