Vietnam newborns get face shields for COVID-19 protection
Newborns at a hospital in Hanoi are put on anti-droplet face shields as they are moved around the facility as a preventive measure against the novel coronavirus.
(Video: VnExpress)
Tam Anh General hospital, in Long Bien district, is the first medical facility in Vietnam to step up the COVID-19 preventive measures among newly-born kids. With the face shields, the babies have another protective measure as they are carried around the hospital on infant bed carts.
According to the hospital, small children, who are considered vulnerable to the coronavirus, don't know how to protect themselves against the environmental impacts as grown-ups do. Face shields are used in accordance with safety standards, the infants' health is checked thoroughly before they get the face shields.
The hospital is planning to apply the new measure until when the pandemic ends in Vietnam, VNE reported.
To Xuan Truong, from Hanoi's Long Bien district, said he felt relieved seeing his new son wearing the face shield. "The safety of the newborns is top priority, as, you know, the COVID-19 is growing more complicated".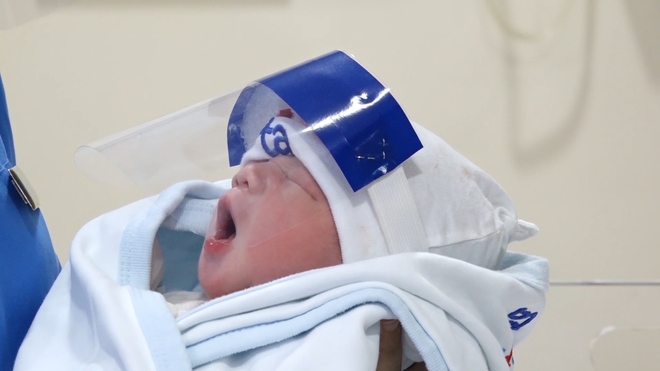 (Photo: VNE)
Earlier in mid-April, nurses in Bangkok hospital, Thailand also handcrafted tiny face shields for newborns so that they could get home safely from the hospital.
"Because safety is what we care about the highest," the hospital wrote in the Facebook post, according to Insider.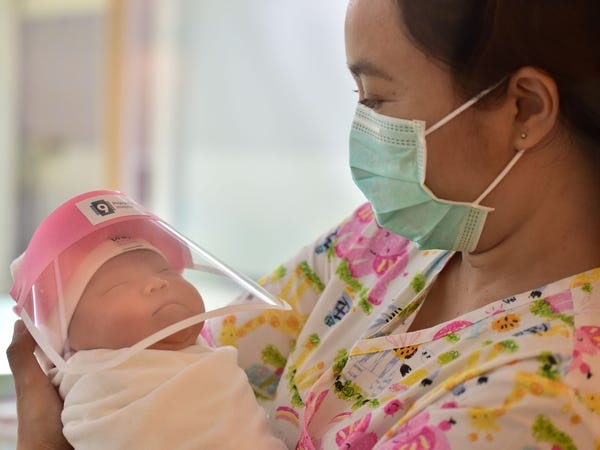 The nurses in Thailand made the masks because the babies and their mothers were using public transportation (Photo: Getty Images)
Infants are more likely to have coronavirus-related complications than older children
Infants, however, are more susceptible to developing related complications than older children are, which may be due to the fact that their immune systems are still developing, Insider reported.
In the largest study of children with the coronavirus, the Centers for Disease Control analyzed 2,500 cases of coronavirus among children in the US who were 18 and younger.
Of 95 infected infants studied, 62% were hospitalized. The rate was 14%, at most, for those between the ages of 1 and 17.
"We must do everything we can to prevent the spread of this deadly virus," Ngozi Ezike, director of the Illinois Department of Public Health, was quoted by Insider in a statement. "If not to protect ourselves, but to protect those around us."