New Year 2021: Best things to do on this New Year's weekend to start it right
While many events have either been postponed or canceled during the coronavirus pandemic, some organizations have pivoted to virtual or socially-distanced events to continue offering the masses some entertainment. Here are the best things to spend your free time over New Year's weekend to start it right.
Tune into a virtual event
This year, many of our favourite New Year's Eve events have moved online. If you're looking for something to do, pour yourself a glass of bubbly and tune into a virtual event, Country Living reported.
Choose from virtual firework displays in London, live performances from the Notre-Dame in Paris, and a comedy evening that will brighten up your night in an instant.
Since September, the Joyce Theater has been offering a free virtual fall season that is as good as some of its best in-person ones. The secret has been surprise and an avoidance of the usual suspects. If that is a little less true of the latest batch of videos — available through Sunday at joyce.org/joycestream — the variety still provides plenty of spice, reported New York Times.
The connecting theme might be "tradition reimagined." Indigenous Enterprise captures the beauty of Native American dances in urban settings. Les Ballets Trockadero de Monte Carlo revives parts of the 19th-century ballet "Paquita" with an all-male cast. Streb Extreme Action does daredevil stunts with huge machines; it's like a carnival side show performed by cool astronauts.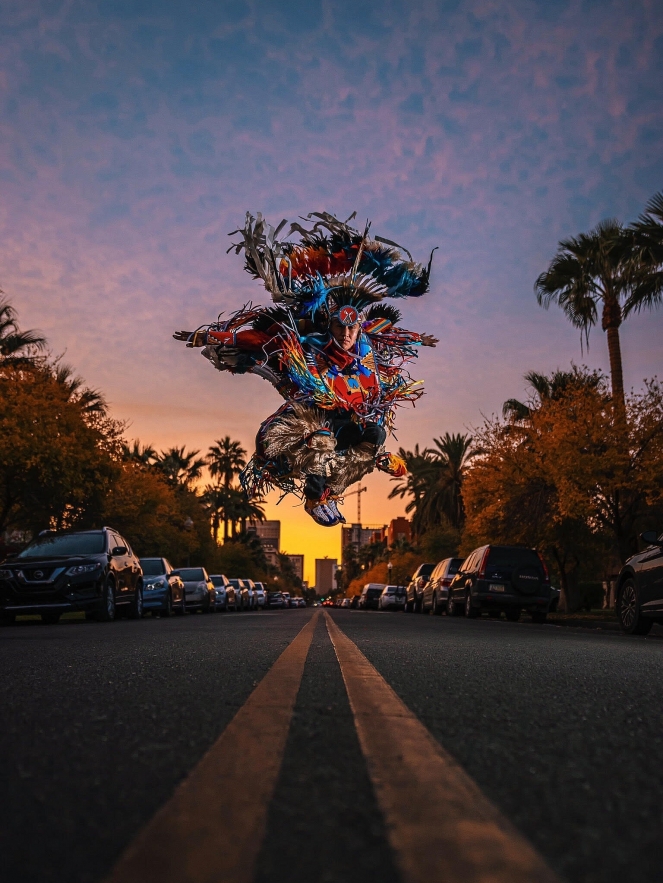 Kenneth Shirley of Indigenous Enterprise in a scene from a short film that is streaming on the Joyce Theater's website until Sunday.Credit...Danny Upshaw
Vanessa Sanchez and the group La Mezcla, from San Francisco, mix modern tap and zapateado to celebrate the women of the Zoot Suit Riots of the 1940s. And Rennie Harris Puremovement shows once again how hip-hop can convey both can't-take-your-eyes-off-it flash and hard-to-watch grief.
Play a virtual game
We might not be able to gather in person, but don't let that stop your fun. A virtual party game — whether it's a family quiz or
Photo: Getty
— is a great way to keep the spirits high and connect with loved ones.
Simply download a video conferencing app, such as Zoom, Microsoft Teams and Skype, and get the whole family celebrating New Year's Eve together.
Do That TikTok Dance
In 2020, you and your friends have mastered many of the most iconic TikTok dances, including "The Renegade." Play this game to see if you remember the moves, Elite Daily reported.
To start each round, one of your friends will volunteer to be the tune master. They'll pick a friend in the group to challenge, as well as an audio clip to play. The tune master will play the clip through once. On the second play through, the friend who's been challenged has to dance to the trendy clip.
If they make it through correctly, they win that round. If they don't, then the turn gets passed on to the next friend to dance.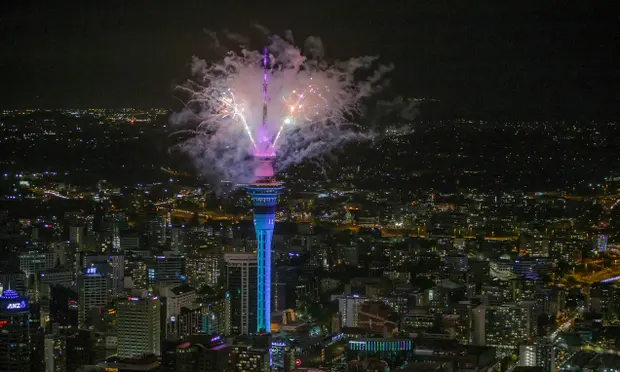 Fireworks from the SkyTower during Auckland's New Year's Eve celebrations. Photograph: Dave Rowland/Getty Images for Auckland Unlimited
Let's Get Fizz-ical
The foodies in your friend group will adore "Let's Get Fizz-ical." This game is all about taste testing different drinks, from fizzy sparkling ciders, to arsty-looking bottles of champagne, if you are 21 or over, of course.
Start by having each person bring their own drink to the virtual gathering and a glass. Watch them as they sip and serve up a dramatic description of it. At the end of their description, have them give a final rating, along with a hilarious catchphrase for the drink they tried.
Say It In Emojis
"Say It In Emojis" is made for the friend group that wants a chill and relaxing New Year's Eve night. For this game, get everyone together in a group chat. One person will be tasked with choosing a category like "sitcoms" or "hobbies." In the chat, everyone else will have to send three emojis that they think represent a specific item in that category.
The person who chose the category can then guess what each set of emojis represents. If you chose "sitcoms," one friend may send a coffee cup emoji, a city emoji, and a cat emoji grouped together, which represents Friends.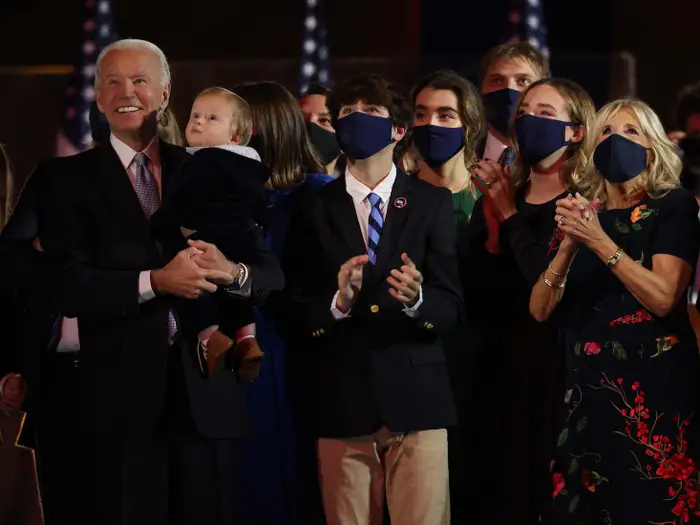 President-elect Joe Biden and family watch fireworks from stage after Biden's address to the nation from the Chase Center November 07, 2020, in Wilmington, Delaware. Win McNamee/Getty Images
Host a virtual cocktail night
If you're a party person, then raise a glass to 2021 with a virtual cocktail night, Country Living reported. Simply make sure everyone gets their ingredients beforehand, choose a easy-to-follow recipe (we love this Christmas cocktail made with mulled wine), design your Zoom background and let the fun commence. Cheers!
"If you're feeling daring and want to lead the cocktail making session on the call, you could even try a few nifty tricks and test out your mixologist skills," Jess Martin, expert party planner at Ginger Ray, says. "Make your drinks that little bit extra by adding a showstopper decoration, such as a sparkler."
Do something that sparks joy
From indulging in a movie marathon to soaking up nature, why not do something that brings you joy without being weighed down by guilt. Top tip: take a digital detox over the New Year period. It will give you the headspace to focus on what makes you happy, while providing you with a break from the often anxiety-inducing news.
Indulge in Some "Me Time"
Wash away the old year, and rest up for what's ahead with a long soak in the tub.
Cook a Homemade Brunch
These make-ahead egg cups are super simple to whip up and chock-full of brunch favorites: ham, spinach, eggs, and cheese! Round out the menu with other brunch recipes for leisurely grazing all day long.
Photo: Getty
Reach Out to Say Happy New Year
Resist the urge to text and actually *call* someone to wish them a happy new year. The recipient will appreciate hearing a friendly voice on the line!
Watch Some Football
Put that big screen TV you bought on Black Friday to good use with a football-filled New Year's Day. Tailgate from the comfort of your own couch with yummy tailgate recipes your whole "team" will love.
Organize Your Pantry
Start by removing everything, throwing out expired items as you go. Wipe down shelves, and restock items by type and use (for example, put all your baking supplies in one spot for easy access). Don't use that blender much? To the top shelf it goes!
Volunteer
If you're able to, try volunteering locally at food banks, nursing homes or animal shelters. Sadly, many have gone without this year, so giving back to those in need is a great way to spread joy. Always call in advance, as some volunteering opportunities may have paused due to the ongoing coronavirus spread.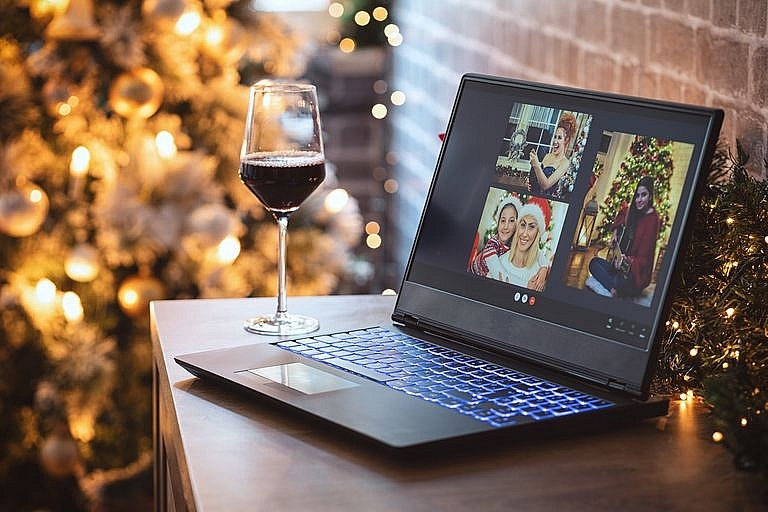 Photo: Getty
Start the year off on the right foot and give back to your community by volunteering. You'll feel good by doing good, whether you decide to clean up a public area like a park or the beach, plant trees, serve meals at a soup kitchen, or anything else that interests you.
Looking for other ways to make a difference on New Year's? Take a look at some of the things you can do below.
+Volunteer with the charity Re-Engage and speak with elderly people who are spending the season alone.
+Donate to a mental health charity working tirelessly through the pandemic (see a full list of where to donate to here).
+Gift a Refuge parcel to help a young woman in need at this time of year.
+Donate to Centerpoint to help the homeless.
Overseas Vietnamese
Vice President Vo Thi Anh Xuan had meetings with several Thai leaders and high-ranking officials within the framework of her visit to Thailand to attend the Global Summit of Women (GSW) 2022.