New Year Activities of Vietnamese Students Abroad
For Vietnamese abroad, New Year's Eve is a fantastic time to experience the cultures and traditions of another country.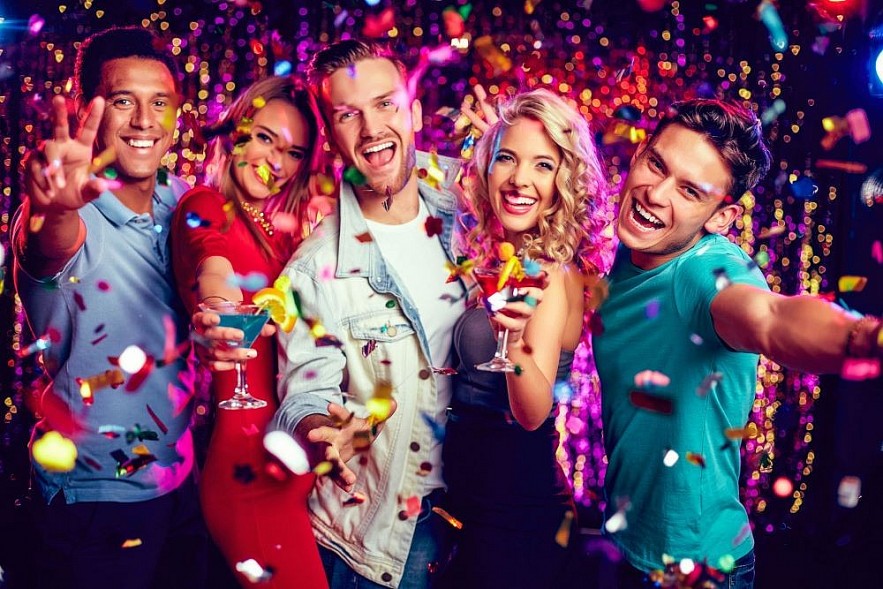 Photo: Countdownparty
On New Year's Eve (7 a.m. Hanoi time), London (England) welcomed 2023 with a spectacular fireworks display. This is also the first fireworks display since 2019 and the people did not have to follow any epidemic prevention restrictions.
After the fireworks display, an array of drones was deployed in the sky, forming the image of Queen Elizabeth II and King Charles III. According to Yahoo, an estimated 10,000 people have lined up along the Thames to welcome 2023 together.
Tran Dat, a 20-year-old Vietnamese international student in London, was eager to join the crowd. This is the first time Dat has had the opportunity to welcome the new year in the land of fog. Although he was standing quite far away and couldn't see the drones clearly, he still felt very happy.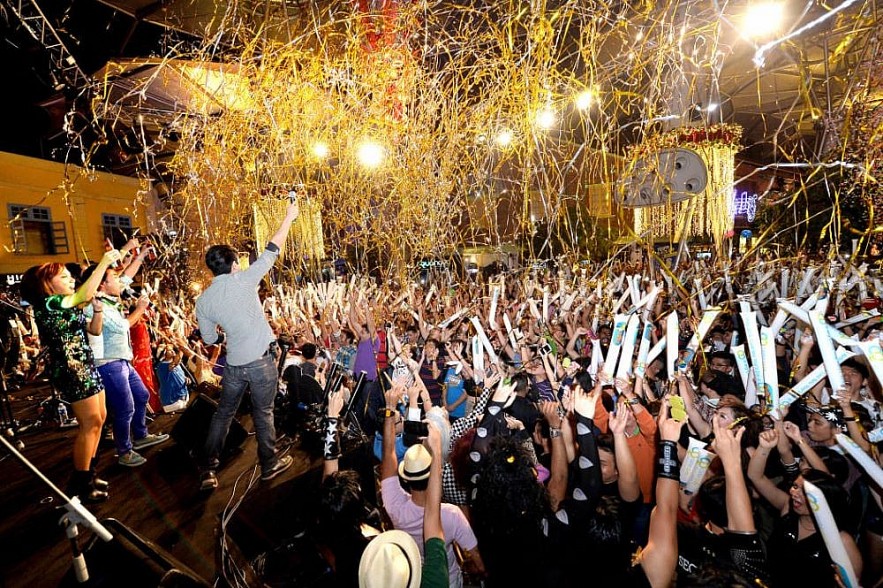 Photo: mynewsdesk
"Countdown" in Europe
Dat said that in London and other major cities, Christmas and New Year decorations started in mid-November. Most companies will give employees a few days off to welcome these two big holidays. Meanwhile, students will have a 3-4 week break, which is also the winter break.
Dat and his group of Vietnamese friends had fun at Winter Wonderland park on the evening of December 31. Then, at 22:00 p.m. they started moving to the riverbank to wait for the countdown.
"This is the first time I have spent the New Year away from home. New Year's Eve was also the time when I missed my family the most. I was quite impressed after the end of the event, the authorities and security forces in London controlled the crowd quite well," Dat shared.
Similar to Dat, 2023 is also the first year Minh Quan, a 21-year-old international student in the Netherlands, welcomes the new year abroad. From before Christmas, the streets of Amsterdam were filled with bright lights and decorations, lasting until the new year.
However, Quan said the Dutch government will not set off fireworks on New Year's Eve, instead, people will be allowed to set off fireworks themselves.
Quan planned to go to the club on the evening of December 31. However, holiday tickets are quite expensive, 3-4 times higher than normal days. So, his group of friends chose to go to the riverside to join the Dutch people in counting down and watching fireworks.
On New Year's Eve, the weather in Amsterdam was drizzly and windy. However, the number of people flocking to the streets to welcome the New Year is quite large. Fantastic fireworks were set off from the afternoon of December 31 until 4 a.m. on the first day of 2023.
Quan got up early to buy souvenirs for friends on the morning of January 1. The Dutch capital was quieter than usual, and the weather was nicer than the night before. Agencies, companies, and many businesses were closed, only a few people were still working on this day.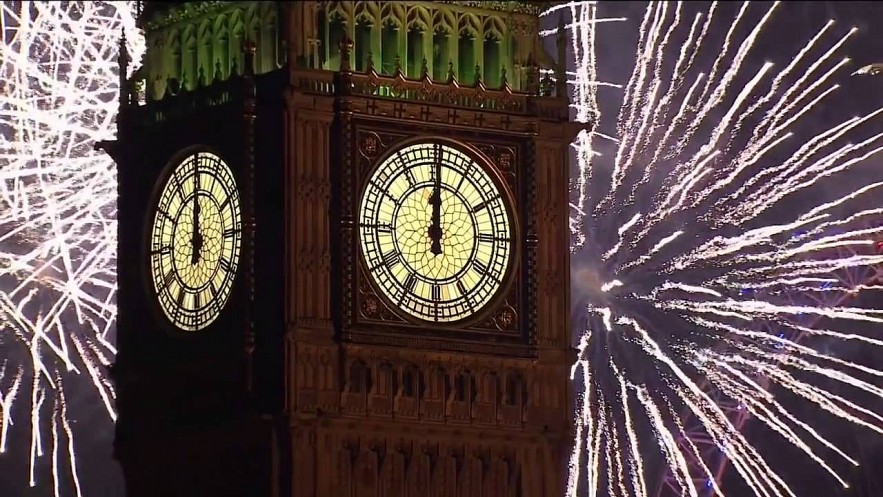 Photo: youtube
Overtime in Korea
Le Hao, a 24-year-old international student living in Seoul, did not go to an outdoor countdown. She had to work overtime during holidays and Tet in Korea. Like Vietnam, Koreans also have a day off from work on January 1 to celebrate the New Year. She said that the atmosphere to welcome the New Year in Korea is not too unusual. Streets are also rarely decorated, people mostly meet friends or go out to drink.
This year, the city of Seoul where Hao lives held fireworks to welcome the new year. However, partly due to her obsession with the incident at Itaewon, and partly due to the overtime work, Hao did not participate in this activity.
"Usually, international students who work part-time will not be able to take time off work on major holidays. We even have to work overtime because people's demand for shopping, eating and playing increases sharply during these occasions. Some companies will have additional bonuses for employees, so international students who work on holidays can increase their income to cover tuition and living expenses," Hao shared.
On the last day of the year, Hao had to work overtime by 1 hour, from 14:00 p.m. to 23:00 p.m. According to Korean culture, people will usually eat a lot of chicken and go to convenience stores (where Hao works) to buy beer on major holidays. Therefore, the number of visitors on December 31 is quite large. Hao didn't even have time to eat or drink.
"I worked in the winter but I was sweating like in the summer," she said. Hao has to do a lot of work such as cashiering, arranging goods on shelves, and cleaning.
This year, Hao prays for her family and herself to be healthy, she will continue her unfinished dreams and plans after 2 years of the pandemic.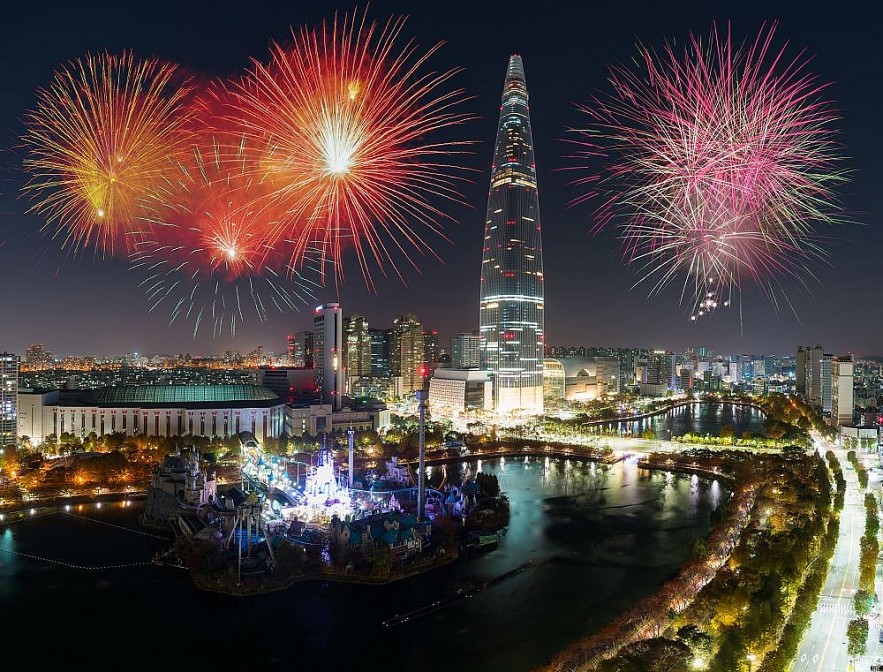 Photo: marthastewart
Religious activities in Japan
Unlike other Asian countries such as Vietnam, China, or Singapore, Japan has not celebrated the Lunar New Year for a long time. Therefore, New Year is considered one of the most important traditional holidays of the year.
Similar to Quan, Dat, 2023 is the first year Thao Linh, an 18-year-old student, has celebrated the new year abroad. Linh said that, unlike Vietnamese culture, the Japanese do not welcome the New Year too enthusiastically. Most people just clean their houses. The services are closed from December 29, 2022, to the end of January 1, 2023.
The weather in Japan is quite cold, so at 19:00 p.m. on the last day of 2022, Linh and her Vietnamese friends gathered and cooked some hot dishes such as hot pot, fried spring rolls, and braised meat. Then they watched television together and counted down.
"Japan has an interesting custom in the early morning of the first day of the new year. Specifically, people will wake up before sunrise, go to the place where the sun is brightest, and pray when the sun just rises. However, the weather was too cold, so my whole group went to the temple to pray," Thao Linh shared.
Linh and 6 Vietnamese friends took the train to Kibitsu Jinja temple, Okayama province at 6:20 am today. They rang bells to pray, asked for the New Year's fortune hexagram, and bought peace amulets. This year, Linh prays for health and peace for her entire family. She also drew a fortune of great sand, good luck on the first day of the new year. For Linh, these are all new and exciting experiences.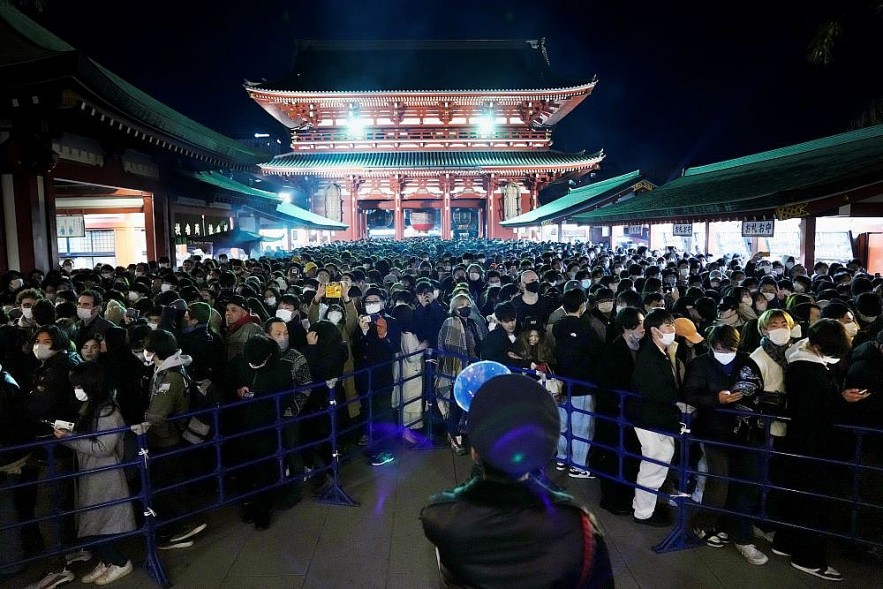 Photo: Japantour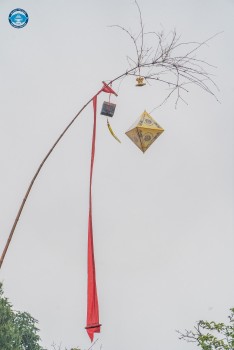 Viet's Home
In the past, the Neu pole (a tall bamboo pole with red garment strips used to ward off evil spirits during the lunar New Year) lowering ceremony at the royal palace of the Nguyen Dynasty was performed to mark the end of the New Year holiday and prepare to enter a new working year.