New Zealand provides US$36,000 to support COVID-hit women in Hai Duong
A New Zealand-funded project has granted an aid package of VND800 million (more than US$36,000) to 270 vulnerable, female-headed families who have been hardly hit by COVID-19 in the northern province of Hai Duong.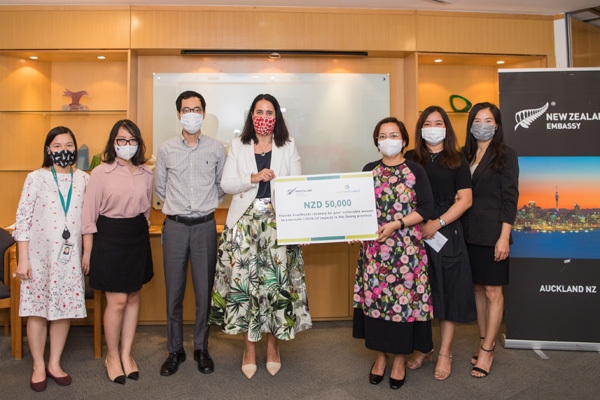 Representatives of New Zealand Embassy in Vietnam and the East Meets West Foundation grant the aid package to local authorities of Hai Duong Province on Friday. Photo vietnamnet
The families in five communes of Kim Mon District will receive support to restore their livelihoods and purchase necessities like food, medicine, children's books, and cover tuition fees and/or healthcare services.
Priority is given to families with disabled people, with the total number of beneficiaries expected to reach 1,215.
New Zealand Ambassador to Vietnam Tredene Dobson said on Friday this is the third COVID-19 relief project the New Zealand Embassy has supported in Vietnam.
"This practical initiative will help ease the economic impacts of COVID-19 on women and their families. Certain groups have become more economically vulnerable during the pandemic, and we believe that this project will help families in Hai Duong to get back on their feet," she said.
"Agricultural economists will complete a needs assessment to understand the demand for agricultural products or services, thereby providing livelihood products like seeds, breeds, fertilizer, or production tools suited to each family," a Friday press release from the New Zealand Embassy stated.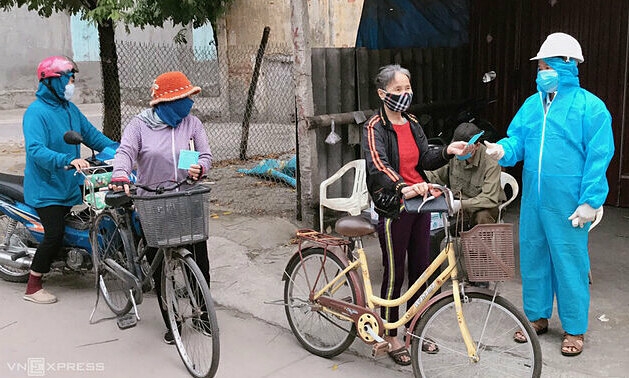 Women in Hai Duong Province receive coupons for going to the market amid a Covid-19 outbreak on February 17, 2021. Photo VnExpress
Nguyen Hong Hanh, Country Director of East Meets West Foundation said "Restoring livelihoods and empowering women is one of our main goals in our COVID-19 pandemic recovery projects, also reduces the socio-economic impact of the epidemic on vulnerable groups. We believe that this project, with cooperation with the Women's Union of Hai Duong province, vulnerable poor women families will have the opportunity to access resources for sustainable economic development and overcome the difficulties caused by the pandemic."
Earlier in April 2021, more than 350 female domestic workers in HCM City, Binh Duong, Hai Phong and Da Nang, received cash and training assistance worth a total of NZD$50,000 dollars (US$35,980) under the partnership between the New Zealand Embassy and CARE International in Việt Nam.
In March 2021, the Embassy of New Zealand and ActionAid Vietnam provided assistance worth offer NZD50,000, equivalent to roughly US$35,600, for 350 female workers operating in informal sectors in the central city of Da Nang and Thua Thien-Hue province in line with a new partnership.
Hai Duong was once a COVID-19 hot spot in Vietnam early this year. The northern province recorded the highest number of local infections since the first outbreak recurred in late January./.
According to Oxfam, across the globe women have been more likely than men to drop out of the workforce or reduce their hours during the pandemic, largely due to care responsibilities.

Globally, women lost more than 64 million jobs last year — a 5 percent loss, compared to 3.9 percent loss for men.

"Economic fallout from the COVID-19 pandemic is having a harsher impact on women, who are disproportionately represented in sectors offering low wages, few benefits and the least secure jobs. Instead of righting that wrong, governments treated women's jobs as dispensable —and that has come at a cost of at least $800 billion in lost wages for those in formal employment", said Gabriela Bucher, Executive Director of Oxfam International.