Noul storm caused more than USD 21 million in damage, 10,000 trees fallen in Hue
Hundreds of people brought saws and machetes to take part in cleaning fallen trees on the roads of Hue.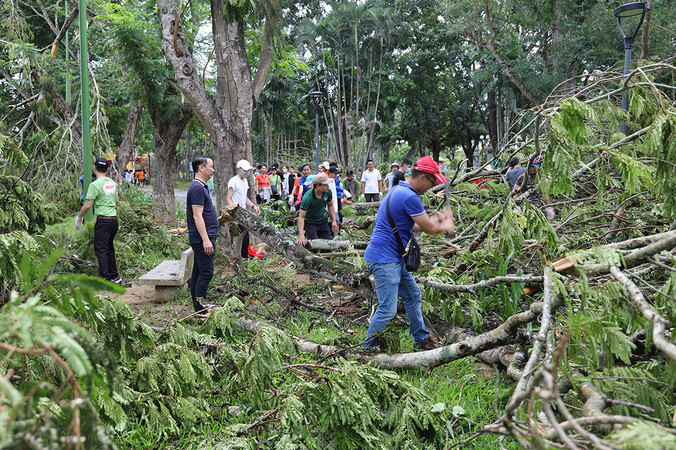 Photo: VN Express
According to the e-newspaper of the Ministry of Natural Resources and Environment, Noul storm caused heavy damage to Thua Thien Hue province, estimated at more than 505 billion VND (21,4 million USD).
At 6:30 a.m. on September 20, Vice Chairman of Thua Thien Hue People's Commitee, Phan Thien Dinh, went to the street to clean up fallen trees along the Huong River himself. Just one day ago, he called on Hue people to join with the government to clean up trees fallen on Hue's streets.
The fallen trees were mainly poinciana and lagerstroemia tree. People cut branches and collect neatly so that the trucks of the traffic police and transportation company can collect and transport them to the gathering area in Kim Long ward.
Only in the morning, many broken trees lying along the Huong River were basically cleared. Branches are gathered at in Phu Xuan Park. Meanwhile, on roads such as Le Huan, Le Duan, Ton Duc Thang, August 23, hundreds of youth union members and police focused on cleaning trees.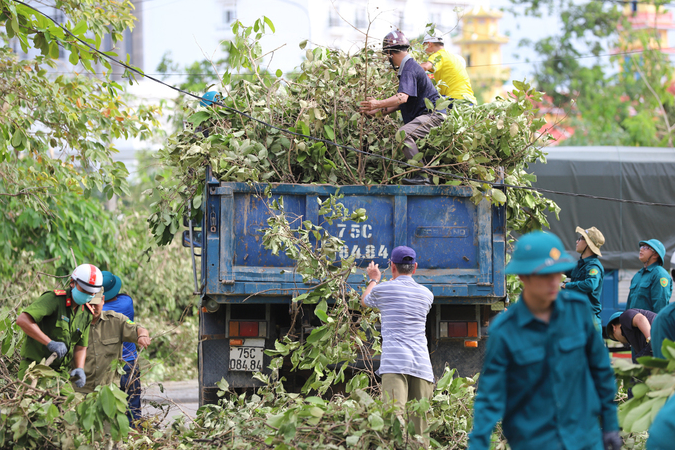 Photo: VN Express
Mr. Nguyen Phuc Bao Minh from Vy Da ward said that he and many friends gathered on Ton Duc Thang street to clean broken trees from the early morning. "As a Hue citizen who goes through these roads every day, I feel sorry to see broken trees piled up on the streets", Minh said and shared that Hue people need to join hands to clean the fallen trees and plant new ones.
Mr. Le Nhu Chinh, Director of Thua Thien Hue Green Park Center, said that Noul storm caused more than 10,000 trees on the streets and parks in Hue City to fall, many of which are several decades old.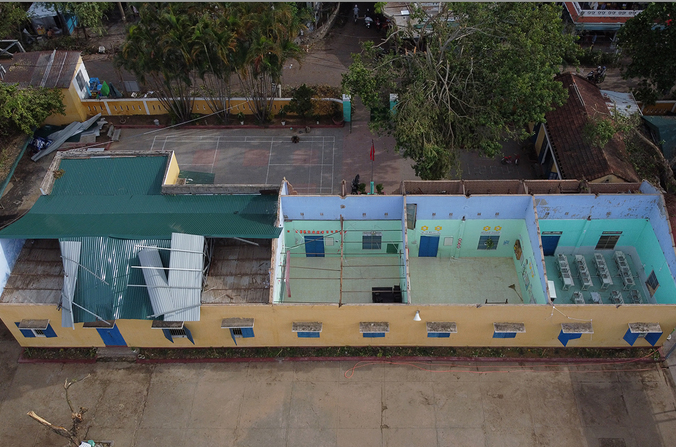 Photo: VN Express
"Every road has a broken tree. In the past two days, the unit mobilized all its forces, including office workers, to take part in cutting trees," Chinh said. It will take 2 weeks to clean all broken trees due to the great quantity. Chinh said that Noul storm had a higher wind intensity than forecasted, causing many trees to fall.
Noul storm landed in Thua Thien Hue with a wind speed of 75-90 km/h on the morning of September 18, killing two people and injuring 95 others. More than 21,280 houses are affected. More than 210 power poles broke down, three stations damaged, causing power cut in 7 districts, towns, and cities. More than 300 hectares of fruit trees were damaged, 1130 hectares of forest were destroyed.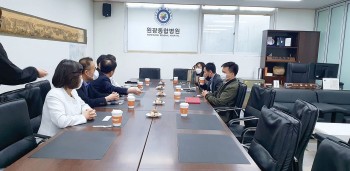 Overseas Vietnamese
A meeting was organized at the Wonkwang Hospital on the provision of medical support for the Vietnamese community in Korea in accordance with the signed cooperation agreement.