Novak Djokovic tests positive for coronavirus
Novak Djokovic tested positive for the coronavirus on June 23, making him the fourth player to test positive after playing last week in Belgrade and last weekend in Zadar, Croatia, reported AP.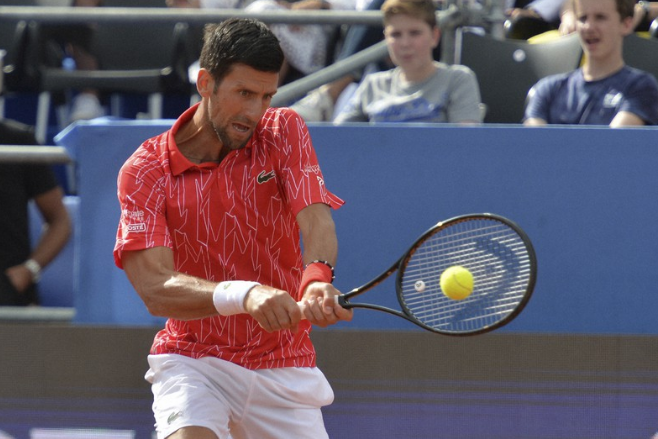 Serbia's Novak Djokovic returns the ball during an exhibition tournament in Zadar, Croatia, on June 21, 2020. AP Photo/Zvonko Kucelin
The top-ranked Serb annouced after taking part in a tennis exhibition series he organized in Serbia and Croatia. His wife also tested positive.
"The moment we arrived in Belgrade we went to be tested. My result is positive, just as Jelena's, while the results of our children are negative," Djokovic said in a statement.
Djokovic had come under fire this week for organizing a tournament with few health precautions and for publicly partying after the Belgrade round, even as the tennis world remains in lockdown.
The 33-year-old, who had frequently come under fire over his public position against vaccinations and his promotion of pseudo-medicine, was the face behind the Adria Tour, a series of exhibition events that started in the Serbian capital and then moved to Zadar.
He left Croatia after the final was canceled and was tested in Belgrade.
Despite the positive test, he defended the exhibition series.
"It was all born with a philanthropic idea, to direct all raised funds towards people in need and it warmed my heart to see how everybody strongly responded to this," Djokovic said. "We organized the tournament at the moment when the virus has weakened, believing that the conditions for hosting the Tour had been met.
"Unfortunately, this virus is still present, and it is a new reality that we are still learning to cope and live with."
Djokovic said he will remain in self-isolation for 14 days and also apologized to anyone who became infected as a result of the series.
According to Reuters, about 4,000 crowd attended both days of the Belgrade event and as many turned up to watch the Zadar event, with its Visnjik tennis complex half-full after Croatia's authorities ordered spectators to implement social distancing.
The third leg which was due in Montenegro on June 27 and 28 was scrapped during the Belgrade event amid coronavirus concerns voiced by the Montenegrin government.
Three other players test positive
Viktor Troicki said on the same day that he and his pregnant wife have both been diagnosed with the virus.
"My wife took the test on Friday and I took it on Sunday after she tested positive," Troicki told Serbia's Telegraf website. "Our daughter tested negative."
The No. 184 ranked Troicki played in the first leg staged at Djokovic's tennis complex in central Belgrade from June 13-14.
Grigor Dimitrov, a three-time Grand Slam semifinalist from Bulgaria, said on June 21 he tested positive for the virus. Borna Coric played Dimitrov on June 20 in Zadar and said on June 22 he has also tested positive.
There were no social distancing measures observed at the matches in either country.
According New York Times, players have not only played tennis in front of big crowds on the Adria Tour. They have hugged, high-fived, and partied together: Some of the players even formed a line and did the limbo on a night out in Belgrade.
Tennis has been shut down since mid-March and had aimed to restart on Aug. 31 with the US Open.
Overall in the COVID-19 pandemic, WHO reported 8,708,008 cases -- 183,020 in June 21 -- with 461,715 deaths worldwide, with a daily increase of 4,743.
More than two-thirds of those new deaths were reported in the Americas.
Experts said rising case counts can reflect multiple factors including more widespread testing as well as broader infection./.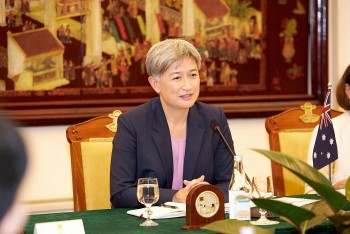 National
"The partnership between Australia and Vietnam is grounded in trust...It's exciting to see the many areas where we can partner together to forge even deeper ties," said Australia's foreign minister Penny Wong.