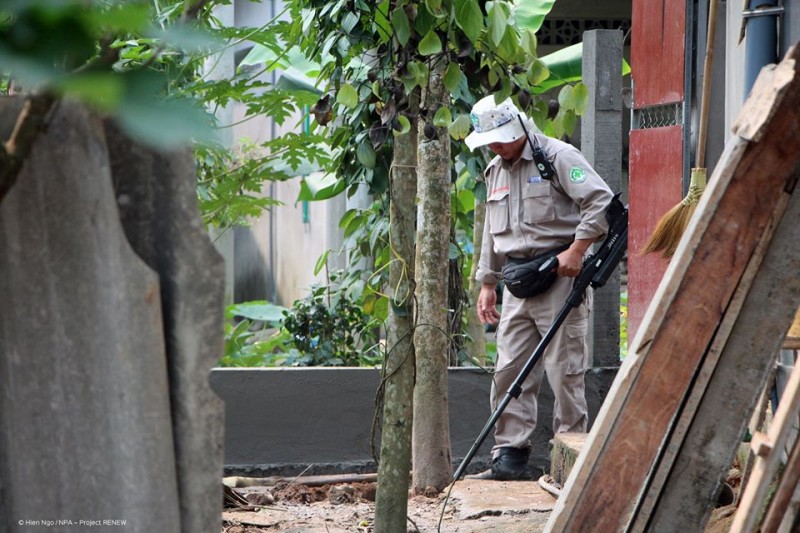 EOD team leader carries out an investigation using a metal detector to check while bricklayers are backing away. Photo: Hien Ngo/NPA-Project RENEW
"Our family is really appreciative of the team's quick response that allows us to continue the construction work without interruptions," said Dinh Ngoc Tho, an elderly resident who lives in Hai Le Commune, Quang Tri Town, after a NPA-RENEW team removed a mortar from his home.
Last week, Tho's children unexpectedly exposed a wartime munition while they were digging to remove a tree to get more space so that they could repair the family's kitchen. Remembering the risk education lessons that all Quang Tri residents receive, the alert father asked his sons to suspend their work and called to the provincial hotline number.
After receiving the emergency call, an Explosive Ordnance Disposal (EOD) team of NPA-RENEW arrived at their home. They found a 60mm mortar round which was identified safe to remove.
In 2020 so far, NPA-RENEW teams have conducted 161 EOD tasks in response to people's calls to report discoveries of explosive ordnance, resulting in 231 munitions being removed and destroyed, contributing to ensure safety for local people in their daily activities.
Quang Tri is the most severely contaminated locality for bombs and mines across Vietnam. It has recorded over 3,400 deaths and 5,100 injured people caused by unexploded ordnance (UXO).
In 1996, Quang Tri became the first province nationwide to launch an international cooperation project on overcoming the consequences of UXO.
NPA Survey & Clearance Program implemented at Project RENEW is funded by the US Department of State and the DFID - UK Department for International Development, and a cooperation project between NPA and Quang Tri Province Department of Foreign Affairs.
Contamination also imposes a heavy financial cost at a time of rapid economic modernization, limiting cultivation of affected agricultural areas and requiring major infrastructure and industrial development projects to provide for costly clearance operations.
The clean-up of wartime debris will likely continue for years. However, children and adults can be safe if they are educated about UXO risks and provided with guidance on what to do when they encounter explosive remnants of war around their homes and gardens, roadsides and school yards.
That's where Mine Risk Education plays an integral role – by educating children and adults, who must continue to live with the threat of UXO, about how they can live safely, how they can avoid accident and injury, how they can be part of the day-to-day solution to this problem.
VNF