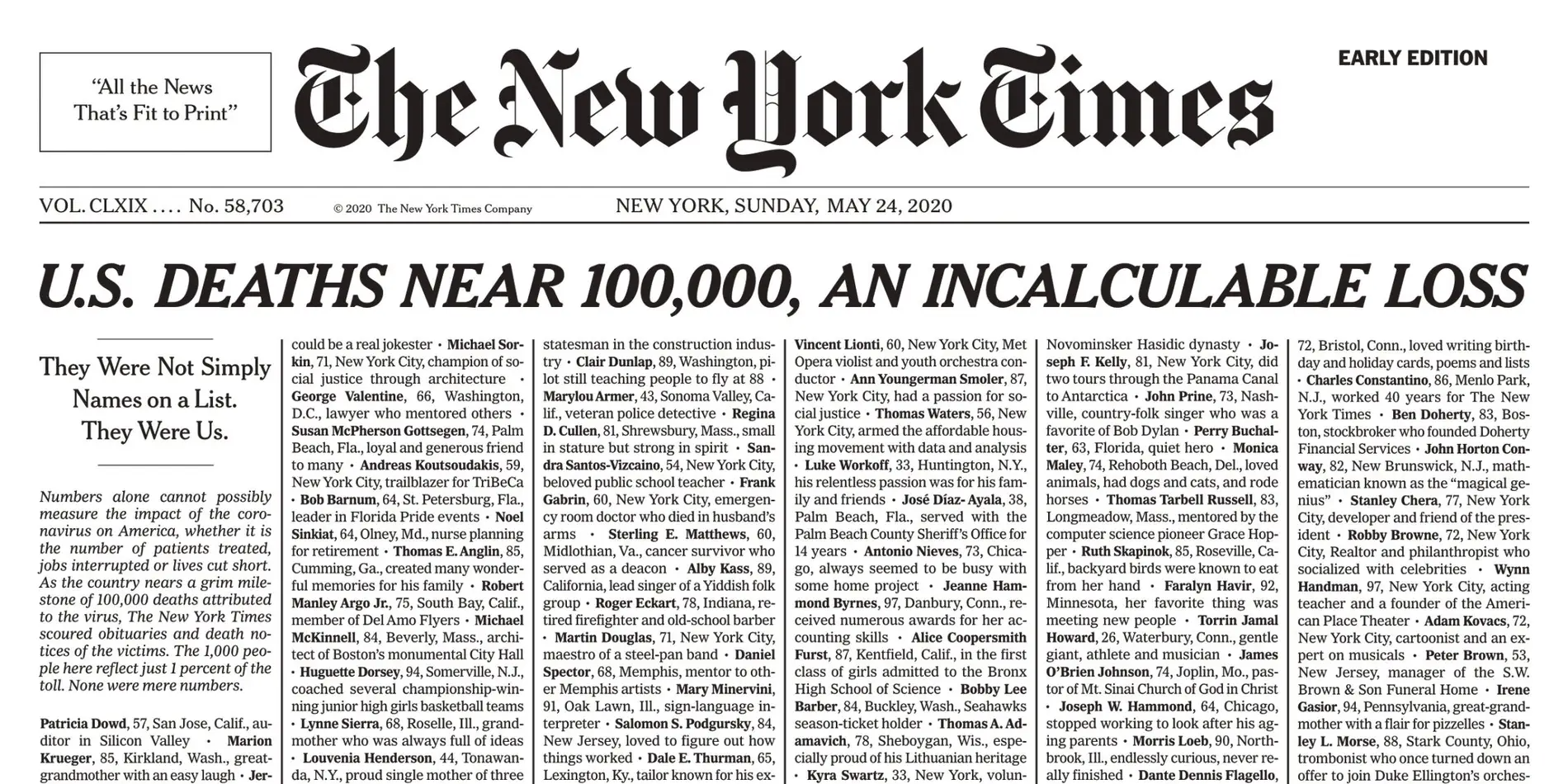 The New York Times marked the milestone of 100,000 coronavirus deaths with a powerful front page naming 1,000 victims. The New York Times.
The names and brief descriptions culled from obituaries from around the country fill six columns under the headline "U.S. Deaths Near 100,000, an Incalculable Loss," with a subheadline reading: "They Were Not Simply Names on a list. They Were Us." ABC News reported.
The Times' front page is entirely full of all-text lists without any articles, photos, graphics as usual publication in an effort to convey the vastness and variety of lives lost, according to Simone Landon, assistant editor of the graphics desk.
According to New York Times, Landon wanted to represent the number in a way that conveyed both the vastness and the variety of lives lost. Putting 100,000 dots or stick figures on a page "doesn't really tell you very much about who these people were, the lives that they lived, what it means for us as a country," Ms. Landon said. So, she came up with the idea of compiling obituaries and death notices of Covid-19 victims from newspapers large and small across the country and culling vivid passages from them.
"Numbers alone cannot possibly measure the impact of the coronavirus in America, whether it is the number of patients treated, jobs interrupted, or lives cut short. As the country nears a grim milestone of 100,000 deaths attributed to the virus, the New York Times sourced obituaries and death notices of the victims," the newspaper wrote in a preface.
Alain Delaquérière, a researcher, combed through various sources online for obituaries and death notices with Covid-19 written as the cause of death. He compiled a list of nearly a thousand names from hundreds of newspapers. A team of editors from across the newsroom, in addition to three graduate student journalists, read them and gleaned phrases that depicted the uniqueness of each life lost:
"Alan Lund, 81, Washington, conductor with 'the most amazing ear' … "
"Theresa Elloie, 63, New Orleans, renowned for her business making detailed pins and corsages … "
According to the Hill, as of Saturday afternoon, the U.S. has recorded 1.6 million confirmed cases of the virus and 96,983 deaths from the disease, according to a count by Johns Hopkins University.
The region with the highest rate of infection has been New York City, where the Times is based, though the names on the front page are from across the country.
Most of the deceased's names come with a sentence describing who they were, or a loving line about their personality.
Lyan Vu