Politico: Vietnam the world's No.1 country in COVID-19 fight 
The US-based prestigious political outlet Politico has ranked Vietnam "the best COVID-19 performer globally", with a possible 2.87 percent growth in the economy this year.  The ranking is based on the COVID-19 impacts on public health and economic outcomes.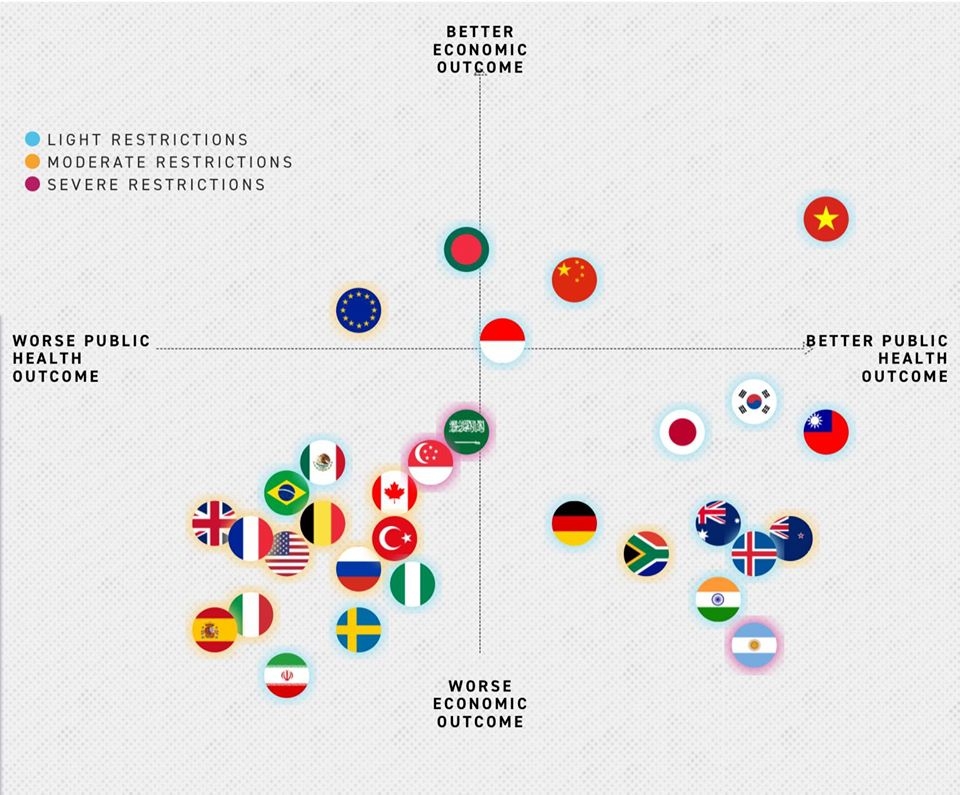 Vietnam leads the chart in both public health outcomes and economic outcomes (Graphics: Politico)
Accordingly, Vietnam is a front runner regarding both public health and economic outcomes.
"The most populous country without a death, with approximately 300 cases recorded among a population of 95 million. Vietnam's economy is predicted to grow by 2.7 percent in 2020, making it the overall best COVID-19 performer globally", Politico said.
As can be seen from the ranking chart, Vietnam stands at the furthest end as the nation with "better public outcome", with Taiwan coming close, followed by South Korea, New Zealand, Iceland, Argentina, Australia.
Regarding the "better economic outcomes", Vietnam also stays at the highest place, with Bangladesh, China, India, Indonesia coming next.
Vietnam is also reported by Politico to have enacted light restriction as of May 23, with most "businesses, offices and schools allowed to stay open, sometimes at reduced capacity. Large events have been restricted. Extra cleaning and record-keeping requirements may be in place for those operating businesses and other venues that attract crowds".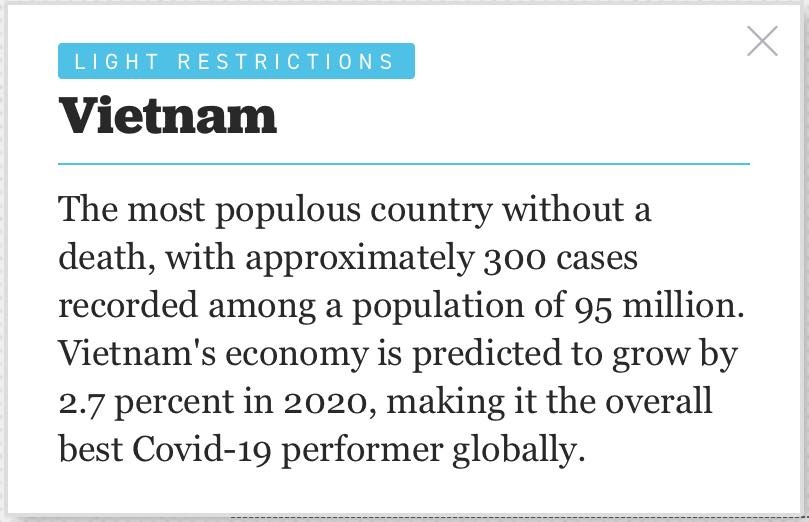 (Photo: Capture)
30 leading countries in COVID-19 fight are mapped by Politico and grouped based on whether they have instituted light, moderate or severe restrictions on commerce and social interactions.
This matrix considers countries' bottom lines when it comes to infections, deaths, GDP, and unemployment, as well as how those metrics were shaped by specific government interventions.
Vietnamese media has recently been reported to earn the highest rate of belief from people, according to recent research by YouGov, the British international Internet-based market research and data analytics firm.
Up to 89% of Vietnamese respondents confirmed their belief in Covid-19 newsreported by Vietnamese media. Forbes analyzed that, despite having a large border with China, Vietnam was not seriously affected by the number of cases because it had taken the Covid-19 preventive measures early. The timely recognition of risks and information assist Vietnam to be successful in stopping Covid-19's outbreak.
India ranks No. 2 with a confidence level of 67%, China ranks third of the rate by 62%.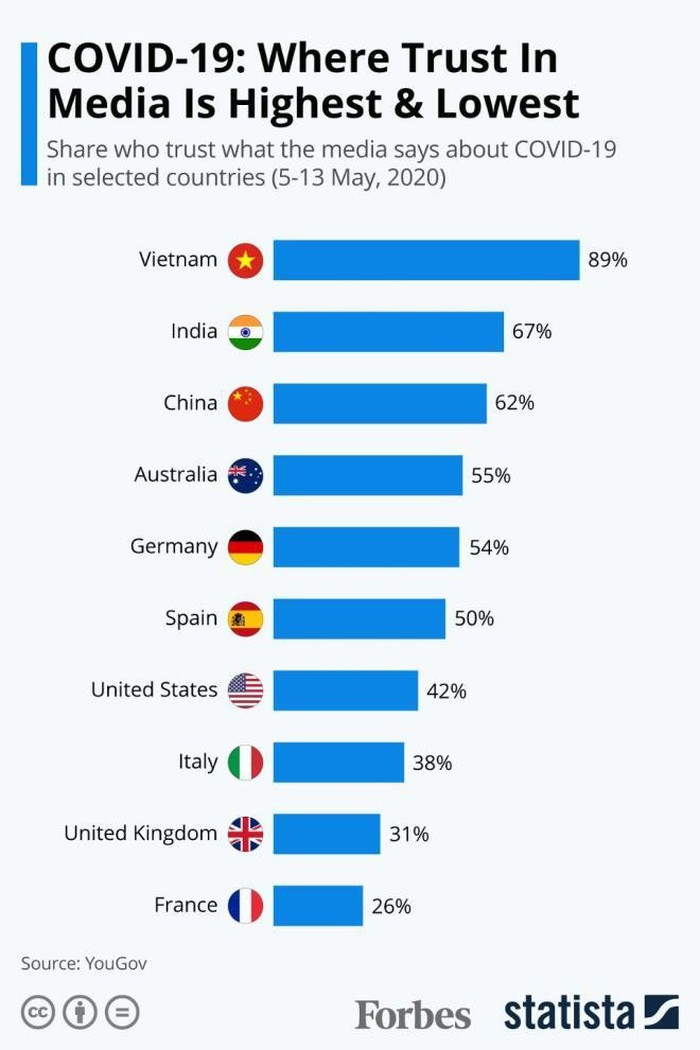 YouGov's assessment of the reliability of media in other countries.
As of Saturday night, Vietnam has gone five straight days without new COVID-19 infections, and day 37 without community transmission of the virus.
The nation's Covid-19 tally remained at 324, of which, 267 have recovered and 57 are active patients.
Of the total number of infections to date, 184 are imported and the rest caused by community transmission. The last community transmission was recorded on April 16.
There has been no Covid-19 death in Vietnam to date.