Video of Russian girl willing to collect trash on Phu Quoc beach going viral on Vietnam's internet
Footage of Sonya Firsova collecting trash while swimming in Phu Quoc beach has been receiving wide media coverage. The Russian girl is getting rave reviews for her impromptu environment-friendly act.
(Video courtesy of Sonya Firsova)
Sonya was visiting Ong Lang beach, Phu Quoc island on March 21 afternoon while she came across patches of garbage floating on the water. Without hesitation, the 27-year-old expat swam out and picked up the afloat garbage.
"As I started, I noticed many beach bummers followed suit and helped me. Others, however, didn't care and went on with what they were doing", Sonya was quoted by VNE as saying.
Sonya then uploaded the short video recording her picking up trash on the Internet, calling for people to stop littering and embrace environmental protection. To date, her video has garnered 2.4 million views on TikTok and thousands of comments, most of which are thank-you messages to Sonya.
"I can't stay indifferent because I really care about nature. I would pick up trash whenever I see them at beaches", Sonya said. "I wish people would be more responsible for the planet they are living in. I also wish governments would have better regulations on plastic recycling because plastic is non-biodegradable, it'll kill wild animals".
On March 23 morning, Sonya got a surprise call from Mr. Pham Van Son, General Secretary of the Vietnam Association for the Protection of Nature and Environment. Son spoke to Sonya and expressed his gratitude in Russian.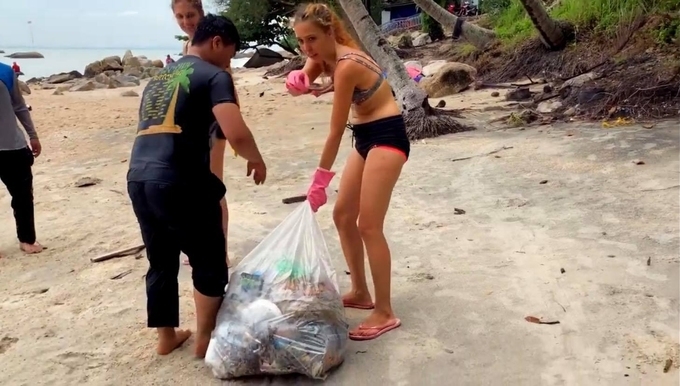 Sonya has earlier collected trash during her vacation in Penang, Malaysia (Photo courtesy of Sonya Firsova)
Sonya's video, according to Son, has a very good educational and communicating impact. "That a Russian girl collecting trash in Vietnam beach is a praise-worthy good deed, showing the love for the environment", he said. "The wonderful thing is, whether it's Vietnam or Russia or any other countries doesn't interfere with her love for the environment".
In a statement, Sonya said the huge attention she got after publishing the video took her by surprise. "Having lived in Hanoi for two years, I have fallen madly in love with the country and its people. It's great to travel across the S-shaped country and discover the wonderful landscapes and culture".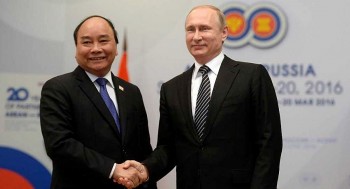 Friendship
The visit is expected to boost bilateral cooperation in Covid-19 prevention and control, especially in promoting Russia's support for vaccine production and technology transfer.