World breaking news today (March 27): Russia says it is seeking to strengthen military ties with Myanmar
World breaking news today (March 27): Russia says it is seeking to strengthen military ties with Myanmar. Meanwhile, North Korea confirms missile tests, Taiwan reports largest incursion yet by Chinese military aircraft and gold price also make headlines today.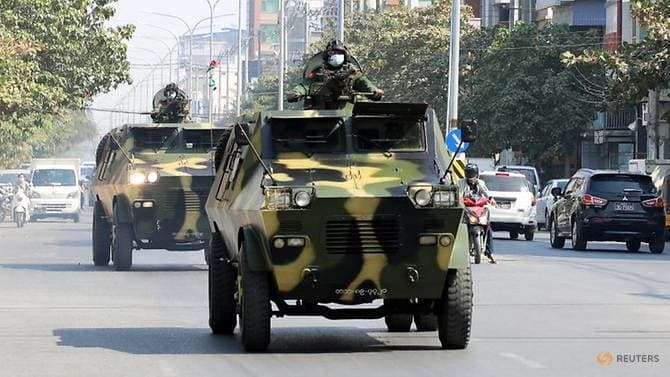 Myanmar Army armoured vehicles drive in a street after the military seized power in a coup in Mandalay, Myanmar, Feb 3, 2021. (Photo: Reuters)
Russia says it is seeking to strengthen military ties with Myanmar
Russia wants to strengthen military ties with Myanmar, its state media reported on Friday (Mar 26), after a meeting between top defence officials and a junta condemned by Western countries for killing hundreds of civilian protesters.
Russia's deputy defence minister, Alexander Fomin, met in the capital Naypyidaw on Friday with junta leader Senior General Min Aung Hlaing, who seized power in a Feb 1 coup that triggered weeks of nationwide protests and a lethal response by security forces.
Fomin said Myanmar was a reliable ally and strategic partner of Russia in Asia, state-run TASS said, during a visit that came a day ahead of a big parade to mark Myanmar's Armed Forces Day, the military's most prestigious event.
In a video shown on the Russian Defence Ministry's Zvezda TV, Fomin is seen shaking hands and receiving a medal and a ceremonial sword from Min Aung Hlaing in a meeting room full of military officers in green uniforms.
The visit is the firmest sign yet of Russia's support for the new military rulers in Myanmar, amid outrage in the West and deep concern among its Asian neighbours, some of which have condemned the violence against civilians and urged the restoration of Aung San Suu Kyi's elected government.
Meanwhile, the United States, Britain, Australia and the European Union have imposed sanctions on the ruling military council and the army's vast network of businesses.
North Korea confirms missile tests as Biden warns of a response
North Korea on Friday confirmed it had tested a new guided missile, as President Joe Biden warned of consequences if Pyongyang escalates tensions amid stalled nuclear negotiations.
The North's official Korean Central News Agency said the two "new-type tactical guided projectiles" accurately hit the target off the eastern coast on Thursday. Photos on the website of the North's main Rodong Sinmun newspaper showed a missile lifting off from a transport erector launcher amid bright flames.
KCNA quoted top official Ri Pyong Chol, who supervised the test, as saying that the new weapon's development "is of great significance in bolstering up the military power of the country and deterring all sorts of military threats existing on the Korean Peninsula."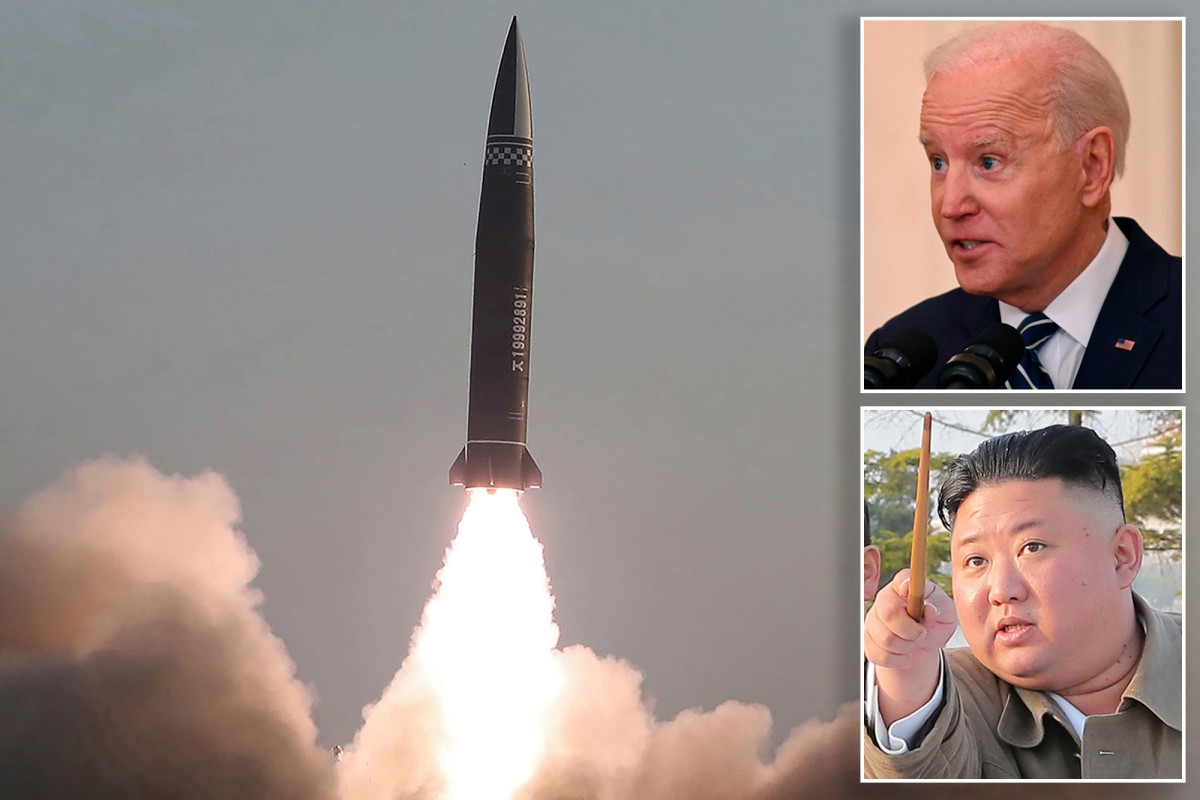 (Photo: New York)
Japanese officials said both weapons tested Thursday were ballistic missiles, which are prohibited by U.N. Security Council resolutions. According to South Korean officials, North Korea fired two other missiles on Sunday but they were likely cruise missiles, which are not banned.
The test-firings were the North's first major provocation since Biden took office in January. Some experts say North Korea aimed to apply pressure on the Biden administration to boost its leverage in future talks.
The United States has asked for a meeting of the U.N. Security Council committee that monitors sanctions against North Korea, and it's set to take place Friday morning behind closed doors. The committee includes representatives from all 15 nations on the council, TIME reported.
Taiwan reports largest incursion yet by Chinese military aircraft
Twenty Chinese military aircraft entered Taiwan's air defence identification zone on Friday in the largest incursion yet reported by the island's defence ministry, marking a dramatic escalation in tensions across the Taiwan Strait.
The ministry said the air force deployed missiles to "monitor" the incursion into the south-western part of its air defence identification zone. It also said its planes warned the Chinese aircraft, including by radio.
It was the largest incursion by the Chinese air force since Taiwan's defence ministry began disclosing almost daily Chinese military flights over the waters between the southern part of Taiwan and the Taiwan-controlled Pratas Islands in the South China Sea last year.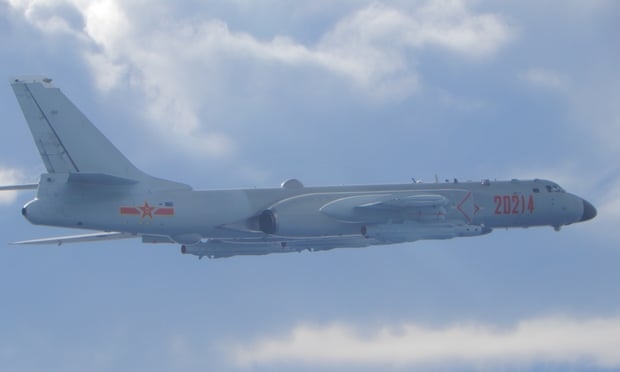 File photo of a Chinese H-6 bomber on a mission near the median line in the Taiwan Strait in September 2020. (Photo: Reuters)
Some of the Chinese aircraft flew in the airspace to the south of Taiwan and passed through the Bashi Channel, which separates the island from the Philippines, the ministry said.
A person familiar with Taiwan's security planning told Reuters that the Chinese military was conducting exercises that would simulate an operation against US warships that sail through the Bashi Channel.
There was no immediate comment from China's defence ministry. Beijing routinely says such exercises are nothing unusual and are designed to show its determination to defend its sovereignty.
Earlier on Friday, Taiwan and the US signed their first agreement under Joe Biden's presidency, establishing a coastguard working group to coordinate policy after China passed a law that allows its coastguard to fire on foreign vessels, as reported by The Guardian.
Four killed in Myanmar protests; military warns of 'danger' of demonstrations
Myanmar's ruling military junta warned on Friday that pro-democracy protesters risked being shot in the head or back as activists called for a huge show of defiance against the generals on the country's Armed Forces Day on Saturday.
Troops killed four more people in demonstrations on Friday, adding to a reported death toll of more than 320 people in the crackdown that has followed the coup against Aung San Suu Kyi's elected government on Feb. 1.
Protesters have taken to the streets almost daily since the coup which derailed Myanmar's slow transition to democracy.
Demonstrations took place across the country again overnight and on Friday, including in Mandalay and Sagaing regions, as well as Karen and Chin states, media reports said.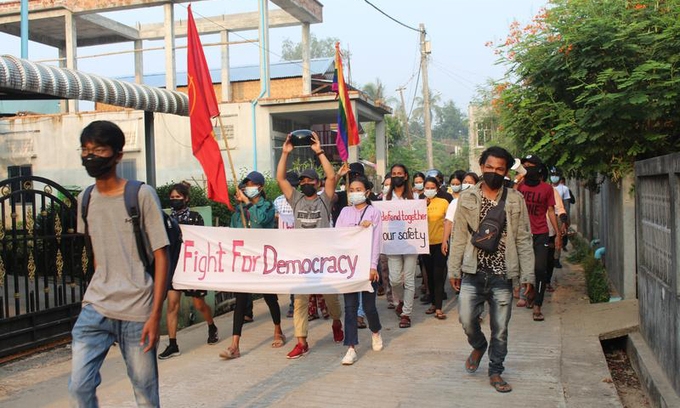 (Photo: Reuters)
"Two were killed by head shots," the witness told Reuters. "We cannot pick up the (third) dead body as many security forces are there".
Another witness said he had seen a fourth body. Myanmar Now news said four people were killed in the town.
Its data shows that at least 25% of those died from shots to the head, raising suspicions they were deliberately targeted for killing.
At least 320 protesters have been killed in the weeks of unrest as of Thursday night, according to figures from the Assistance Association for Political Prisoners (AAPP) activist group.
Gold price forecast – gold markets continue to go sideways
Gold markets have had a slightly bullish candlestick on Friday, but at this point in time it looks as if we are simply grinding away and killing time.
Gold markets have been very quiet during the trading session yet again on Friday, as it seems as if we have nowhere to be. Ultimately, the gold markets have been very quiet but that might not necessarily be a bad thing as it has sold off so drastically. Nonetheless, this is a market that has been grinding away as we are seeing the US dollar strengthened a bit. Ultimately, if we continue to see US dollar strength it is possible that this market will break down, FX Empire said.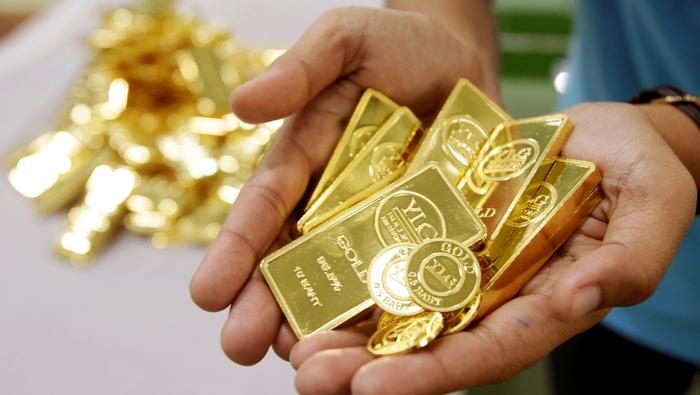 (Photo: Daily FX)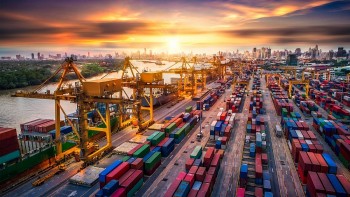 National
Vietnam, a rising star in the global supply chain, has the potential to become a new tiger in Asia, economist Brian Lee Shun Rong at Maybank - Malaysia's largest financial services group and the leading banking group in South East Asia – has reportedly said.