Outperformed by 40%, Bamboo Airways achieved the highest on-time performance 2 consecutive years
According to newly-released statistics from the Civil Aviation Authority of Vietnam, Bamboo Airways has achieved the highest on-time performance (OTP) rate, compared to other airlines, in the 12 months of 2020. With this achievement, The Airline has successfully preserved its leading position in punctuality for the second year in a row.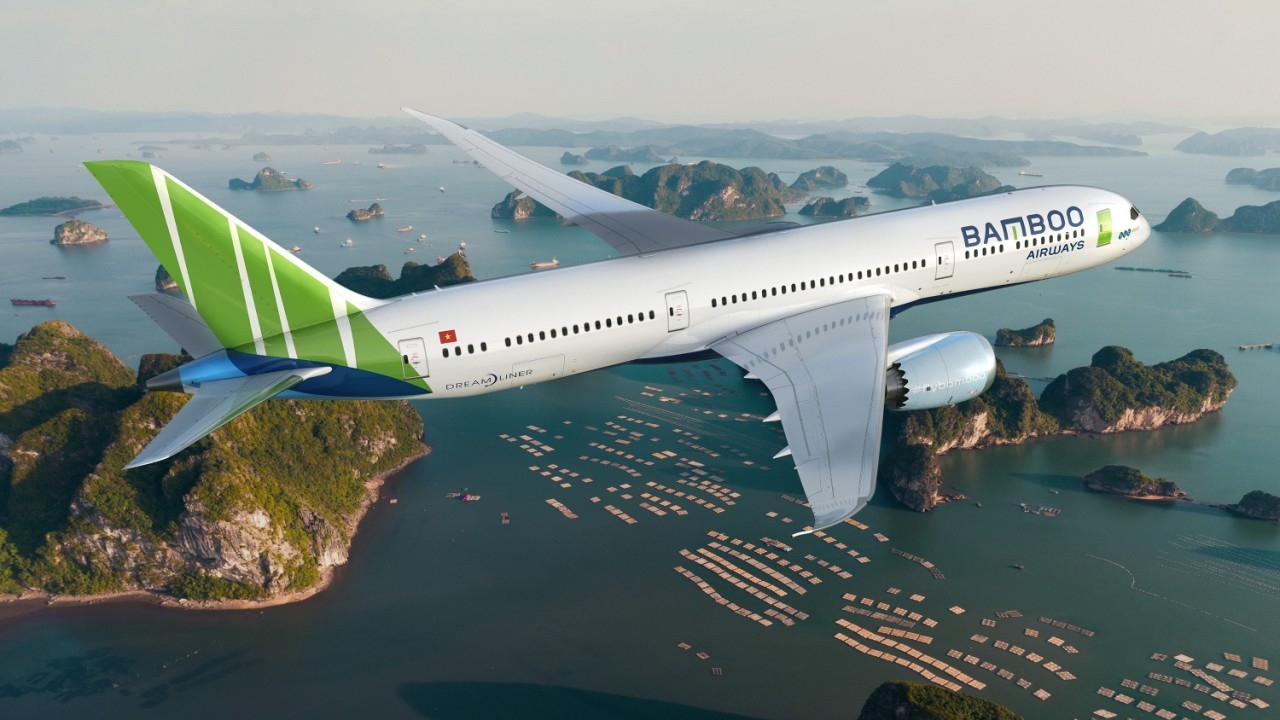 One Bamboo Airway's plane flying over Ha Long Bay (Photo: VGP)
Particularly, in the 12 months of 2020, the number of Bamboo Airways on-time flights reached 95.8%, increased by 1.7% compared to that in 2019, and 4.9% higher than the average on-time rate of the entire Vietnam aviation industry.
Notably, Bamboo Airways recorded an increase in the OTP rate despite the 40% increase in the number of flights, affirming tremendous efforts put out to maintain and promote blue-ribboned service as well as to expand operations.
Following in the OTP chart in 12 months of 2020 in the Vietnam's aviation industry are Vietnam Airlines at 92%, Pacific Airlines at 88.4% and Vietjet at 88.1%.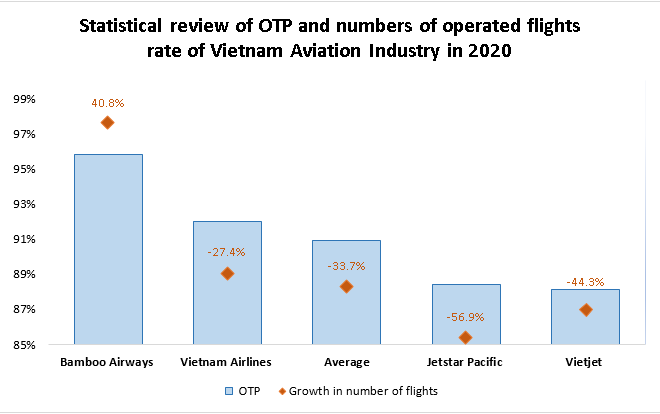 If late return is the leading culprit of flight delays in 2020 with 59.5% of flights delayed for this reason, the biggest cause of cancellations in the past year is weather conditions, with a proportion of 16.8% of cancellations.
It can be seen that there are many objective factors influencing the OTP rate of the entire Vietnam aviation industry in the past year. It is also noteworthy that the Covid-19 pandemic has caused many flights to be suspended, flights to be conducted under strict quarantine procedures; On the other hand, two center airports, Noi Bai and Tan Son Nhat, had to simultaneously close runways for maintenance; natural disasters put life of Central region's inhabitants under risk, namely a recorded flood, causing many flights to be delayed. As in March 2020, the total number of flights of the whole industry decreased by 81.3% over the same period.
Amid such severe conditions, the effort to preserve the industry's OTP rate at 90.9%, up 4.5% compared to that of the same period in 2019, is a bright signal of service improvement by domestic firms. In addition, thanks to Vietnam's effective control over the epidemic, the domestic aviation industry has shown its ability to recover quickly. As in December 2020, the total number of flights across the industry has reached nearly 20,000, only less than 34% over the same period.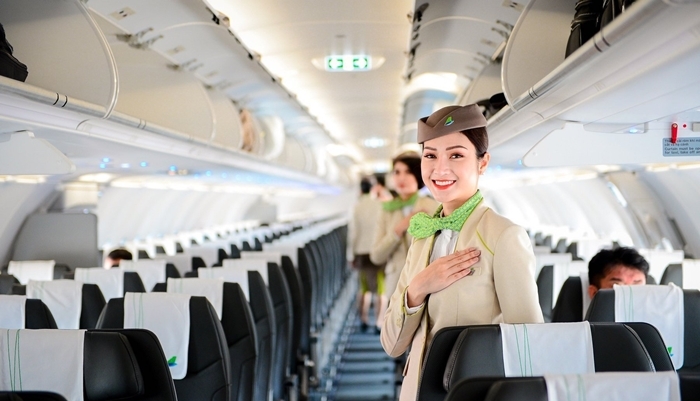 Bamboo Airways' flight attendants (Photo: Bamboo Airways)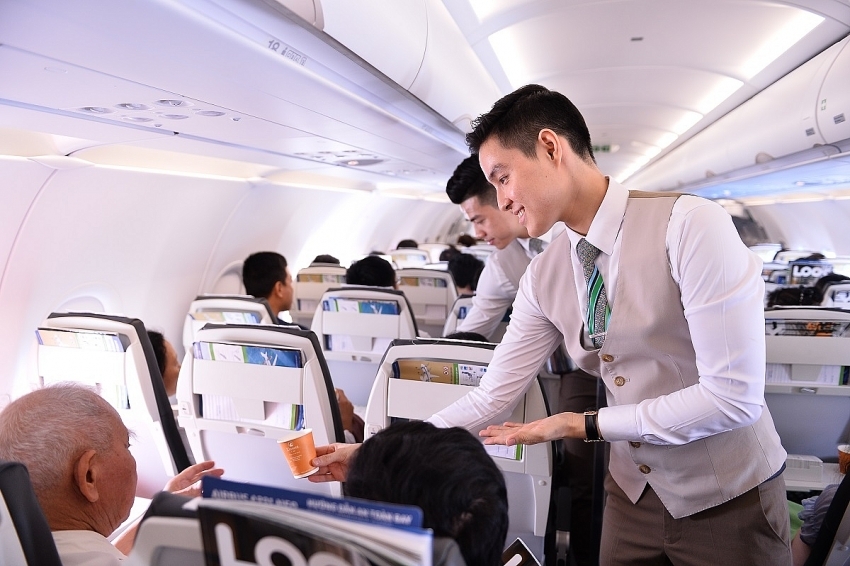 A flight attendant serving passenger (Photo: VIR)
A highlight of the industry is Bamboo Airways – the only airline to exceed its capacity over the same period and to record positive growth - 40.8% in 2020. Besides, the prospect of a full recovery and further expansion are also reflected in the addition of two most advanced aircraft lines, Boeing 787-9 Dreamliner and Embraer 195, to the fleet in 2020. Bamboo Airways' flight network has continued to extensively expand with 5 direct flights to Con Dao. The airline has also relentlessly opened ticket offices in Hanoi - Da Nang - Ho Chi Minh City, its own business lounges in Hanoi and Con Dao, and hastened the construction of future business lounges at key airports, etc.
Bamboo Airways' representative shared that in 2021, the airline aims to fully recover and become one of the world's airlines with the strongest recovery after the pandemic. Bamboo Airways also aims to dominate 30% of the market share in Vietnam's aviation industry this year.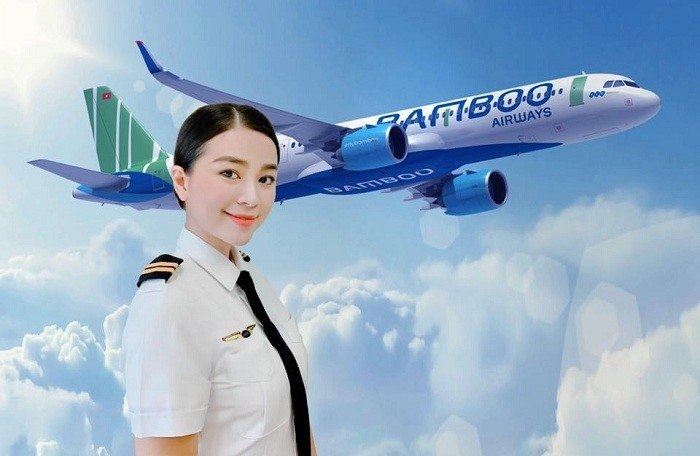 (Photo: Vietnam Is Awesome)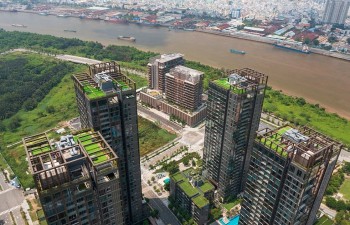 Economy
Vietnam Business & Weather Briefing (August 11): Vietnam to increase coal imports in 2025-2035 period, ten tonnes of Vietnamese longan exported to Australia.