Over 80% of Vietnamese patients with mild symptoms recover after one week
According to The Ministry of Health's statistics, over 80% of patients with mild symptoms such as cough, fever and fatigue have had quick and stable recovery on their own after one week.
Vietnam has entered the third Covid-19 wave since January 27. Up to 811Covid-19 patients have been recorded in 13 provinces and cities out of a total of 2,403 cases since the beginning of 2020, according to Vietnamnet.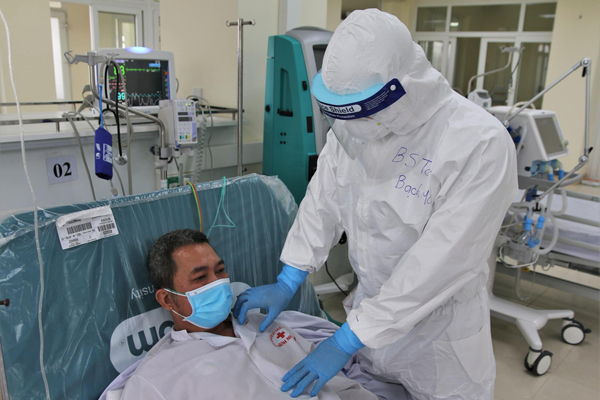 Covid-19 patients treated in Hai Duong. (Photo: Ministry of Health)
Dr. Luong Ngoc Khue, Director of the Department of Medical Examination and Treatment under the Health Ministry, said in the new wave of epidemic, 83% of Covid-19 patients had mild symptoms, which are difficult to detect at medical facilities.
Therefore, the Ministry of Health has issued new guidelines for care of patients infected with SARS-CoV-2 at medical examination and treatment facilities.
The data show that Covid-19 patients have a wide range of clinical manifestations, from asymptomatic infections to severe clinical manifestations.
According to the latest guidance of the Ministry of Health, the incubation period of SARS-CoV-2 is 2-14 days, 5-7 days on average.
Common onset symptoms are fever, dry cough, fatigue and muscle aches. Some patients have sore throat, stuffy nose, runny nose, headache, productive cough, vomiting and diarrhea.
Only 14% of patients with severe developments such as pneumonia or severe pneumonia need specialized treatment at health facilities.
About 5% need treatment in intensive care units with acute respiratory symptoms (rapid breathing, difficulty breathing, cyanosis...), acute respiratory distress syndrome (ARDS), septic shock, organ failure including kidney damage and myocardial damage, leading to death, especially in the elderly and those who have a chronic illness or suffer from immunodeficiency.
According to the Ministry of Health's regulations, Covid-19 patients are eligible to declare recovery when their fever has been gone for at least 3 days and they have had 3 consecutive negative tests at least 24 hours apart from each other.
In Vietnam, the number of child patients with Covid-19 is low. Most infected children have milder clinical manifestations than adults, or have no symptoms. Common signs in children are fever and cough, or symptoms of pneumonia.
By February 25, there were 604 Covid-19 patients under treatment, including two very serious cases who need EMO intervention.
Patient 1536, who is a 79-year-old woman returning from the US, is the most serious Covid-19 case in Vietnam, even worse than former patient 91, a British pilot. The woman is staying at the Da Nang Lung and Respiratory Diseases Hospital. She has a medical history of diabetes and high blood pressure. The Ministry of Health has held six national consultations on her case.
Another case in critical condition is patient 1823, a 65-year-old man from Hanoi's Me Linh District. He has been treated at the National Hospital for Tropical Diseases since February 2. ECMO machine is being used. He tested positive for Covid-19 for a second time.
Vietnam enters second phase of Covid-19 vaccine trials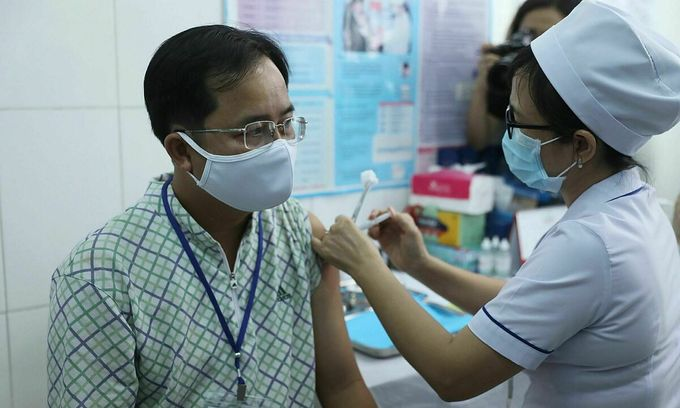 A man in Long An Province is injected with Nanocovax, a Vietnamese Covid-19 vaccine, as part of the second phase of its human trials, February 26, 2021. Photo by VnExpress/Quynh Tran.
Vietnam began the second phase of domestic Covid-19 vaccine human trials Friday with 73 volunteers.
According to VnExpress, thirty-five volunteers in Hanoi and 38 in southern Long An Province were divided into four groups for the second phase of human trials of Nanocovax, a Vietnamese Covid-19 vaccine produced by Nanogen Pharmaceutical Biotechnology JSC.
Groups would be injected with placebos, as well as 25 microgram, 50 microgram and 75 microgram doses each. Volunteers would not know which type of shot they received.
Following their shots, all volunteers would be monitored for 60 minutes. Afterwards, they would be medically monitored by local authorities at home.
Deputy Prime Minister Vu Duc Dam visited the site Friday morning, saying Vietnam is doing its best to hasten progress for a Covid-19 vaccine while still ensuring the process adheres to the highest standards.
A total 560 people in Hanoi and Long An would be involved in the second phase of the Nanocovax human trials, in collaboration with Vietnam Military Medical University and HCMC Pasteur Institute. Nearly 200 people in Hanoi had been screened as vaccine trial volunteers Wednesday and Thursday, with 100 more screened Friday.
The first phase, which commenced last December with 60 volunteers, revealed Nanocovax to be safe, immunogenic and causing no severe side effects, said Do Quyet, director of Vietnam Military Medical University. Preliminary results also showed antibodies produced by Nanocovax had an effect on a coronavirus variant originating from the U.K., which is up to 70 percent more transmissible than ordinary strains, he added.
The second phase would allow researchers to see how exactly immunogenic Nanocovax is. Volunteers for the second phase could now include those aged 65 and above, along with those with underlying, non-severe conditions like hypertension and diabetes, according to the National Research Ethics Committee.
Preliminary results for the second phase should be expected within May, said Quyet. Afterwards, the Ethics Committee and the Ministry of Health would determine the most optimal doses for the third phase.
Vietnam records new Covid-19 cases
The Health Ministry confirmed five new Covid-19 patients Friday evening, four from hotspot Hai Duong Province and one who entered the country illegally.
Patients 2422, 2423, 2425 and 2426 from Hai Duong were already in quarantine. They are being treated at field hospitals in the northern province, VnExpress reported.
"Patient 2424" is a 24-year-old woman from Thoi Lai District, Can Tho City, who entered Vietnam illegally through the border at Hong Ngu District, Dong Thap Province on February 23 and was quarantined soon after. Her test results returned positive for the novel coronavirus on February 25.
In the past 29 days, Vietnam has recorded 831 community transmissions in 13 localities. Hai Duong is the biggest hotspot with 647 cases, following by Quang Ninh with 61 and HCMC with 36. Ten of these localities haven't recorded new community transmissions for the past 14 days.
With the latest cases, the nation's Covid-19 tally has increased to 2,426 with 1,839 recoveries and 35 deaths.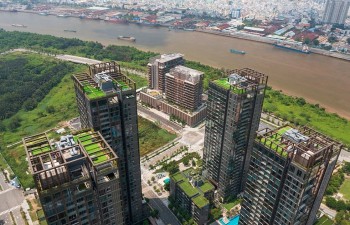 Economy
Vietnam Business & Weather Briefing (August 11): Vietnam to increase coal imports in 2025-2035 period, ten tonnes of Vietnamese longan exported to Australia.