Vietnamese people in Europe gradually "escape" Covid-19
The lives of Vietnamese people in several European countries have gradually returned to normal as the Covid-19 situation there has been under control.
"I'm very happy to see that stores reopen and children can return to schools instead of studying online," Ngoc Anh, a Vietnamese living in Hradec Králové city, about 100 km from Prague capital, the Czech Republic, told VnExpress.
Anh said the pandemic situation in the Czech Republic had been under control and more people had been inoculated with Covid-19 vaccines.
The average number of infections in the Czech Republic now stands at 650, less than 5% of its peak of more than 15,000 cases in last October, Reuters reported. Since Covid-19 broke out, the country has reported over 1.6 million cases and 30.000 casualties.
The Czech Republic has eased pandemic prevention measures since April 12. The nighttime curfew was lifted. Children can come back to schools, but are required to wear face masks and tested for Covid-19 twice a week. Clothing stores, outdoor farmers' markets, zoos and botanical gardens also reopen, according to the AP.
"The life has gradually returned to normal. Restaurants still sell takeout, but are expected to serve customers on the spot in a week," Anh said.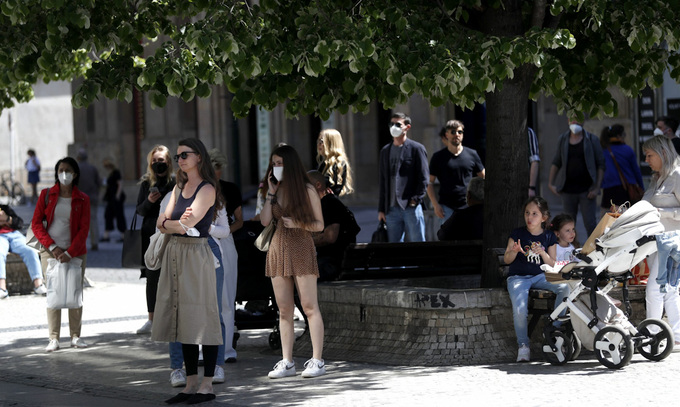 People gather in front of a store in Prague, the Czech Republic. Photo: AP
Like many other European countries, the Czech Republic has accelerated the vaccination for its citizens. The nation of more than 10.6 million people has inoculated over 4.7 million Covid-19 vaccine doses. 32.9% of its population has received at least one dose and 11.6% has completed the administration, according to the Our World in Data.
Ngoc Anh said that her family was fully injected with the Pfizer vaccine. "After the inoculation, my family members only experienced slight pain at the injection site, however, it disappeared a day later."
She added she supported Europe's "vaccine passport" program because that was an effective way for people to travel among countries without the quarantine requirement.
Living in Woking town, Surrey county, southeast England, about 30 minutes by train from London, Le Ha said she felt glad that the UK in particular and Europe in general have gradually opened up.
Ha said she felt more secure when going out because the UK had still forced residents to wear face masks and maintain a safe distance and the vaccination rate in the country had increasingly increased.
56.1% of the population in the UK has received at least one vaccine dose and 33.7% has completed two shots.
"I plan to get vaccinated in two weeks," she said.
The UK now records more than 2,400 new infections a day, equivalent to 4% of its peak in January. Since the start of the pandemic, the country has documented nearly 4.47 million cases and more than 127,700 deaths. The UK is expected to remove social distancing at the end of June.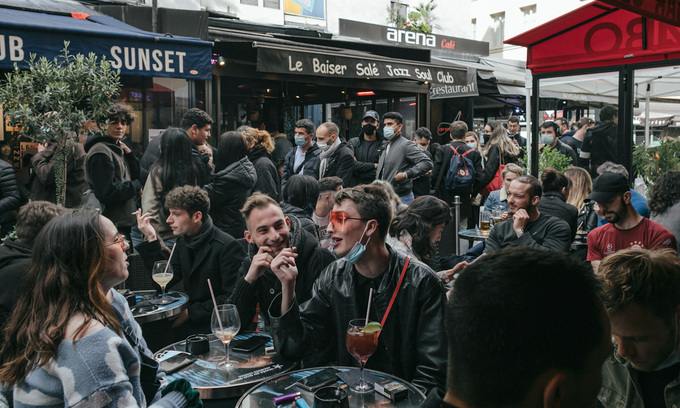 A coffee shop in Paris is crowded with customers. Photo: NYTimes
Minh Phuong, living in Paris, France said the Covid-19 situation here had been relieved and the vaccination rollout had sped up.
France currently records an average of 142 infections per 100,000 people. The country of 67 million people has reported more than 5.6 million infections and 108,000 deaths since the advent of Covid-19. Over 34.2% of its population has been administered at least one vaccine dose, while 14.7% has complete the injection.
After six-month closure due to Covid-19, coffee shops and museums in Paris have resumed since May 19.
"On May 19, people in Paris thronged to restaurants and bars despite the bad weather. My friends invited me to go to the movies after the prolonged lockdown," Phuong said.
Phuong believes that the adoption of the "vaccine passport" mechanism would encourage more people to get vaccinated. She also has plan to receive vaccine in June, after returning from her business trip to Tunisia.