Overseas Vietnamese in Australia and US Donate Rice to HCMC, Binh Duong
Overseas Vietnamese have sent rice for armed forces and officials in Ho Chi Minh City and Binh Duong in the fight against pandemic.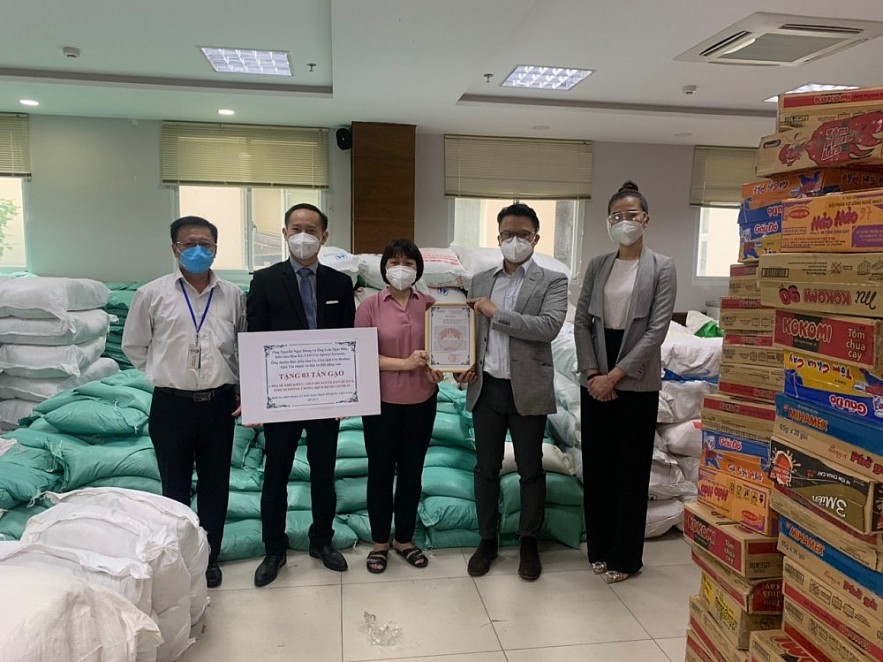 Overseas Vietnamese sent rice to local residents.
Justin Bui (Bui Trung Hau), a Vietnamese in Australia, chairman of Realms Company, connected donors through the Ho Chi Minh City Committee for Overseas Vietnamese to send rice bags to armed forces and officials in the city on August 26. The gifts aim to encourage the forces in the fight against the Covid-19 pandemic.
Justin Bui contacted Luu Ngoc Duc, a Vietnamese in the US, executive chairman of Spores Network Company and his wife, and Nguyen Ngoc Hung, CEO of Spores Network, who sent the forces five tons of rice.
Luu Ngoc Duc and his wife also sent three tons of rice to the Vietnam Fatherland Front Committee in District 4, and other two to the people's committees of two districts in Binh Duong.
On behalf of the Ho Chi Minh City Military Command, Lieutenant Colonel Nguyen Thanh Phong - chairman of the political department received the gifts and sent a thank you letter to the overseas Vietnamese.
Nguyen Thanh Phong said: 'The military force is currently participating more in pandemic prevention in the city. For us, this is an honored task, an order from the heart, a continuation of Uncle Ho's army tradition."
"Overseas citizens' meaningful and practical deeds are timely and show affection and support, contributing to boosting relations between the army and overseas, thereby building more confidence, strength, and motivation for officers and soldiers of the city's armed forces to successfully complete their assigned tasks."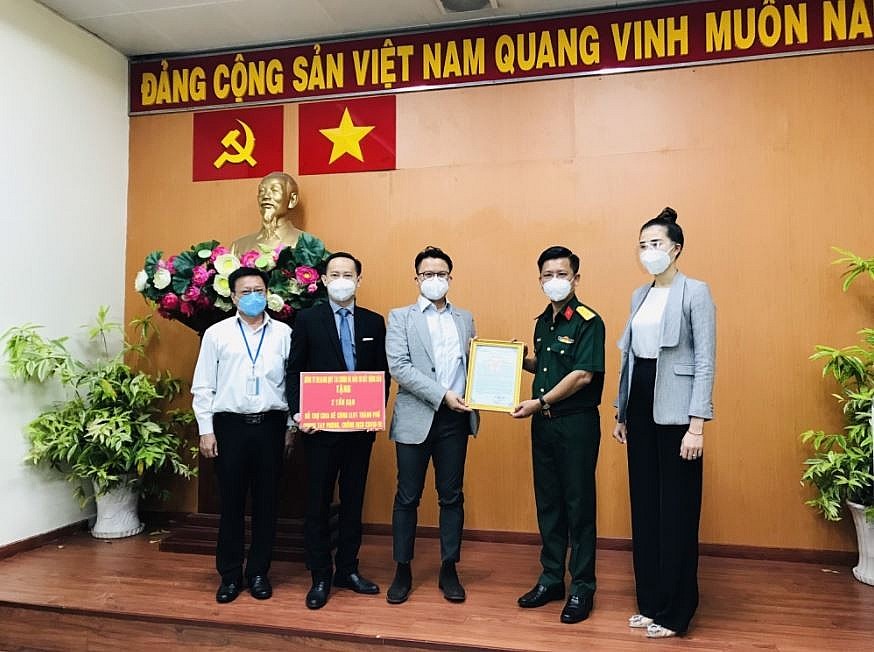 Overseas Vietnamese sent gifts to the military force.
After joining Justin Bui in recent meaningful works, Luu Ngoc Duc kept his promise to further engage in activities to support needy people in Ho Chi Minh City during the pandemic.
He said: "The gift is to encourage the soldiers and officers in the city. Ho Chi Minh City Committee for Overseas Vietnamese allowed me to directly give gifts and acknowledge the forces' difficulties. I am touched and grateful for them. They have mobilized all forces to participate in the fight against the pandemic, bringing peace and safety to the residents. I think it is absolutely right to return to Vietnam to expand my business and contribute to the country."
Leader of Ho Chi Minh City Committee for Overseas Vietnamese Phung Cong Dung sent a letter to call for support from overseas Vietnamese on July 21. In the letter, he mobilized overseas citizens to send cash, medical equipment and ventilators to support the quarantined areas and treatment for seriously ill patients in the city.
After the letter was sent, many experts, intellectuals, and businessmen enthusiastically shared their experiences, and contributed ideas and materials to the city, connecting the overseas community, with those who live far from the country and those who have returned.
Since the beginning of this fourth outbreak, Vietnamese living in every nation, such as United States, Austria, Japan, Cambodia, Thailand, Singapore, Laos, Germany, Russia and Switzerland have donated to the Covid Vaccine Fund.
The Vietnamese Association in Taiwan (China), the Vietnamese Association in Thailand, and Malaysia have donated money, masks, medical equipment, food and agricultural produce to serve the frontline and people in Ho Chi Minh City.