Overseas Vietnamese Join Projects in Angola
Pham Quang Linh has created a magical story in a faraway African land.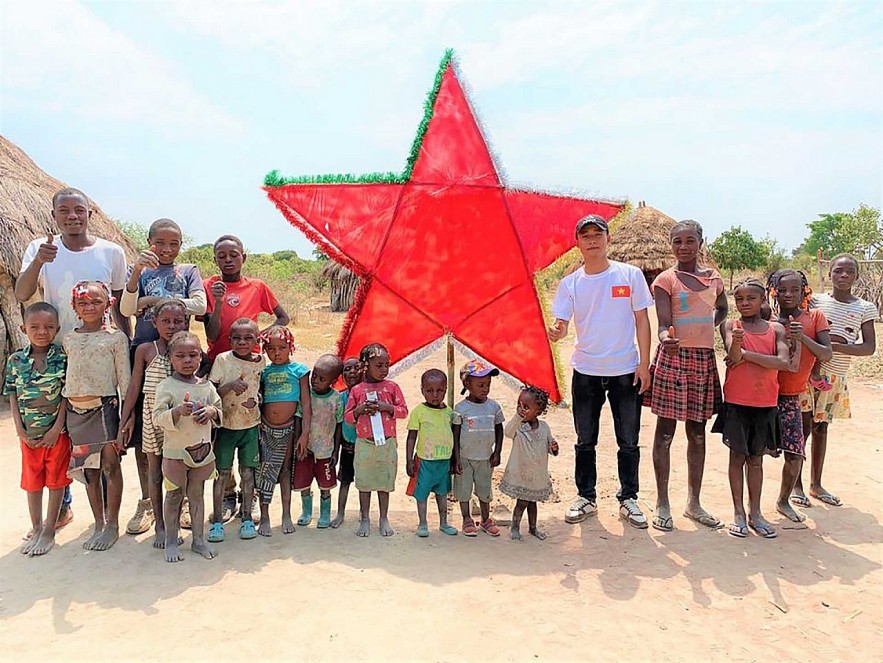 Pham Quang Linh with the people and children of Angola. Photo: WVR
Pham Quang Linh from Vinh City in Nghe An province has lived in Angola for four years, and just returned to Vietnam on January 10.
He and his friends contribute to bringing new vitality to the country, which is hot and dry all year round.
Starting a career in construction
In 2017, Linh went to Angola to work as a construction worker, hoping to have savings to send back to the family.
After that, he opened a small workshop to supply ice for the fishing boats of local fishermen, and the needs of the people here.
In 2019, Linh started doing YouTube updates. His aim was for family, friends and others to learn about his life away from the homeland.
After two years of posting videos about life in Angola on Quang Linh Vlogs - Life in Africa, he has 2 million subscribers and started earning income from YouTube.
Linh said: "My YouTube channel mainly uploads videos about the daily life of Angolans, when I use my own money to give gifts and necessities to poor children in Bailundo. There are also donations from Vietnamese donors around the world."
Linh even organized a Vietnamese-style engagement party for an Angolan friend who works with him named Lindo.
He said: "Bringing the culture of Vietnam to the people of Africa has always been my desire. This small job lets people here know about Vietnam, so I'm very happy."
Projects with meaning
Along with Quang Linh Vlogs - Life in Africa, he and his team have also built a food channel called African Cuisine with more than 600,000 subscribers.
Videos posted on the channel are created by Linh, his Vietnamese and Angolan friends. They are about Vietnamese and African cuisine, and the group even helped local people grow Vietnamese vegetables.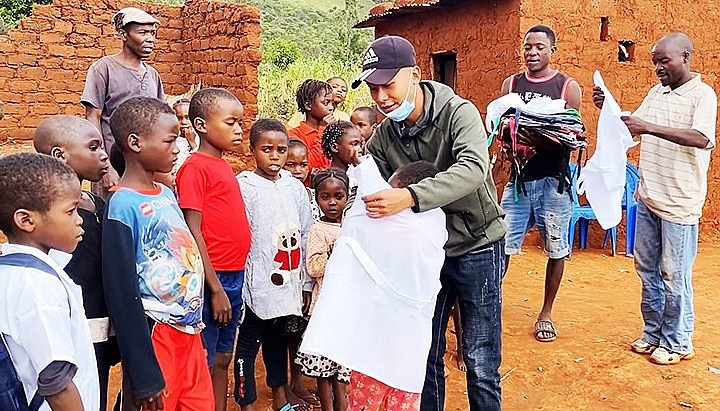 Quang Linh (center) hands over school uniforms and school bags to support children in Sanzala village (Bailundo district, Huambo province, Angola). Photo: WVR
To do this, Linh and his friends had to find a source of water, and then build a channel to carry water for the production activities of local people.
They also had to guide people there with each task. After that, those who know about the work could instruct the other villagers.
In this way, they have helped people in many villages in the mountains of Luanda province to grasp the techniques of cultivating food crops, to escape poverty.
Up to now, short-term crops such as cucumbers, tomatoes, and cassava grown by local people with the support of Linh and friends, have shown positive results with high yield.
However, Linh said, there are many difficulties. Currently, communication with local people is limited. The locals use their language which is difficult to understand, while they mainly use the common language Portuguese.
The food is also different; people here mainly eat cornstarch and tapioca, not rice like in Vietnam. This is partly because the mountainous land is not suitable for growing wet rice.
On the Vietnamese traditional New Lunar, Linh and the Angolans often organize Tet for local people. They have fun in the traditional way like in Vietnam.
The group has also launched a project to help around 5,000 local children go to school. The project started when they saw many children here were unable to go to school.
The group invited teachers to teach students, and fully paid teachers according to the level set by the government of Angola. The group is also working on repairing the school, including repainting the classrooms and buying furniture.
Linh said: "The money to build houses, help people grow crops and repair schools comes from our work on YouTube."
He said he received help when he first arrived in Angola from strangers, and now he is looking for ways to repay the favor.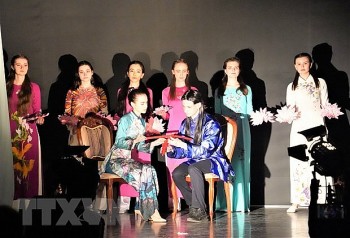 Overseas Vietnamese
Two exchange programmes were held in Russia, attracting manyemany and students of Vietnamese studies from leading universities in Russia.