Overseas Vietnamese Student Experiences Winter Festival In South Korea
Winter festivals where visitors can play with ice and snow are paradoxically becoming the hottest tourists destinations in South Korea. An overseas Vietnamese student in South Korea has come to enjoy a winter festival and shared her beautiful memories.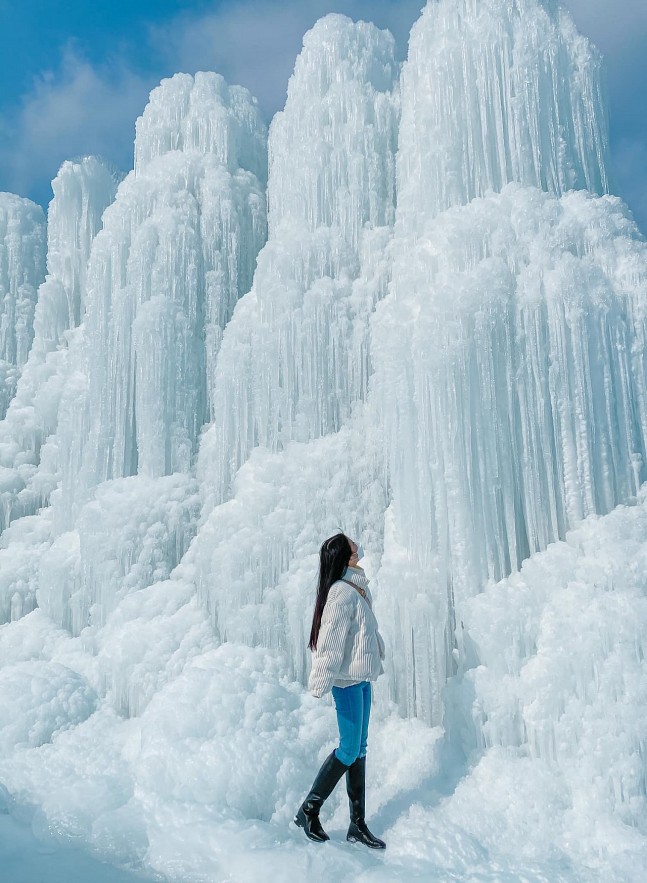 Ngoc visits Chilgap Mountain Ice and Snow Festival. Photo Zing News
Ngo Minh Ngoc, a fourth-year tourism student of Kyunghee University, decided to join Chilgap Mountain Ice and Snow Festival after being impressed by giant snow sculptures and exciting activities about the place on Instagram.
Ngoc said she did not prepare anything but only bought a bus ticket online.
"Traveling in South Korea is quite easy," she said.
It takes about two and a half hours to travel from a bus station in Seoul to Cheongyang. From there, she took a taxi to Chilgap Mountain Ice and Snow Festival in 20 minutes.
Ngoc chose public transport due to traffic congestion she might face if she travels by a private car. It is hard to find a car parking lot if she drives by herself as well.
The festival organizers did not require participants to present vaccination certificates, only to scan a QR code to check in.
After completing all required procedures, Ngoc bought an entrance ticket and began her journey to discover the "kingdom of ice and snow" - which is divided into three main areas - the exhibition, entertainment, and dining areas.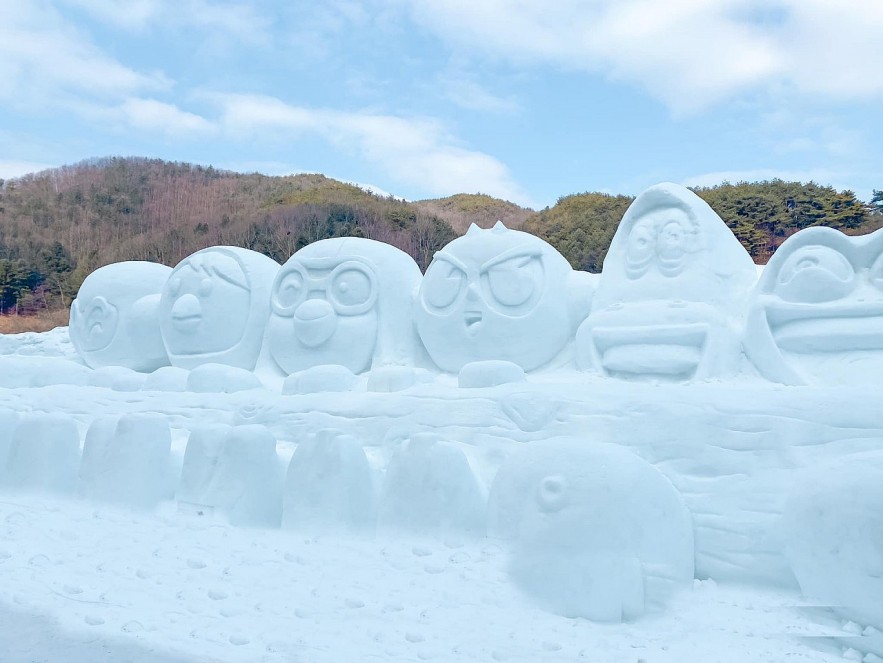 Ice and snow are made into different sizes and shapes. Photo Zing News
Waterfalls made from ice with a natural structure of all different sizes and shapes are the highlight of the Chilgap Mountain Ice and Snow Festival. At the bottom of the ice waterfall, there are sprinklers to ensure this structure does not melt.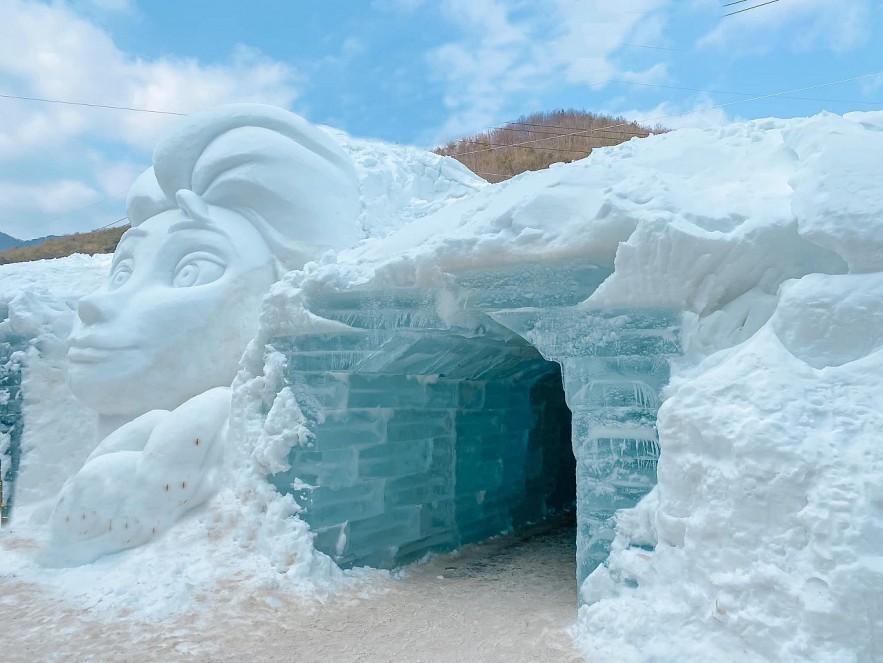 Elsa made from ice and snow. Photo Zing News
"The weather in Korea is also quite cold now. Sometimes it drops to minus ten degrees so no need to worry that the ice will melt. However, on rainy days, it will be different, the ice layer melts easily," Ngoc said.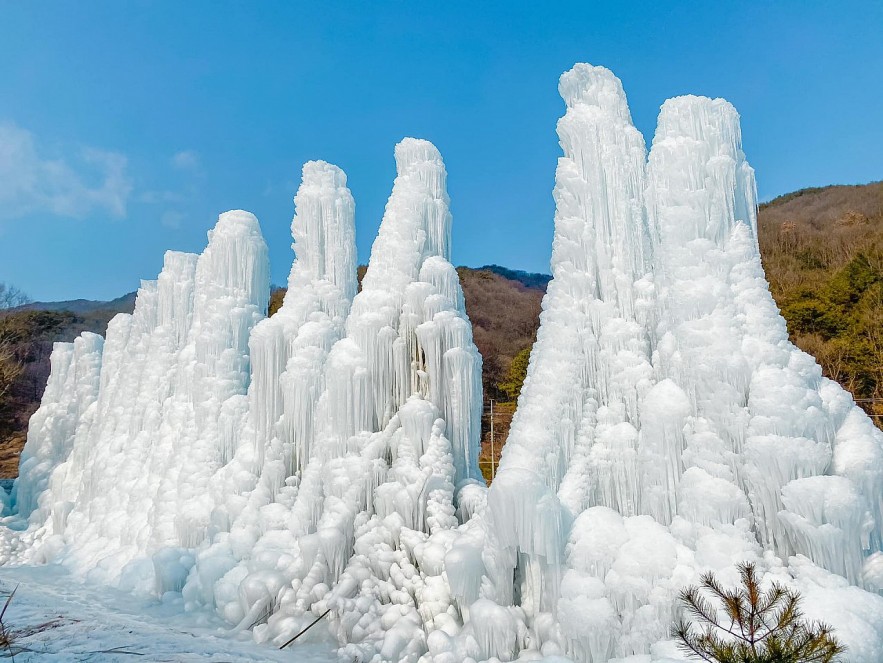 Waterfalls made from ice and snow. Photo Zing News
Going deeper is the exhibition area with ice blocks sculpted into different shapes. A tiger, ice queen Elsa, or even a simulation of Squid Game - a recently popular Korean series - were made from ice and snow.
The playing ground is quite small but has a lot of winter games such as ski buoys, snowboarding or cable cars.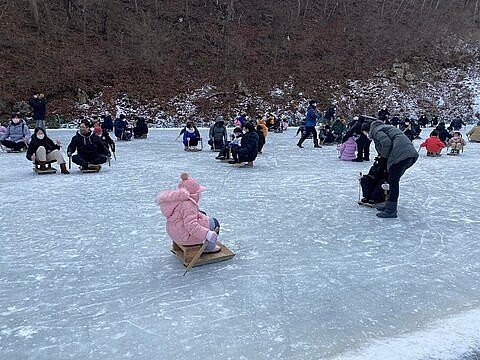 Snow playing ground is a favorite place at the winter festival. Photo Zing News
The entrance ticket to the festival costs about 7,000 won (USD5 or VND140,000). Game tickets are more expensive (about 25,000 won).
The festival has a separate dining area selling hot Korean specialties such as spicy rice cakes (tokbokki), Odeng fish cakes, shrimp noodles, baked sweet potatoes to keep visitors warm.
Total expenses on the snow journey were not too high compared to the cost of living in Korea, Ngoc said.
She spent about 70,000 won (USD50) in total for the winter festival trip.
Recalling her trip to the winter festival, Ngoc said she had to wear three layers of socks instead of one. Ngoc still felt frozen in her feet despite wearing three layers of socks.
"When I got home, I felt foot pain. Walking on the slippery road made me fall a few times," she said.
Learning traveling experience from locals
Being a travel enthusiast, Ngoc nurtures her dream of traveling around South Korea thanks to Korean dramas.
She takes the opportunity of studying in South Korea to realize her dream.
"In Korea traffic is convenient and information can be easily looked up on the internet so traveling around the country is quite easy.
"Even newcomers who do not know the language can look up information and follow the instructions," she told Zing News.
"I often follow Instagram of my Korean friends, do research on the Naver portal (like Google), and then design a trip for myself."
Thanks to Instagram, Ngoc has discovered a lot of places and festivals in South Korea, such as the lavender festival in Goseong or the famous love tree in Buyeo.
Ngoc has visited many other famous places like Herb Island, Herbal Park (Pocheon), Ayajin Beach (Goseong), Daffodils Festival (Seosan), Seonjaedo Island (Incheon) and Ilsan Lake Park (Goyang).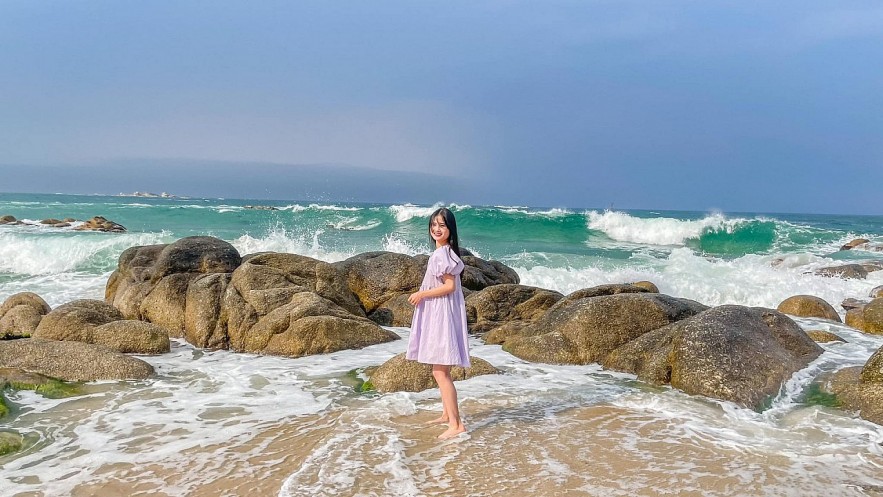 Ngoc takes a photo at Ayajin Beach in Goseong. Photo Zing News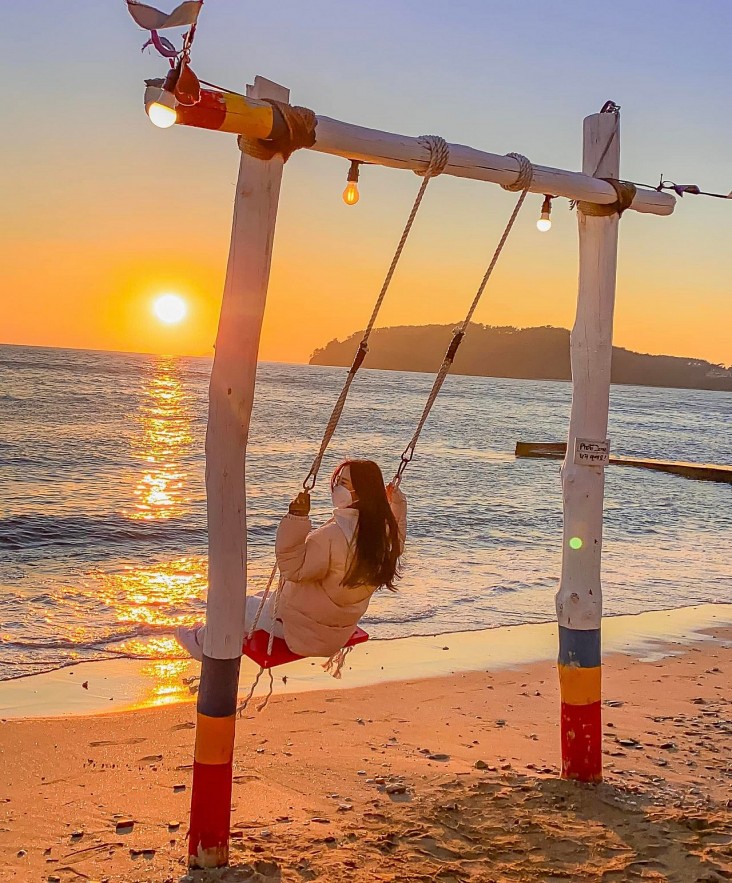 On Seonjaedo island in Incheon. Photo Zing News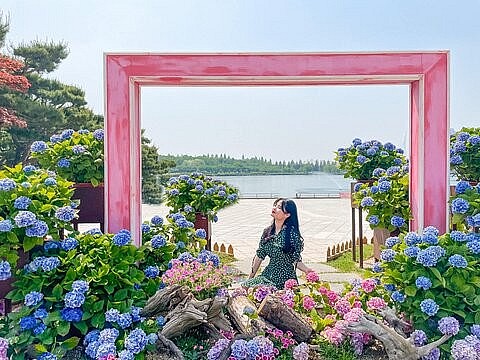 At Ilsan Lake in Goyang. Photo Zing News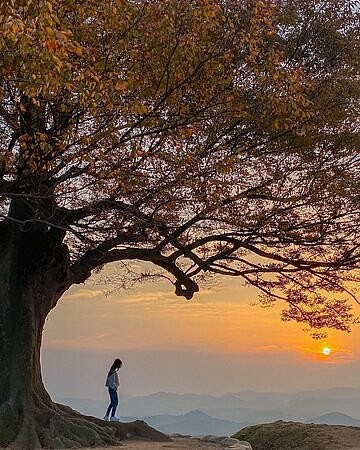 The famous love tree in Buyeo. Photo Zing News
Among places she has visited, Busan left the most impression on Ngoc. During her four-year stay in South Korea, she has traveled to Busan three times and still wants to come back every summer.
"I travel to Busan every summer. It takes about an hour to travel by plane and 4 hours by high-speed train from Seoul to Busan," Ngoc said.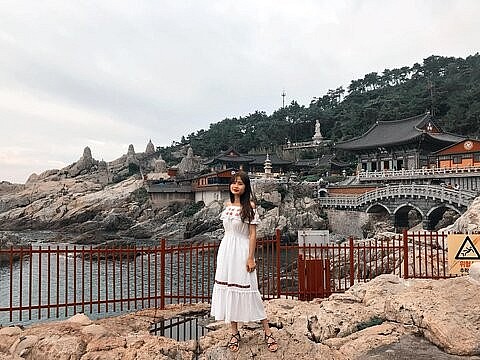 Busan is Ngoc's most favorite place in South Korea. Photo Zing News
One of the reasons Ngoc loves Busan is convenience of the traffic system helping tourist easily move around. There are also many tourist attractions worth visiting. Every time she comes back to Busan, Ngoc explores a different area.
In June 2021, Ngoc visited Namsangol Hanok cultural village where many old houses showing traditional architecture of the Korean people are preserved.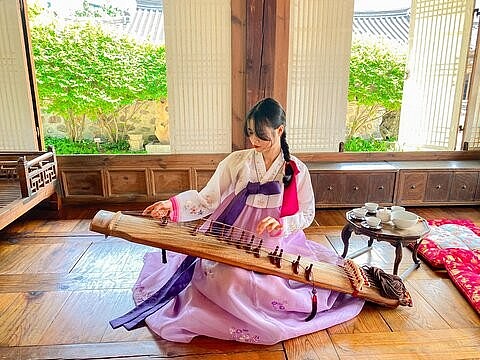 Activities in the villages are diverse, such as making traditional Hanji paper handicrafts, paper Hanbok for dolls and masks. Photo Zing News
"I wore Hanbok and learned the old Korean greetings and tea ceremony. Although I have worn Hanbok quite a few times, I feel excited every time I wear it", she said.