Overseas Vietnamese Support Start-ups in Vietnam
The executive board of the National Program "Supporting National Innovative Start-up Ecosystem to 2025" under the Ministry of Foreign Affairs signed a memorandum of understanding on July 16 on connecting overseas Vietnamese to nurture the start-up ecosystem in Vietnam
The memorandum was signed during the conference "Connecting and strengthening overseas Vietnamese human resources to support innovative start-up in Vietnam."
In his opening speech, Deputy Minister of Foreign Affairs and President of the State Committee on Overseas Vietnamese Affairs Pham Quang Hieu said that "for many years, the State Committee on Overseas Vietnamese Affairs, as an innovator and supporter, has worked with many ministries and agencies, particularly the Ministry of Science and Technology, to connect experts in Vietnam and abroad and support the innovative start-up ecosystem in Vietnam via events."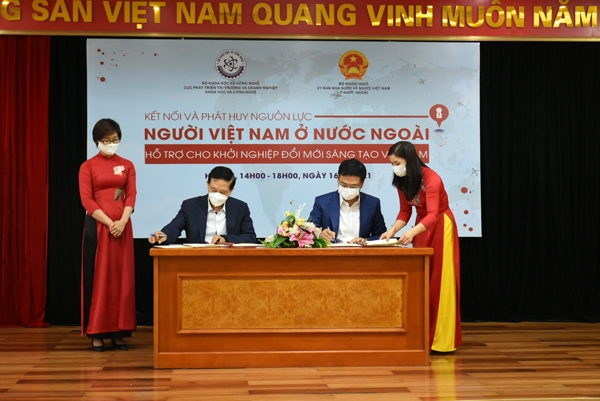 Deputy Minister of Foreign Affairs Pham Quang Dieu and Deputy Minister of Science and Technology Tran Van Tung signed the memorandum of understanding.
Photo: Tap chi Que Huong
Hieu said there were currently about 50 associations and networks of Vietnamese intellectuals across the globe. Over 500.000 Vietnamese experts and intellectuals are working in research institutes, universities, technical and high-tech companies and international organizations in most key sectors and fields.
Hieu said that innovative start-ups were a global trend for socio-economic development facing the current economy. Start-ups based on innovative platforms and applying new sciences and technologies will lead the economy, creating jobs and contributing to economic growth.
In Vietnam, the year 2016 was chosen as the "year of start-ups," showing the government's attention to start-up issues. The government and authorities at different levels have issued legal and policy mechanisms and specific programs to support the innovative start-up community in Vietnam. Since then, the innovative start-up ecosystem in Vietnam has gradually taken shape and prospered.
While start-ups in the country have great potential, they have been facing challenges such as lack of funds, human resources and business governance experience. They need strong support, particularly from their accomplished predecessors, to strive forward.
At the conference, Hieu expressed his hope that participants would openly and directly share their thoughts on the innovative start-up ecosystem in Vietnam, focusing on analyzing the challenges and advantages of the start-up ecosystem in Vietnam, the experiences in developing the start-up ecosystems in other countries and providing recommendations to enhance the start-up ecosystem while sustainably connecting start-ups and experts in Vietnam and abroad.
Deputy Minister of Science and Technology Tran Van Tung said many Vietnamese start-ups have made products and solutions competitive internationally, through which they have proved their capabilities, which are recognized by the international community. Some overseas Vietnamese experts have returned to Vietnam to support the local innovative start-up ecosystem and made significant contributions such as governance platforms, online connection solutions and applying AI, robotics and the Internet of Things in preventing Covid.
Tung said it was necessary to understand the needs of Vietnamese intellectuals to "develop and implement policies to attract talents comprehensively and systematically." The collaboration between the two ministries would help to distribute sufficient and up-to-date information to the Vietnamese community abroad, further attracting overseas Vietnamese experts to contribute to Vietnam's development.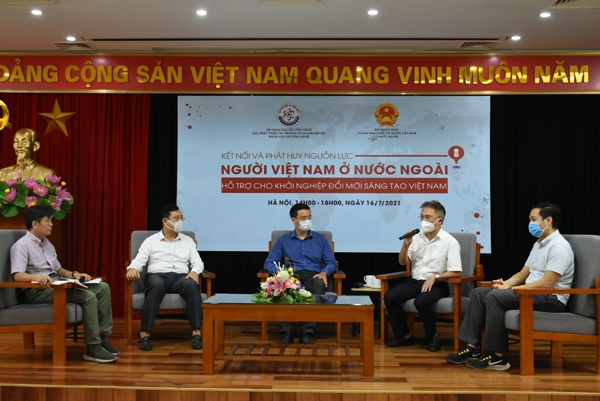 Speakers and participants discuss "Building a network of overseas Vietnamese experts to support innovative start-ups." Photo:
Tap chi Que huong
At the conference, speakers representing successful start-ups shared their experiences. Le Diep Kieu Trang, CFO and President of Vietnam Operations for Arevo, discussed her start-up in Vietnam, focusing on AI, automation and human resource development.
Trang said her business prospered thanks to the rich and high-quality human resources in the country. She hoped the government would implement more open policies on exporting high-tech products, to avoid technological industries in Vietnam from lagging behind.
Genetica CEO Cao Anh Tuan, Co-founder of Ren Originals Tran Bao Khanh and Cohost AI founder Pham Kim Cuong also shared their start-up experiences during Covid. They thanked the State Committee on Overseas Vietnamese Affairs, the Ministry of Foreign Affairs and the Ministry of Science and Technology for organizing the conference, connecting businesses in Vietnam and abroad.
A talk show on "developing the network of overseas Vietnamese experts to support innovative start-up" was held at the conference, with the participation of overseas Vietnamese in Australia, Japan, the United States., Finland, France, the United Kingdom, Hanoi and Ho Chi Minh City. Participants shared their experiences on developing start-ups, connecting businesses in Vietnam and abroad and recommendations on applying start-up policies.