Vietnamese Students Participate in International Volunteering Program in Moscow
On July 10, a group of Vietnamese students participated in a program to helped a farm named after Lenin in Moscow. The kind volunteers harvested strawberries.
A group of Vietnamese students with their achievements. Photo: VNA
Participating in the program were Party members and KPRF supporters, Vietnamese and Indian students, as well as employees of the Lao Embassy in Russia.
The group of Vietnamese students participating in this year's event includes students from many prestigious universities in Moscow such as Bauman Polytechnic University, Lenin Pedagogical University, Maurice Torez Language University, University of Economics.
In Moscow, from more than 9 a.m., the entire international volunteer team gathered in the strawberry field of the Lenin Farm, located at the end of Kashir Avenue.
The color of Vietnam's youth blue shirt blends with the red shirt of KPRF members. All members are excited, enthusiastic to work, harvest strawberries for the farm.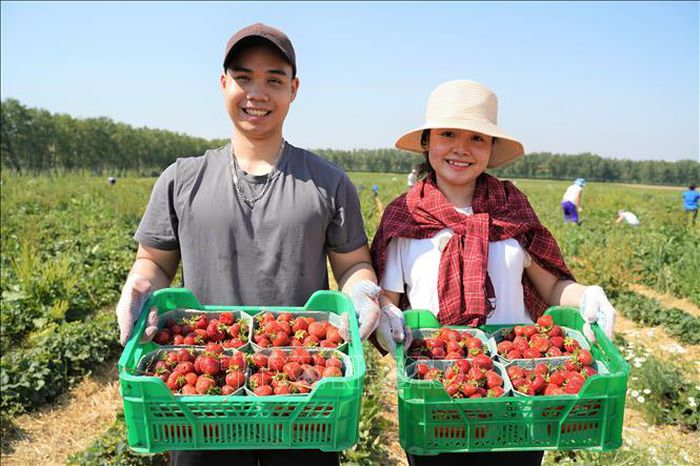 Strawberries at Lenin Farm, which are famous in Moscow for their attractive aroma, sweet and hard fruit, are popular. Photo: VNA
Member of the State Duma of Russia, First Secretary of the Moscow City Party Committee of the Communist Party of the Russian Federation, Valery Rashkin said that this day was born in the Soviet era to promote the spirit of public labor and contribute their efforts to the collective and the country.
This year, the Communist Party of the Russian Federation organized at the farm named after Lenin because this is a farm with many contributions to society. On this occasion, First Secretary Rashkin also expressed support for the socialist path that Vietnam has chosen as "absolutely correct."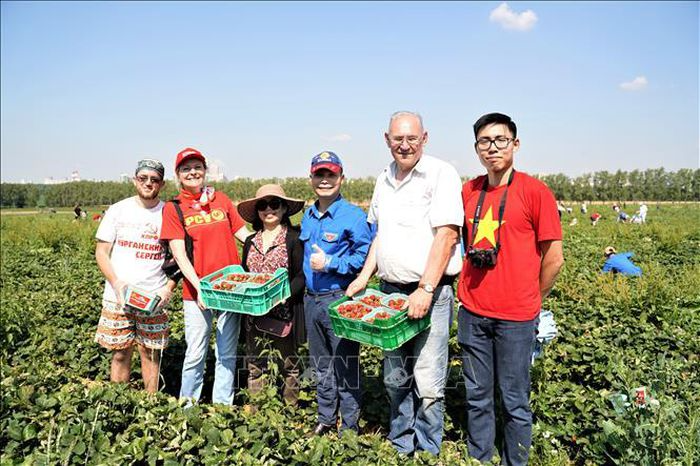 The color of Vietnam's youth blue shirt blends with the red shirt of KPRF members. Photo: VNA
Lenin Farm is the largest strawberry growing enterprise in Russia, established in 1918. The company owns a farming area of about 110 hectares. By harvest season, strawberry production is up to 60 tons per day. Lenin Farm is also in the list of 300 best farms of the Russian Federation.
The current farm director, Pavel Grudinin, is a supporter of the Communist Party of the Russian Federation and will also run for parliament in the State Duma this year.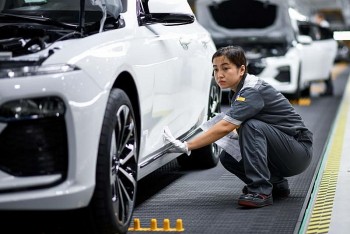 Economy
VinFast automaker will begin taking pre-orders for its VF e35 and e36 electric SUVs in the United States in the first half of 2022, with deliveries expected by the end of the year, said Global Chief Executive Michael Lohscheller.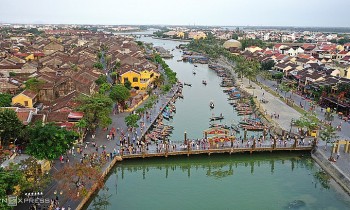 National
Vietnam News Today (October 16): Hanoi to host Vietnam-Singapore forum for senior energy industry leaders; Localities remove quarantine, testing regulations for tourists; "Living safely with Covid-19" requires flexible and effective adaptation; Vietnamese university listed in Times Higher Education's ranking by subjects.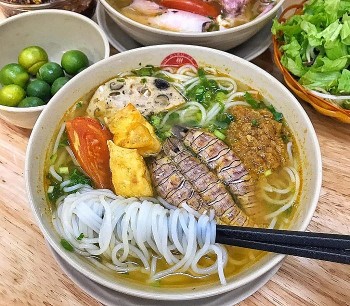 Travel
Not only famous for its beautiful landscape and cultural spots, Quang Ninh is also a favourite destination for food lovers for its diverse and impressive cuisine.