Vietnamese Books Debut in International Markets
"Saving Sorya", "Crossroads and Lampposts", "Dumb Luck" are all licensed to publish abroad thanks to good translations.
Saving Sorya - English version. Photo: Facebook Le My Ai
In addition to quality book content, professional communication, to bring Vietnamese books to the world, there is also a significant contribution of translators.
In some cases, translators love the work, translate it and recommend to international publishers. As a result, Vietnamese books have built more bridges to reach foreign readers.
Selling copyright thanks to quality translation
In September 2021, a website on international publishing activities reported that the book Saving Sorya (Chang and the Sun Bear) from Vietnam had been quickly sold to countries such as the UK, US, Korea, and Russia.
To conquer the major publishers in the world, in addition to the book's content, it is also the professionalism in translation and copyright introduction.
Trang Nguyen, author of Saving Sorya, said that when she finished the book, she translated the work into English. The author also sought to connect with representatives of Pan Macmillan Publishers to introduce the English version. This publisher buys English copyrights worldwide, continues to introduce and sell book rights to publishers in different countries.
Similar to Saving Sorya, some Vietnamese works are also copyrighted thanks to translators.
The Crossroads and Lampposts are copyrighted by IWBOOK Publishing House (Korea) and One World Publishing (UK). Tran Dan's novel has been translated into English by David Payned.
Nha Nam, the owner of the Vietnamese language copyright of Crossroads and Lampposts, has introduced the novel to international copyright companies. The work profile includes an English translation by David Payned. As a result, the intermediary copyright agency can learn about the work and communicate copyright exchange activities.
In France, contemporary Vietnamese literature is introduced thanks to the researchers and translators. Assoc. Prof. Dr. Doan Cam Thi teaching at the National Institute of Oriental Language and Civilization (Paris, France) and her friends have established the bookcase "Contemporary Vietnamese Literature" in France since 2012. The bookcase is maintained in partnership with Riveneuve Publishing.
Some Vietnamese literary works come to world readers through the translators. Typically, Vu Trong Phung's book Dumb Luck was published in the US in 2003 (selected by the Los Angeles Times as one of the 50 best books of the year) thanks to the translation of history professors Peter Zinoman and Nguyen Nguyet Cam.
Book "Yellow flowers on the green grass" in Japanese. Photo: SGGP
Investing in translators
Copyright experts and publishers always acknowledge the translator's contribution in introducing Vietnamese books to foreign countries.
Phan Thanh Lan, copyright expert at Kim Dong Publishing House, said that to help more Vietnamese books go abroad, the first thing that publishers need to do is translate them into English or write books in English. That makes it easier for people working in book copyright to introduce them abroad, and the chances of selling copyrights will be higher.
Not only Vietnam, works that are not written in English all need an important bridge, which is translators, to spread to the world. Nguyen Le Chi, director of Chi Books, tells the story when she studied in Beijing (2004-2008), author Mac Ngon has not won the Nobel Prize and is not too famous.
At a workshop, many translators from other countries translated the work of him. Translators said that most of the translations are self-referred to publishers, asking them to buy the copyright and then translate.
"The role of discovering the hidden value in the work often depends a lot on the efforts of the translators. They are the first readers to approach and appraise the work," said Nguyen Le Chi.
Therefore, for Vietnamese books to be recognized in the region and the world, Chi said it is necessary to invest in the translators.
| | |
| --- | --- |
| | If you are looking for a warm Christmas night alone, sipping a hot cup of cocoa, and enjoying your time reading, these cosy mysteries in ... |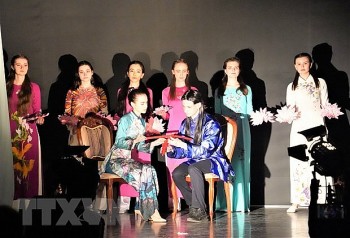 Overseas Vietnamese
Two exchange programmes were held in Russia, attracting manyemany and students of Vietnamese studies from leading universities in Russia.