Overseas Vietnamese Workers Remain Resilient Amid Covid-19
During the Covid-19 outbreak, Vietnamese workers living abroad faced difficulties, but they remained resilient and protected themselves against the pandemic.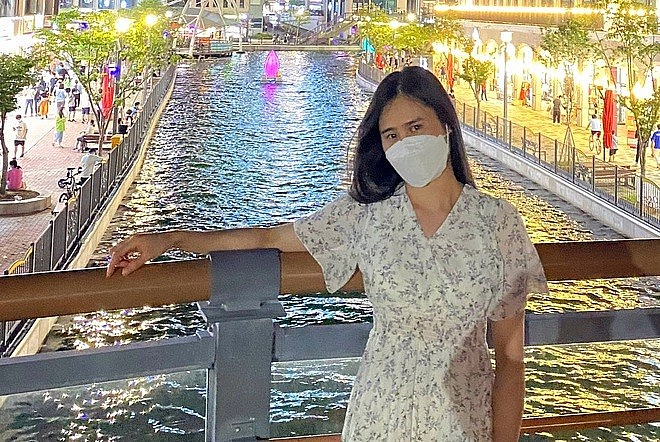 Vuong Thi Xuyen after work in Korea. Photo: Vuong Thi Xuyen
Income decreases because of the Covid-19 pandemic
Coming to Korea since 2016, Vuong Thi Xuyen (26 years old, native of Quoc Oai, Hanoi) works for a company producing starch products in Yongin-si district, Gyeonggi-do province. Working 8 hours a day, Vuong Thi Xuyen's income is 200,000 won (US$171)/month.
In April 2020, the Covid-19 pandemic broke out strongly. Although the work was still maintained, the workers' psychology at that time could not help but worry.
Worried about her work and her own health, Vuong Thi Xuyen said: "During the outbreak, I lived in fear, many nights, I could not sleep. The company provided masks and hand sanitizer, I was vaccinated, so I am also somewhat reassured."
In difficulties, she was supported by the company with free accommodation. "Otherwise, I could hardly manage at that time," said Vuong Thi Xuyen.
In the same situation as Vuong Thi Xuyen, in August 2019, Le Ngoc Anh (24 years old, native of Thanh Hoa) went abroad to work under a 3-year contract at a mechanical company in Otaku area, Tokyo (Japan).
The work is hard, but helping Le Ngoc Anh earn an income of 150,000 yen (US$1360)/month. In mid-April 2021, the pandemic broke out again. Her salary reduced to only 20 million dong (US$876)/month. At first, she was a bit confused, afraid of being infected with Covid-19 and losing her job.
Le Ngoc Anh said: "The company was forced to reduce working hours to prevent Covid-19. Although it is a bit sad, I still feel lucky to have a job."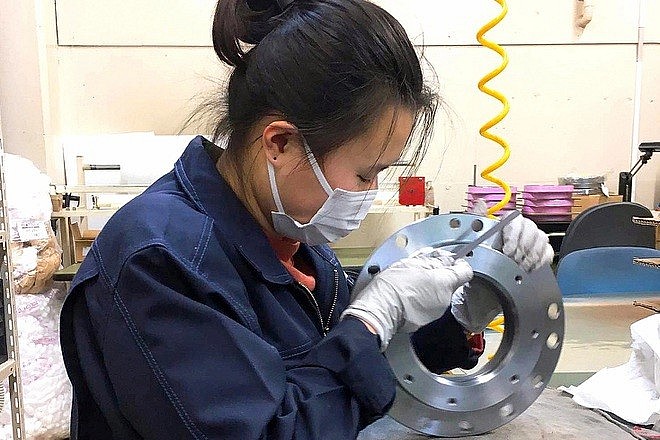 Le Ngoc Anh works as a worker for a mechanical company in Japan. Photo: Le Ngoc Anh
Le Thi Minh Hang (28 years old, Bac Ninh) works at a marketing company, and an interpreter for hospitals in Gangnam District, Seoul city (Korea).
In January 2021, when the pandemic broke out in Seoul, the company still let employees go to work but cut working hours from 8 hours to 6 hours a day. Her income, after being cut, is 35 million dong (US$1534)/month.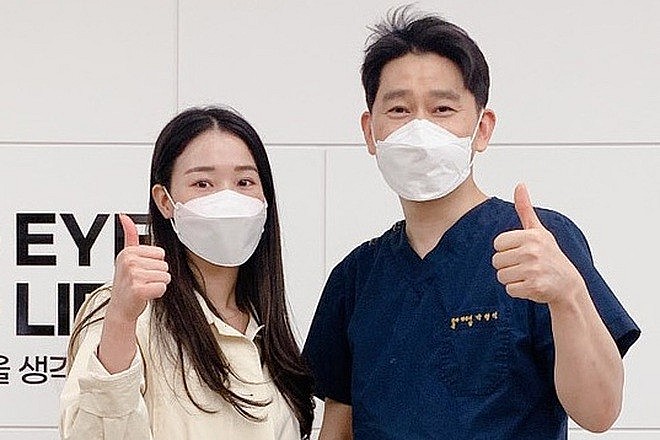 Le Thi Minh Hang with the leader of the workplace unit. Photo: Le Thi Minh Hang
Strive for family back home
Talking about that difficult time, Le Ngoc Anh felt more motivated when she received the Japanese Government's support for free vaccination. Life has not changed much because Japan still allows restaurants to open until 8 p.m. She is not too worried because the community now has a higher sense of pandemic prevention and control
To ensure health, Le Ngoc Anh takes vitamins, drinks a lot of water every day to strengthen her resistance.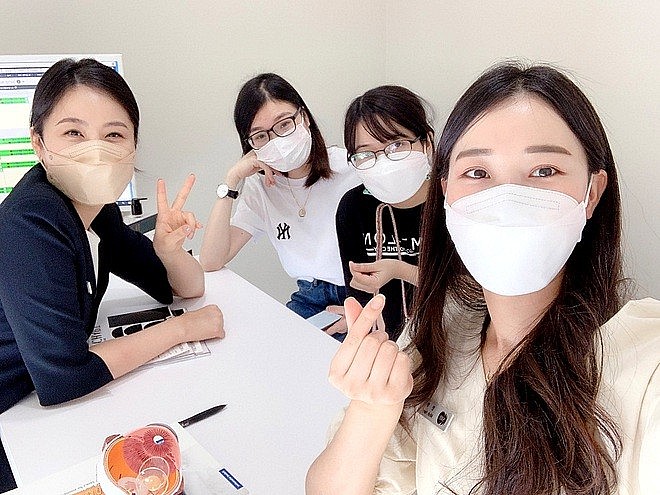 Le Thi Minh Hang (far right) is translating for Vietnamese guests who come for nearsightedness surgery. Photo: Le Thi Minh Hang
Le Thi Minh Hang said that every day, workers at the company still receive health checks and quick Covid tests. Workers going to work must wear masks 24/24 and disinfect continuously. She prepares her own food to ensure safety.
Every day, she improves her own health by doing simple and fun physical activities at home to help her body stay healthy and prevent infection. In addition to exercising regularly and properly, she eats well, keeps her nose and throat warm, and improves her physical condition.
"Although Seoul has not reached the red alert level because of the pandemic, but this place has a large population and a large number of tourists, so I am a bit worried. But anyway, I have to try to overcome it for myself and my family at home," said Le Thi Minh Hang.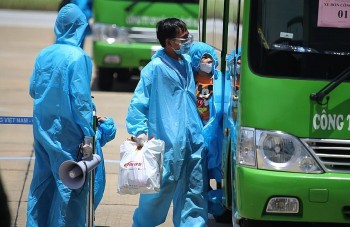 National
The country has to date logged 695,744 Covid-19 cases, ranking 47th out of 222 countries and territories worldwide in terms of infections per one million people.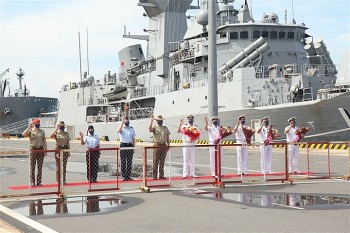 Friendship
Australian warships, amphibious assault ship HMAS Canberra, missile frigate HMAS Anzac and tanker HMAS Sirius, arrived in Vietnam as part of the Indo-Pacific Endeavour 2021.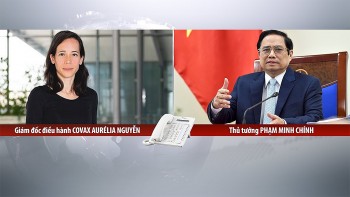 Focus
Prime Minister Pham Minh Chinh on September 20 asked the COVAX Facility to quickly allocate Covid-19 vaccines to Vietnam.