Passionate Vietnamese Student Becomes Celebrated Math Professor in Australia
The story of Ph.D. Le Kim Ngan begins with a love for mathematics at an early age. This passion would eventually lead her to becoming a distinguished professor.
Le Kim Ngan is currently a lecturer at the Department of Mathematics at Monash University (Australia). She follows her passion for doing applied mathematics because she wanted to get to the bottom of the questions she still had.
Le Kim Ngan was born in 1984 in Go Vap District, Ho Chi Minh City. She studied Computer Science at VNU-HCM High School for the Gifted, then she got in Mathematics-Computer Science class at the University of Science - Ho Chi Minh City National University in 2002.
Ngan shares her story of when she discovered her true passion, "When I was in middle school, my father – a math teacher – always wanted me to sit at the table to study English for an hour per day. But I did not like learning English at the time.
"Sitting for an hour like that, I sneaked out an 8th-grade math book to solve it myself. The more I did it, the more I enjoyed it, so I asked my father to buy more advanced mathematics books for me," Ngan added.
"I still remember when I was in 9th grade, during another non-Math class, I would often hide the math book under the desk, to look at the problem, and then took the scratch paper to write down the maths solutions. There was this one time, the teacher caught me was not focused in class and I got myself detention - to stand in the corner of the class," Ngan recalled.
But it was those lovely recollections, as well as her love of mathematics, that motivated Ngan to return to the study of mathematics.
Kim Ngan said, "Actually, studying Computer Science at the Gifted School or at the University of Science is very interesting. But I often wonder why those algorithms are always right. I want to prove the algorithm for myself. In the end, I think I have to go back to studying Math. Everything happened naturally, mainly guided by my love for Mathematics."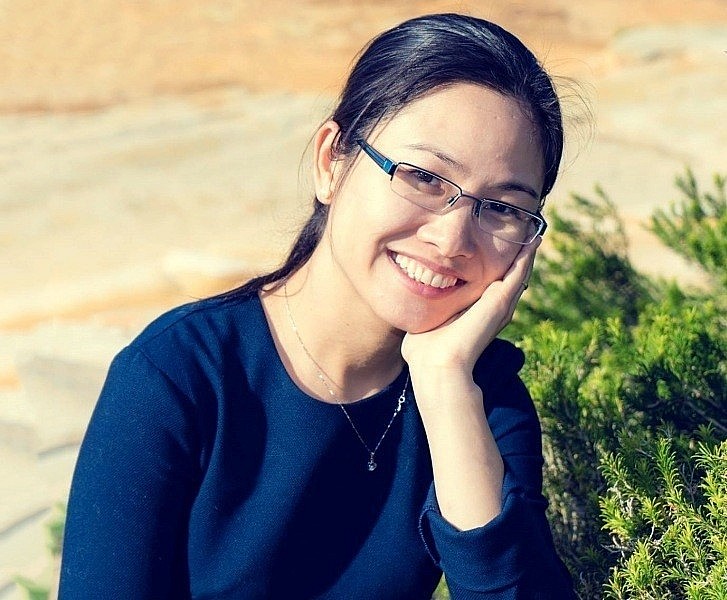 Dr. Le Kim Ngan is currently a lecturer at the Department of Mathematics at Monash University (Australia). Photo: Vietnamnet
Ngan completed a master's degree through the PUF program in collaboration with France in 2008 to "satisfy her love for learning Mathematics," but she had no plans to pursue a Ph.D. in Applied Mathematics or study overseas. She did, however, have four months to complete her thesis in France while pursuing this program. Ngan had gotten two invites for Ph.D. scholarships in France at the time.
Due to family reasons, she refused, then with her husband - who was also a high school classmate - went to Australia to work.
"Before leaving for Australia, I went to see my teacher, Professor Duong Minh Duc. He advised me to continue studying for a doctorate, and at the same time introduced me to Tran Thanh, the teacher who also works on partial differential equations that I can connect when I arrive in Australia," Ngan told.
Ngan was fortunate enough to win an Australian government scholarship for international Ph.D. students when she came to Australia. After that, she decided to pursue a career in numerical analysis for random partial differential equations since she thought it would have a lot of practical applications.
Teaching Maths in Australia
Le Kim Ngan had the opportunity to teach a number of subjects linked to Mathematics while studying for a Ph.D. at the University of New South Wales for 3.5 years and then continuing to work as a postdoc. Ngan said, "Indeed, it was a very useful teaching experience and also helped me a lot in the future."
According to Dr. Le Kim Ngan, there are two requirements for becoming a lecturer in Australia. First and foremost, teaching abilities and expertise are required. Candidates must also have a specified number of publications in prestigious international journals.
Those who have worked as postdocs in Europe or the United States, according to Ngan, will have an advantage in terms of teaching experience because they will often have the opportunity to teach in theoretical seminars. However, postdocs in Australia can only take practical classes and are rarely assigned to teach theory classes.
Ngan gained some classroom experience while working as a researcher at the University of New South Wales. As a result, Le Kim Ngan was appointed as a lecturer in the Department of Mathematics at Monash University in April 2020.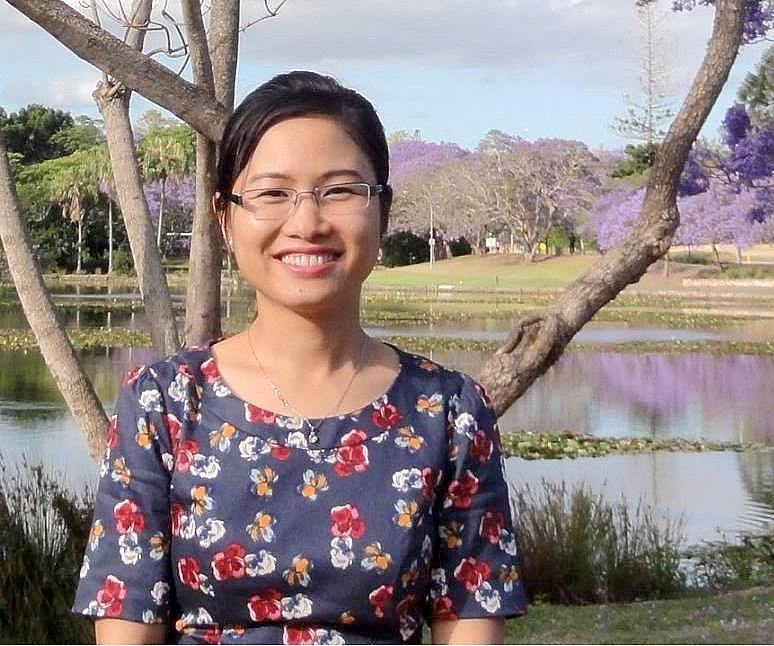 Doctor Le Kim Ngan. Photo: Vietnamnet
Ngan believes that even after becoming a full-time lecturer, teachers must continue to strive for innovation.
"Australian schools often evaluate teachers every year through student comments. Therefore, in order to receive the best assessment from students, teachers must also strive to improve the quality of teaching. This can be accomplished by learning from those who have gone before you, continually seeking new ways to make it simpler for pupils to retain information, and always needing to prepare thoroughly before going to class."
Teachers in Australia are treated very well because high-quality education is essential. Lecturers typically devote 40% of their time to teaching and 40% to research each year. Because research funding for mathematics is generally more difficult to come by, instructors can seek government financing as long as the project is realistic and has practical benefits.
Lecturers are also given opportunities to network with both domestic and international partners. Funding for the trip can be received from school or other organization sources.
"Lecturers benefit from this openness by being able to build their networks and cultivate competence in their respective professions," said Ngan.
To pursue the path of a professional mathematician
There is an age-old question that many students cannot answer - 'What do you want to study math for?'. As a researcher and lecturer professional in Maths, Le Kim Ngan mentioned that this particular problem stems from the general curriculum.
"In Australia, when students learn how to calculate area, teachers often set up very practical problems for them to see that these formulas can be applied in real life. At the university level, the benefits of Maths are more evident in solving real-world problems. Thanks to that, students understand the importance of in daily lives", explained Ngan.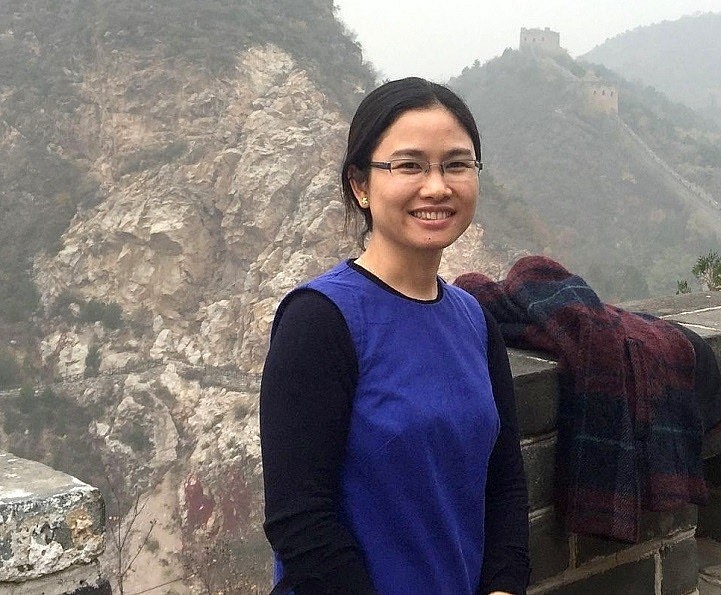 Doctor Le Kim Ngan. Photo: Vietnamnet
It's easier to pursue a profession in math once you comprehend 'the objective of doing Math.' Of course, many qualities must be present for young people to pursue a career in mathematics, according to Le Kim Ngan, but the most crucial are desire, ability, and perseverance.
"To become a professional Mathematician, it is very important to have a love of Math. Because the definition of professionalism is dedicating yourself to the job. Besides, it also takes the ability for a person to become an expert in their field," Ngan emphasized.
Finally, persistence is required. It takes a person many years of his life to become a real mathematician. They will be glad, though, when they receive the rewards of their years of perseverance.
"Surely, 'no one gets pleasure from puzzles solved in just 5-10 minutes," said Ngan.
Young people can easily apply for a scholarship to study Mathematics
In the past, applying for a scholarship to study mathematics abroad was more challenging because few international colleges were aware of Vietnamese universities. However, many Vietnamese schools have become well-known and have earned high praise from international schools, making it easier for students to apply for scholarships to study in nations such as the United States, Australia, and other countries.
Students should, however, write at least one scientific paper if possible (can be signed with the teacher if not able to write by themselves). The article will help you stand out when applying for scholarships.
They can also be confident that simply excelling in a major will allow them to compete with international students (if the scores in other subjects are not too high).
Because many schools now only take specific subjects in order to evaluate competitive scores for scholarships, Ngan says.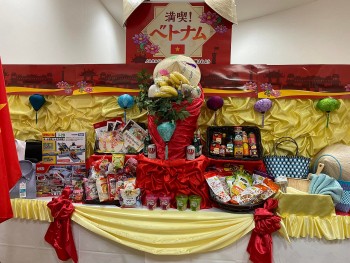 Economy
Vietnamese rice and agriculture products are rising stars in Japan, entering hundreds of supermarkets and retail stores in AEON's system across the country.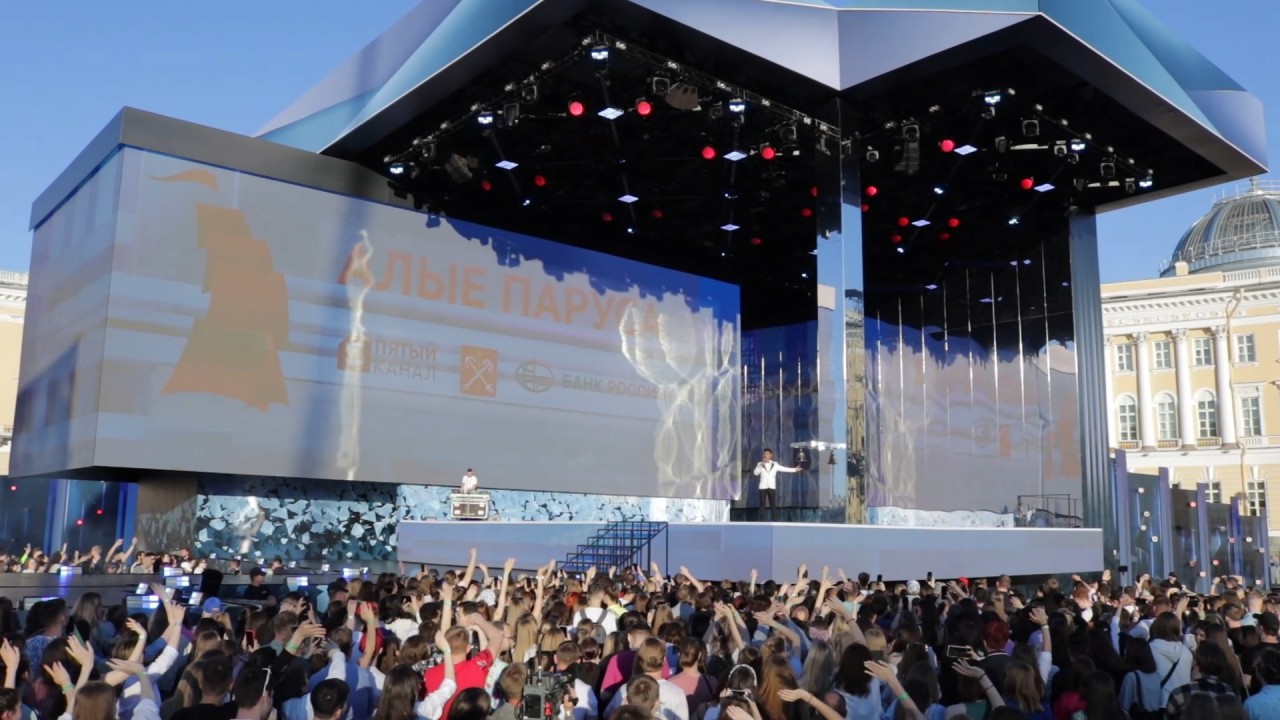 Overseas Vietnamese
The fact that Vietnamese singers can perform at the world-famous festival affirms the audience's friendship, admiration and respect for the young Vietnamese talent of the audience and artists in Russia.
July 02, 2022 | 07:28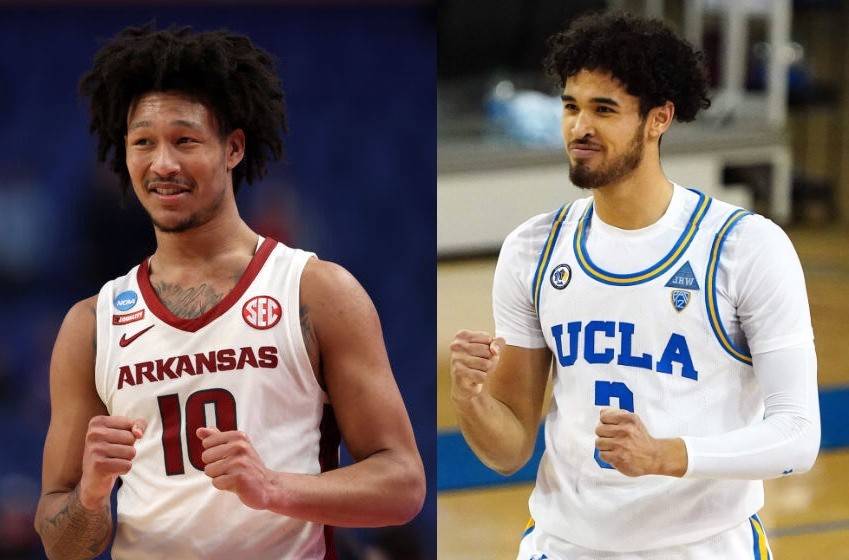 Overseas Vietnamese
Jaylin Williams became the first Vietnamese-born player in history to be picked and play for the Oklahoma City Thunder in the NBA playoffs. Furthermore, another Vietnamese-born basketball sensation, Johnny Juzang, is not among the 58 players chosen in the NBA Draft, but he still has a chance to play in the league.
June 29, 2022 | 08:40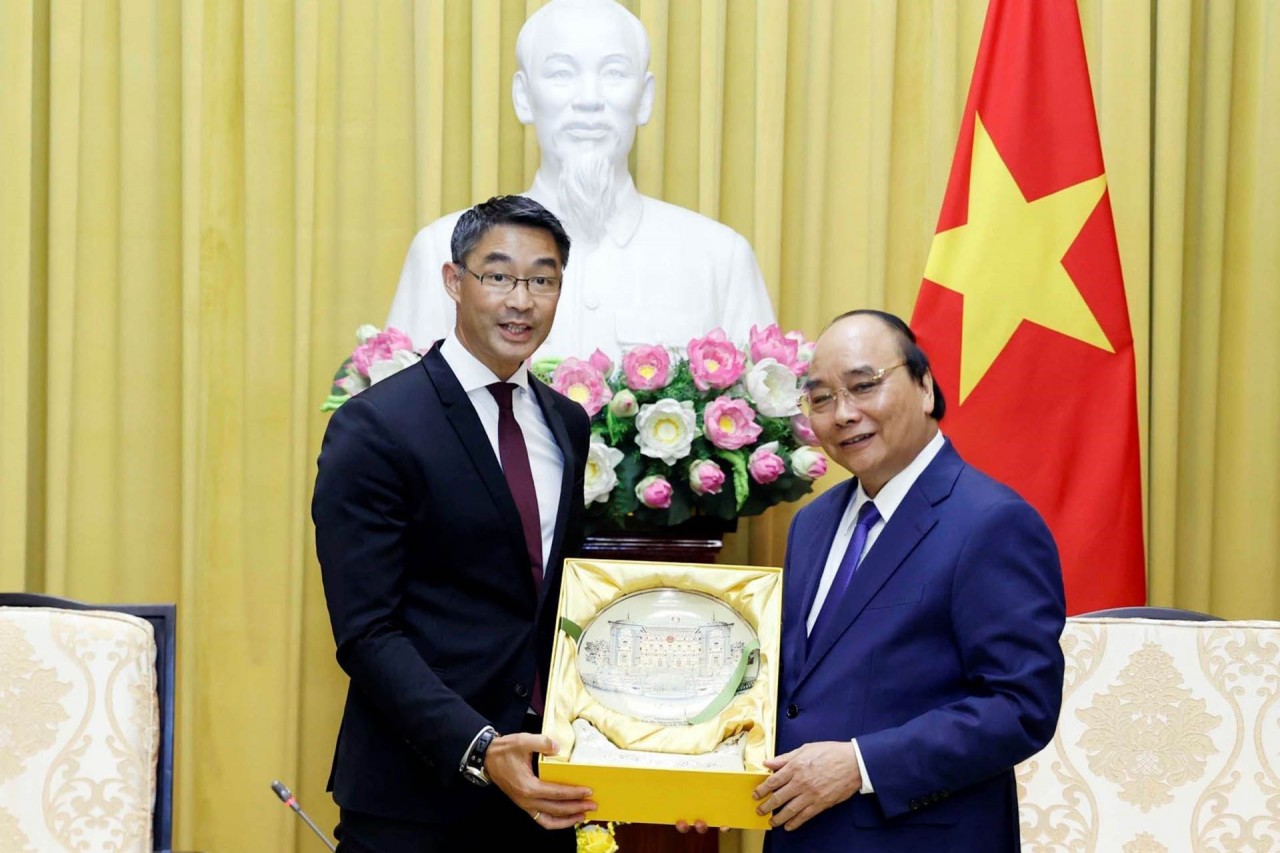 Overseas Vietnamese
The State leader appreciated enormous contributions to the Vietnam - Switzerland ties by Philipp Rosler.
June 29, 2022 | 07:40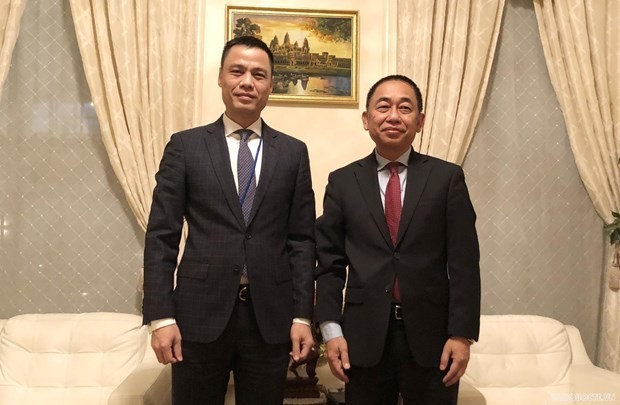 Overseas Vietnamese
The Permanent Delegations of Vietnam and Cambodia to the United Nations (UN) co-organised a ceremony to mark the 55 years of the two countries' diplomatic relations.
June 27, 2022 | 06:28