Phase one human trial of 2nd Vietnam home-grown Covid-19 vaccine commences today
The first phase of human trial of Covivac, the second made-in-Vietnam Covid-19 is set to start today at the Hanoi Medical University.
Talking with Tien Phong, Assoc. Prof. Dr. Vu Dinh Them, Director of the Center for Clinical Trial under the National Institute Of Hygiene And Epidemiology said that the first group of six people will participate in the first phase of the human trial of Covivac vaccine this morning.
The human Institute of Vaccines and Medical Biologicals (IVAC) recruited enough 120 volunteers for the first phase of the human trial. After completing to test the vaccine on the first group, the second one will be injected 9 days later.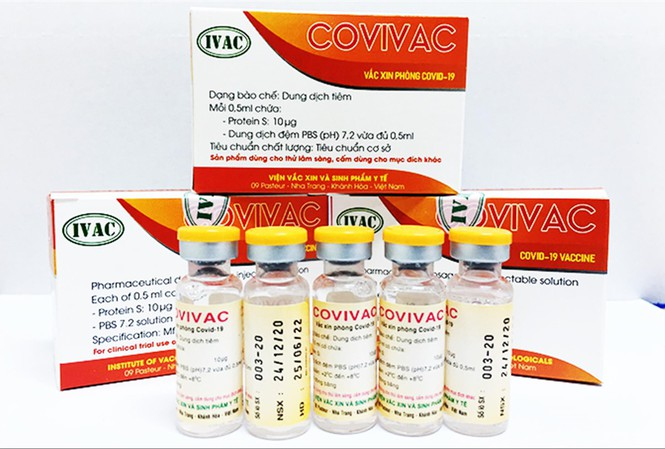 The first phase of human trial of Covivac, the second made-in-Vietnam Covid-19 is set to start today at the Hanoi Medical University. Photo: Tien Phong
Through pre-clinical assessments conducted in India, the U.S, and Vietnam, the Covivac vaccine has recorded a strong immunological effect on laboratory animals and has so far proved to be safe, VOV reported.
According to Dr. Duong Huu Thai, director of the Institute of Vaccines and Medical Biologicals (IVAC), the research project on the vaccine has been running since May 2020, with the co-operation of scientists from universities, research institutes, and international organizations, adding that it has been produced from embryonic egg production technology, which is safe for animals.
The Covivac vaccine was also proved to be effective against the new SARS-CoV strain detected in both the UK and South Africa, Dr. Thai said.
The vaccine is expected to be launched later this year after passing through three phases of human trials. Moving forward, the IVAC plans to offer the Covivac vaccine at a price of VND60,000 (US$2.6) per dose.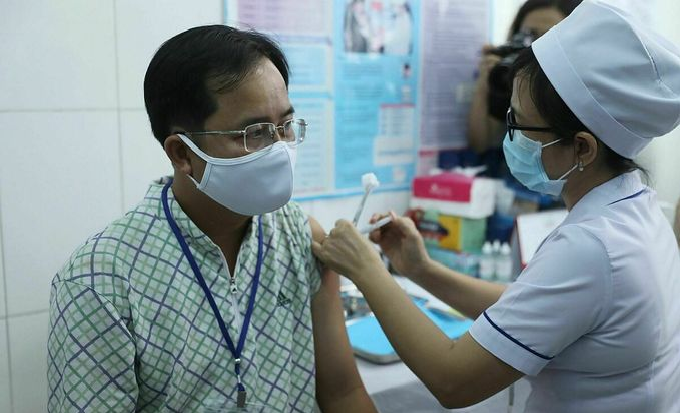 A man in Long An Province is injected with Nanocovax, a Vietnamese Covid-19 vaccine, as part of the second phase of its human trials, February 26, 2021. Photo: VnExpress.
Meanwhile, the first locally-produced COVID-19 vaccine, Nanocovax, made by Nanogen Pharmaceutical Biotechnology JSC, entered its second phase of human trials on February 26.
Results of the trial will be announced in May 2021 before preparing for the third-stage trial during which only one single shot of the vaccine will be administered to 10,000-15,000 people from both domestic and foreign pandemic-hit regions, said Lieutenant-General Do Quyet, Director of the Military Medical University.
Vietnam has two other COVID-19 candidate vaccines being developed, which are VABIOTECH by the Company for Vaccine and Biological Production No 1, and POLYVAC by the Centre for Research and Production of Vaccines and Biologicals.
According to the National Expanded Immunization Programme, by March 15, as many as 11,605 people, all of them are medical workers and members of COVID-19 prevention and control teams, have been vaccinated.
Most of the vaccinated people (7,276) are in northern Hai Duong province which has been hardest hit by the latest outbreak since January 27.
Quang Ninh, Dien Bien, and Dong Thap provinces are set to begin their COVID-19 vaccination this week.
Another imported COVID-19 case was reported on March 14 evening, bringing the total number of infections in the country to 2,554, the Ministry of Health said.
The new patient is a Japanese expert who has been quarantined since his arrival at Ho Chi Minh City's Tan Son Nhat International Airport on March 10. His sample showed a positive result and he is now treated at Cu Chi COVID-19 treatment hospital, according to Vietnamplus.
Of the total number, 1,594 are domestically-transmitted cases, including 901 infections since the third outbreak hit the country on January 27.
According to the Treatment Subcommittee under the National Steering Committee for COVID-19 Prevention and Control, a total of 2,086 patients have recovered from the disease, while the death toll was kept at 35.
Among active patients undergoing treatment at medical establishments nationwide, 48 tested negative to coronavirus SARS-CoV-2 once, 48 twice, and 91 thrice.
As many as 39,613 people who had close contact with confirmed COVID-19 patients or entered Vietnam from pandemic-hit regions are being quarantined across the country, including 503 in hospitals, 16,056 in state-designated establishments, and 23,054 at their residences.
Make in Vietnam
Vietnam introduced potential for trade and investment to Algeria's localities