Vietnamese in Cambodia support pandemic fight
A program assisting 340 Vietnamese families living in Cambodia to prevent and control Covid-19 and mosquito-borne diseases was held May 22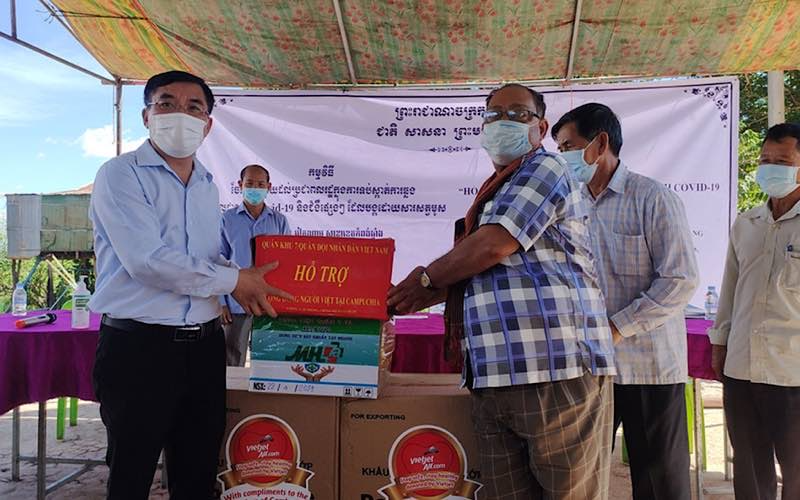 Ambassador Lai Xuan Chien presents gifts to representatives of Kampong Trolach district. (Photo: NhanDan)
On May 22, in Sep and Ta Ches communes, Kampong Trolach district, Cambodia, a program to help prevent and control Covid-19 and mosquito-borne diseases was held to aid 340 families of Vietnamese origin living in the country October 2018.
The community support program was organized by the Embassy of Vietnam in the Kingdom of Cambodia in collaboration with the Kampong Chhnang Provincial Branch of the Khmer-Vietnamese Association.
Ambassador Lai Xuan Chien said that the Party and government of Vietnam always paid attention to the life and difficulties of the Vietnamese community in Cambodia. especially people of Vietnamese origin in Kampong Chhnang province.
Lai Xuan Chien also expressed his joy that the lives of the 340 households had improved, with most families having access to clean water and electricity, and their children going to public schools in the district. He said many of the group had actively changed their careers from fishing to other jobs.
Within the framework of the program, staff of the Vietnamese Embassy presented medical supplies for the prevention and control of the Covid-19 pandemic, supported by Military Region 5, Military Region 7 and Vietjet Air, to the representative of Kampong Trolach district, and two communes Sep and Ta Ches. They also transferred medical supplies and mosquito nets to 400 Vietnamese and Khmer families.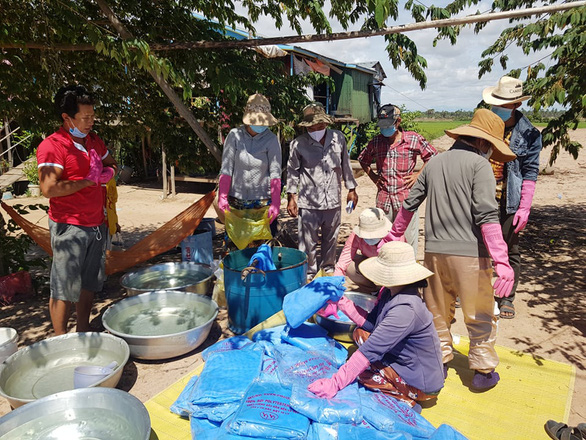 Vietnamese people in Cambodia receive gifts from the Vietnam Embassy, and Khmer - Vietnam Association. (Photo: Tuoitre)
The program organizers said that it was ecessary to deploy insect repellent to 400 houses in Sep and Ta Ches communes as the rainy season was coming. Along with several localities in Cambodia in 2020, the two communes jad an epidemic of dengue fever and Chik disease caused by mosquitoes, making nearly 200 people sick.
On behalf of the local government and people, Chairman of Sep commune, Kampong Trolach district, Kampong Chhnang province, Hor Sarith thanked the Vietnamese Embassy and the Kampong Chhnang Provincial Branch for supporting the both people of Vietnamese origin and Cambodians. He said it was a strong example of friendship, cooperation and mutual assistance between the peoples of Cambodia and Vietnam.
About 2,000 households of Vietnamese origin live in Kampong Chhnang province. The Covid-19 pandemic has severely affected the lives of many people, who are relocating and changing careers after the provincial government's policy to improve the landscape of Tonle Sap lake.
Bui Minh Tam, vice chairman of the Khmer - Vietnam Association in Kampong Chhnang province, said that eight people of Vietnamese origin had been infected with Covid-19 recently. The provincial hospital has cured six people, while two are slowly recovering. There are still 27 families of Vietnamese origin living in blockade areas in the province.
"During the pandemic, many large businesses here have closed, and people have no jobs, so it is very difficult. With the help of the embassy, agencies and benefactors in the country, people do not suffer from poverty. The association is very happy and grateful," Bui Minh Tam said.