Vietnam gifts medical supplies to support South Sudan against pandemic
On behalf of the Vietnamese Government, Ambassador Dang Dinh Quy - Vietnam's representative to the UN, has presented anti-COVID-19 medical supplies to South Sudan's Government.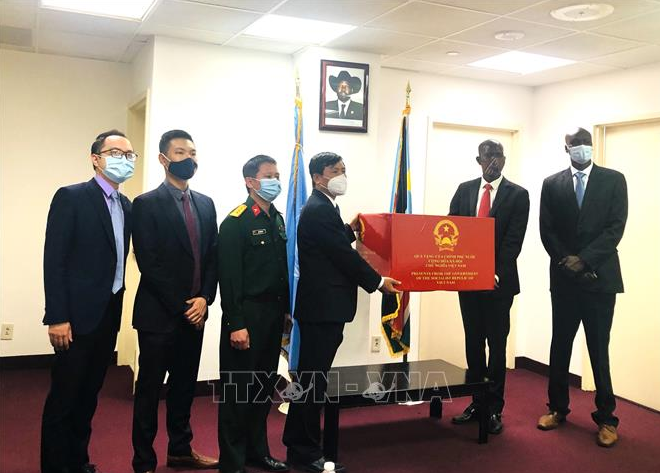 Head of Vietnam's Permanent Mission to the United Nations Ambassador Dang Dinh Quy presented anti-COVID-19 medical supplies to the Government of South Sudan. (Photo: VNA)
Ambassador Dang Dinh Quy sent South Sudan's government a medical supply pack on May 19 at the Permanent Mission of the Republic of South Sudan to the United Nation. The supplies include 1,000 protective suits and 100,000 anti-bacteria masks produced by Vietnamese defense companies, which were carried by the Royal Australian Air Force.
Speaking at the event, Ambassador Quy said with the gift, the Vietnamese Government wants to share difficulties with South Sudan in the fight against the pandemic.
According to the Worldometers, the number of COVID-19 infections reached 10,652 and deaths amounted to 115 as of May 19.
Vietnam has deployed peacekeeping forces in the UN Mission in South Sudan (UNMISS) since 2014. Later in 2018, the country launched the level-2 field hospital with 63 medical and technical staff there who are rotated annually. There are about 18,500 in the UNMISS now, Nhan Dan reported.
In response to the UN Secretary-General Antonio Guterres's appeal to vaccination for the UN peacekeeping mission forces, Vietnam actively inoculated staff of the level-2 hospital No.3 before their departure and carried vaccines to South Sudan to give Vietnamese forces shots.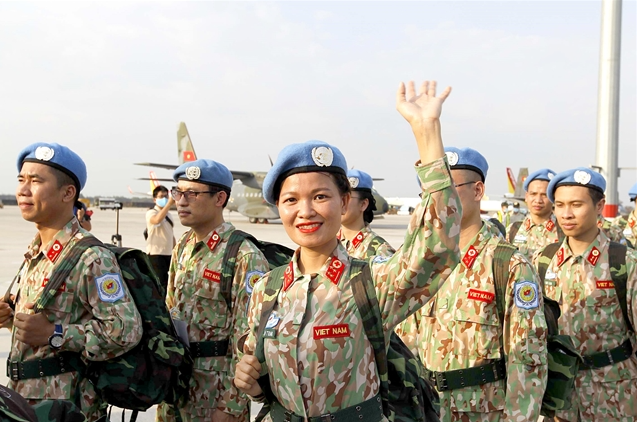 Vietnamese officers leaving homeland to work for the level-2 field hospital in South Sudan. (Photo: VOV)
Attending the UN Security Council (UNSC)'s videoconference meeting on the situation in Sudan and the activities of the UN Integrated Transition Assistance Mission in Sudan (UNITAMS) on May 20, Ambassador Pham Hai Anh, Deputy Permanent Representative of Vietnam to the United Nations (UN), has called on the Sudanese government and relevant parties to promote the transition process in the nation in accordance with the peace agreement reached on October 3, 2020, including increasing the participation of women and youths.
Commending recent progress in Sudan, the Vietnamese diplomat appealed to Sudan to make concerted efforts to protect its citizens, and handle root causes of the violence between communities, comprising enhancing dialogue and reconciliation.
VNA reported that Anh spoke highly of the roles of the UN, countries, and regional organizations, including the neighboring nation of South Sudan, in promoting the peace process in Sudan, while calling on the international community to continue humanitarian support for Sudan, helping the nation access financial resources. He also lauded the outcomes of the Paris conference on Sudan, including debt relief for the African nation. He reiterated support for UNITAMS's efforts as well as the extension of the mission's mandate.