Pandemic-hit Bac Ninh Province requests residents to stay home after 8 p.m
Bac Ninh City and Que Vo, Yen Phong and Thuan Thanh Districts in Bac Ninh Province have required residents to stay home after 8 p.m. in a bid to curb the Covid-19 surge.
A blockaded area in Bac Ninh. Photo: VnExpress
People have been allowed to go out if necessary such as performing official duties, taking patients to emergency rooms and going to work for night shift, said a decision made by Vuong Quoc Tuan, Vice Chairman of Bac Ninh People's Committee, VnExpress reported.
Tuan has also asked the abovementioned localities to strictly implement the regulations on quarantine.
Health Minister calls people nationwide to help Bac Ninh, Bac Giang in Covid-19 fight
Health Minister Nguyen Thanh Long has appealed for ministries, departments, agencies, enterprises and citizens nationwide to assist Bac Ninh and Bac Giang Provinces in fighting against the novel coronavirus.
"Bac Ninh and Bac Giang's effective fight will help the whole country to soon control the pandemic. Therefore, I call for ministries, departments, agencies, enterprises and citizens nationwide to help them in this battle," Long said during a ceremony to hand over donations to the two provinces on May 24.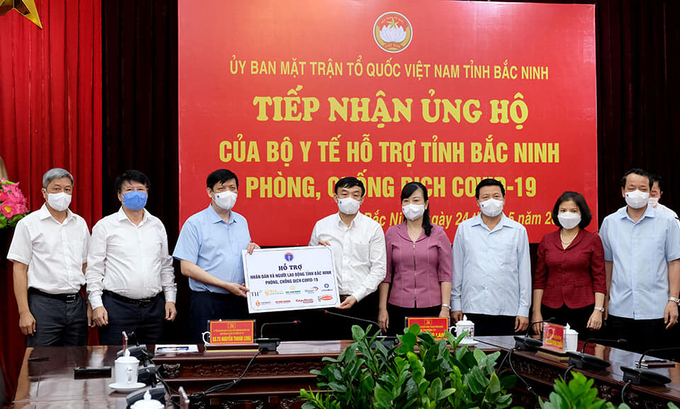 Minister Long (in blue) presents gifts to Bac Ninh Province to support it in Covid-19 fight. Photo courtesy of the Health Ministry.
Long added that this coronavirus wave was likely to last longer than the previous ones, hence, Bac Ninh and Bac Giang must place the Covid-19 prevention and control at the highest alert level and adopt drastic anti-pandemic measures such as social distancing, lockdown, and industrial zone closure.
To date, as many as 70,000 people have been put under quarantine in Bac Ninh. Bac Giang has shut down four industrial parks with 60,000 workers quarantined.
"Health Ministry shares with difficulties and hardships that residents in Bac Ninh and Bac Giang have suffered," Long said, while welcoming 14 pioneering businesses and organizations to accompany the ministry in presenting gifts to the two provinces.
Secretary of Bac Ninh Party Committee Dao Hong Lan said right after the first infections were detected, the province has rushed to contact trace and quarantine related cases. Nevertheless, due to the quickly-spreading variant and densely-populated area, the province has encountered many difficulties in preventing and controlling the pandemic.
"The health ministry's support is a great encouragement for Bac Ninh to fight against Covid-19," Lan said.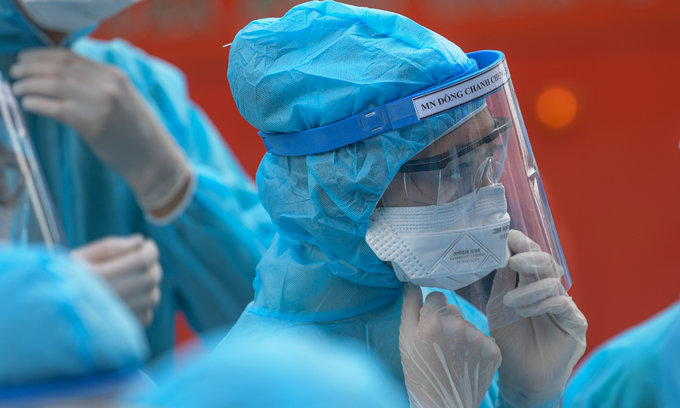 A medical worker prepares to take swab samples from workers at Bac Giang's Quang Chau industrial park for Covid-19 testing. Photo: VnExpress
In the latest Covid-19 wave hitting the country on April 27, Bac Ninh and Bac Giang Provinces are the two biggest coronavirus hotspots.
Bac Ninh has so far reported 505 community transmissions. Meanwhile, Bac Giang leads in community Covid-19 counts of the new wave, at 1,069 cases.
A 38-year-old worker at an industrial park in Bac Giang became Vietnam's 44th coronavirus death Monday.
The woman had shown classic Covid symptoms like fever, coughing, and fatigue. She was admitted to the Yen Dung District medical center in Bac Giang on May 17. Five days after her admittance, she developed respiratory failure and was transferred to the Bac Giang General Hospital, where she was diagnosed with pneumonia due to Covid-19 and respiratory failure complications.
She was supplied with oxygen and treated with antibiotics and anti-inflammatory drugs. Her condition worsened on May 23. X-ray scans revealed that her lungs had been extensively damaged, requiring a highly concentrated oxygen supply. Over the following hours, her condition continued to worsen and she did not respond well to treatments. She died on Monday morning.
Her causes of death were pneumonia due to Covid-19, septic shock and advanced respiratory failure complications, the Ministry of Health said.
Vietnam so far has recorded 2,406 cases in 30 cities and provinces in the new wave.