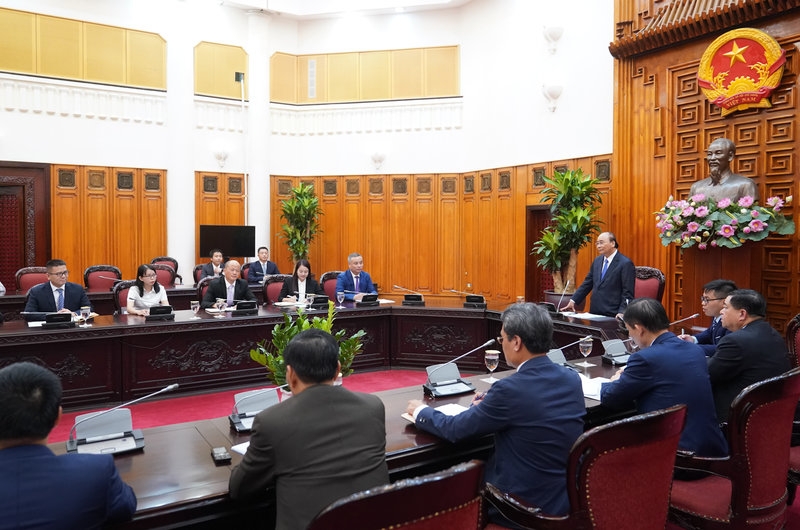 Prime Minister Nguyen Xuan Phuc speaks at a meeting with major Chinese companies. (Photo: VGP)
At the meeting, PM Phuc said amid the impacts of the COVID-19 pandemic on many businesses, including foreign-invested firms, the Prime Minister, and leaders of ministries and localities have often met with enterprises and business associations to eliminate their difficulties, according to Nhan Dan.
About Vietnam's success in the combat against the pandemic, he said Vietnam has taken timely and drastic reactions to put the disease under control, thus bringing the life, production and business activities back to normal.
PM Phuc said he had early discussed on the phone with his Chinese counterpart Li Keqiang to exchange ways to boost cooperation and share experiences in combating COVID-19, adding that Vietnam had also donated medical supplies to China.
At the meeting, Chinese firms expressed their belief in the determination of the Vietnamese government and local administrations in implementing the dual goal of boosting socio-economic development and fighting against the pandemic as well as opportunities offered by the EU-Vietnam Free Trade Agreement (EVFTA), the EU-Vietnam Investment Protection Agreement (EVIPA) and the Comprehensive and Progressive Agreement for Trans-Pacific Partnership (CPTPP).
According to the PM, a number of Chinese enterprises are operating profitably in many areas in Vietnam. He also noted that the two countries have also been cooperating well in tourism.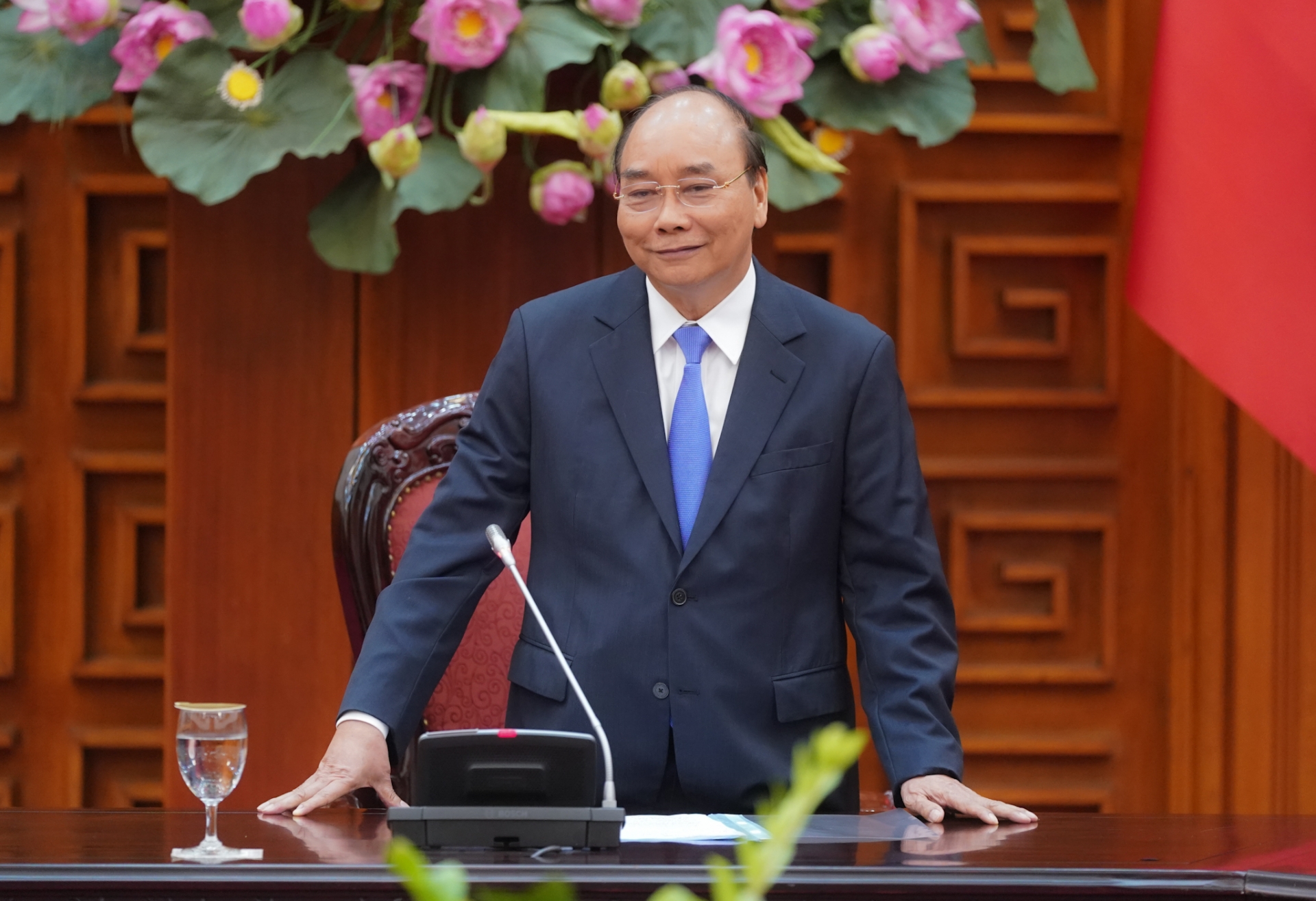 Prime Minister speaks at the meeting with Chinese businesses (Photo: VGP)
As both China and Vietnam have managed to bring the COVID-19 pandemic under control, Vietnam is considering the reopening of some commercial air routes with China, firstly Guangzhou, to promote trade and travel, PM said.
PM Phuc added that the Vietnamese Government will continue creating favorable conditions for the entry to and exit from the country for foreign experts, business managers, investors and skilled workers, including those from China.
At the meeting, the PM also highly valued major Chinese investors' capability, serious attitude and investment effectiveness, including the expansion of production and business activities, compliance with environmental protection regulations, care for their employees, and boosting of exports, which have generated benefits for themselves and Vietnam.
In particular, he applauded many businesses for not laying off workers despite difficulties caused by the COVID-19 pandemic, noting that their examples should be popularised for other firms to follow.
The Vietnamese Government will order ministries and sectors to handle problems facing Chinese enterprises, including resuming flights and facilitating logistics services. PM added that it will ensure macro-economic stability and facilitate businesses.
Prime Minister Nguyen Xuan Phuc and leaders of some Chinese businesses at their meeting on June 12. (Photo: VGP)
Tao Hui, CEO of textile firm Texhong Vietnam, shared his opinion that his company and other Chinese firms make commitment to support the country's efforts in speeding up the economic recovery.
So far, Texhong has resumed all 14 projects and brought its production capacity back to 97% of the pre-Covid-19 performance. In the first three months of 2020, Texhong exports goods worth US$460 million and paid nearly VND95 billion (US$4.1 million) in taxes. Tao Hui said the company is planning to improve investments in Vietnam.
For his part, CEO of Brotex Vietnam Zhang Kui said the company has invested US$1 billion in Vietnam since 2012, and created 8,000 jobs. According to Zhang Kui, despite the impact of the pandemic, Brotex strives to ensure job security for its employees.
Tu Peng Yuan, CEO of Wolong, a company investing in liquified natural gas projects in Hai Phong, said the company was not affected by the pandemic and even performed better compared to the same period last year.
Currently, China is Vietnam's largest import market and second largest export market. Meanwhile, Vietnam is China's largest trading partner in the Southeast Asian region, with bilateral trade reaching US$120 billion in 2019.
So far, China has had a total of 3,000 projects in Vietnam with registered capital of a combined nearly US$21 billion, or 5.5% of total FDI to Vietnam. As a result, China ranked 7th out of 136 countries and territories having investments in the country, Hanoitimes reported.
Candy Lee