Satellite images show China's illegal working on undersea cables in Vietnam's Hoang Sa (Paracel) Islands
Vessel tracking software and satellite imagery appear to show a Chinese ship laying illegally underwater cables between outposts in Vietnam's Hoang Sa (Paracel) archipelagoes in the East Sea (known internationally as the South China Sea), the UK-based Daily Express reported on June 9.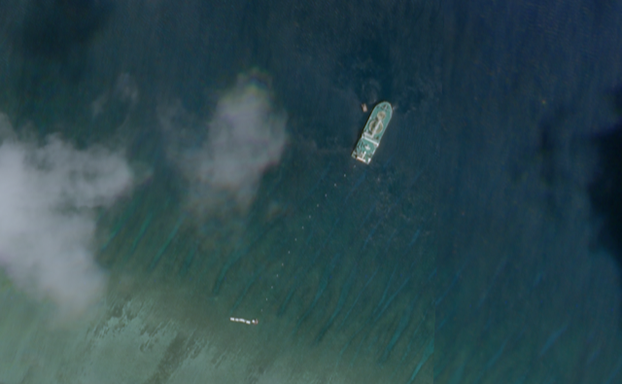 A satellite photo shows the Chinese cable ship Tian Yi Hai Gong just north of Tree Island in the Paracels, June 4, 2020. Image: Planet Labs
Accordingly, vessel-tracking software revealed the Chinese-flagged Tian Yi Hai Gong ship sailed to the Paracel Islands on May 28.
Detailed imagery appears to show the vessel laying cables between Tree Island (Dao Cay), North Island (Dao Bac) and Woody Island (Dao Phu Lam) – the largest of the Paracels.
Strategically, the ship continued to sail southwest on June 5 and visited three other key military outposts on Drummond Island (Dao Duy Mong), Yagong Island (Dao Ba Ba) and Observation Bank (Bai Xa Cu).
James Kraska, a professor at the US Naval War College, claimed China may have been strengthening existing encrypted military communications between Chinese outposts.
Professor Kraska added China could also be plotting a Sound Surveillance System (SOSUS) - a passive system of sonars the US Navy uses to track undersea activity - to track submarines.
"The other thing that they could be doing is that they've got a SOSUS-type of network, an underwater sound surveillance system, to listen for adversary submarines. So it could be passive listening for surface ships or submarines coming into the area," he said.
Bryan Clark, a senior fellow at the Hudson Institute, a Washington-based think tank, said a tracking device between Woody Island and Hainan Island would be an ideal location as it is home to the submarine fleet of the People's Liberation Army Navy (PLAN).
"A sonar system would be important north of Woody Island because the PLAN's South Sea Fleet submarine base is on Hainan Island at Yulin," he said.
According to Clark, the military base in Yulin is already complete with underground tunnels and nuclear submarines.
"A seabed sonar between Woody Island and Hainan Island would help find US submarines that might be coming to spy on the base or its submarines in peacetime, or that may attack PLAN submarines during wartime," he added.
There is no record of the Tian Yi Hai Gong's operator in the International Maritime Organization's database, save for information that it was built in early 2020 and flagged by China, reported Benarnews. There is similarly no record of it with the International Cable Protection Committee, a UK-based standards-setting and advocacy group for the submarine cable industry.
However, vessel tracking data shows it originally left from a shipyard in Shanghai on May 18. That same shipyard houses a different cable-layer, the Bold Maverick, which is owned and operated by S. B. Submarine Systems Co., Ltd. That company calls itself "China's leading provider of subsea cable installation services and one of the key submarine cable installers in Asia" on its website.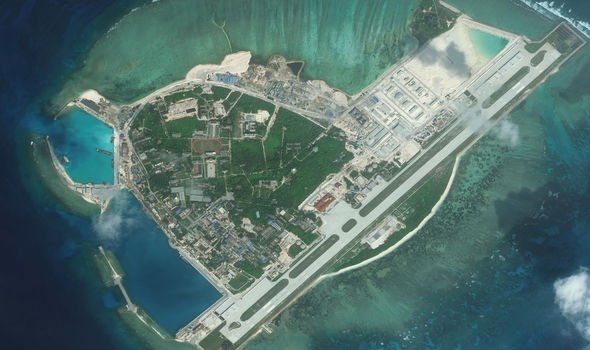 An aerial shot of Woody Island in the East Sea. Image: GETTY
China seized the Hoang Sa (Paracel) Islands from South Vietnam by force in 1974 and has since been occupying them illegally. China also formed what's called the "Sansha City" on Woody Island since 2012, with the intention of taking control of islands in the East Sea. China has also been illegally building artificial islands in recent years.
Vietnam has requested China many times to stop its illegal actions, which complicate the situation and threaten peace and stability in the East Sea. Vietnam also sent a diplomatic note to the United Nations to protest China's unfounded sovereignty claims over the East Sea.
According to VOV, Vietnam has exercised its sovereignty over Truong Sa (Spratly) and Hoang Sa (Paracel) archipelagos throughout history, consistent with all international norms and laws regarding national territorial sovereignty. Evidence has been recorded in Vietnamese and Chinese historical documents through multiple feudal regimes and in many western countries, including France, Portugal, and Spain.
Numerous old documents and maps of foreign countries contain evidence of Vietnam's sovereignty over the Hoang Sa (Paracel) and (Truong Sa) Spratly archipelagos. The most important event confirming Vietnam's claim of sovereignty over the two archipelagos occurred in 1816, when King Gia Long sent troops to hoist a Vietnamese flag in Hoang Sa archipelago. Lords of the Nguyen dynasty regularly sent missions to manage and exploit Hoang Sa and Truong Sa archipelagos.
Other Vietnamese feudal regimes organized Hoang Sa (Paracel) and Bac Hai naval fleets to exercise Vietnam's sovereignty and exploit the two archipelagos. In 1884 the French administration in Indo-China continued to observe and strengthen Vietnam's sovereignty over Hoang Sa and Truong Sa archipelagos./.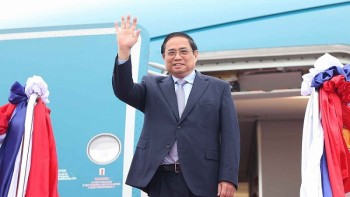 National
Vietnam News Today (Feb. 6): PM Chinh to pay official visits to Singapore, Brunei; Vietnam attends ASEAN+3 Tourism Ministers Meeting; Exports in 2023 and high demands from new generation FTAs; Digital technology to spearhead Vietnam's drive for Industry 4.0.