Polish-Vietnamese Artist Exhibites Watercolors Inspired by his Second Home
Polish-Vietnamese artist Minh Dam talks about his special feelings for both hometowns. Living in a foreign country made him want to learn more about Vietnamese culture.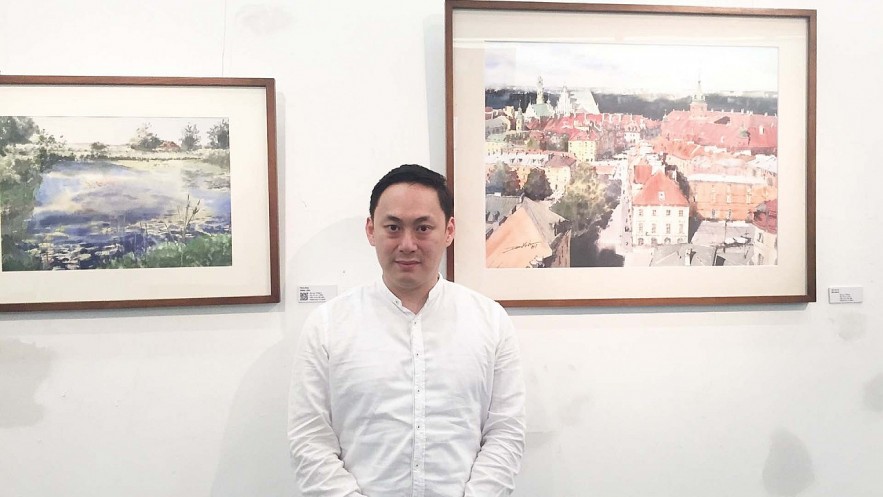 Artist Minh Dam at the exhibition. Photo: An Binh
How do you feel when returning to your home country to hold your first private exhibition to the Vietnamese public?
I have returned to Vietnam many times, but this is my first private exhibition back home. I'm also happy with the theme of this exhibition about Poland - my second home.
For a long time, I had the idea of ​​holding an exhibition that captures love, bonding and depicts the beauty of Polish landscapes, history and people. However, to be able to turn ideas into reality, sometimes we have to wait. Fortunately, last year, the Polish Embassy proposed to coordinate the organization of exhibitions in Vietnam. This is a great opportunity to me.
This is a special exhibition for the country in which I have spent most of my life, with 31 years full of love and happiness. The 49 watercolors in the exhibition show my favorite things about a peaceful and beautiful Poland. I dedicate them to the place that made me who I am today.
Through the exhibition, what message do you want to spread to your homeland?
I hope the Vietnamese public will pay more attention to Poland. When it comes to Europe, we often pay much attention to Italy, France, and Germany. However, Poland is also a country with many great and interesting things.
Bringing these works back home, I hope the audience can feel the beauty of Poland through the lens of a Vietnamese-Polish. Although the geographical distance between the two countries cannot be changed, the distance between the two cultures and between people will be closer.
Having been successful in conducting an exhibition on Poland in Vietnam, do you think of an exhibition about Vietnam right in your place?
Actually, I have cherished that idea for a long time. I want it to be perfect. However, every year, my works develop in a new direction, and when I look back at the old painting, I am not satisfied.
Perhaps, at a time when I have the opportunity and the satisfaction of my work, I will do it - an exhibition about Vietnam in Poland.
You are one of the founders of the International Watercolor Society. Can you share about this society?
Polish watercolor painting has a history stretching back hundreds of years. However, up to now, there is no official organization about watercolors.
Therefore, since 2012, a group of artists in the capital Warsaw has come up with the idea of ​​establishing a Watercolor Society with about 20 artists. I was selected to join that group.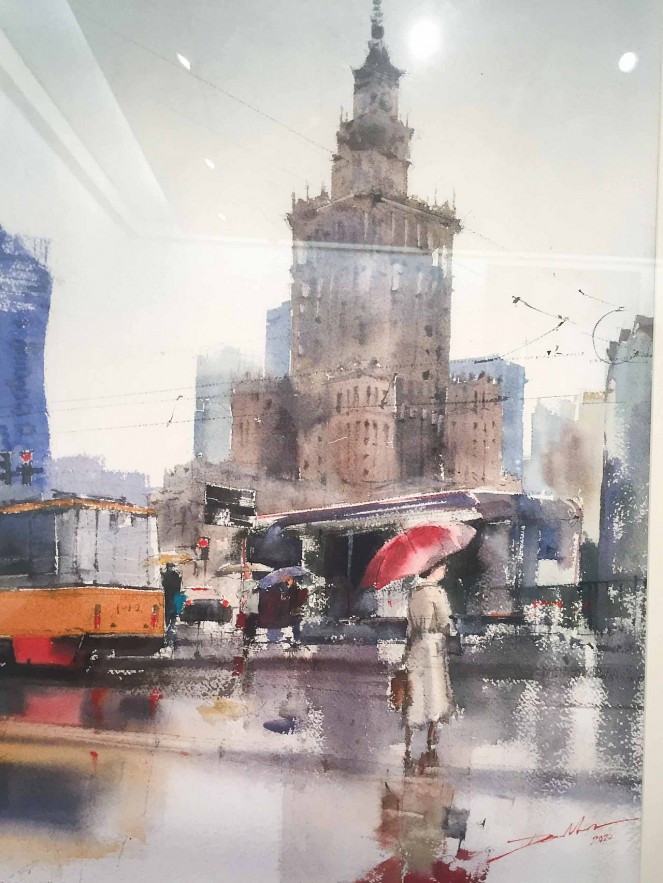 A painting by artist Minh Dam at an exhibition taking place at Vietnam National Fine Arts Museum from June 14-18. Photo: An Binh
This time, you opened a workshop to share your watercolor painting experience. Is this a "long-term" plan at your homeland?
Most of my family members are teachers, so I am also interested in teaching. This workshop is for a group of professional artists in Vietnam.
I want to share about the culture and drawing style of Europeans and Poles to Vietnamese artists . It will be practical for those who want to explore Europe or study abroad.
Europe to draw lightly, while Vietnamese painters will draw more boldly.
Art creation is up to each person's point of view. However, I think that an artist who wants to improve skills should learn different ways of drawing. To me, the strength of watercolor is lightness. Therefore, I want to share this drawing with artists in Vietnam. I will probably return to Vietnam to live and experience.
As a Vietnamese-Polish, what are your thoughts on traditional culture? How do you connect with the Vietnamese community and do you have difficulty living between two cultures?
Although I have lived in Poland since I was a child, I am still Vietnamese. My friends in this country are also curious about Vietnamese culture. Realizing that my understanding of culture and history is not much, I know that I have to improve every day.
I came to Poland at the age of seven, so integrating there was not too difficult. In Poland, Vietnamese associations flourished. Living in a foreign country made me want to learn more about Vietnamese culture.
Artist Minh Dam was born in 1984 in Hanoi. In Poland, he is one of the most influential watercolor painters. As the co-founder of the International Watercolor Society, he participates in international art competitions and events, opens workshops in Europe and China. He also works in architecture, interior and photography.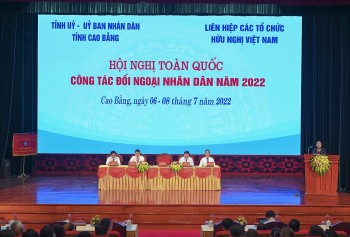 Friendship
During the event, many important issues will be discussed, and constructive suggestions and solutions will be provided to promote more effective people-to-people diplomacy operations.