Rising Viet - French Comic Artist Exhibited in Paris
Entitled "Interior Passage - Essential Journey to Alaska," the first comic collaboration by Maxime de Lisle and Bach Maï was recently published in Paris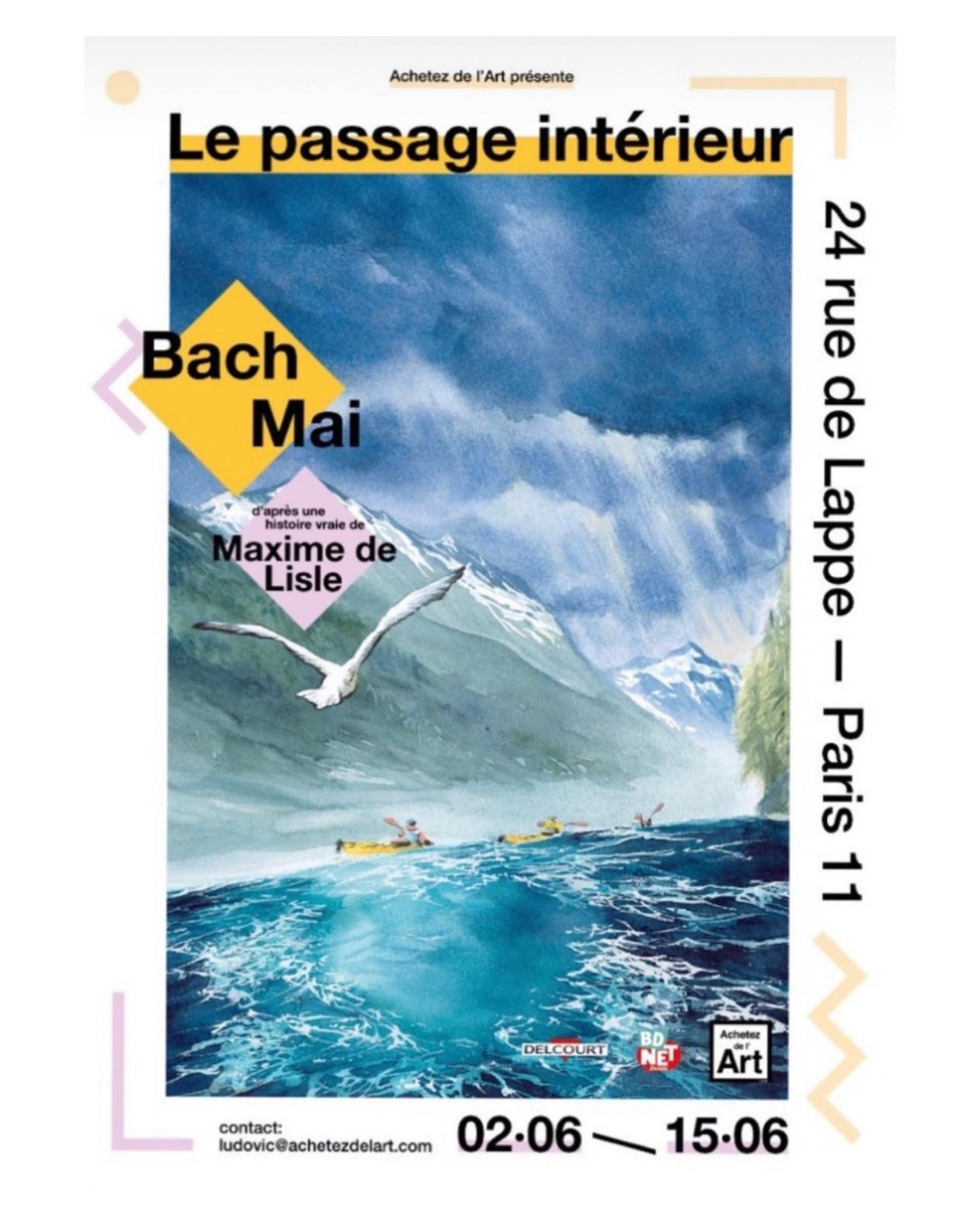 The cover of the comic book. Photo: VNA
"Inner Passage - Essential Journey to Alaska" is Bach Maï's first work since graduating from the Académie de BD Delcourt in France. It is also the first time that a book on comics by a young Vietnamese artist has been published in this European country, one of the world's leading producers and consumers of comics.
There are also 25 original paintings selected from this book exhibited until June 15 at the "Achetez de l'Art" gallery in Paris.
"Inner Passage - Essential Journey to Alaska" is about the exciting journey of four young Frenchmen to the Inside Passage, a coastal sea route in the Pacific Ocean, along southeast Alaska and western British Columbia.
The book with nearly 70 pages is based on the author's life, Maxime de Lisle, of an expedition to the end of the world, carried by the magnificent color pages of Bach Maï.
"The story is a moving testimony, a reflection on what it is to be Human in the midst of such powerful and wild nature. It is also a practical guide for those who wish to embark on such an adventure. The story of "an essential moment, the awareness of the extreme fragility of our blue planet", observed Éditions Delcourt.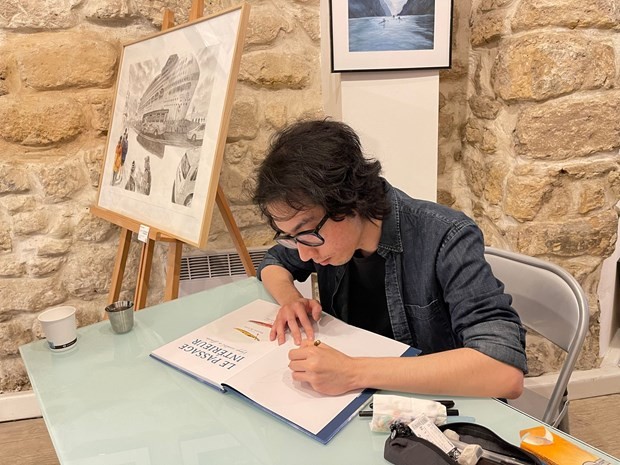 The young painter Bach Maï signs the book "Inner Passage - Essential Journey to Alaska" for readers. Photo: Thu Ha/VNA
Mai Bach confides: "When I read the summary of Maxime's book, I liked its exploration. The story suited my abilities, so I agreed to help Maxime to draw, because it's not always possible to find a story that suits me to evolve like that. Moreover, this work allowed me to learn more about the comics industry in France."
Mai had to overcome many difficulties during the two years of making the book, When he was freshly graduated illustrator, he partnered with Maxime, then a beginner screenwriter did not have much experience. They had trouble ensuring the progress of the work and reaching publishers, producers or distributors. Moreover, the book is based on the true story that Bach Maï was not directly involved in it, so all the drawings are based on Maxime's photos, videos and descriptions, which makes difficult for him to imagine a unified story of visuals and plot.
Screenwriter Maxime de Lisle said he admired his partner's drawings and that's why they worked well together to create the work for two years.
"Bach Maï has a style of drawing that is hyperrealistic, full of dynamism, he really does a great job of highlighting this Alaskan energy", confided Maxime de Lisle.
There are 25 original paintings selected from this book exhibited until June 15 at the "Achetez de l'Art" gallery in Paris. Photo: Thu Ha/VNA
The owner of the "Achetez de l'Art" gallery, Monnier Ludovic, said that he saw exceptional things in the young Vietnamese artist.
"I don't make a distinction between the art of painting or the art of comics because someone like Bach Maï, he has them all. He has this artist's sensitivity, this artistic subsidiary that I look for in the artists and I want to highlight it, I want to exhibit in this gallery", said Monnier.
Celebrating to the success of his student, Mr. Derian Eric, Bach Maï trainer at the BD Delcourt Academy, said: "It is a personal pride to see the work of Bach Maï exhibited in a gallery in the heart of Paris. His work is of great value which largely deserves", he shared.
Franco-Belgian comics are among the top three comic strip schools in the world, along with Japanese manga and American comics. each year, more than 5,000 new comic book titles are released on the French and Belgian markets with classic characters such as Tintin, the Smurfs, Asterix, Lucky Luke... who are always appreciated by readers aged 7 to 77. About 8 million French readers regularly buy 3 to 4 books on comics each year, according to statistics from the French edition.
In particular, in 2021, despite the Covid-19 epidemic, more than 21 million books on comics of all genres were sold on the market, representing a quarter of the books published in France.
While the cultural production industry is influenced by the development of the Internet and information technologies, comics still occupy a good place in the tastes of readers. Although comics now have digital versions that can be saved and downloaded online, most readers still prefer to buy, collect, and own books about comics.