Posing under Parisian Sun: Vietnamese Ao Dai Model Impresses French Audiences
The stunning, charming images of Dieu Linh, a Vietnamese woman wearing the traditional Ao Dai and posing on the dreamy streets of Paris, have taken social media by storm. Her elegance and attractive look also impress the French people.
Recently, netizens have been sharing photographs of a Vietnamese young woman in a beautiful white Ao Dai in Paris, which received more than 15.000 likes and shares. In the sunset of Paris, the set of photos became even more shimmering and lovely by her beauty and the highlight of the Ao Dai.
The album has a lot of positive comments from people on social media, such as, "These photos are stunning. I wish I could have my pictures taken like this". Another said, "Thank you for bringing Vietnam's traditional Ao Dai to the world."
A charming Vietnamese beauty with an inviting Parisian setting, these precious photos combine the wonders of the East and the West.
Under the dreamy sunset of Paris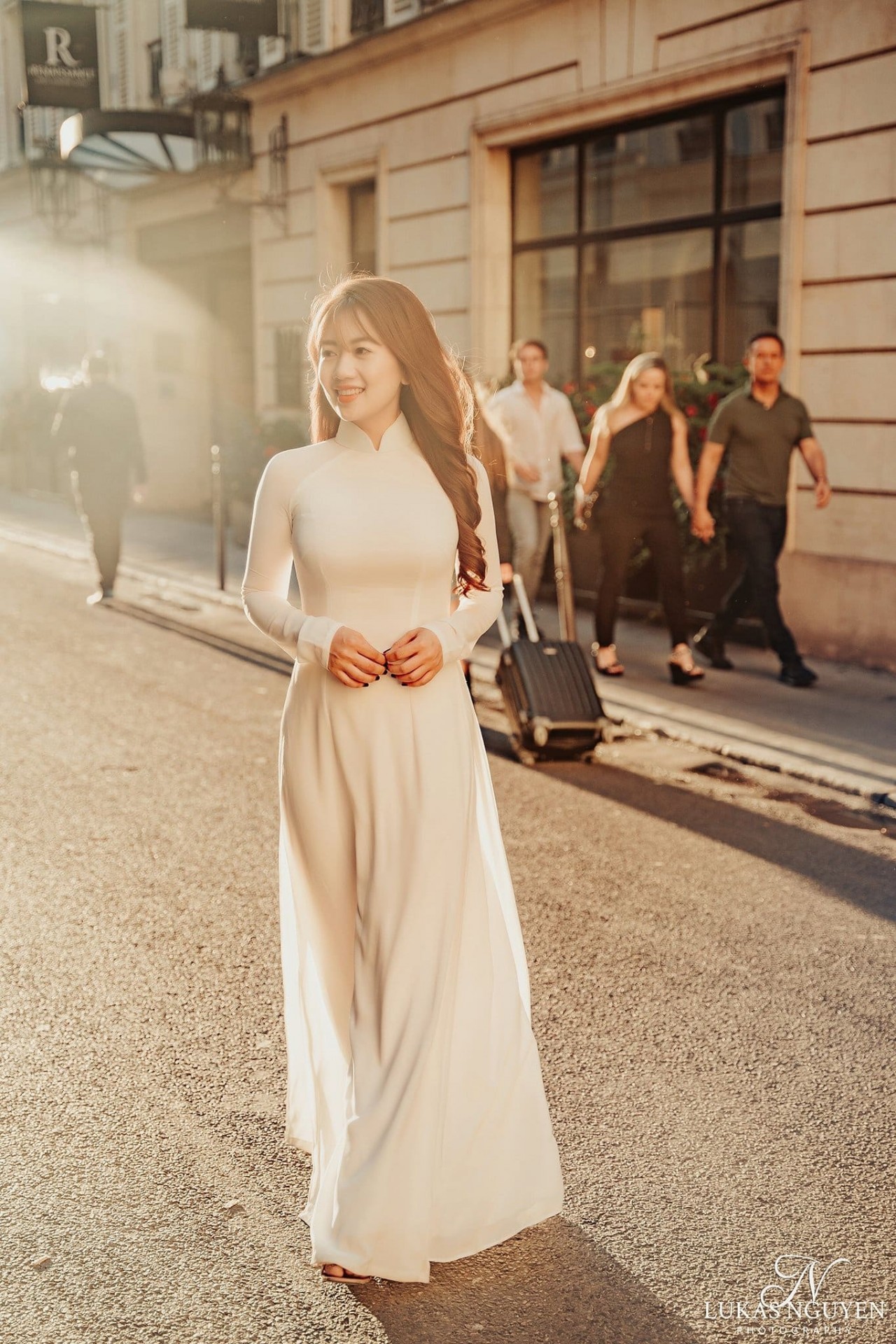 Photo: Nguyen Anh Lukas
According to Thanh Nien newspaper, the beautiful woman in the picture is the 33-year-old Ha Dieu Linh, who lives in Hanoi. She is currently working as a nurse in the hospital.
At the beginning of July, Dieu Linh visited France for a trip with her 8-year-old little daughter. In her suitcase, she also brought a silky Ao Dai dress to take pictures of the most famous French architecture.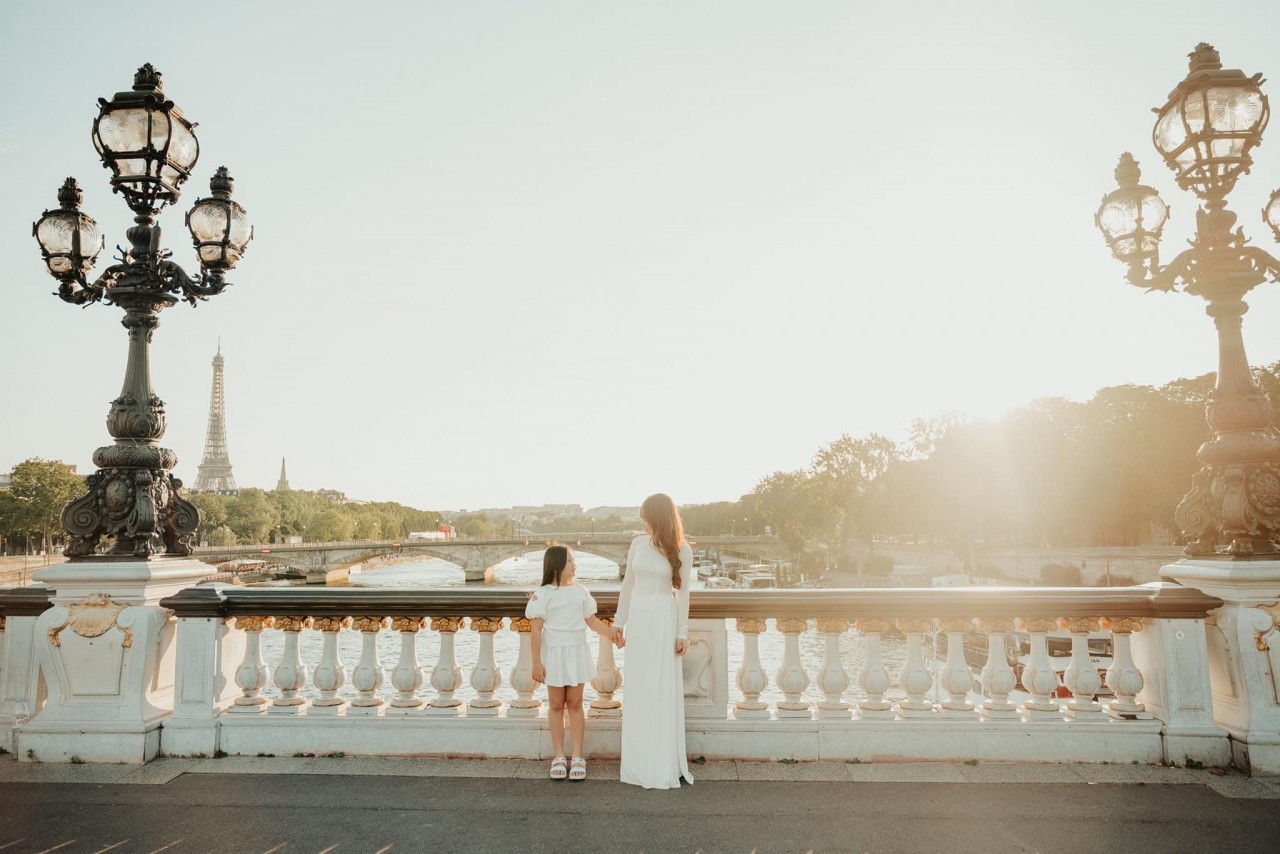 Photo: Nguyen Anh Lukas
"I really enjoy wearing Ao Dai and have always wanted to take photos with this traditional costume in France. The architecture of Paris is very charming, gorgeous, and classic, so I chose a delicate Ao Dai with white color to exude the spirit of Vietnamese women. I never thought my photos could go viral on social media," Linh said.
Linh also felt a little bit awkward when she wore Ao Dai walking on the streets, as she was different from everyone. She covered her costume with a long coat but took the coat off when the photographer assured her it was okay, as Paris is the kingdom of fashion.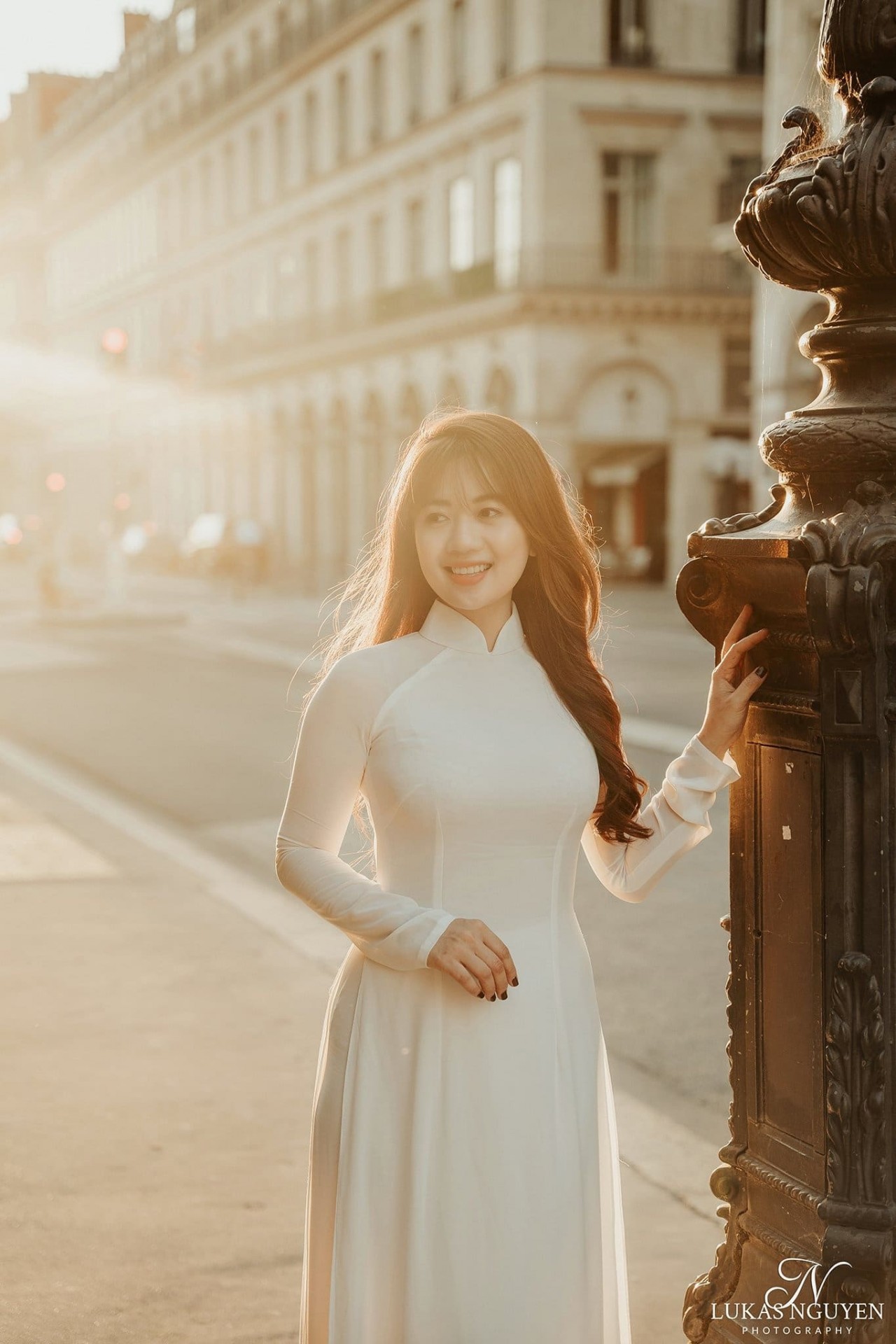 Photo: Nguyen Anh Lukas
"When French people saw me in the Ao Dai dress, some realized it is a traditional Vietnamese costume and asked me if I came from Vietnam. They also complimented me and the costume. After that moment, I felt very proud of my nationality and became much more confident showing off my beauty," she said.
Linh and her daughter took pictures at the 100-year-old Alexandre III bridge, then hurriedly moved on the subway to the Petit Palais art museum and Rivoli – one of the most famous streets in Paris to catch the last rays of sunshine. At that time, the sunset went off very quickly, so she had to take advantage of every minute to capture the best moments.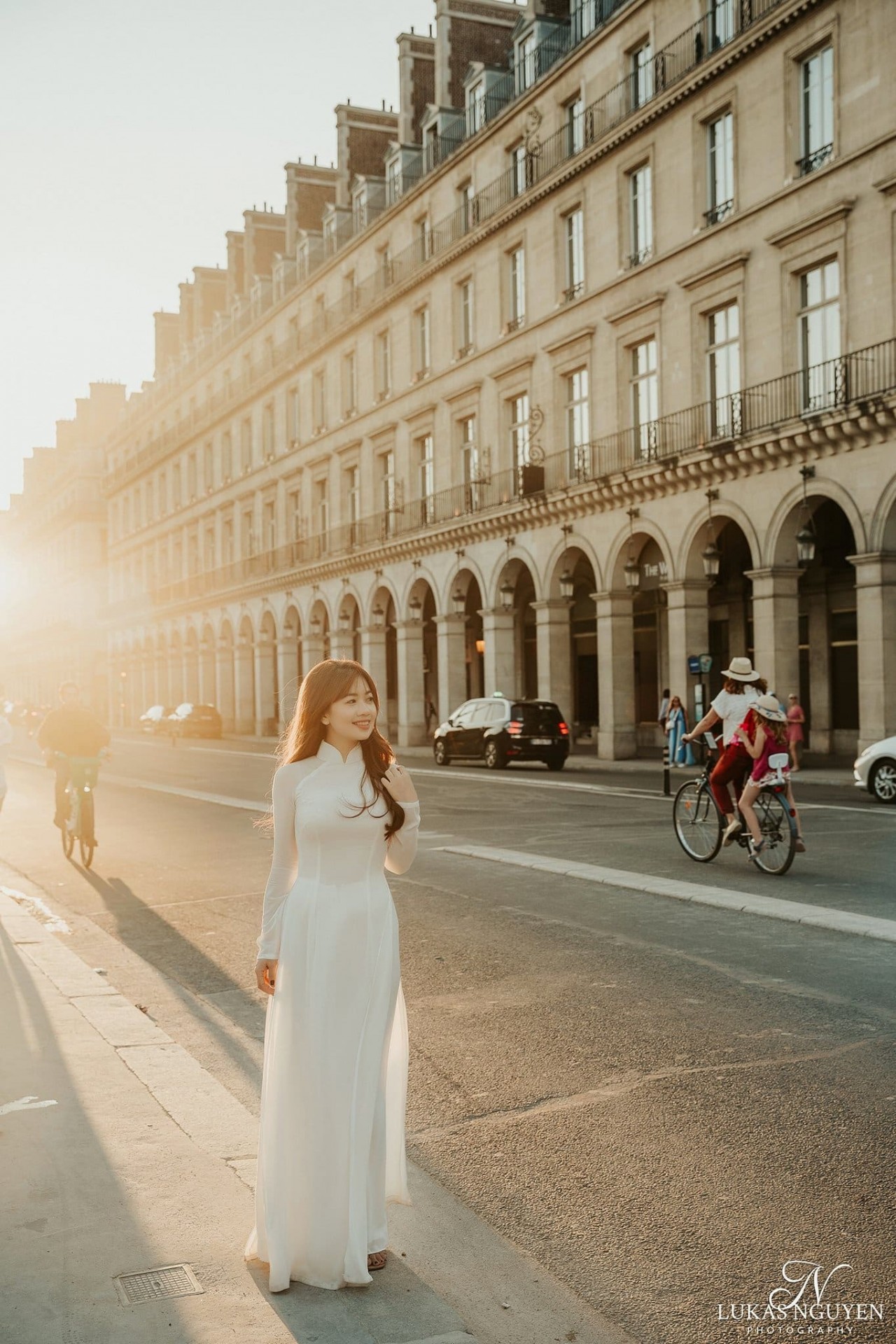 Photo: Nguyen Anh Lukas
"I, my daughter, and the photographer had to take the subway station since our car could not move in the city. I left my bag and cellphone at my friend's place, so I had no way to contact them. It was fortunate that the photographer was able to send my GPS location for them, and we waited for half an hour as they arrived to pick us up," she said.
Introduce Ao Dai to the world
This was the second time that she had taken photos with her daughter in France. The first time was 3 years ago, and her daughter always showed her excitement when she posed with her mother for the most gorgeous pictures.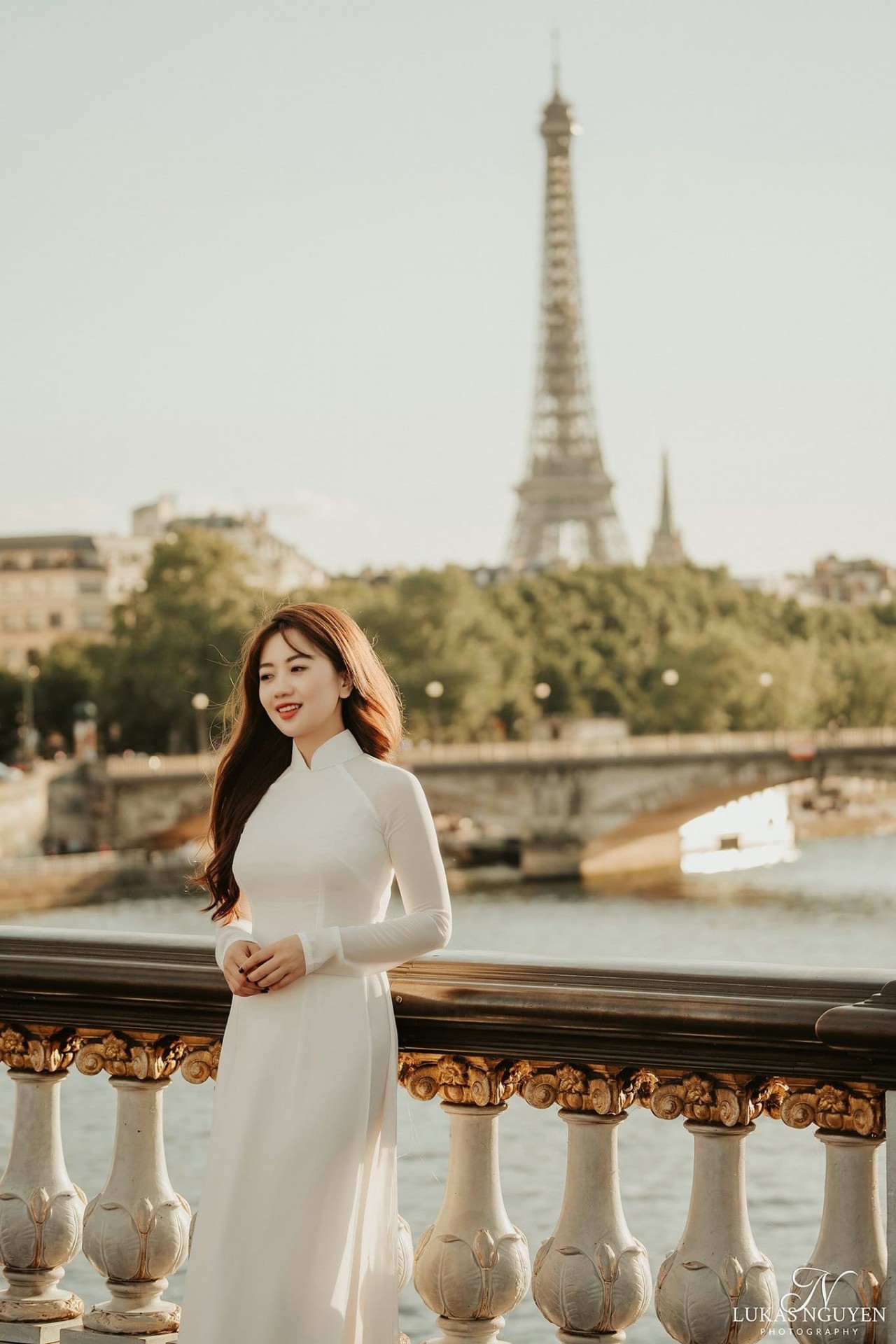 Photo: Nguyen Anh Lukas
"I feel very happy and proud of having a chance to introduce our traditional Ao Dai to the outside world. I love to explore beautiful landscapes, cultures, and cuisine of the new places that I have gone to, and learn more about different aspects of life," Linh said.
Nguyen Anh Lukas, the young aspiring photographer said this was one of the most special sets of photos that he has taken. He has been working as a professional photographer for 4 years, and always introduces the customers to the most beautiful places in France. He was proud to see his works getting praised and complimented on social media.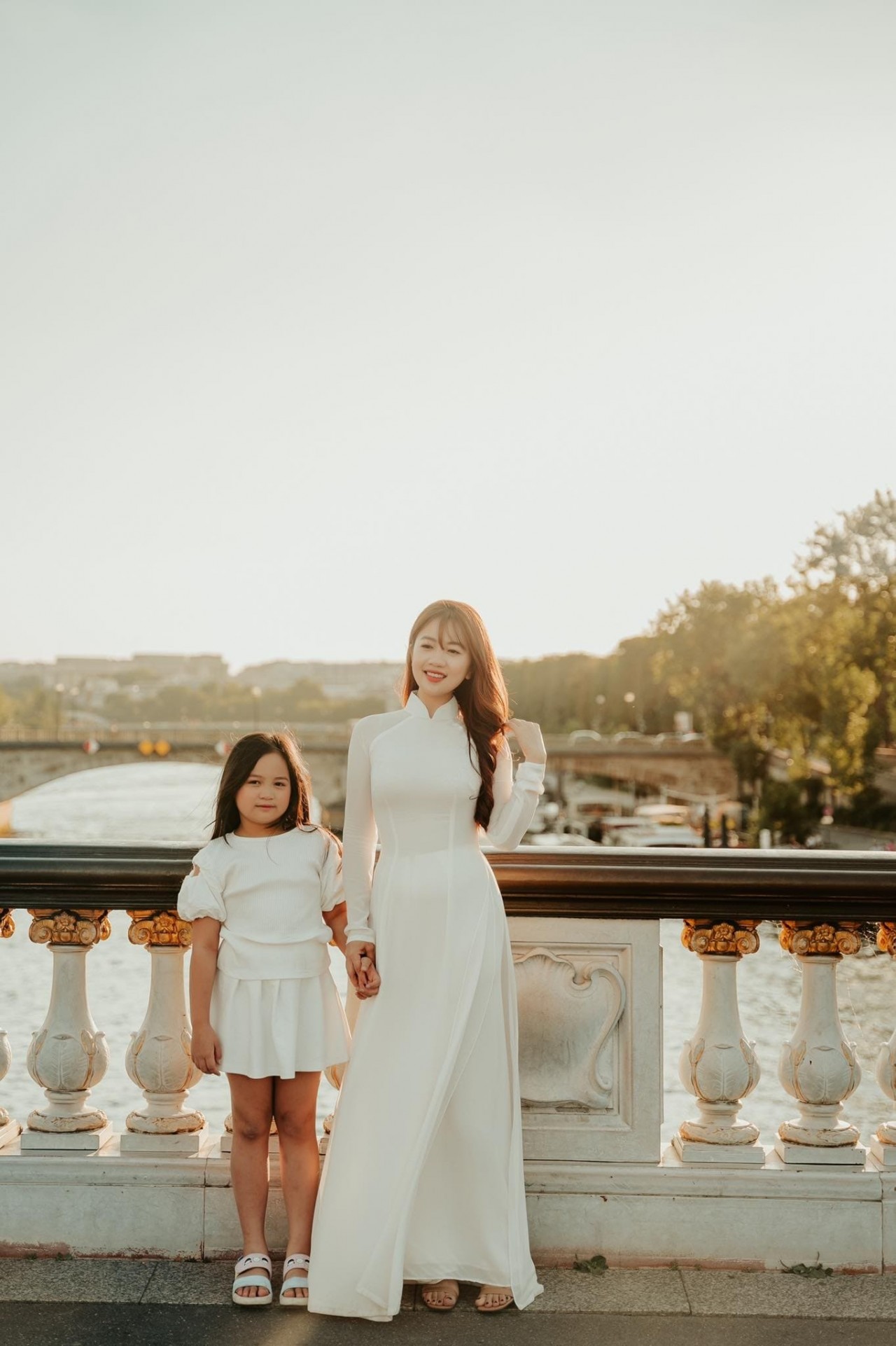 Photo: Nguyen Anh Lukas
"She chose the sunset time to take pictures instead of the morning and wore a very beautiful traditional Ao Dai. At first, I was also confused because she didn't tell me in advance so I couldn't think of where to shoot the photographs. After discussing with her, she said she liked the scenes of the streets, so I took her and her daughter to Rivoli Street. At 8 pm in the summer in France, the sun does not come down, it gets dark after 10 o'clock, so you have to take advantage to capture the best moments with your camera lenses," he said.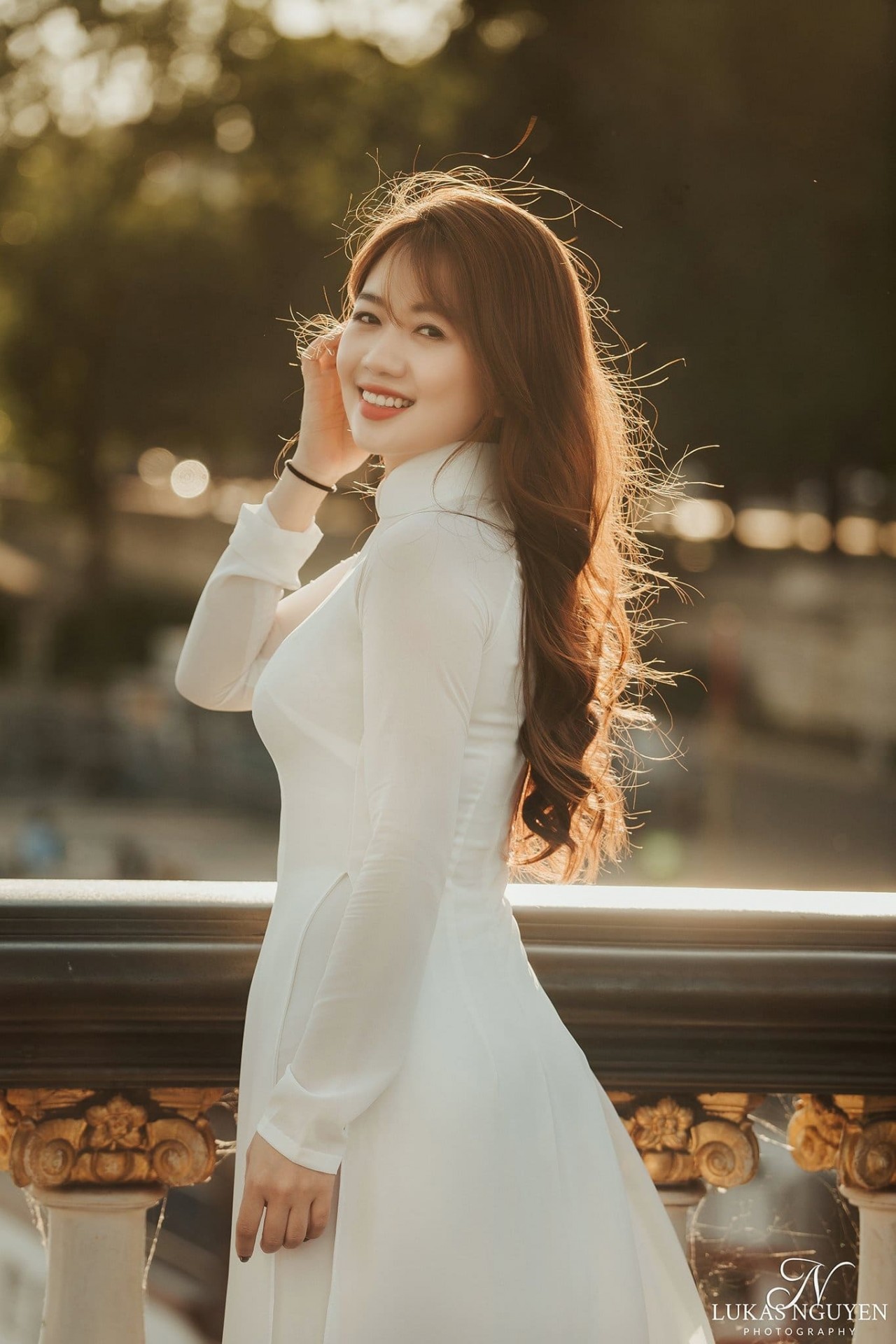 Photo: Nguyen Anh Lukas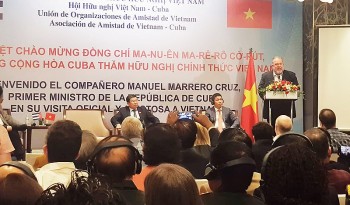 Friendship
Cuban Prime Minister Manuel Marrero Cruz met representatives from the Vietnam-Cuba Friendship Association in Hanoi on September 30, as part of his visit to Vietnam from September 28 to October 2.