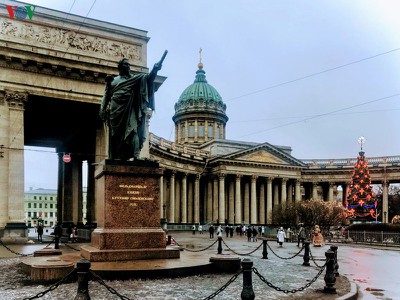 Saint Petersburg is one of the leading tourist destinations in Russia and the world. Nearly a century ago, President Ho Chi Minh arrived in Petrograd, now Saint Petersburg, in his quest for national salvation.
The information was disclosed by Vietnamese Ambassador to Russia Ngo Duc Manh in an interview granted to VOV recently.
"I had a working session with the governor of Saint Petersburg, and the local government sent a letter, voicing their support for the project," said Manh.
"We are working closely with relevant Russian authorities on the project, including the overall design, statue model and related details, to ensure architectural planning of Saint Petersburg. We are also collaborating with relevant Vietnamese agencies in implementing the project at an earliest possible time."
The diplomat said he has met many Russian officials and Vietnam Studies researchers who show respect for President Ho who laid the foundation for the friendly and cooperative relationship between Vietnam and the former Soviet Union, now the Russian Federation.
According to the diplomat, Saint-Petersburg, formerly known as Petrograd, is a historical city where President Ho first landed during a trip to Russia in the early 20th century in his quest for national salvation.
The project, Manh said, is to celebrate President Ho Chi Minh's 130th birth anniversary this year.
He also revealed that the Vietnamese Embassy and the Committee for Foreign Affairs of Sain5t Petersburg will jointly host an online seminar on May 19 to commemorate President Ho's birth anniversary.
VOV