Vietnamese infinite affection towards President Ho Chi Minh through 500 stamp collages
Over 500 stamp collages about President Ho Chi Minh - the shining symbol of Vietnam's essence and the indomitable spirit of Vietnamese people - have been made by painter Do Lenh Tuan over 30 years. Each collage is the infinite love of the artist to the President.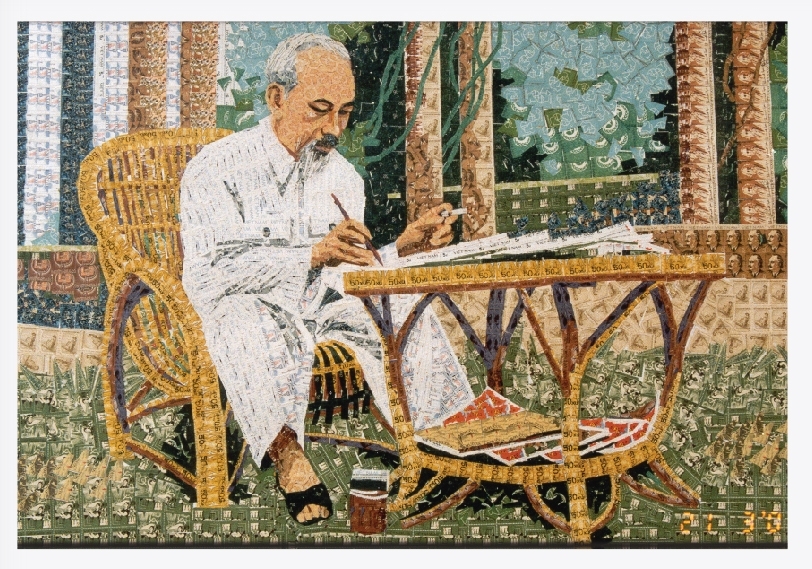 The "Uncle Ho working in flower garden"
President Ho Chi Minh, known as Uncle Ho - the great father of every Vietnamese, the shining symbol of revolutionary morality - has been a source of inspiration for generations of artists.
Amid a large number of art series portraying the President, Do Lenh Tuan's collection of over roughly 500 stamp collages have become more special than ever and brought a new perspective of the great leader.
Tuan used to work for a stamp company, which is now the Post Stamps Department of Vietnam Post Corporation, upon his graduation from Hanoi University of Industrial Fine Art in 1981.
The young man has since designed a total of 10 postage stamps to commemorate the late President Ho Chi Minh, among which six models were approved for official publishing.
Postage stamps were mass-printed at that time to meet people's large demands. Expired stamps, however, would later get disposed of, which, according to Tuan, was really wasteful. The painter then came up with the idea of making collages portraying the President from those expired postage stamps.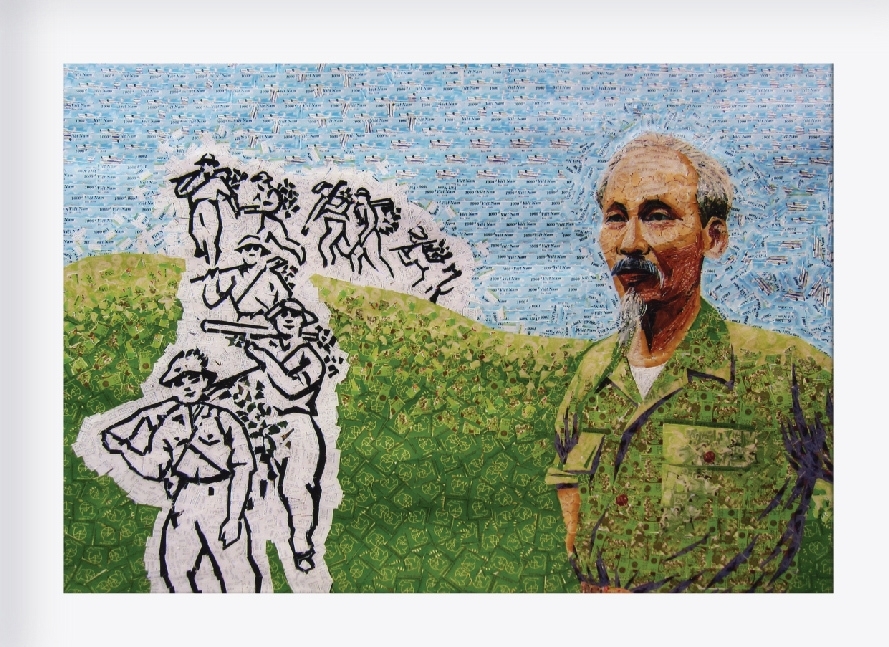 "Uncle Ho and us together in operation"
With an endless passion for stamps, Tuan had made a large number of stamp collages, which varies in topics. The most outstanding and proud one, however, was his collections of collages depicting President Ho Chi Minh, Thoi Dai reported.
His artful works, including "President Ho Chi Minh observed the battlefield", "President Ho Chi Minh working in the Presidental garden", "Uncle Ho reads newspaper", "Dien Bien victory" have greatly impressed viewers.
"I hadn't met Uncle Ho in person though, my deep affection, love and infinite gratitude towards him have been a source of inspiration, which I put them all into each stamp collage", Thoi Dai quoted the artist as saying. "Making each collage is an arduous job as, you know, it's not easy to fully depict Uncle Ho's charisma, intimacy, and personal traits".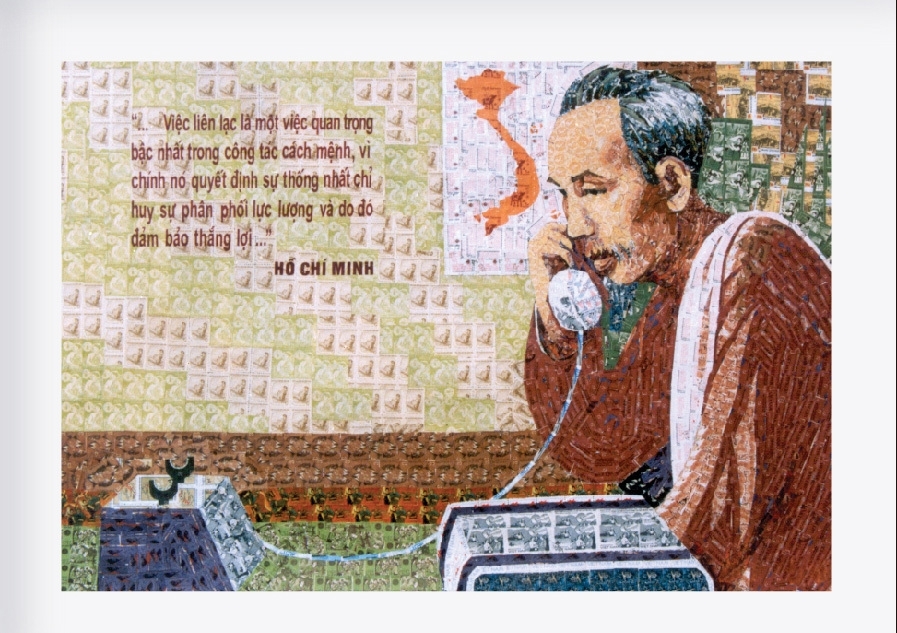 The "Uncle Ho speaking on the phone in strategic war theatre"
Each college, made from roughly 1,000-3,000 stamps, took Tuan one week, or even one month to finish. The process required great patience, meticulousness, and concentration. "As I'd have to redo the collage from the beginning with just one mistake".
At the age of 65, Tuan's passion for creating soulful stamp collages of President Ho Chi Minh is still burning. Each collage is a story of the President that Tuan wants to pass to the next generations. It is also the sincere love of the Vietnamese nationals to the national great leader.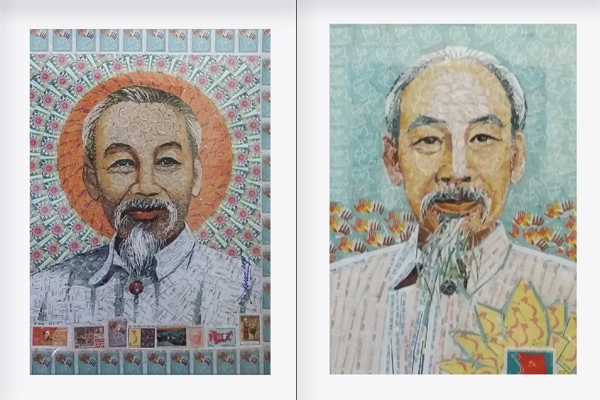 Portraits of President Ho Chi Minh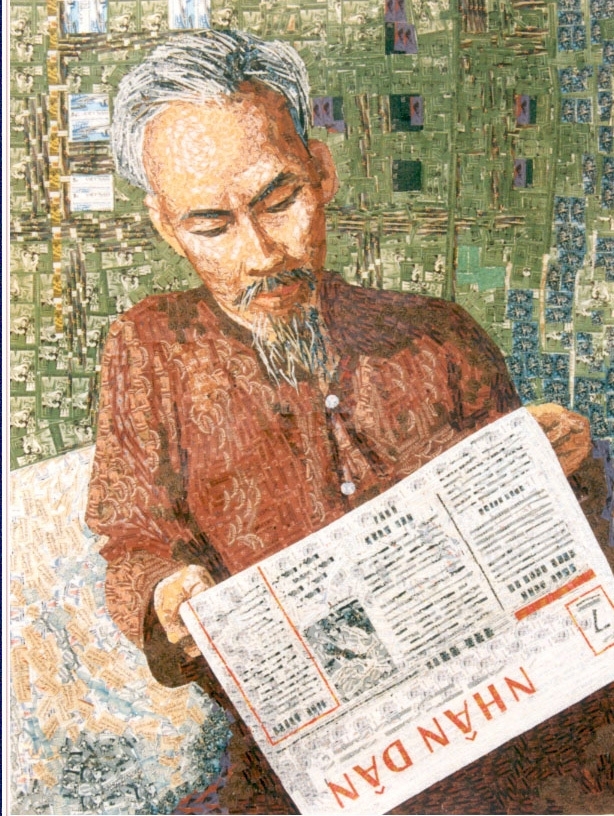 The "Uncle Ho reads newspaper"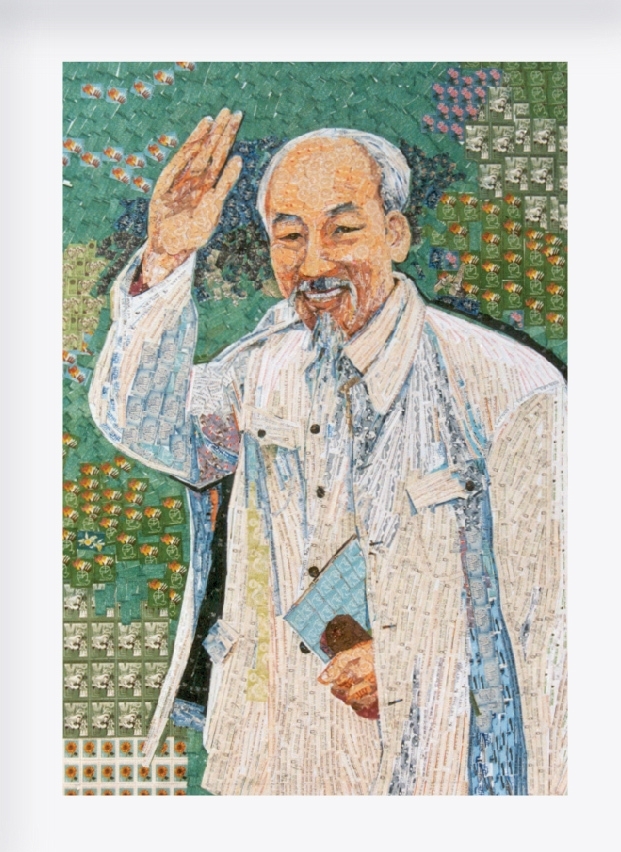 The "Uncle Ho waves a greeting"
Ho Chi Minh (1890-1969), the greatest Vietnamese Communist leader, who was the first president (1945-1969) of the Democratic Republic of Vietnam and the principal force behind the Vietnamese struggle against French colonial rule after World War II (1939-1945), according to Yeu Anh Van.

He was born on May 19, 1890 in Nam Dan district, Nghe An province, central Vietnam. His 130th birthday is drawing nears and will be solemnly celebrated by the State and the Vietnamese people next Tuesday.
https://thoidai.com.vn/hon-500-buc-tranh-ghep-tem-ve-bac-ho-va-tinh-cam-sau-nang-cua-nhan-dan-voi-vi-lanh-tu-vi-dai-108356.html
Economy
Vietnam Business & Weather Briefing (May 16): The State Bank of Vietnam set the daily reference exchange rate for the US dollar at 23,160 VND/USD on May 16, while the aviation market is recovering with the number of international visitors increasing five-fold.