Pressure to earn money weighs upon Vietnamese students in RoK
Although a foreign student in South Korea is allowed to work 20-28 hours a week, Minh Quan (20 years old) works part-time in a restaurant up to nearly 60 hours.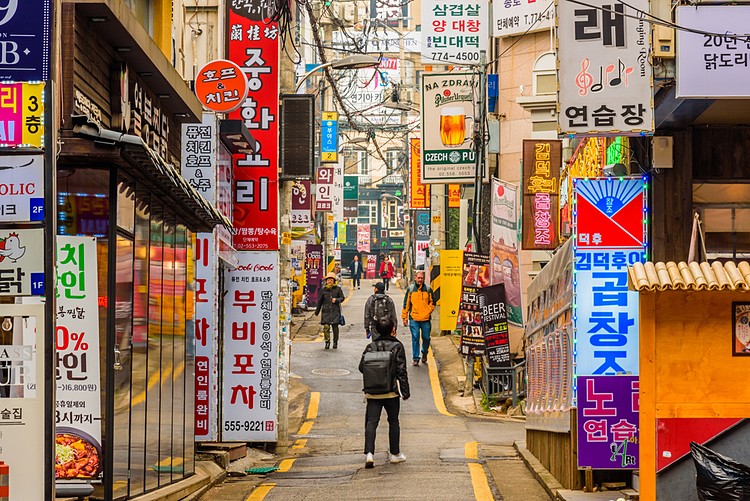 Vietnamese students often work in restaurants on busy streets. Photo: Shutterstock
3:00 pm, Minh Quan left the Korean class at a university in Busan, South Korea, hurried to the bus stop to go home, preparing for the evening shift.
"The shift starts at 4pm and ends at 11pm. Because the class ends at 3 pm, then it takes an hour by bus from school to home, I'm always in a hurry for afraid of being late", Quan said.
Working 7 hours a weekday, 12 hours a weekend, Quan shared his feeling of self-pity "I have to work while my friends is hanging out, taking photos".
Quan has come to Korea for nearly two years and is about to finish studying Korean language and related subjects to D4-1 visa to forward to university.
As a rule, students on D4-1 visas can only work part-time 20-28 hours a week. However, Quan said if there are no government scholarship or very rich families, Vietnamese students cannot afford.
Quan explained, the hourly wage is about USD 6. If working "legally", he earns USD 558 - 644 a month. Meanwhile, Quan must spend USD 214-257 on tuition of Korean language class, USD 429 on living expense. He claimed that it was the "moderate" level because for those who like shopping, the monthly living expenses reach USD 859.
To solve the problem, international students often choose to work overtime. Students and business owners break the rule by making a contract lying about working hours. Every month, the contractual salary is transferred to a bank account registered with the Korean government. For the overtime pay, students receive cash or the boss will transfer to a different bank account.
Currently, Quan's total income is USD 1203. USD 773 is transferred to the bank and USD 430 is cash. Quan explained, Korean employers "cooperate" with student to break the rule due to the high demand for labor, especially young laborers for heavy manual work.
Like Minh Quan, Hong Thuy (22 years old) is working overtime in Korea. After graduating from high school, Thuy went to study in Korea. Thuy spent nearly a year studying Korean in Vietnam. After that, she had to pay about USD 8598 for the broker to go to Korea. This amount includes air tickets, one-year Korean class tuition, books, insurance and dormitories.
Arriving in Korea in March 2017, Thuy was taken to a mountain school in Daegu, about a 30-minute bus ride from the busy neighborhood. The school at that time only had nearly 100 foreign students, mainly Chinese and Vietnamese.
The broker in Vietnam said the dorm fee is USD 1717 and was paid. However, when Thuy arrived, she was not allowed to stay in the school's dorm but in a different one which is far away her school and more expensive.
As a rule, after 6 months of study, students can work part-time. Yet, Thuy's school is very strict, not allowing students to go out to work. Bagging 859 USD to Korea, she ran out of money after three months.
"After each three months of study, I had 15 days off. My seniors introduced me to work illegally at a phone factory. Earning a little money, I had to tighten my belt waiting for the next vacation. I struggled through the first year like that."
After one year of studying Korean, Thuy applied for a D-2 visa (two-year term) to continue studying at university. Because her old school banned working part-time, Thuy transferred to another school. Here, she was allowed to work part-time jobs.
Everyday Thuy works about 5 hours at a restaurant, exceeding the prescribed hours. However, she only earns USD 859. Meanwhile, the tuition for one 3-month term is USD 2579, the rent is USD 257, utilities and water are USD 85, food is USD 171. The money earned therefore is insufficient.
Weighed by the pressure to earn money, Thuy many times thinks about dropping out of school. Both Minh Quan and Hong Thuy said that, after the incident "161 Vietnamese students at Incheon National University disappeared", the Korean government will tighten the entry and extension of visas for Vietnamese students. In addition, they will more strictly manage student's part-time jobs.
* The character name in the article has been changed.
On December 10, Incheon National University reported to the police that more than 160 Vietnamese students enrolled in the Korean language program were missing for no apparent reason. They are among 1,900 Vietnamese on a one-year Korean language training course, which commenced four months prior. South Korean police suspected that the students ran away for illegal work.

On December 12, Pham Quang Hung, head of the International Relations Department at the education ministry, said the ministry has joined with Korean side to investigate the incident. Hung said the ministry will check if the Vietnamese students had gone to South Korea via illegal agents.