Prevention of Covid 19: Vietnamese Customs continues giving directives about exporting face masks
General Department of Vietnam Customs directed provincial Customs departments to implement tasks to ensure epidemic prevention for customs officials, checking import-export goods in the context of Covid-19 epidemic
Customs officials must implement prevention measures during their task performance as recommended by Ministry of Health.
Regarding the implementation of the Resolution No. 20/NQ-CP of Government dated February 28, 2020 on the export licensing regime for gauze masks amid preventing and combating the Covid-19 epidemic, the General Department of Vietnam Customs directed provincial Customs Departments to only handle procedures for exporting gauze masks as prescribed at Point 1 of Resolution No. 20/NQ-CP in the following cases:
Firstly, the enterprise is licensed to export goods by the Ministry of Health with the purpose of humanitarian aid and international assistance conducted by the Vietnamese Government;
Secondly, export processing enterprises with business investment certificates granted by competent authorities and enterprises conducting processing activities for foreign countries if the processing contracts were signed before March 1, 2020, they will be allowed to export gauze masks. The contract of processing must be notified to the customs authority as stipulated at Point a, Clause 2, Article 56 of Circular 38/2015/TT-BTC (amended and supplemented in Circular 39/2018 / TT-BTC) before March 1, 2020.
The General Department of Vietnam Customs requested units conduct a physical inspection of exported consignments declared as non-medical masks (with HS code of 63079090); compared with the standard No. TCVN8389-2010 of surgical masks published by the Ministry of Science and Technology to define the actual goods.
Through physical inspection, if the customs authority did not have sufficient grounds to define that the goods were masks that were not used for medical purpose, they would ask for an assessment at the Institute of Medical Equipment and Works - Ministry of Health or inspection organizations which meet conditions for making an assessment of surgical mask in accordance with regulations to determine the category of exported goods.
Customs Departments of provinces and cities should direct border-gate customs branches and customs enforcement forces to intensify inspection, control and handling acts of illegal export or illegal transportation of surgical masks across the border. At the same time, supervising the export situation of goods items that are equipment, protective clothing, and gloves for medical purposes. If the quantity of exported goods increased suddenly, the unit should summarise the data and report the General Department of Vietnam Customs to summarise and propose to competent authorities to find appropriate management measures.
Besides that, the General Department of Vietnam Customs also requested units facilitate and conduct quick clearance procedures for imported machines, medical equipment, antiseptic solutions, pharmaceuticals and auxiliary tools serving the prevention and treatment of Covid-19.
To ensure the prevention of epidemics for customs officials during their task performance, the General Department requested customs officials wear face masks and gloves conforming to the standard of disease prevention as recommended by the Ministry of Health when working with customs declarants, goods, luggage and vehicles.
At the same time, customs officials are recommended to inform local health authorities, take appropriate isolation measures and allow working at home to not cause bad impact to the health of other public officials if they have contact with people identified as infected with Covid-19 (called F0) or suspected persons, exposed to F0 (called F1) or persons exposed to F1 (called F2) or contact with F2 (F3) or people exposed to F3 (F4) or people exposed to F4.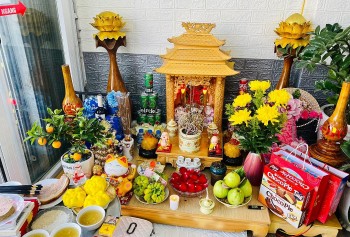 Handbook
Learn more about an ancient Vietnamese tradition that may bring you good fortune!