Schools in 33 provinces keep closuring until April due to Covid 19
There are 33 provinces announcing to prolong school break for kindergarten level to high school until the end of March or the beginning of April in efforts of preventing the Covid-19's spreading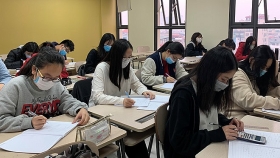 High school students wear masks when attending an on-campus class.
Hanoi, which has confirmed the 6th infected case, a flight attendant arriving with 17th and 21st patients on VN0045, has announced to extend the school closure until March 22 for high school graders and March 29 for other levels.
While Dong Nai and Ho Chi Minh City exceptionally let students away from schools until April 4 and April 5 respectively, other provinces and cities namely Danang, Quang Binh, Hue, and Thanh Hoa among others have decided to shut down schools until the end of this March.
Some southern provinces of Khanh Hoa, Binh Thuan, Vinh Long, Dong Thap still update their schedule on resuming schools.
Since Vietnam declared the other 28 additional infected cases on March 13, some localities have decided to extend school break and Vietnam Ministry of Education and Training has continued to regulate school terms.
Normally, Vietnamese students often take a two-week Tet holiday and three-month summer break. However, due to the pandemic havoc, over 22 million students across the country have away from schools such long. Some schools decided to design online classes for their student as an essential way to keep their students up to date with normal on-campus classes.
Until March 12, Covid-19 has spread to 128 countries and territories with 134,000 people infected. Vietnam has recorded 45 Covid-19 patients, of which 16 were cured.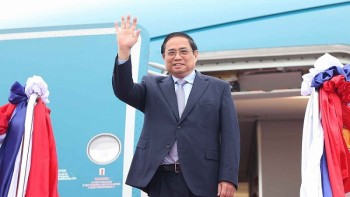 National
Vietnam News Today (Feb. 6): PM Chinh to pay official visits to Singapore, Brunei; Vietnam attends ASEAN+3 Tourism Ministers Meeting; Exports in 2023 and high demands from new generation FTAs; Digital technology to spearhead Vietnam's drive for Industry 4.0.