Prime Minister Suggests Vietnam, Portugal Raise Bilateral Trade to US$1 Billion
Prime Minister Pham Minh Chinh has suggested Vietnam and Portugal enhance their close coordination and taking huge advantages brought by the EU-Viet Nam Free Trade Agreement (EVFTA) to soon raise the bilateral trade to US$1 billion in the upcoming time.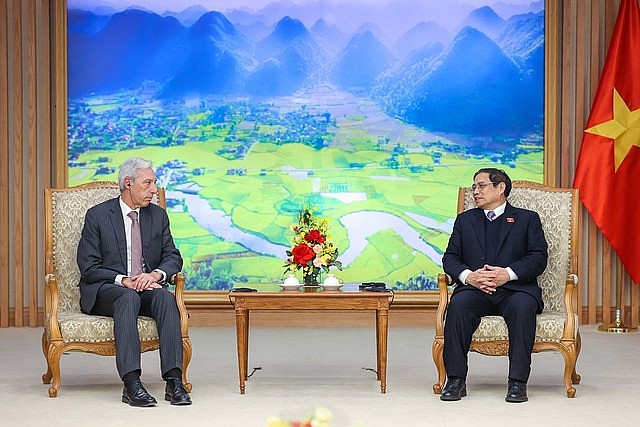 Prime Minister Pham Minh Chinh (R) receives Foreign Minister of Portugal Joao Gomes Cravinho, Ha Noi, January 18, 2023. Photo: VGP
At a recent reception for Foreign Minister of Portugal Joao Gomes Cravinho in Ha Noi, the PM affirmed that the Vietnamese Government always attaches importance to the friendship and traditional relations with Portugal, according to Vietnam's Government News.
Chinh expressed his hope that the Portuguese official's official visit to Vietnam would help expand and strengthen cooperation between the two countries across all potential areas, for the sake of both countries and for peace, cooperation and development in the region and the world.
The two sides should promote delegation exchanges at all levels, particularly high-level ones to increase understanding and political trust, and take advantage of mechanisms to foster collaboration in other sectors.
The host emphasized the need to reinforce close coordination and mutual support at multi-lateral forums and international organizations, making active contributions to addressing regional and global issues.
Chinh asked Portugal to create favorable conditions for Viet Nam's farm produce to get access to its market.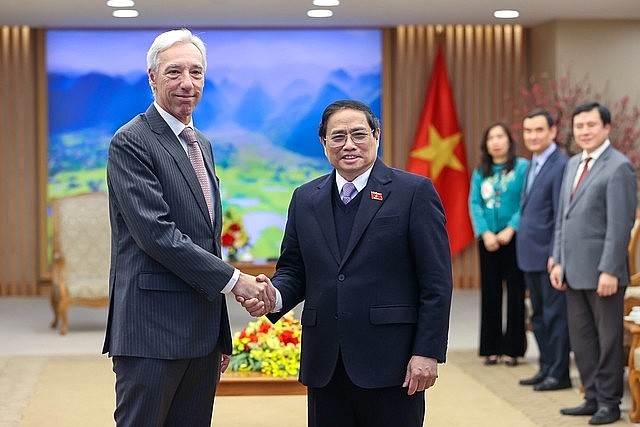 Prime Minister Pham Minh Chinh (R) receives Foreign Minister of Portugal Joao Gomes Cravinho, Ha Noi, January 18, 2023. Photo: Nhat Bac
He took the occasion to recommend Portugal soon approve the EU-Vietnam Investment Protection Agreement to facilitate fair and win-win cooperation and urge the European Commission to early remove "yellow card" on Vietnamese seafood exports.
For his part, Joao Gomes Cravinho pledged to accelerate cooperation with Vietnam in the spheres of marine economy, maritime, renewable energy, circular economy and digital transformation.
He vowed to continue carrying out contents of the Vietnam-Portugal tourism cooperation agreement, share experience in tourism and sports, and promote negotiations on a labor cooperation agreement.
The Portuguese Foreign Minister voiced his support for proposal of the Vietnamese Prime Minister in boosting cooperation in climate change adaption, in a bid to help Vietnam realize its commitments at the COP 26.
Regarding the South China Sea (Bien Dong Sea) issue, both sides underlined the importance of maintaining peace, stability, security and safety of aviation and navigation in the South China Sea and handling disputes via peaceful measures in line with international law, including the 1982 United Nations Convention on the Law of the Sea.
Stepping up cooperation in various spheres
At the talks between Foreign Minister of Portugal Joao Gomes Cravinho and Foreign Minister Bui Thanh Son. Photo: VNA
On this occasion, the Cravinho, who was on an official visit to Vietnam from January 17 – 19, held talks with Foreign Minister Bui Thanh Son, VietnamPlus reported.
Son suggested the two countries foster cooperation in areas that Portugal is strong in and Vietnam needs, such as the marine economy, renewable energy, tourism, and information technology.
He expressed his hope that Portugal will urge the European Commission (EC) to remove the illegal, unreported, and unregulated (IUU) fishing yellow card warning on Vietnamese seafood products.
Cravinho affirmed that his country will discuss IUU-related issues with the EC, noting his wish for stronger cooperation with Vietnam in Portugal's overall policy towards Asia-Pacific.
He also welcomed FM Son's proposal to establish a tripartite cooperation mechanism on agriculture, while suggesting Vietnam soon complete procedures for Portuguese meat products to be exported to the Vietnamese market.
He also expressed his desire to promote twinning relations between the two countries' localities in order to strengthen people-to-people exchange, including Porto and Ho Chi Minh City, Viet Tri city and Miranda city.
The two sides agreed to strengthen exchange of delegations at all levels and continue to closely coordinate and support each other at multilateral and international forums. They also agreed to promote the role played by the two foreign ministries in order to further expand cooperation, and continue maintaining the Vietnam - Portugal political consultation mechanism and implementing the Memorandum of Understanding on tourism cooperation signed in 2015. They agreed to step up cooperation in education - training, sports, culture and tourism, and in responding to global challenges./.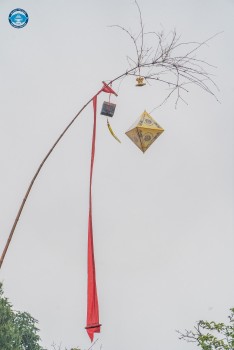 Viet's Home
In the past, the Neu pole (a tall bamboo pole with red garment strips used to ward off evil spirits during the lunar New Year) lowering ceremony at the royal palace of the Nguyen Dynasty was performed to mark the end of the New Year holiday and prepare to enter a new working year.